Meet Violet:
You can't help but fall in love when you stare into Violet's honey brown eyes! And then those floppy puppy ears that perk up every time she is happy to see you 🥺
Approximately 2 years old, 40 lb.
Was found pregnant and wondering the streets in New Mexico, although young, this girl is very mature!
Intelligent and quick-to-learn! Knows "sit", "down", "stay", "stop", and currently mastering "place"
Preferably no cats or tiny dogs, medium and up dogs should be okay with proper introductions! I think she'd love another doggy sibling to play with 🙂

Violet is as sweet as she is smart! She thinks she is a lap dog and wants to lay on your lap anytime possible, and if your lap isn't available, she will be at your side or by your feet. This girl is as loyal as they come and will thrive in a home with little humans as she just wants to play with and protect her two-legged siblings ❤ Violet is the perfect mix of puppy and maturity as she loves to play either with you or with her toys, but when play time is done, she's ready to cuddle up for a nap and relax on her own or with you! She is crate trained and goes in with no fuss! She is house potty trained and will only have an accident inside if she has to go badly and she can't get outside for some reason. Violet will go to the door to let you know when she needs to go to the bathroom too! She loves having her doggy toys and will carry them through the house with her❤️ Occasionally she will go for a small shoe if it's lying around, but the second you tell her "stop", she will drop it and go to her own toys. She has been practicing her commands and doing so well with them, she is SO smart and will do great will anything you can teach her!
Meet Snookie:
Snookie is 2 year old, 29 pound female Beagle mix that is ready to impress her new family. She is a very sweet, gentle, and calm girl who enjoys affection. Snookie enjoys going for walks, however she can be avoidant of other dogs, and would not enjoy activities where many dogs are present, such as a dog park. Snookie is currently living on site at the Friends for Life adoption center, and she would be delighted for you to come by and meet her, during regular business hours.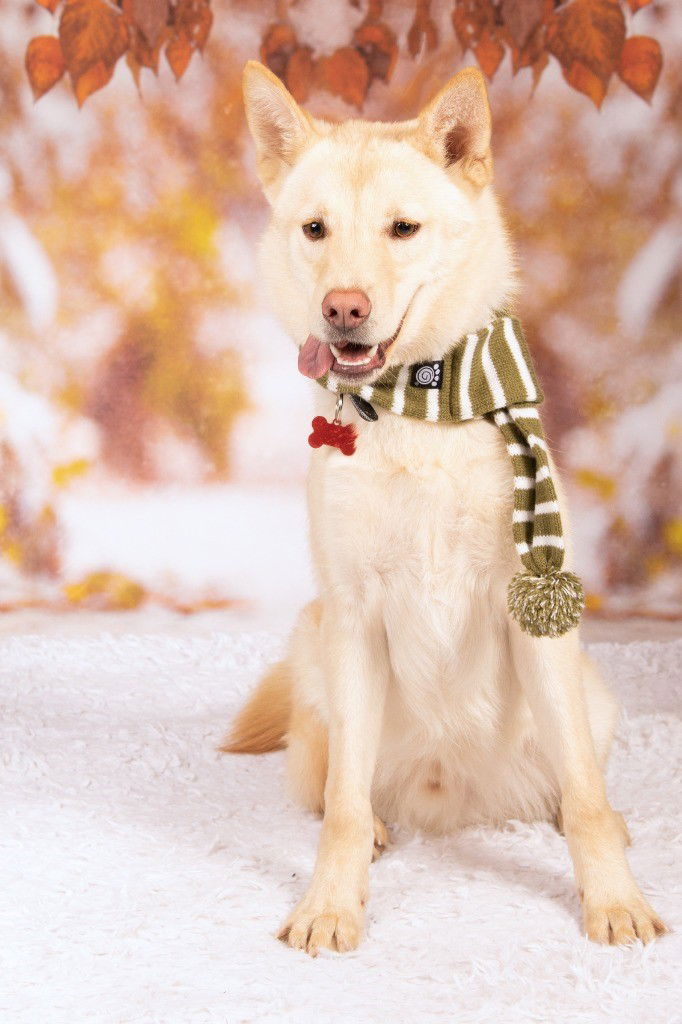 Meet Bolt:
Meet Bolt! This gorgeous 1 year old male Shepherd mix weighs 32 pounds. He is an active young dog but also has a very cuddly side to him. He knows some basic commands and walks well on a leash. He is currently waiting with loving eyes at our shelter to meet his forever family. Bolt is deaf, but that doesn't seem to bother him in the least! He would love the opportunity to show a family what a cool dog he is!
Meet Porsche:
Meet Porsche! This 2 year old male Chihuahua Mix, weighing about 15 pounds, is sleek, aerodynamic and handles like a dream! When he wants your attention, he'll sit up and wave his paws at you! He is picky about his dog friends, and he'd be equally happy not sharing you with anyone. His ideal home is one with kids 14+. He's One of the best "Porsche" models on the market. He is currently parked at our shelter and would love for you to come test drive and take him home to be forever parked.
Meet Moose:
Age: 3 years old
Breed: Pit Mix
Gender: Male
Weight: 70-80lbs
Energy level: medium
Compatibility with other dogs: awesome! Compatibility with cats: eh, a bit too focused on them for my taste, may do best with no cats.
Compatibility with kids: good with older kids! Requirements: probably older kids, no cats, yard
Preferences: a house with another playful dog Crate trained House trained Moose is such a goofball. He's a playful guy who also knows how to chill. Moose is a really good boy, he will nudge your hand for a pet and loves neck scratches. He loves to chew on treat stuffed kongs. He would love a home with another dog friend for him!
Meet Charlie:
Hi! My name is Charlie and I am a 8 month old Airedale Terrier/Shepherd mix.
Right now I am currently looking for my second home because I was returned due to a slight medical problem. Sometimes if I'm allowed to drink too much water and can't get outside in time, I will end up losing control of my bladder because it's 2x the size of a normal one. (My foster mom calls it overflow incontinence ) but she says if I monitor my water intake and go outside every few hours I will be just fine without medications!
Other than that, I don't have accidents often and I am a really happy dog with a lot of energy.
I'd prefer to be in a home with a backyard (a doggy door too) and another dog my size but it's not 100% necessary because I love being the center of attention. Unfortunately as much as I've tried I'm not too fond of cats and don't want one as a roommate.
My many hobbies include playing with toys, cuddling with my foster mom, and goofing off with the other dogs in the house. I love to make others smile and laugh, and I do my best to make everyone around me happy. If you'd like to meet me, I'd love to meet you too!
Meet Rupert:
Rupert is a 5 year old, sweet and gentle guy that promises to be a loyal companion to his forever family. He enjoys engaging in conversation and loves chin scratches and head massages. Give him a ball tower to play with and he'll happily bat the balls around and around. Rupert seems to be happiest once he connects with his people and finds a lap that's designated just for him to curl up in. Rupert tested positive for FIV but is, otherwise, very healthy. He can go on to live a long, healthy and happy life. Our adoption consultants can elaborate on what this diagnosis means for Rupert and the family that adopts him.

Meet Hank:
Ankita/Male
.This good looking young Akita male is Hank, who came into the Ramona Humane Society in San Jacinto as a stray on 9/21 with puncture wounds on his legs. He is all healed up and ready to go home!! Hank is sweet, gets very excited to play and loves going for walks and exploring!! He plays well through the fence with other friendly dogs and enjoys getting his bath and lots of affection. Our young boy Hank is very responsive to training and would be so happy to go to his forever home, come meet Hank today!
Meet Koda & Bear:
These two have been bounced around and have been in and out of the shelter more times than we can count. At one of the homes, they just left them in the backyard to fend for themselves. In another they left them in the yard for days at a time until they dug themselves out and were picked up by animal control. In the last home they lived in they said they were moving and could not take them with them which is why we are here. This fun-loving and adventurous pair will definitely keep your life interesting. We imagine they have epic tales to tell and through it all they have stuck together. The staff here loves them, they go for long walks every day but the goal is always a forever home. Bear is an 8-year-old terrier mix and Koda is a 7-year-old Carolina dog. Koda can be a little unsure of new people so we are asking potential adopters to spend time with them here at our sanctuary a few times before considering adopting.
Meet Chocolate & Spice:
This precious duo lost the only home and person they have ever known which is why they are here with us. They are 12 years old and are bonded so they will only be placed in a home together. They both love walks, still play with toys and have fit right in here with our other little dogs. They sleep together curled up in a chair at night and we can only imagine they are dreaming of their forever home. Chocolate does need to lose a little bit of weight and is taking a daily medication to bring her liver levels down. We are hopeful with the proper diet and exercise she will not need the medication in the future. Please consider welcoming this sweet senior pair into your life.
Meet Red & Scout:
Red and Scout are about 6 years old Boxer / Australian Shepherd x who tragically lost their beloved owner.
They are sweet with everyone, especially with kids and are very playful. They are not a good fit with cats or other smaller animals. Their energy would be ideal for someone that enjoys hiking and long walks. Check out this bonded sweet, playful and loving pair!
Meet Opal:
Meet Opal! She was rescued from the El Paso Texas shelter when it shut down and the shelter had to be evacuated. Opal is the ultimate cuddly buddy. She is always down for a good nap on the couch with anyone who will snuggle with her. Even though she is a nap queen she also LOVES being outdoors, she can go for a leisurely stroll or a big hike! She isn't too fond of other dogs or cats but loves every person she meets. Come meet Opal today!
Meet Henry:
Henry is a delightful 77 lb. Huskita, Akitamute, Shepsky? We aren't exactly sure what his exact breed mix is but we know he is very handsome and sweet!! Henry can be shy at first with new people but will start to lean into your legs when he wants to be your friend. He seems to be very happy around other dogs and likes to play!! Henry shows is trust by climbing up into your lap and cuddling, he is adorable! He can have some separation anxiety and would probably fare best with a stay at home parent or another similarly sized female canine companion to hang out with. He could do well in a home with older, respectful children ages 12 and up who have prior experience living with large dogs. Meet happy Henry today!!
Akita Rescue Southern California -- A Passion for Paws
Meet Nova:
Nova is a young puppy at heart. She is experiencing a whole new world and would be great with someone excited to show her the ropes and teach her how to be a dog. She enjoys walking at a fast pace and easily completed a 3 mile daily walk in her foster home. She hasn't been hiking, but she'd probably love it! After her walk she'll come home and sleep most of the day. If she has things her way she'd sneak on the couch regularly to cuddle. She loves to be near her person. Occasionally Nova will play with toys but it seems they are a new thing for her. She is loves food and is treat motivated. In her foster home Nova used a doggy door and only had one initial accident in the house. She is learning how to walk nice on a leash. She slept on a dog bed at night but is also okay in a crate. Nova's foster home had two other dogs, but she does need the right match. She would not be a good fit with cats.
From Nova's previous foster: "Morning Coffee isn't the same without Nova snuggles. The volunteers at Priceless Pets have done a great job getting her to walk easier on a leash!"
Meet Zoey:
She has been with us for over 2 years and we are at a loss as to why? She is stunning, athletic and loves every person she meets. We know placing a dog as an only dog makes adoptions more difficult but we just know the perfect home is out there for her. We know she needs a very active home and life. She has loads of energy and potential. We are certain there are no limits to what she can learn, she's that smart. We do know she needs space to run and walls to keep her safe. She can easily scale a 6 foot wall. She just breaks our hearts because she is just 3 years old and has now lived 90% of her young life in a shelter or rescue. She deserves so much more.
Meet Nathan:
What's up? My name is Nathan and I am a hound dog! I was rescued from a hound transport collaboration through Operation Helping Hounds. I am from back east, so I talk with a little bit of an accent when I bark. I get along with other dogs really well, and would do best in a home with another confident dog. I am learning to walk well on a leash and I would do best in an active household who is willing to give me the structure, consistency and love that I so deserve. I am currently in training, so I can be the best dog ever for you! Consider taking a chance on me and making me part of your home, forever.
Meet

Fred

&

Ginger:
Fred and Ginger are a fantastic bonded pair of Akitas. They were brought into a shelter in horribly neglected condition and have had surgery to remove badly damaged and infected tissue from their ears. They are thin and were infested with parasites before being treated. They are still in healing process before they will be ready for adoption and any donations towards helping them heal and find forever homes would be very, very and much appreciate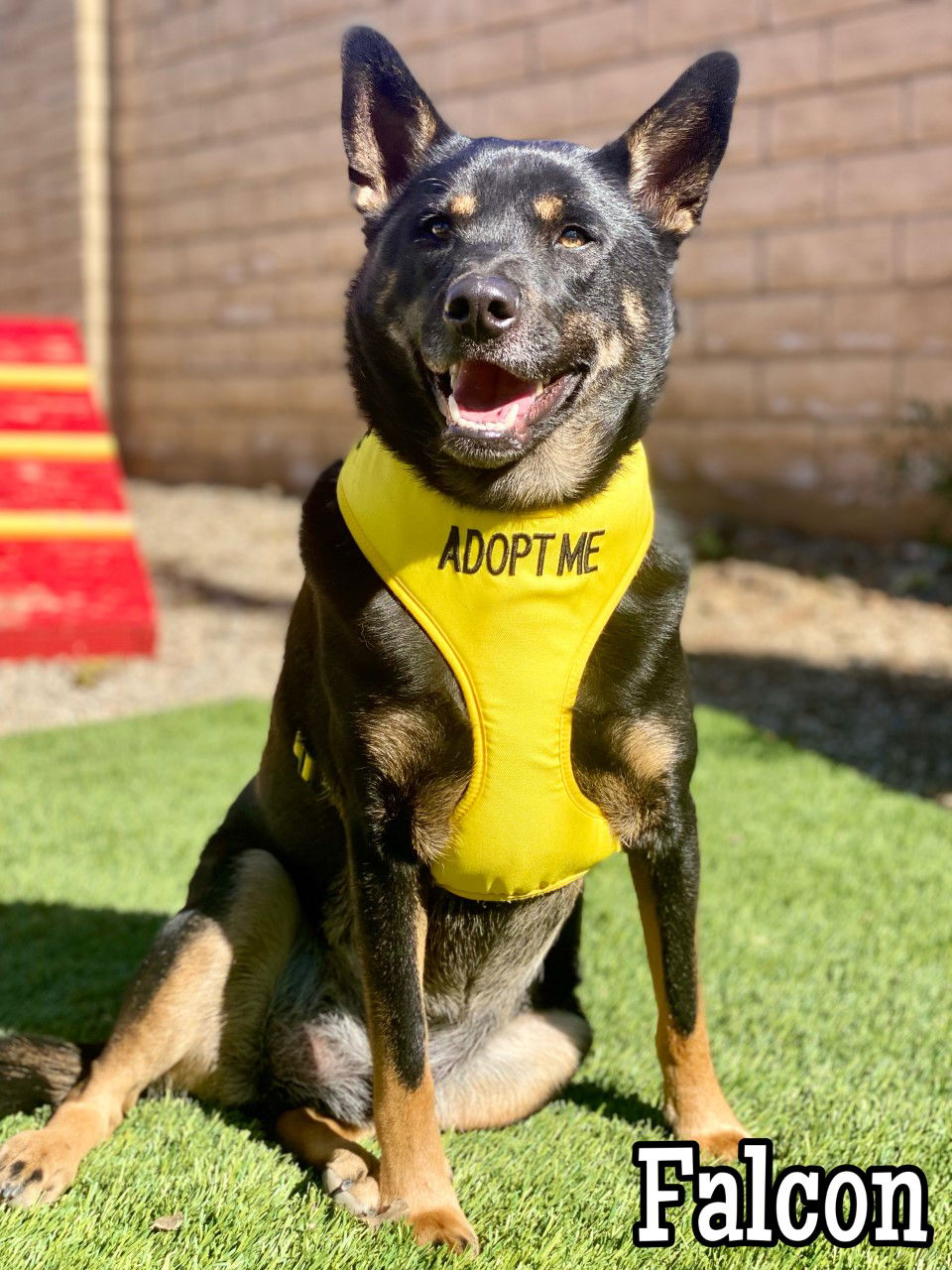 Meet Falcon:
This handsome fella was adopted at just a few weeks old on a whim by a well meaning family as they were walking through a store and saw an adoption event happening. They already had 3 dogs at home and a fourth proved to me just too much for them. So poor Falcon had been spending the majority of his day in a crate. His family knew this was no life for him and reached out to us for help. For the first few weeks here Falcon was understably shut down and confused but that has all changed. He is eager to go for walks with whoever will take him, loves to play and cuddle with our volunteers and staff. He is great in the car, doing well learning leash manners and is ready for his forever home. We think he is a cattle dog with a little shepherd mixed in but we can never really be certain about that level of detail. He is just two years old and is so ready to find his forever home.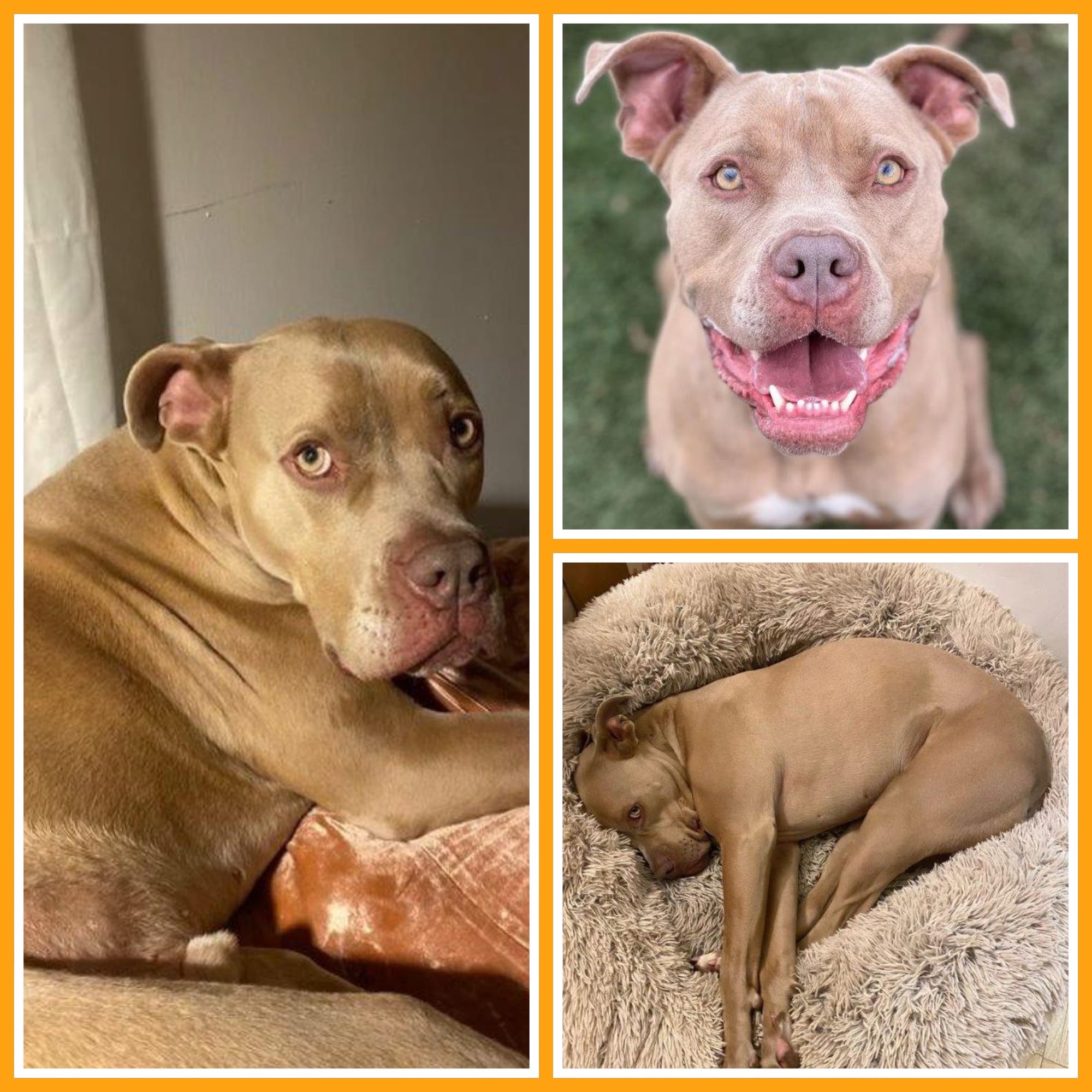 Meet Reggie:
3 year old Reggie is Pit Bull Terrier Male mix with a loving, goofy, curious and light hearted personality. He has an abundance of energy and would love an owner who enjoys long walks and hikes. Reggie would make an excellent running companion!
While Reggie loves to explore and go on adventures, one of his favorite things to do is snuggle up with people. He provides plenty of laughter and is extremely affectionate with his humans.
Reggie has lived with an older female pit-mix for his entire life. He can get overwhelmed with excitement when first meeting other dogs; however, when he is properly introduced, he is gentle and loves to play. Reggie will do well as an only dog or with another female pup who has similar energy.
Reggie is house trained, fully vaccinated
Meet Jill:
Hi new friends! I'm so happy to meet you! My name is Jill. Aren't I gorgeous? I'm a 4 year old pit bull and I weigh about 60 pounds. I arrived at Wags with my baby, and now that she's grown up and found her forever family, it's my turn! I'm high energy and friendly but also laid back and love to relax. My foster mom says I'm the best of both worlds. My favorite thing in the whole wide world is sunbathing. I could lay outside for hours! It's a good thing I live in LA! I'm also fond of playing with toys, eating lots of treats and hanging with humans (especially if they give me pets). I'm still working on my leash manners but I'm a smart cookie and and continue to make progress. I'll make a great addition to any loving home. I'm healthy, up to date on vaccinations, microchipped and will be spayed by Wags & Walks.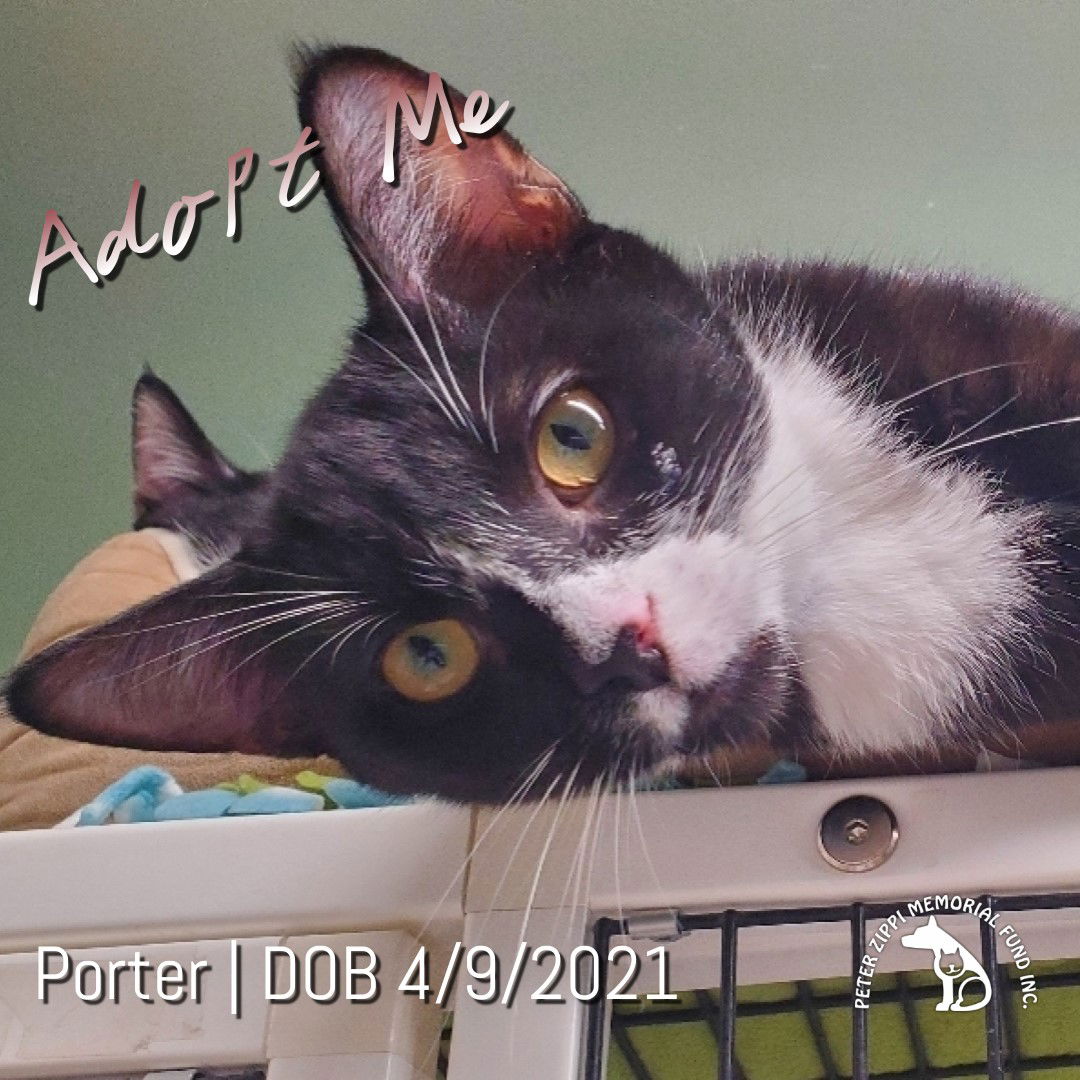 Meet Porter:
Porter is the confident, energetic, silly guy from a litter of 6 who came off the streets of Hawthorne. He is always the first to the door when the humans arrive. Porter is a very playful guy and when playtime is over, he's always ready for a good snuggle session.
Peter Zippi Memorial Fund Home (peterzippifund.org)
Meet Kendra:
Senior Terrier 8yrs
Kendra! Such a fuzzy love bug. You can't help but smile when she does. Now that she had her mammary mass removal surgery she is ready to be somebody's best little buddy. She handled her surgery and recovered like a champion, her survivor spirit is so amazing to see and she just can't wait to find her forever family. She loves other dogs, and would make a perfect pal!
Meet Lou:
We don't know why some dogs don't get any interest, but despite being simply ADORABLE, Lou seems to be invisible! He has been waiting for his forever home for a year and a half - way too long for a pup that just wants a human friend to love and cuddle.
Lou is a 6 year old pitbull mix. He has all of his basic training, walks great on a leash, and is very polite in the house. He is happy to go for long walks, or to chill and watch TV. Lou will be an excellent companion to someone looking for a loyal dog who wants a simple life with his best friend.
Louie will be great as an only dog, or with one other calm and confident canine sibling. He will be best in a home with dog savvy children middle-school aged and above.
Lou is house trained, fully up to date on vaccines, and Neutered
Meet Mario:
My name is Mario and I am a hyper fun loving guy! I would love to find a home to call my own, but I am in need of some basic obedience. I need a home who is willing to tolerate my puppy energy. I would need basic crate training and love walking on a leash. I would do best in a home with older kids, as my hyper energy keeps me jumping around! Come meet me.
Meet Virgil:
Virgil is an 18 month old, 90lb Mastiff brindle mix and we are head over heels in love with him! He is goofy, affectionate, and oh so handsome.
Virgil is looking for a home with an experienced big-dog person who can show him he is safe and can continue teaching him how to be a calm and confident pup. He would be happiest as an only dog or with one other calm canine companion.
Virgil is incredibly trainable and looks to his person for cues and reassurance. In fact, after just 30 min with our trainer he was walking like a pro and ignoring other dogs on the street. With a bit of work, we know Virgil is going to be a spectacular dog.
virgil is house trained, vaccinated and neutered
Meet Twain:
Hello! My name is Twain. I'm a 2 year old pit bull with dashing good looks and a silly personality to-boot! I weigh 55 pounds, have a soft grey coat and wear the happiest smile you've likely ever seen. I'm a very social boy with any human that I meet. Whether I've known you for five weeks or five seconds, belly rub needs don't discriminate! I'm calm yet playful and snuggly yet independent! Basically, I'm the perfect catch. I graduated from doggie school where I learned lots of commands and polite manners, and I also learned that I'll thrive in a home with no other animals or children. I can't wait to meet you! I'm healthy, up to date on vaccinations, neutered and microchipped.
Meet Howard:
Are you in search of a hunky forever best friend? You might be in luck! My name is Howard. I'm a 3.5 year old, 60 lb pit bull mix with soulful brown eyes and flawless winged eyeliner! I arrived at Wags in awful condition, but after lots of TLC from my foster dad, I'm a totally new dog and ready for my forever home! I'm very low energy and well behaved inside the home. I spend most of my time cuddling and I love learning new commands (I know tons already)! I do very well in my crate when my foster dad is home, but I'm still learning how to be comfortable being alone. I've done well around other dogs with proper introductions and I am the most gentle boy around all humans, including children. I'm a special pup looking for a special home. Could that be you? I'm healthy, up to date on vaccinations, neutered and microchipped.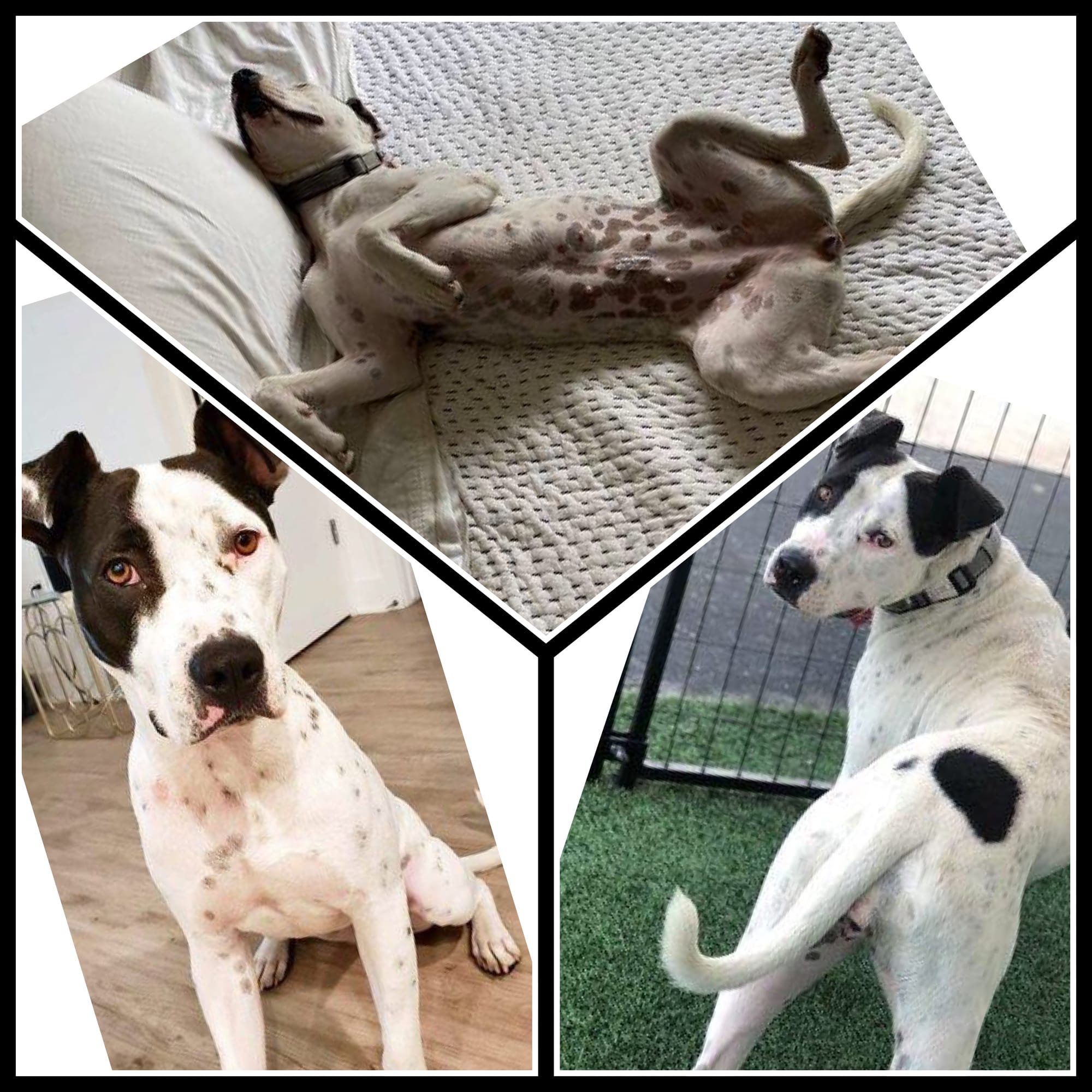 Meet Monet:
Hello! Were you looking at me? Maybe my soulful eyes? Adorable speckles? I know, I'm pretty cute! My name is Monet and I'm a 3 year old female pit bull mix. I weigh 55 pounds and am a very friendly pup! I love saying hi to new people and making them my best friend right away! I have plenty of kisses and tail wags to go around. I walk nicely on leash and am an all around 10/10 good girl. I know that I'll make any loving family very, very happy. I'm healthy, up to date on vaccinations, spayed and microchipped.

Meet Lady Di:
Get close enough and this young lady will let out a soft meow to inform you that pets are most welcome. Lady Di is very befitting of her name - distinguished and agreeable. She is always calm, cool, and collected. Never demanding but always ready to give and receive love. Lady Di made a Hermosa Beach neighborhood her "home". Everyone enjoyed her company. When one of the residents noticed she may be pregnant, one of our fabulous foster moms agreed to take her in. A few days later, she gave birth to 6 beautiful kittens. She was a great Mom and now that her babies are weaned, it's Lady's time to shine in a permanent home of her own. She enjoys sitting on a perch to observe the outside world but a warm lap is even better. If you are looking for a loving lap kitty who will be totally content just being with you, Lady is the girl for you. She is FeLV+ and would love to be your one and only or a BFF for another FeLV+ cat.
Meet Helena:
Helena is a petite little lady and a purr-fect combination of sweet and spicy. She thoroughly enjoys playtime, going crazy for a feather on a stick and chasing just about anything that moves. Unfortunately, Helena sustained a "tail pull injury". We took her to one of our favorite surgeons for a complete evaluation and found the best course of action was to amputate the tail making this girl the cutest "cabbit" you'll ever see. Helena is all healed up now and ready to find the purrfect furever home as the one and only adored feline. Will it be with you?

Meet Bowie:
This little guy is Bowie. We pulled him from a county shelter over 3 years ago with his son. His son was diagnosed with an inoperable cancer and passed away in 2019.
Bowie never gets any interest 🥲. He does take a minute to warm up to men and we think would be best as an only dog. He is one of our longest residents here and we would love to see him live the years he has left in a cozy and loving home. We think he is 11 years old, only weighs 10lbs and is probably Chi and Corgi. He walks great on a leash, loves toys and keeps his room here incredibly neat. Thank you for helping Bowie be seen. ❤️
Meet Phineas:
Hi people! Nice to meet you, I'm Phineas. I'm a 3 year old pit bull mix, and yes I'll teach you how to do winged eyeliner. I'm a big floppy puppy at 80 pounds, but don't worry- I've been told I have nice manners. I went to training school and learned all kinds of basic commands, how to walk nicely on leash and how to love my crate. I like to hangout in the sun and I do well with other large dogs…just ask my four legged foster sister! I can be a stubborn boy, so I'll do best in a home without young children, though I've made lots of teenager friends! I'm the perfect combination of active and low key. I love going on outdoor adventures (and I LOVE car rides!) but am also more than happy to hang on the couch all day- I'm a fantastic cuddle buddy. I can't wait to be someone's forever buddy! I'm healthy, up to date on vaccinations, neutered and microchipped.
Meet Nico:
Akita / Medium Coat
Large Senior Male
Nico came to us from Arlington, TX where he was neglected and became a frequent guest at the local shelter. A sweet boy that is friendly to everyone he meets, his new chance at life is now! He is active and has good energy, but needs a quiet place to call home He is available to foster until his medical treatment can be completed and a foster will have first option to adopt after he has completed treatment. Help this wonderful boy today!!
Meet Danny:
Danny is a special guy in more ways than one. He is a fun-loving goofball that makes you laugh every day. He is a confident guy who is energetic, playful, and affectionate. Danny loves to be with his people whether he's engaging in interactive play, supervising work around the house, going for a car ride or snuggling up in your lap. He just loves to be close. When he's not in the middle of some serious zoomies, he takes it down a few notches and becomes one of the most "chill" cats you'll ever see. He'll be a purrfect companion on chilly nights, sleeping on or right next to you. Danny is FeLV+ and would love to be your one and only or a BFF for another FeLV+ cat already in your home. Danny is also great with dogs. We hope you will consider this fabulous young man. We'd love to chat about what it means to be FeLV+ and the lovely life you can have with a fabulous feline.
Peter Zippi Memorial Fund Home (peterzippifund.org)
Meet Florence:
Hello, pals! My name is Florence and I am one of the happiest, most lovable dogs you'll ever meet. I'm a 7 year old pit bull weighing in at about 50 pounds. An old injury (prior to my arrival at Wags) caused me to go blind in one eye, but don't worry- it doesn't affect me at all! In fact, the people at Wags say it makes me even more beautiful. I'm a goofy and friendly girl, and although I'm always down for an adventure, I'm also a major cuddle bug. I love spending time with my humans no matter what we're doing! I do well in my crate and walk nicely on leash with a confident handler. I'm a super special girl and I know I'll keep you smiling and laughing if you take me home forever. I promise! I'm healthy, up to date on vaccinations, microchipped and will be spayed by Wags & Walks.



Your browser does not support HTML5 video.

Meet Checkers:
Domestic shorthaired / 1 year old Male
sweet docile black & white cat who loves affection and pets! He's usually found lounging around campus with the other cats. Check out this cute video.

Your browser does not support HTML5 video.

Meet Bella:
Bella is a spry 11 year old American Pit Bull Terrier mix with a dashing pirate smile. She is looking for a home with no other pets and does very well with people of all ages. He favorite toy is a tennis ball and she definitely enjoys a game of fetch. Bella is a big fam or car rides and tummy rubs. She even knows several basic commands and appears to be house trained! If she may be the pup for you, please give us a call at 772-223-8822 or stop on by!
Meet Delilah:
Delilah is a 2 year old female spayed who arrived with 3 kittens. As you can see from our video, she loves to play. What you can't see is that she loves Kids and loves other cats! Would you like to take her home today? Then please visit the Sunrise Humane Society in Fort Pierce, Florida.
Meet Pebble:
Pebble the Pebble is a goofy, fun-loving 3 year old American Pit Bull Terrier Mix. We do not know much about his past other than he arrived as a stray with a shock collar. Pebble does have some trust issues that according to our trainer seem to stem from improper shock collar training in the past. Our trainer has been working diligently with him and Pebble is now ready for a home of his own. He is a very active, playful dong and he is very tidy in his kennel. Pebble is so tidy that he may even be house trained!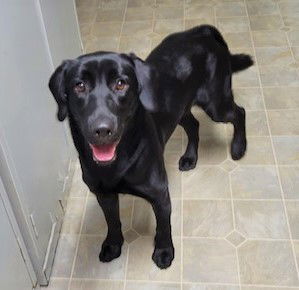 Meet Blossom:
Blossom welcomed the New Year by being rescued from a North Florida Animal Control on January 1st by Houndhaven. She was found as a stray and like so many others, nobody claimed her. Houndhaven saw her, as well as several other dogs that needed rescuing, and brought them to our rescue to start the New Year and begin a new life at our rescue. Blossom was shy when she first arrived but is slowly beginning to realize that everyone just wants the very best for her, and we are seeing her personality bloom.
Blossom is a gorgeous, 10–12-month-old black lab. She weighs under 50 pounds, and that is 50 pounds of pure love. As mentioned, Blossom is still settling in at Houndhaven, so when she is in her kennel, she can be found hiding under her Kurunda bed, even though she doesn't really fit underneath it. Shhhh…don't tell her we told you her secret hiding spot. Once she is out of her kennel and going for a walk she is as happy as a lark and showering you with hugs and kisses. She absolutely loves being around people and the other dogs.
If you've been looking for a new addition to your family that will help keep you active in the New Year, Blossom will cheer you on with much enthusiasm, and reward you with tons of love and kisses. Information about Blossom and her great friends at Houndhaven can be found by visiting www.houndhaven.org to review our adoption policies and procedures and to complete an application.
A Safe Haven For Dogs Of All Kinds – Minneola, Fla
Meet Frankie:
My name is Frankie and I am a 9 year old sweetheart. I have been at the shelter since March and I really can't understand why I am getting overlooked so often. Maybe if I was a cute bouncy kitten somebody would want me.
The volunteers say that I love getting my head rubbed and stretching my legs outside of my kennel. When the volunteers pick me up, I don't fuss at all. I am just happy with any attention I can get! I play gently and was regularly around children in my previous home and did great. I would love a home with a screened porch so I can smell the fresh air but I'm not picky!
My adoption fee has been sponsored by a very generous donor!
I am FIV+ which is not a big deal at all! I am still a healthy and happy boy.
Your browser does not support HTML5 video.

Meet Caymen:
Caymen is a 1 year old Male neutered Foxhound. Please watch the video to see how sweet this boy is and what GREAT energy he can bring into your home. You will make a lifetime of memories with Caymen. It would be great if you have an active family and a large fenced in yard for him to grow up in. Please come and visit him soon!
Your browser does not support HTML5 video.

Meet Tank:
Basset Hound Mix
2-year old Male / 41lbs
He's a very calm and relaxed dog. Tank will come when called and knows how to sit. He takes treats gently. He is such a handsome boy, just click on the play button above to see his video. Tank will do best in a home with no other male dogs. He enjoys the company of female dogs. Tank may also not do well with cats who taunt him.

Your browser does not support HTML5 video.

Meet Major:
Major is a year and a half old and is looking for a home all his own. He does not want to live with any other pets but loves people –especially older children and adults. Major is very high energy and enjoys learning new things. This cutie has only been at HSTC since November 2021, but is ready for his fur-ever home. Major is accepting visitors at the HSTC main shelter located at 4100 SW Leighton Farm Ave. in Palm City, Florida.
Your browser does not support HTML5 video.Meet King:
Batman and his brother King are both very special kitties looking for the purr-fect home for them. They are both Feline Leukemia Positive (FeLV+) and need home with either no other cats or other FeLV+ cats as they do not want to spread this to any negative kitties. Batman is about 3.5 years old and very outgoing and sweet once he warms up to his new surroundings. For more information on what it means to adopt a FeLV+ cat, please give the staff at HSTC a call at 772-223-8822. Batman and King are both accepting visitors at the HSTC main shelter located at 4100 SW Leighton Farm Ave. in Palm City, FL.
Your browser does not support HTML5 video.

Meet Snoop:
5 year-old Male neutered Pit. He's really laidback and filled with goofy love. He's got lots of manners, sits on command and takes treats easier than most pets. But at the end of the day, he's just a love bug. He would do best with an active family that either have a nice size yard or will take him for walks regularly as he can stand to lose a few doggie pounds.
Your browser does not support HTML5 video.

Meet Darla:
i'm a beautiful six-year-old calico tiger girl lost my home because I could not get along with the new baby. I would be best as an only pet and a house with people who could give me lots of TLC. I'm very sweet and loving But I don't like to share Your attention with anyone else. In return, you will have all my attention and love.
Great news!! My guardian angel has paid my adoption fee
Your browser does not support HTML5 video.

Meet Sir John Long Silver:
Sir John is a 4 year old male neutered Tux. He would make such a GREAT family cat and is good with kids and other cats in case you are looking to grow your family of Felines.
Meet Tucker:
Tucker is a little over 8 years old and has been here at HSTC since January of 2021. He is a bit of an escape artist, but is oh so loving with people of all ages. He would prefer to be the only pet in his new home (he thinks cats are fun toys to chase and likes bossing other dogs around a bit too much). Tucker knows several basic commands such as "sit", "stay", and "fetch".
His adoption fee has been sponsored by Home Team Lending! If Tucker sounds like the pup for you, stop on by the HSTC main shelter to meet him or give us a call at 772-223-8822 for more information.
Your browser does not support HTML5 video.

Meet Batman:
Batman and his brother King are both very special kitties looking for the purr-fect home for them. They are both Feline Leukemia Positive (FeLV+) and need home with either no other cats or other FeLV+ cats as they do not want to spread this to any negative kitties. Batman is about 3.5 years old and very outgoing and sweet once he warms up to his new surroundings. For more information on what it means to adopt a FeLV+ cat, please give the staff at HSTC a call at 772-223-8822. Batman and King are both accepting visitors at the HSTC main shelter located at 4100 SW Leighton Farm Ave. in Palm City, FL.
Your browser does not support HTML5 video.

Meet Dusty:
7 YEAR OLD – Former House Cat - MALE
You are probably wondering what the the rest of me looks like. Well my fur is short and it is mostly gray with a few white stripes here and there. Ever since I came to the shelter I have wanted to sit in this cube. That is, until people come in to visit me then I want to sit in their laps. I'm a very loving boy and I'm good with people who are middle agers like myself. I would be happiest in an adult home where I can get the TLC I crave. My adoption fee has been paid so please meet me and take me home .
Meet Kiara:
They say good things come in small packages and we think sweet Kiara is a perfect example. We are amazed that she is such a loving girl, especially because she was cruelly dumped from a car, which was witnessed by one of our volunteers. Our volunteer was able to rescue a scared, shaken-up Kiara, and have her close that chapter of her life and never look back. Our vet discovered wounds on Kiara in different stages of healing which led us to think that she was possibly used as a bait dog, and she was heartworm positive as well. Despite all of this, Kiara has been brave and remarkably still trusts people. She has become a volunteer favorite because of her amazing personality and puppy-dog eyes.
Kiara is an adorable two-year-old, black lab mix. She weighs 35 pounds and is the perfect size for lots of snuggling, which is one of her favorite things to do. Kiara gives sweet little kisses and stops to give hugs while on her walks. She loves her Nylabones and tries to bring one with on her walks as well. We have discovered that she really likes being around children and loved all the attention she received at her first appearance at an adoption event since she finished her heartworm treatment.
In her short life, Kiara has been through a lot, but we are happy that that is behind her and want to ensure that her future is nothing short of a doggy fairy tale. She deserves to be spoiled and in return, we know that she will shower her family with endless love and snuggles. If you've been looking for a little cuddle bug like our Kiara, please visit www.houndhaven.org to review our adoption policies and procedures and to complete an application.
A Safe Haven For Dogs Of All Kinds – Minneola, Fla
Meet Scarlet:
Scarlet is a 2 year old Rex rabbit looking for the perfect home to treat her like the princess she is. Scarlet, like a typical Rex, is a bit of a diva. She loves to redecorate her kennel and toss items around; she prefers all interactions to be on her terms. Scarlet is a very sweet bun and loves to cuddle – as long as you are one of her chosen people. She won't snuggle with just anyone! Scarlet is a special needs bun – she has a splayed rear leg that causes her to hop a little funny. Scarlet doesn't let this slow her down at all! She is very curious and enjoys exploring large areas; Scarlet would make an excellent house bunny for a bunny-savvy adopter. Scarlet is accepting applications and visitors
Meet Timber:
2 yrs male neutered, hound mix Timber is a friendly dog who participates in play but isn't a "nudge" who pushes play. He does have lots of energy, though, and does love to play. He is an independent, confidant dog who is not "needy" for attention. Can "give" the ball when asked, "leave it" to leave a toy alone and "sit".
Your browser does not support HTML5 video.
Meet Max:
Domestic shorthair Tabby / 4 years Old

I was found wandering the streets looking for someone to love me. I am a typical Tabby boy who loves my food, toys, treats and especially my catnip. I can be picky with who I share my territory with but most of the time I will get along with anybody. Someone who has plenty of free time to give me attention is my ideal home.
Even though this video was taken at the Sunrise Humane Society of Fort Pierce, FL, Max has been moved to the Dogs and Cats Forever animal Sanctuary a few miles away!
Your browser does not support HTML5 video.

Meet Lexi:
Lexi is a super sweet, people loving 2.5 year old German Shepherd. Her favorite activities are playing and running. She knows several basic commands such as "sit" and has lived with children in the past. What makes Lexi unique is that she has a medical condition called Megaesophagus. Due to this condition, Lexi has to eat upright in a special chair (called a Bailey's Chair) and maintain a very strict feeding schedule. She doesn't let this stop her from acting like a regular dog! Lexi has quickly become a staff and volunteer favorite; it is hard not to fall in love with this adorable lady.
If this special needs pup sounds like she may be the one for you, please give us a call at 772-223-8822!

Your browser does not support HTML5 video.

Meet Buddie:
Buddie is a ten year old boy who lost his home because his owner became ill. He is used to being with a small dog and likes other cats. He has lovely blue eyes and has a white coat with tan and tabby patches. He is possibly a Siamese mix. He is a very calm cat and would love a semi-active home with adults and older kids.
Great news!! My guardian angel has paid my adoption fee
Your browser does not support HTML5 video.

Meet Stark:
Start is approximately 2-3 year old Male Russian Blue. As you can see from this video, he is one big boy and has one big personality to go with it! He is KING of his domain and can hold a really good conversation. He's great with other cats and would be good if you have kids in the house.
Meet Grandma Pippin:
Grandma Pippin arrived at HSTC as a stray in late October. While we don't know anything about her past, our medical team was quick to discover that Grandma Pippin is diabetic. Her diabetes is currently regulated with a combination of insulin and a special diet. She is a petite little lady and is one of your youngest senior kitties at only 9 years old. Grandma Pippin was in a foster home where it was discovered that she would probably prefer to be the only feline in her new home. For more information on Grandma Pippin, give us a call at 772-223-8822.


Your browser does not support HTML5 video.Meet Wonder:
Wonder came to HSTC in January of 2021 when she wasn't feeling well and her owner was not able to provide adequate care. We determined that Wonder was diabetic and quickly began regulating her diabetes with a special diet and insulin. Wonder is a very sweet, calm and quiet cat. She likes to be brushed and to watch out the window. Wonder is 13 years young and her adoption has been sponsored by a very generous donor! She is accepting visitors at the HSTC main shelter at 4100 SW Leighton Farm Ave. in Palm City, FL and can also be viewed online at hstc1.org.
Your browser does not support HTML5 video.

Meet Toby:
Hey there, let's talk! They call me Toby the Talker because I love to converse with my visitors. I'm a three-year-old happy boy who's looking for a fun family to live with. I could be adopted separately or with other cats as I am very good with people and cats of all ages. Meet me soon and will have lots to talk about!
Great news!! My guardian angel has paid my adoption fee.

Meet Bleep:
Female /3-years-old
BEEP BEEP! Here's Bleep!
Move over boys! Bleep is an independent and athletic girl who is always ready to play. In playgroups, she's never shy when it comes to hanging with the boys and generally tends to do best when in their company. Bleep would do well in a home with an active and experienced owner who can match her energetic nature. Don't be fooled, though. As much as she loves being active, after a long play session there is nothing more she enjoys than snuggling up with her favorite people... perhaps that person is you!?
Please note that meet and greets are required if you currently have any other dogs in your home.
Meet Bonnie:
Bonnie is such a sweet young girl. She is very well behaved for a six-month-old puppy. She
walks great on a leash and loves to be outside. Bonnie would be good with kids. All Bonnie
wants is a family to love.
Meet Brad:
Brad is a one-year-old cat ready to find his FURever family. Once he spends time with you his
gentle personality really flourishes. He enjoys face rubs and will lay down with his head in your
hand. When it comes to play time if you are busy he has no problem chasing toys on his own.
He would be fine spending time alone, but once you come home he will greet you with loving paws.
Meet Chance:
3-year-old /Male /Terrier Mix
Chance is a handsome boy. Loves people and does well in playgroups with other dogs. He walks good on a harness and tries to keep a clean kennel. Perfect for an energetic family.
Meet Alice:
Female /2-years-old
Alice is always lending a helping hand in the HSNEGA Cat Room! Anytime you walk by, you'll always see this 2-year-old's helpful paw reaching out to greet you.
Meet Russell:
2-Year-Old Male. Terrier Mix
Nobody will make you smile quite like Russell! This energetic boy loves to play just as much as he loves to cuddle. He is always excited to greet you with a tail wag and a smile, so make sure you're ready to give him all the pets and kisses in return!
Meet Piper:
6-years-old /Female
Piper is a loving girl who enjoys attention. She likes to talk to you a lot and ask for face rubs. She would do best with either an older couple or a family who constantly has people around. She loves the climbing post we have and plays with the cat wands. She will stick by your side!

Meet Chance:
Chance is a boy of few words, but he knows what he likes in life. At only three years old, he has the personality of an old man. He thinks there's no better way to spend an afternoon than curled up in his Lazy-Boy with the football game on and a nice toy. Naps are a daily necessity following a whole bunch of treats that he wants (but doesn't need). Don't be surprised when he snores so loud he wakes himself up! He's got a great fashion sense and thinks real tough guys can rock cute jammies with style. Like a real distinguished gentleman he has all his proper manners like being house trained, walking well on a leash, and knowing sit. He knows how good he is and is ready to let you enjoy his life as well- but only if there's belly rubs and treats involved!
Meet Tito:
I may not win any fetch awards, but I'll definitely win you over with my mad snuggling skills. If a night of snacks, snuggling, and sitcoms is your thing- we may be a perfect match. My name is Tito and I've never met a stranger! I love making new friends, whether they be dogs or people. For more information about me please email adopt@caabr.org!
Meet Simba:
Hakuna Matata, what a wonderful phrase! It means no worries... for the rest of your days! That's how Simba likes to live his life. Despite ending up at the shelter he looks for the positive and puts the past in the past. Change is good and he's looking forward to the changes hopefully happening for him soon. Simba has quickly become a staff favorite and likes spending his free time making friends with everyone who visits the shelter. Although we don't have much information on his past we think it's safe to say he's going to make someone a lucky pet owner! For more info, please email
Meet Bear:
2 year old, 50 lbs mixed breed, House trained, Kennel trained, Knows how to sit, shake, and high-five
I am very much a ladies man!! I am a proper gentleman that you can take on long walks, I will always remain by your side, and I will always show you my manners. If there is another man in your life, I will need some time to adjust to that. If he gives me lots of treats and is as loving as I am, I will keep him too!
Meet Dempsy:
This handsome boy catches the eye of everyone that sees him. Looking for someone smart that can shine and make you look good in obedience class? Check. Looking for someone that has made best friends with most other dogs? Check. Looking for someone who will be perfectly happy curling up next to you on the couch, going on a hike, or going to any of the local people's hangouts? Check! Dempsy is estimated to be about 2 years old so he's done growing. He's fully vetted and ready to bust out of here! Email adopt@caabr.org for more info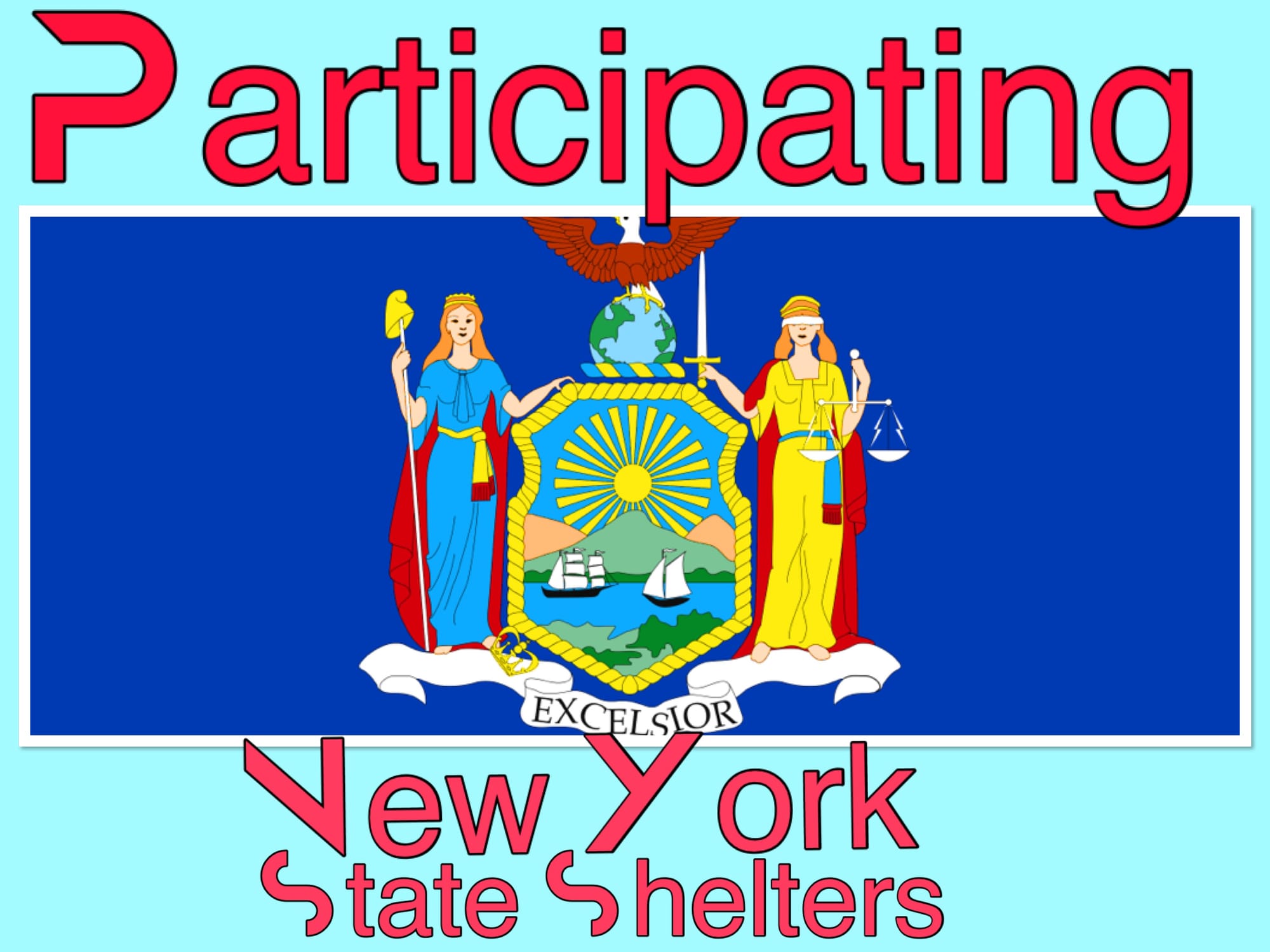 Your browser does not support HTML5 video.
Meet Clint & Summer:
6-year-okd Clint (black and white) was at another shelter who lost their lease before coming to us. This sweet guy loves to play and is super friendly. What he loves most of all though is his girlfriend, Summer (4 years okd). The two are absolutely inseparable and we would love to get them a home together. Summer is also super sweet. Both are healthy and have recently had good bloodwork and some dental surgery.

Meet Groucho:
Only named Groucho because of his mustache because this guy is anything but grouchy! Groucho lost his home when his owner passed away and this super sweet senior is looking for another home.
Meet Cindy Lou:
Cindy is a 5 year old and was left behind when her owner moved. She wound up at a municipal shelter and was transferred to us. She is a little shy at first but will make a wonderful companion when she gets to know you!
Meet Irina:
At 10 years old, Irina's owner never spayed and when she became pregnant, her owner brought her to Animal Care Centers in NY. This pregnant gal was then transferred to the Ladew Cat Sanctuary in Long Island where she had her only kitten, Boris,(who has since been adopted, and it's really too bad they couldn't go out as a bonded pair).
Irina was super shy when she came in, but now has become a social butterfly. She's been spayed and is a sweet & petite little lady who just recently had dental surgery and is healthy and ready for a new home.
Meet Tiger:
2 year old Male Domestic Shorthair Cat
Tiger is a super friendly gorgeous young slightly shy boy. His coat is simply stunning. He gets along well with other cats.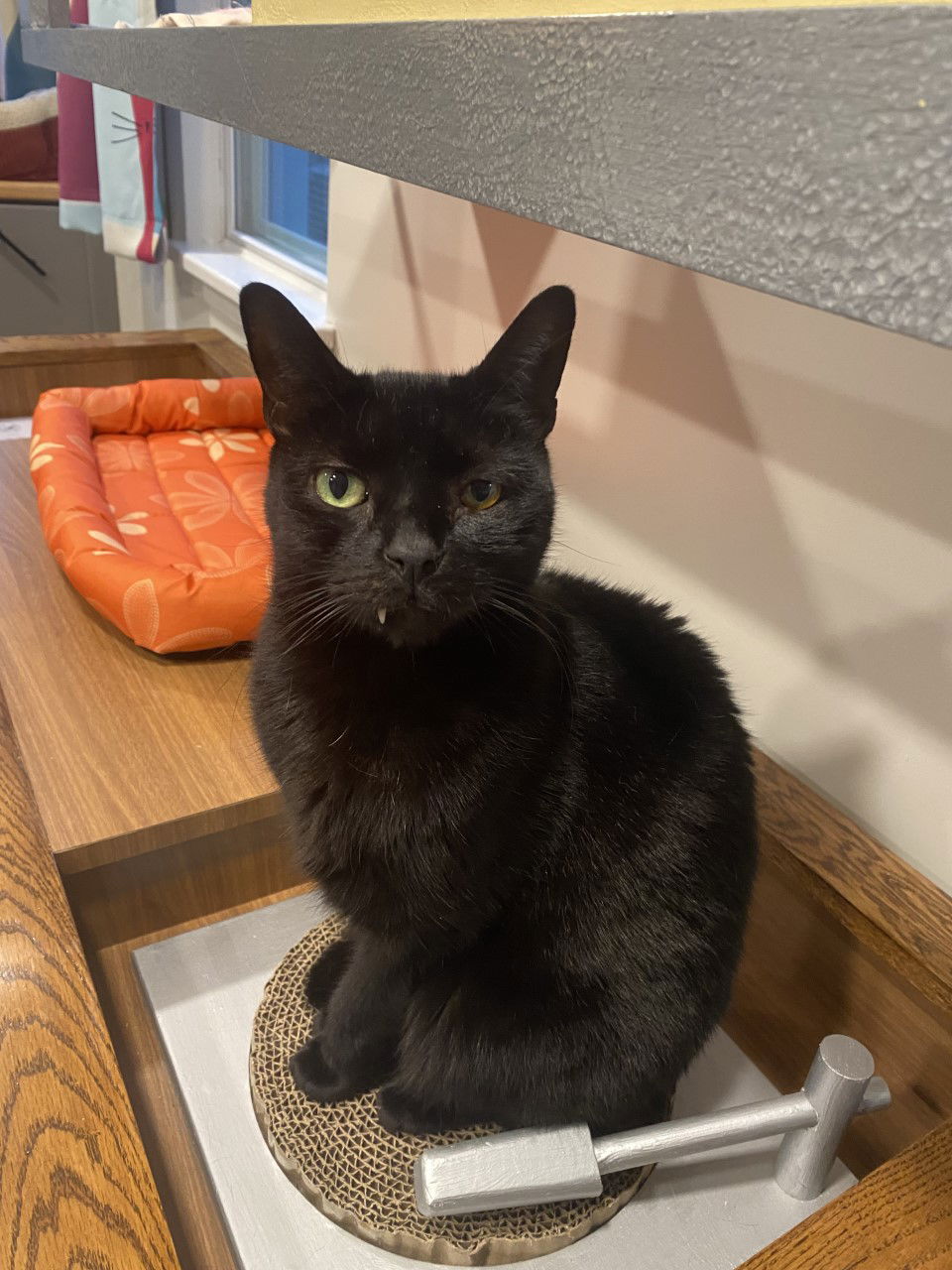 Meet Pablo:
Pablo (or DJ Pablo) as he is also commonly referred to is the life of the party. At 9 years young, this guy gets along great with other cats, is super affectionate and a class clown. He recently lost his home when his owner passed away and is looking to make beautiful music with a new family.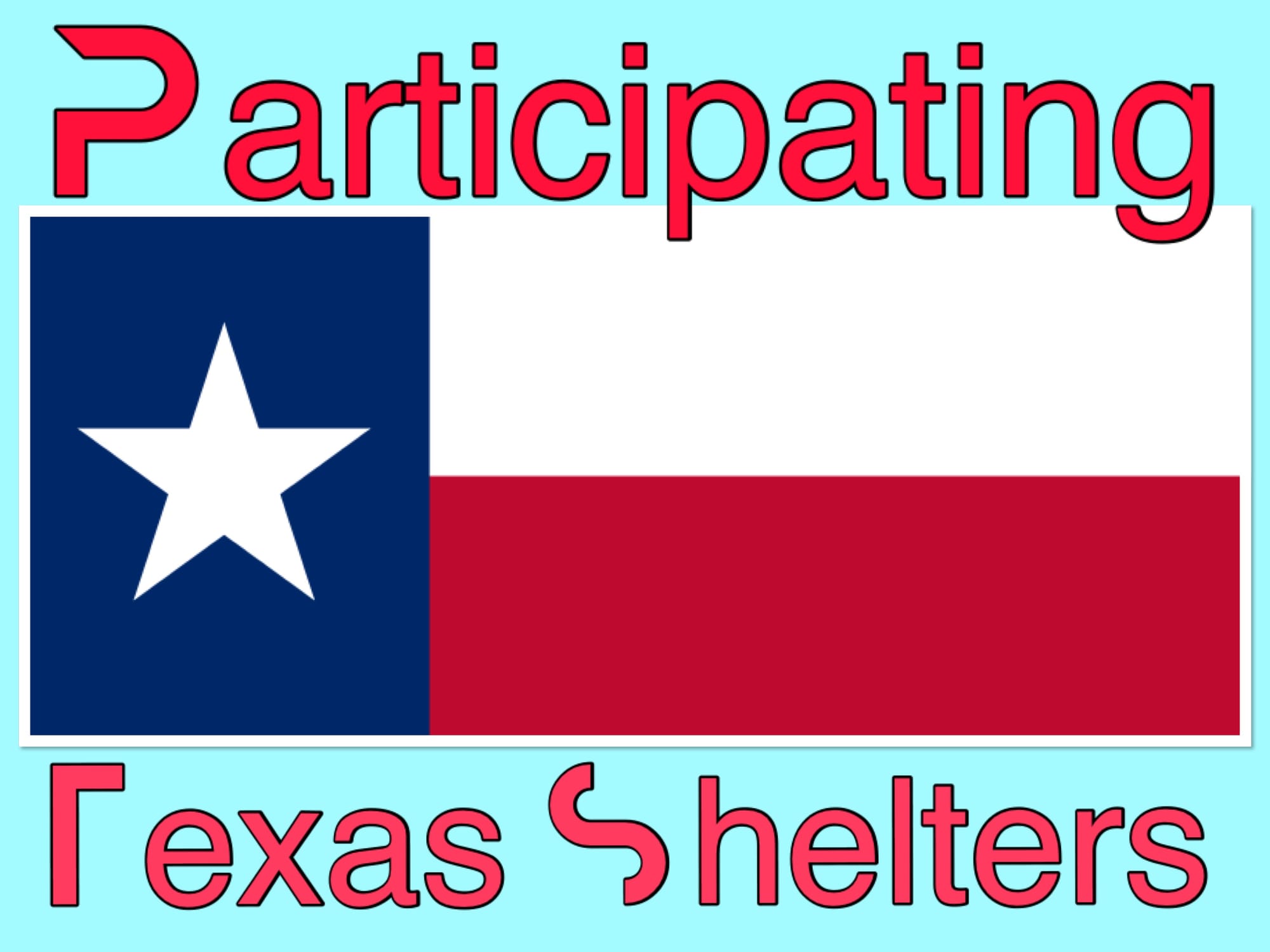 Meet Chili:
Is a 3 year old female Husky mix
She Weighs 70 pounds
Is good with other medium to large assertive dogs
Appears to be potty trained
Walks nicely on a leash
Is high energy and a bit nervous loading up, but enjoys car rides once inside the vehicle

Chili is remarkably intelligent and people oriented. She bonds deeply with her handlers, showering them with love and affection. Chili has a true husky spirit! She will flourish with a family who understands the breed and can provide structure and boundaries, and her optimal home is one with an active family or another high energy dog to play with.Chili is spayed, vaccinated, microchipped, and heartworm negative.

Meet Blue:
Not sure how I got that name but that's what it's always been and foster mom hasn't changed it yet. So probably whoever adopts me will. Anyway I sure could use a new home. My previous owner passed away and I ended up at the shelter. I was not doing well at all there so they convinced foster mom to bring me to her house. I like it here but would love a home of my own.
I get along with everyone and have lots of toys to play with. As you can see I love to play ball. I mind pretty well too. I really don't like to be crated but I'm trustworthy in the house especially with a pet door. I know basic obedience and walk nicely on a leash as well.
So if you are in need of a new best friend please apply today!
Spayed female
2 years old
Heartworm negative on prevention
Current on shots
Microchipped
House trained
Uses pet door
Does not like crating
Good with people and other dogs
Not tested with cats or children
Meet Yahtze:
Yahtze is my name and playing is my game! I love balls! Tennis balls, big red balls, or any color! I also love to chase bugs. I've discovered bees, flies, dragonflies anything that flies is so much fun to chase! I guess I'm just a fun loving girl. I also love to eat. I was so underweight when I was first rescued that I looked more like a skinny greyhound than a German Shepherd. Foster mom was feeding me three times a day but I'm really starting to fill out now. I still love to eat though and really look forward to dinner time. I do have a bit of a sensitive stomach so foster mom cooks white rice and oatmeal for me and mixes it with Nutro chicken and brown rice as that is what I do the best on. So my new family has to promise to feed me that way and I'll be fine.

The family that found me loved to play Yahtze and I loved to watch. So they decided that was my name. They also had children which I adored so I am fine with children. I love the other dogs although I'd rather play with balls than with them but I get along fine with them. I haven't met any cats so I really don't know if I'd like them or not. But I know I would love to be your new best friend so if you'd like me to be yours please fill out an application.
Spayed female2 years old, about 65 pounds
Heartworm negative and on prevention
House and crate trained
Current on vaccinations
Microchipped
Good with people and children
Good with other dogs, Not cat tested
Meet Taco:
2 year old Pit Bull/Cattle dog mix
Weighs 55 pounds, but we are working to get him up to 65
Is good with other dogs & enjoys riding in the car
Appears to be potty trained and walks nicely in a harness
Is high energy
This Taco is of the soft variety! He is submissive, shy and gentle when meeting new people, but still very affectionate. He loves to spend time inside with those he loves and makes a peaceful companion. Playing with other dogs is another favorite pastime, particularly when it is with a cute girl! Taco can be very high energy at times and will need a home that can provide a constructive outlet for exercise. Always smiling, this dapper boy has an amazingly sweet personality and just wants a peaceful home with a family to treasure and enjoy.
Taco is neutered, vaccinated, microchipped, and heartworm negative.
Meet Zeus:
Zeus is a dog who loves to give hugs. He also enjoys having long conversations with just about any breathing creature that will listen. He is happy, confident, affectionate, playful, silly, HILARIOUS and downright wonderful. If you're a husky veteran, please come out and take a look at this incredible gem. He will need a home that understands his needs and many beautiful quirks. We could talk to Zeus all day, and I bet you would love it too!
Is a male Siberian Husky
Is 3.5 years old
Weighs 55 pounds
Is good with other female and most submissive/mellow male dogs
Appears to be potty trained
Enjoys car rides
Walks well in a harness
Is medium to high energy
MUST have a fully enclosed yard
Zeus is neutered, vaccinated, microchipped, and heartworm negative.
Meet Flash:
Fluffy boy Flash is mellow and sweet. He has affectionate moments but is also very independent and prefers to receive pets and love on his own terms. He enjoys wide open spaces and would be happiest in a setting with plenty of room for him to explore and roam. Flash has been through a lot of changes recently and needs a low key home where he can relax. We are searching for a peaceful, patient forever family that will love him for the handsome stoic that he is! Flash is neutered, vaccinated, microchipped, and heartworm negative.
Is a male Newfoundland (or Landseer) mix
Is 4.5 years old
Weighs 85 pounds
Walks nicely on a leash
Is good with other low key dogs
Will load up into a car, but does not enjoy car rides
Appears to be potty trained
Is low to medium energy
Is not good in a home with children or a small yard
Meet Von:
Neutered male
Almost 3 yrs old
Heartworm negative on prevention
Current on shots
Microchipped
About 70lbs
High energy
House and crate trained
Gets excited around people
Does good with other dogs
His full name is Wernher Von Braun, but his parents just call him Von. He was named after a German rocket scientist! Von is just a little (BIG) love bug full of energy and would love to roll into your life and give you some excitement. He loves people and will be your best friend. Von does like to jump though, and new people don't like that very much. (you don't need to go any further than my houseguests because my two rescues do the exact same thing) He's a bit robunctious, but he's learning and working on his manners. Von would probably be fine with older teens as opposed to young children. .
Von gets along with other dogs, shares his toys and has shown no aggression. He also does well on a leash. He's got a heart of GOLD
Meet Conan:
Just thought you might like to know, I'm named after Conan O'Brien a late night talk show host as I can be vocal at times. Not Conan the barbarian or destroyer. That's not me! Anyway, I am a sweet guy in search of a new forever home preferably with no chickens, so if you would like me to come live with you please fill out an application! Love, Conan
Well here I am looking for a new home again. I was adopted from the shelter but lost my new home and was returned. You see, the neighbor had chickens and I just couldn't help myself! Over the fence I went, and then back to the shelter. I thought they wanted to play, but the neighbors were not amused at all. The chickens weren't very happy either. I've never tried to jump the fence here because I have friends and there are no chickens on the other side. I like the other dogs here, Rosita is my favorite. I wonder if she's my Mom as we came from the same shelter and she makes me behave. And we sure look a lot alike. Whoever owned me before never gave me Heartworm prevention so now I have those nasty Heartworms. Foster mom started me on slow kill and will give meds and instructions to my new family, or we can discuss doing the quick kill if they prefer and can keep me calm and quiet for the duration.
Neutered male
2 years old
Current on shots
Microchipped
Heartworm positive, slow kill started but can do quicker method after adoption if preferred
House and crate trained
Good with other dogs and people but needs help with manners
Not cat or child tested
Not okay with chickens
Meet Zola:
Female basenji mix /10 months old / Weighs 27.5 pounds and will likely range from 30-40 full grown
Is good with other dogs, Appears to be good with children
Is working on housetraining and Walks nicely in a harness
Is high energy
Zola has eyes like a malted milk ball and a brindle colored coat like a tiger! She's confident, enthusiastic and exceptionally intelligent. Despite her small size she will need an experienced dog family to command her respect and obedience. She is independent but also adores and is very affectionate toward the people she loves. An alpha female in the making, she will benefit greatly from a home with another assertive dog who can continue reinforcing appropriate dog-on-dog manners. Zola has the potential to be an incredibly well-trained, adventurous companion and would be a great fit for an active family.
Zola is spayed, vaccinated, microchipped, and heartworm negative.
Meet Katie:
Female border collie mix / 3 years old Weighs 50 pounds
Is good with other submissive dogs as well with children
Potty trained, Walks nicely in a harnessIs high energy

Katie is a very affectionate and loyal companion who would love to be the only dog at home. She is people-centric and will thrive with a family who has lots of time to spend with her. She can join a home with other dogs, but is an alpha female and would need to be the leader of the canine pack. She can be timid with new people but is the queen of snuggles once she feels safe and familiar. She loves to run and play so will flourish best in an active home or one with plenty of outdoor room to exercise. She is the ultimate best friend and will make a loving addition to her forever family.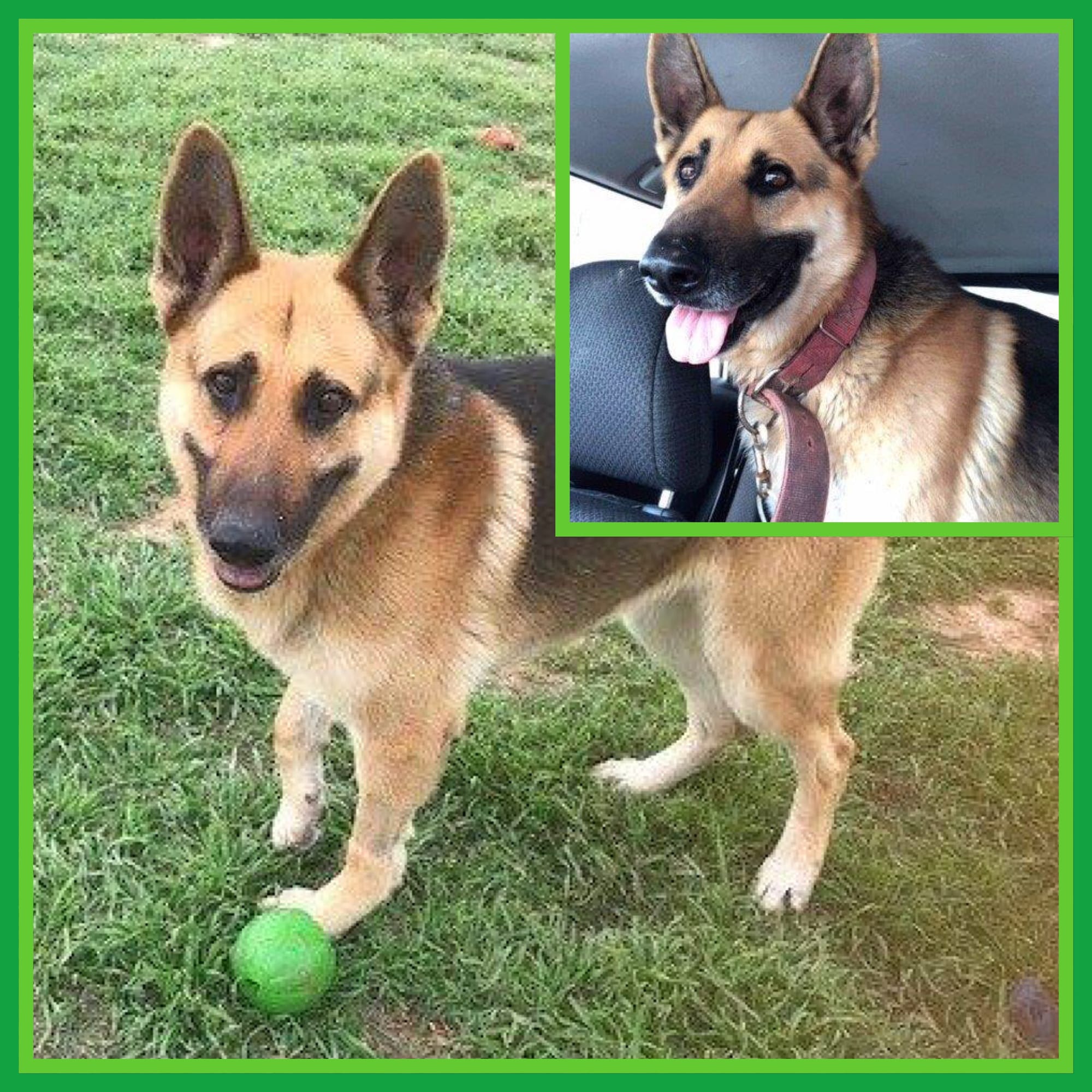 Meet Cameron:
This handsome guy is Cameron and he is taking applications for his forever home. He is a big sweet guy but needs a very competent experienced owner. He hasn't had any training other than what his foster mom is giving him and he is very stubborn. He would do well going to training. Cameron is very food motivated and also loves affection. He is gentle but probably wouldn't be good in a household with children under the age of 12 because of his size. Cameron once had a home but his owners decided they didn't have time for him so they took him to a very high kill shelter and left him there. With the help of several wonderful people Cameron made it all the way up here from South Texas.
He was extremely underweight and his coat was dull and brittle but he's now gaining weight and his fur is getting thick and shiny. He loves to play with the ball; he's not that great at bringing it back to you and will carry it around in his mouth. And also because of the neglect Cameron is heartworm positive. We've started the slow kill and will provide all meds but will work with the adopter if they would prefer to do a quicker method after adoption.
Neutered male
3 years old
Current on shots
Heartworm positive, slow kill started
House and crate trained
Microchipped
Not tested with cats or children
Good with some dogs
Experienced adopters only
75-80 lbs.
Meet Scrat:
What Scrat wants most from life is to be inside on a warm lap. Although wary of strangers, he is people oriented and would happily snuggle those he trusts for hours; this adorable little boy demands to be pampered! He can behave a bit spoiled at times, so some of his manners will need to be polished in his new home. He enjoys walks and playing with stuffed toys, but for the most part is mellow and just wants to be cuddled. He could acclimate to a home with other calm dogs but would also be delighted to be the only fur-baby at home.
Scrat Is a male papillon/chihuahua mix
Is 4.5 years old
Weighs 8.5 pounds
Is good with other low-key dogs
Walks nicely in a harness
Rides well in the car
Is not potty trained (but working on it!)
Is not good with children (older children are fine)
Is low to medium energy
Scrat is neutered, vaccinated, microchipped, and heartworm negative.
Meet Kevin:
A 9 1/2 Month old Male lab/hound mix
Weighs 43 pounds and will likely range from 55-65 full grown
Is good with other dogs
Is good with children
Could be acclimated to a home with a cat
Enjoys car rides
Appears to be potty trained
Is high energy
Spunky boy Kevin might just be the most handsome boy around! He is very affectionate with people and also friendly with the new dogs he meets. This goofball is learning his manners swimmingly and responds well to training. He would benefit from another dog at home who can show him the ropes and be a playmate; he really loves to get down and dirty and would be happiest with a dog brother or sister that can match his energy needs. Kevin behaves very well in public settings and is great company to take around town or on an adventure. Kevin is neutered, vaccinated, microchipped, and heartworm negative.
Meet Cubby:
Hi ! My name is Cubby and I would love to be your new best friend. I'm shy at first but once I know you I love to get lots of petting and treats. I was terrified of everything when I was rescued. My best friend Queenie helped me find my confidence. With her help and foster Mom giving me lots of good food I started coming out of my shell. I'm very trainable for treats and I think I'm pretty smart. I know how to use a pet door and have never had any accidents. Foster mom gets frustrated when she tries to take pictures of me as I make sure my ears are cupped. As soon as she gives up they just seem to stand up all the way. She tells me I have a beautiful tail. And I'm very handsome. She also thinks I look like a little bear cub so she started calling me Cubby. So if you would like a new best friend please fill out an application for me! Love, Cubby
Neutered male
1 year old / About 65 lbs
Heartworm negative and on prevention,Current on shots, Microchipped
House trained and Uses pet door
Shy at first, but Loves other dogs
Not tested with children or cats