Meet Violet:
You can't help but fall in love when you stare into Violet's honey brown eyes! And then those floppy puppy ears that perk up every time she is happy to see you 🥺
Approximately 2 years old, 40 lb.
Was found pregnant and wondering the streets in New Mexico, although young, this girl is very mature!
Intelligent and quick-to-learn! Knows "sit", "down", "stay", "stop", and currently mastering "place"
Preferably no cats or tiny dogs, medium and up dogs should be okay with proper introductions! I think she'd love another doggy sibling to play with 🙂

Violet is as sweet as she is smart! She thinks she is a lap dog and wants to lay on your lap anytime possible, and if your lap isn't available, she will be at your side or by your feet. This girl is as loyal as they come and will thrive in a home with little humans as she just wants to play with and protect her two-legged siblings ❤ Violet is the perfect mix of puppy and maturity as she loves to play either with you or with her toys, but when play time is done, she's ready to cuddle up for a nap and relax on her own or with you! She is crate trained and goes in with no fuss! She is house potty trained and will only have an accident inside if she has to go badly and she can't get outside for some reason. Violet will go to the door to let you know when she needs to go to the bathroom too! She loves having her doggy toys and will carry them through the house with her❤️ Occasionally she will go for a small shoe if it's lying around, but the second you tell her "stop", she will drop it and go to her own toys. She has been practicing her commands and doing so well with them, she is SO smart and will do great will anything you can teach her!
Meet Angelo:
Angelo is a sweet 5 year old, 10 pound Chihuahua that joined us recently as a stray. Angelo is doing very well in his foster home. He has really come out of his shell. He loves to cuddle with his foster mom and also enjoys wrapping himself up tight in his blanket. He loves going on his walks and he does very well on his leash. He still doesn't want anything to do with the doggy door but gets excited to go out when asked. He sleeps in a kennel. He is also potty trained. He enjoys chewing a bully stick, and he has many toys but only cares for a loofa squeaky toy, which he loves to destroy, but does not chew or bother anything that is not his. He has even started to enjoy some light tug of war with his loofa pet. Angelo also rides well in the car. He gets along great with other dogs. He enjoys going on walks. He enjoys meeting new people. He's a little shy at first but once he warms up he is very sweet. He also has some beautiful teeth as we were able to give him a full dental with extractions. He would love to meet you.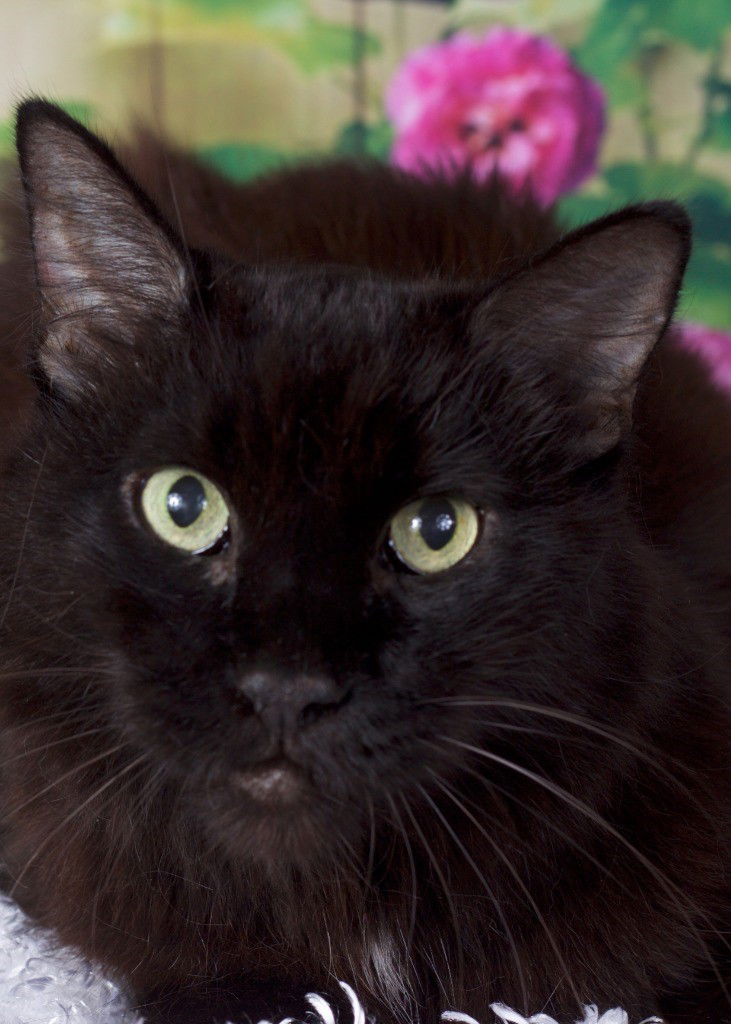 Meet Nox:
Handsome Nox is both sweet and debonair. He is approximately 4 years old, and seeks affection and will roll on his back for pets. He loves when his humans dote on him by brushing his beautiful coat, and he does have a beautiful sleek coat. Nox also enjoys the company of dogs which is a HUGE plus if you already have a Canine at home. Nox is living at the Friends for Life adoption center and can't wait to meet his new forever family.

Meet Rollo:
Meet Rollo, this sweet boy was taken in by a good Samaritan & now he's ready to find his forever home. Rollo is a laid back guy & is very friendly. He does love his enrichment time though and will benefit greatly from a home that has many things to keep his mind active. He would do best in a home with no young children as he can get overstimulated sometimes. Rollo tested positive for FIV but is, otherwise, very healthy. He can go on to live a long, healthy and happy life.
Rollo is currently living in a foster home so if you want to find out more just log on to petrescueradio.com and go to the pets of the day page for a more detailed Bio and a photo of Rollo.
There's also a link to the Friends for Life Animal Rescue organization out in Gilbert, Arizona.
Meet Jesse:
6 month old Chihuahua/Lab mix pup who was confiscated by the Az. Humane Society when he was discovered in a hoarding case. Jesse is in foster who is working on helping him with his social skills. He was not socialized with people in his prior home and was very stressed and fearful. Jesse is enjoying playing with the foster's happy, social dogs and learning happy social behavior.
Meet Porsche:
Meet Porsche! This 2 year old male Chihuahua Mix, weighing about 15 pounds, is sleek, aerodynamic and handles like a dream! When he wants your attention, he'll sit up and wave his paws at you! He is picky about his dog friends, and he'd be equally happy not sharing you with anyone. His ideal home is one with kids 14+. He's One of the best "Porsche" models on the market. He is currently parked at our shelter and would love for you to come test drive and take him home to be forever parked.
Meet Binks & Ranger:
Binks is 6 mos old, Ranger 1 yr old, both surrendered by their owner who had too many dogs and hiding them in her apartment. They were never provided vet care or experienced the opportunity to play in a yard with other dogs. They are both in a foster home with other dogs and allowed to play outside and have fun.
Meet Moose:
Age: 3 years old
Breed: Pit Mix
Gender: Male
Weight: 70-80lbs
Energy level: medium
Compatibility with other dogs: awesome! Compatibility with cats: eh, a bit too focused on them for my taste, may do best with no cats.
Compatibility with kids: good with older kids! Requirements: probably older kids, no cats, yard
Preferences: a house with another playful dog Crate trained House trained Moose is such a goofball. He's a playful guy who also knows how to chill. Moose is a really good boy, he will nudge your hand for a pet and loves neck scratches. He loves to chew on treat stuffed kongs. He would love a home with another dog friend for him!
Meet Willie:
5 month old Shepherd/Dobie mix, male who was rescued in San Felipe. He would love to be in a home soon so that he can just play and have fun like a puppy should! Willie is a sweet, good natured pup who wants to make friends and would love another brother or sister to live with, a home and a yard too!
Meet Skylar:
Hi, I'm Skylar! I am a 4 year old, female, German Shepherd and I am a about 50 lbs. I was found as a stray, and I'm looking for my forever family. I am leash trained, and I love to go on walks! I also understand sit and stay commands. I am a playful girl, and I can play alone if I'm given a toy. I really enjoy belly rubs, and the volunteers here describe me as affectionate, smart, friendly, and engaging. I am not a fan of the kitties, so I'll do best in a feline-free home. My ideal home will be one with a yard (no apartments), and I can sometimes react with barking when I see other dogs - I just get so excited and other dogs don't seem to enjoy my enthusiasm. I'd also love to be your only canine companion! On a recent sleepover, I showed that I was housetrained, and that I settle nicely, and that I love to play with toys and play with my humans! I am currently residing at the Friends for Life adoption center, and you're invited to meet me anytime during regular business hours.
Meet Charlie:
Hi! My name is Charlie and I am a 8 month old Airedale Terrier/Shepherd mix.
Right now I am currently looking for my second home because I was returned due to a slight medical problem. Sometimes if I'm allowed to drink too much water and can't get outside in time, I will end up losing control of my bladder because it's 2x the size of a normal one. (My foster mom calls it overflow incontinence ) but she says if I monitor my water intake and go outside every few hours I will be just fine without medications!
Other than that, I don't have accidents often and I am a really happy dog with a lot of energy.
I'd prefer to be in a home with a backyard (a doggy door too) and another dog my size but it's not 100% necessary because I love being the center of attention. Unfortunately as much as I've tried I'm not too fond of cats and don't want one as a roommate.
My many hobbies include playing with toys, cuddling with my foster mom, and goofing off with the other dogs in the house. I love to make others smile and laugh, and I do my best to make everyone around me happy. If you'd like to meet me, I'd love to meet you too!
Meet Togo:
This big goofy 2 yr old Husky boy was found laying on the sidewalk in a rough neighborhood, neighbors reported seeing him wandering the corner in the same area possibly being dumped by his owners as he was sick and needing eye surgery . Togo had no collar, tag or microchip)and was never claimed. He was full of ticks, severely underweight and is recovering from tick fever prior to his eye surgery. He is so appreciative, happy despite his dilemma and full of love. Togo is in foster care and doing well.


Meet Jazmin:
Wow, look at those beautiful blue eyes! This gorgeous 50 lbs Husky mix we think is about 4 years old. We can't be sure because she was left in a parking lot with another dog. Neither dog had a collar and were not microchipped. The friend she came in with has been adopted so now Jazmin is waiting for her turn. While we can't be certain of her history, here's what we can tell you. She knows a few basic commands, loves every person she meets and needs a lot of exercise in order for her to live her best life. If you are looking for a pup to run or hike with and you are experienced with Husky's please consider adding this beautiful girl to your life.

Meet Riley:
🚨Disney Dog Alert 🚨
I am playful and loving but a bit shy with new people. They think I am only about a year old so I have quite a bit of energy and enjoy long walks and hikes. They think I am some type of terrier mixed with a herding dog based on my personality (50 lbs), but we can never really be sure about that. I will need an active home with some space to move around. Since I have quite a coat, grooming and frequent brushing is also very important for me. I love to cuddle, run and give kisses to those I trust and who could resist my adorable ears and peek-a-boo hairdo?

Daisy & Posy:
This happy-go-lucky sweet mom and daughter pair are always excited to make new friends. With they're super sweet and bubbly personalities and adorable faces they will melt your heart within minutes of meeting them. They're adorable matching markings and pink noses make them a one-of-a-kind pair
Daisy & Posy are a Mother & Daughter BONDED pair! When the shelter tried to separate them, mama Daisy REFUSED to eat and almost died of despair. They were reunited at the Akita ranch in Romoland, California and they are an ADORABLE pair.
WARNING: You MUST be able to withstand massive snuggles and kisses.
This happy-go-lucky sweet mom and daughter pair are always excited to make new friends. With they're super sweet and bubbly personalities and adorable faces they will melt your heart within minutes of meeting them. They're adorable matching markings and pink noses make them a one-of-a-kind pair

Meet Lucy & Ethel:
These beautiful girls are about 2 years old.
Lucy and Ethyl are a bonded pair of young sisters. They are very friendly and walk well on a leash and are more well mannered than our other pairs who came in as strays. They are healthy, happy and ready for a home.

Meet Gemma & Dutches:
Gemma and Dutchess They are the sweetest girls. They love chin scratches and pets in general. They're both very curious cats but mostly because they encourage each other to come out of their shells. They love window sills and can lay there literally all day. Gemma can be a sour patch kid at times, grumpy one second but happy girl after some love. Breakfast is their favorite meal of the day and they will meow until they get it 😂 they're big mamas, they like food and treats a lot. They don't mind calm dogs, they're not too fond of other cats at first but I believe can adjust because of their sweet nature. They rub against each other when they are getting lovins & they snuggle together. They're pretty bonded after having their litters together and co-parenting all of them. Duchess in particular really relies on Gemma for direction and copies her movements frequently. They are really good cats, they always use their scratchers and love to play and love to get pets
Meet Buttercup:
This long haired, ginger girl is one of the sweetest around and loves to just be around you! She was born with her legs being a bit different, but it doesn't stop her from rushing to see who called for her or to greet someone at the door! Her favorite toy is a large, colorful, plastic spring that rolls on the floor as she chases it. She does well with other cats, but isn't afraid to ask them to get out of her space. She is loving and does amazing with kids and other cats!
Meet Blossom:
Female Labrador Retriever Mix / 6 Years old
This sweet lady is a 6 year old Lab Mix. Blossom is affectionate with humans once she gets to know you, loves attention and appreciate play time. She needs to be the only pet in adult home (or with kids 12+) and would appreciate having access to a yard.
Blossom is crate traine and potty trained, she's great in the house, doesn't bark at other dogs from the yard or on walks. She's a great walking, running or hiking companion, but is also happy cuddling and being a couch potato. She's shy with new people, but treats and walks will help her warm up. She chooses her one person and prefers females. A home with a yard is necessary, as she does not potty on walks.
Vaccinations up to date, spayed / neutered.
Meet Ragner:
Ragner is a strong, sweet boy who loves long walks and running around the play yard. This wiggle-butt walks well on leash, is a champ at playing fetch, and already knows a couple basic commands. Check out the video on our website where he's showing off "Sit" with one our great volunteers. (He's so gentle when he takes the treat!). Ragner loves attention and gets very excited when someone new comes to meet him! He is a big love-bug and would nothing more than find a forever family to cuddle with. Come meet Ragner today!
Meet Nathan:
What's up? My name is Nathan and I am a hound dog! I was rescued from a hound transport collaboration through Operation Helping Hounds. I am from back east, so I talk with a little bit of an accent when I bark. I get along with other dogs really well, and would do best in a home with another confident dog. I am learning to walk well on a leash and I would do best in an active household who is willing to give me the structure, consistency and love that I so deserve. I am currently in training, so I can be the best dog ever for you! Consider taking a chance on me and making me part of your home, forever.
Priceless Pet Rescue | Saving One by One Until There Are None
Meet Benji:
Hey there peeps. Nice to meet ya! My name is Benji and I'm an adorable 1 year old terrier mix. I weigh 20 pounds, and although I do enjoy a good low-key day hanging at home, I'm an adventure boy at heart. I love exploring new places and going for long walks and hikes. I'm silly, stubborn and smart and love to have a good time. I completed a training program where I worked on my leash manners and crate training, and I also learned that I'll do best in a home that is going to give me structure and boundaries, as well as one with no children. I'm a happy, playful pup and I can't wait to find the forever family I deserve. I'm healthy, up to date on vaccinations, neutered and microchipped.
Meet Anja:
Are you looking for a fun, lovable best friend to call your own? If so, I think you might just be in the right spot! My name is Anja and I would love to fill that position! I'm a 50 pound shepherd mix and am about one year old! I'm an athletic pup and would thrive in an active family. I'm still working on not getting too excited when I see other dogs on leash, but I'm super smart and love to work for food. I'm a special girl and will know that I'll make my future family very happy. I'm healthy, up to date on vaccinations, spayed and microchipped.
Meet Winnie:
I am the princess in a litter of 6 who came off the streets of Hawthorne. I am one of the most playful kittens in my litter and, if I say so myself, I'm also super adorable. I'm very friendly with humans and love to get affection too. I'm pretty much the total package, which is why I think I'm the princess. I'm a big fan of snuggling with all my kitten siblings but I do have a couple of favorites. I'm looking forward to moving on to my furever home, but I need another kitten to keep me busy and help me learn good kitten manners. I really hope it'll be one of my siblings that I go home with!
Meet Cookie:
Cookie joined us along with her Mom, Luna, when she was just an itty bitty. For anyone who wants to train a cat, Cookie is your girl. She loves to leap in the air and land effortlessly on your shoulder or back. Her sweet face makes it irresistible to keep from gobbling her up like a Cookie. She has a mild temperament and gets along with everyone. Due to her age, she will do best with another kitten to grow and play with. She adores all of her siblings.
Meet

Fred

&

Ginger:
Fred and Ginger are a fantastic bonded pair of Akitas. They were brought into a shelter in horribly neglected condition and have had surgery to remove badly damaged and infected tissue from their ears. They are thin and were infested with parasites before being treated. They are still in healing process before they will be ready for adoption and any donations towards helping them heal and find forever homes would be very, very and much appreciate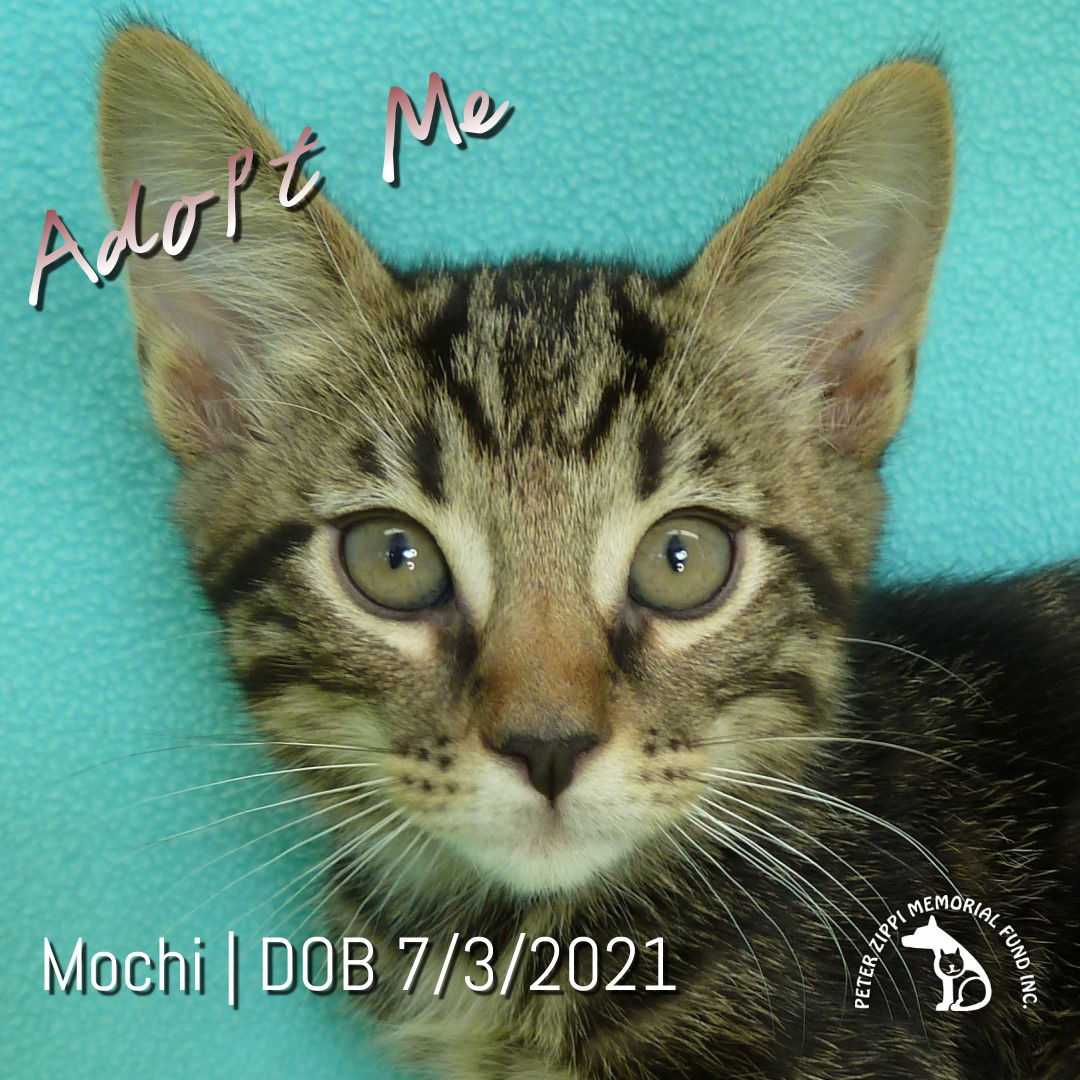 Meet Mochi:
Mochi joined us along with his Mom, Luna, when he was just a tiny tike. He took on the responsibility of being the "big brother" of his litter and is such a gentleman, allowing his sisters to eat first. Mochi is always ready to play, keeping you entertained for hours on end. His beautiful, dark markings and big paws are an eye catcher. He has all the ladies in the palm of his paw. Due to his age, he will do best with another kitten to grow and play with. He and Corky are best buds.
Peter Zippi Memorial Fund Home (peterzippifund.org)
Meet Ally:
Ally is a stand out cat, especially when it is time for dinner! Her favorite activities include eating and sampling every different flavor of canned food from each bowl. This tabby loves the attention she gets when it is time to be fed, she is surprisingly protective of our resident senior and has been known to make sure she eats. This hungry girl would do well in a home where she gets most of the attention, and food. She loves safeguarding the kitchen and her favorite spot is right where the food is.
Meet Chinook:
I am the tomboy in a litter of 6 who came off the streets of Hawthorne. I practice all of my best wrestling moves on my bro-furs. We're all in a competition to see who can be the most playful. I have a hard time sitting still but when I do, I love to lean up against my foster mom or right on top of my favorite brother. Did I mention I love to play? I keep hearing that a fur-ever home is even better than where I am now so I'm ready to move on. I need another kitten to keep me busy and help me learn good kitten manners. It would be really cool if one of my siblings got to come with me!
Meet Irwin:
Meet Irwin! Irwin came to us via the Bissell Pet Foundation's transport coalition when his shelter in El Paso, Texas had to shut its doors. He is a friendly dog who would benefit from a nice yard to run around in when he isn't going on walks. He is very athletic and would love to go on long hikes and walks with you. If you want a big dog to be your loyal pal, come meet Irwin today!
Priceless Pet Rescue | Saving One by One Until There Are None
Meet Dr. Cuddy:
Dr. Cuddy is a striking young lady who exudes confidence in all that she does. This high energy girl is a huge fan of interactive playtime and will chase after a feather as long as you can swing it around. While she has an independent spirit, she still enjoys a good cuddle session. Dr. Cuddy is a gentle girl with humans as well as other cats. She loves company and will likely follow her people around the house. She's adventurous, curious, and a good conversationalist who is not afraid to ask for what she wants most, attention! Who out there is ready for some fabulous feline companionship?
Meet Dr. Foreman:
Didn't you just melt after one glance at Dr. Foreman's innocent, little face? This little ball of love is just unbelievably cute and playful. He can fill in an entire room with his purring, so get ready for some good vibrations. At his age, it's best for him to be with another cat or kitten of equal energy.
Meet Chesney
This guy is quite a catch. He is one of four dogs that were surrendered to us from the same home. He basically lived outdoors in his previous home with little attention paid to him but he lights up when he sees people. He is affectionate, gentle and would love to just do whatever you are doing. He is great on a leash, good with kids, enjoys being around other dogs and is a great traveling companion. We think he is around 12 years old, about 60 lbs and possibly a Labrador/Boxer mix but we can never really know for sure. If frosted faces in need of a second chance steal your heart then he's the one for you.
Meet Koji:
Akita (medium coat)
Male (neutered)
My name is Koji and I am a neutered male, brown and tan Akita. The shelter thinks I am about 9 years old. I weigh approximately 102 pounds. I am sometimes afraid of strangers, especially men and will bark at them until I understand if they are friends or not. I am a calm, easygoing guy. I have some medical needs that are being treated but mostly I would just like a soft bed, some food, and to live inside with a nice person or couple. I am a senior, so kids and other animals annoy me and will turn me into a grumpy old man even though I much prefer to be a well-mannered gentleman. Please email apassionforpaws@gmail.com if you have a retirement home I can share. Love, Koji
Meet Gizmo:
Gizmo is one of our little tabby kittens, who is a big ball of energy! He has captured all of the volunteers' hearts with his playful personality. He loves to play and chase a laser light, but his favorite thing to do is to curl up in your lap for a good pet and just listen to your voice. He does amazingly with other kittens and cats! This little cutie would do amazingly in a home with playful kids or even someone looking for their new movie buddy!
Meet Twain:
Hello! My name is Twain. I'm a 2 year old pit bull with dashing good looks and a silly personality to-boot! I weigh 55 pounds, have a soft grey coat and wear the happiest smile you've likely ever seen. I'm a very social boy with any human that I meet. Whether I've known you for five weeks or five seconds, belly rub needs don't discriminate! I'm calm yet playful and snuggly yet independent! Basically, I'm the perfect catch. I graduated from doggie school where I learned lots of commands and polite manners, and I also learned that I'll thrive in a home with no other animals or children. I can't wait to meet you! I'm healthy, up to date on vaccinations, neutered and microchipped.
Meet Porter:
I'm the energetic silly guy from a litter of 6 who came off the streets of Hawthorne. I'm always the first to the door when the humans come and definitely the first to the food bowl. I'm a very playful kitten and I'm the social director. Who wants to snuggle? I'm open to falling asleep in your arms, especially if you wrap me like purrito! While I am one of the bigger kittens in my litter, I still need a kitten buddy to keep me occupied and learn good kitten manners. I know my furever home is around the corner, and hopefully it'll be with one of my siblings… we're all snuggle buddies!

Meet Piper:
Piper is an absolute sweetheart. She, unfortunately, lost her litter of kittens early in pregnancy, because of that she absolutely adores kittens. She is often found in the center of the room with a youngster, often bathing them or cuddling. This 2-year-olds favorite toy is a piece of fabric attached to a stick, she really enjoys playing with others, human or feline. Piper was adopted once but was brought back when they found out their other cat doesn't play well with others. While our volunteers were happy to see a wonderful, familiar face, it breaks our hearts that she has yet to find her forever home. Piper is very kind and will brush up on guests' pant legs and sometimes just sit right in their lap! She is kid-friendly and gets along with other cats, given they do as well.
Meet Boss & Snowbelle:
Boss is a big boy and Snowbelle is his ride or die! This bonded pair must stay together. We are still getting to know them and will be up for adoption soon. They are friendly to humans.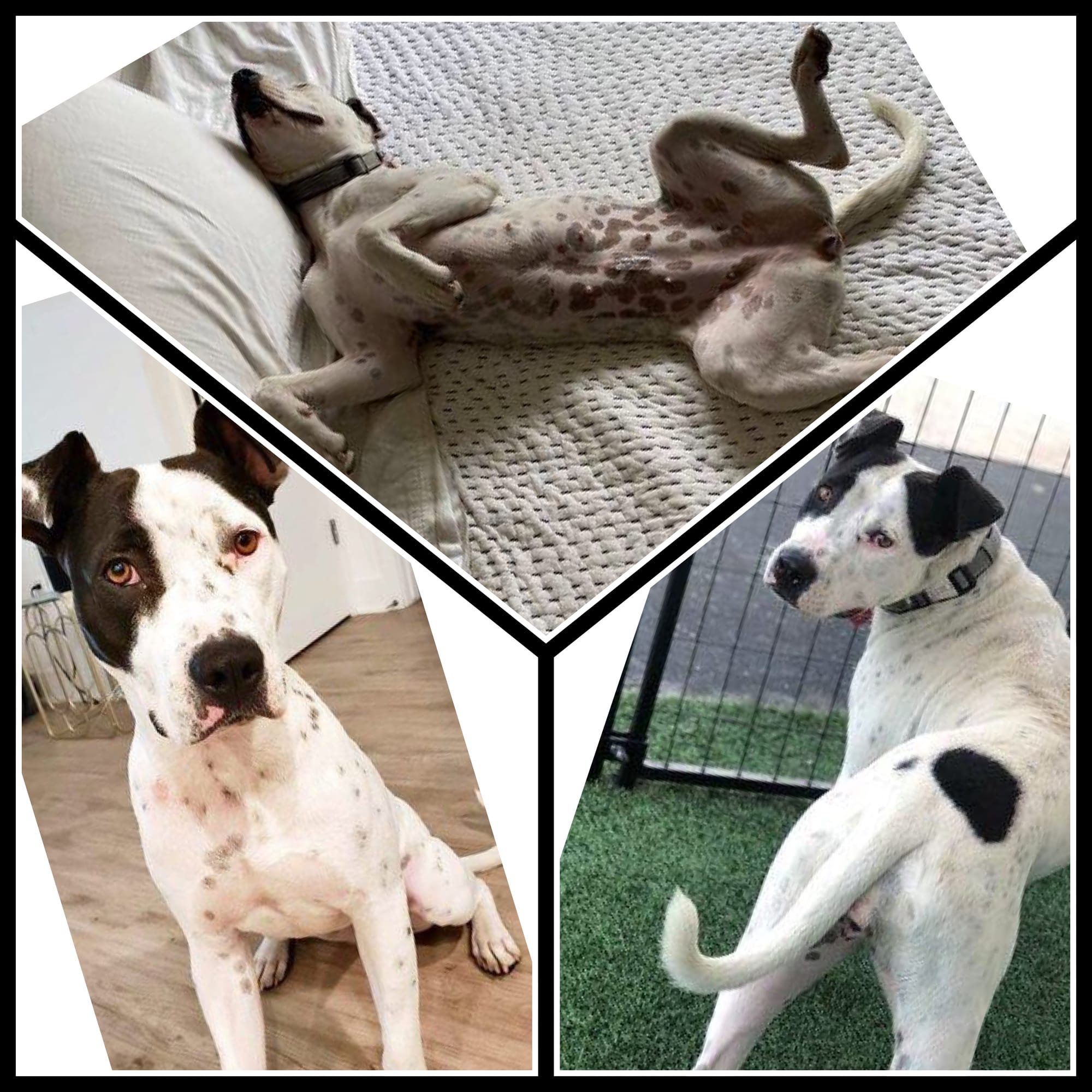 Meet Monet:
Hello! Were you looking at me? Maybe my soulful eyes? Adorable speckles? I know, I'm pretty cute! My name is Monet and I'm a 3 year old female pit bull mix. I weigh 55 pounds and am a very friendly pup! I love saying hi to new people and making them my best friend right away! I have plenty of kisses and tail wags to go around. I walk nicely on leash and am an all around 10/10 good girl. I know that I'll make any loving family very, very happy. I'm healthy, up to date on vaccinations, spayed and microchipped.

Meet Lady Di:
Get close enough and this young lady will let out a soft meow to inform you that pets are most welcome. Lady Di is very befitting of her name - distinguished and agreeable. She is always calm, cool, and collected. Never demanding but always ready to give and receive love. Lady Di made a Hermosa Beach neighborhood her "home". Everyone enjoyed her company. When one of the residents noticed she may be pregnant, one of our fabulous foster moms agreed to take her in. A few days later, she gave birth to 6 beautiful kittens. She was a great Mom and now that her babies are weaned, it's Lady's time to shine in a permanent home of her own. She enjoys sitting on a perch to observe the outside world but a warm lap is even better. If you are looking for a loving lap kitty who will be totally content just being with you, Lady is the girl for you. She is FeLV+ and would love to be your one and only or a BFF for another FeLV+ cat.
Meet Ezra:
Ezra is a 3 month old terrier puppy who has just recovered from Parvo like a champ. He is doing great and is full of energy. Ezra is very playful and affectionate and seems to be very curious and adventurous.
Affectionate, Adventurous, Energetic, Independent, Loves kisses.

He hasn't been around other dogs yet besides his sister Fletcher, but he is good with her. He just needs to eat separately as he can have a little resource guarding when it comes to his food. Cats are not his preference. Ezra is friendly with all humans and craves attention and quality time. He is not old enough to go on walks yet in public, as he is not fully vaccinated, but we can already tell he will be a great walking and hiking buddy in the future.

Ezra isn't potty trained or crate trained yet, but he does know "sit." If you are interested in adopting this beautiful boy, please apply at www.istandwithmypack.org/adopt

Meet Fiona:
Fiona is a 1 year old pittie / pointer mix and is as sweet as can be! She loves making friends wherever she goes and will bring a big smile to your face. Her tail has a mind of its own and we're not sure we've seen it stop wagging yet. She loves playing with her foster doggy sister in the backyard as much as she loves cuddling. She is SO smart and learned "sit", "down", "stay" and "leave it" in the span of 4 days.

Fiona is submissive and adorable when meeting new dogs. She gets excited and wants to play and be their BFF instantly. She is petite (about 40 lbs), walks well on a leash, but still is strong, so will pull toward other dogs and people when on walks because she wants to say hi. This is completely manageable with some consistent corrections.

Fiona isn't the biggest fan of the crate but she's getting there!

The best part of Fiona's foster's day is listening to her loud snores when she's napping belly-up. Whoever gets to adopt Fiona is truly lucky and she will certainly keep them laughing all day. This girl is a ball of sunshine!
She's good with Other dogs, children and is up-to-date on vaccinations

Meet Bowie:
This little guy is Bowie. We pulled him from a county shelter over 3 years ago with his son. His son was diagnosed with an inoperable cancer and passed away in 2019.
Bowie never gets any interest 🥲. He does take a minute to warm up to men and we think would be best as an only dog. He is one of our longest residents here and we would love to see him live the years he has left in a cozy and loving home. We think he is 11 years old, only weighs 10lbs and is probably Chi and Corgi. He walks great on a leash, loves toys and keeps his room here incredibly neat. Thank you for helping Bowie be seen. ❤️
Meet Chyanne:
One of our sweetest girls with us is Chyanne. Usually up in a cat tree is where she is. She is very sweet and is so charming. She is known to sleep right beside you and will happily be pet. She is always happy to see a familiar face but is so excited to meet a new one. Her favorite toy is a little toy mouse that gets pushed around our floor, often surrounded by kittens. She is very friendly with other cats and kids, so much she loves greeting any new additions to join her on the tower.
Meet Nickolas:
Nickolas is a sweetheart who is the kind of cat that will walk up and sit next to you on the couch, No matter what you are doing, or how loud the tv is. He is an amazing cat whose favorite activity is napping on the couch and being pet. He is very friendly with everyone and really enjoys curling up by our fake fireplace and watching a movie. Great cat for anyone who has a comfy sofa!
Meet Phineas:
Hi people! Nice to meet you, I'm Phineas. I'm a 3 year old pit bull mix, and yes I'll teach you how to do winged eyeliner. I'm a big floppy puppy at 80 pounds, but don't worry- I've been told I have nice manners. I went to training school and learned all kinds of basic commands, how to walk nicely on leash and how to love my crate. I like to hangout in the sun and I do well with other large dogs…just ask my four legged foster sister! I can be a stubborn boy, so I'll do best in a home without young children, though I've made lots of teenager friends! I'm the perfect combination of active and low key. I love going on outdoor adventures (and I LOVE car rides!) but am also more than happy to hang on the couch all day- I'm a fantastic cuddle buddy. I can't wait to be someone's forever buddy! I'm healthy, up to date on vaccinations, neutered and microchipped.
Meet Brave:
Brave is a wiggly, playful 10 month old Pittie mix with a ton of energy!

Brave is a high energy dog who will need an active and patient human to keep him physically exercised and mentally stimulated. He loves water and playing tug, and will no doubt be an amazing hiking/beach buddy to some lucky adopter. He would love for his human(s) to continue his training in order to help him be the best boy he can be!

Brave will be happiest in a home with no other dogs and teenaged children only.
Meet Jill:
Jill is an adorable, calm and friendly 4 year old Chihuahua. She enjoys napping and snuggling with her humans and flopping over on her back for belly rubs. People are definitely Jill's favorite. She would be fine co-habititating with other calm and balanced dogs, but Jill just isn't fond of in-your-face puppy energy. We have not tested her with cats but based on her disposition, we suspect she would be completely fine with them.

Jill is a fantastic little apartment dog and would be a great companion for someone in a calm household. She is very quiet, affectionate and has a sweet demeanor. She has a grade 2 heart murmur which her adopters should keep an eye on, but the doctor does not think it requires medication or treatment at this time. Heart murmurs are common in small dogs, especially chihuahuas, and are totally treatable.

Jill is house-trained and crate-trained and walks well on a leash. She is a cuddly joy to be around! Loves kisses, Affectionate, Loyal, Protective, Friendly, Independent, Quiet. She's good with other dogs, Cats & Children. She's up to date on all of her Vaccines.
Meet Yukon:
Yukon Jack is a young Alaskan Malamute who loves people but needs someone to give him the proper direction in life. Due to Jack exhibiting some resource guarding issues, especially with balls and other round objects, Jack needs some training and a breed experienced owner. He should not live with children. "Jack" can get along with similar sized dogs. Jack knows sit, stay, speak and down. He likes to go for short walks, play in the water and would be the very best lifelong adventure buddy someone can have!! Jack's version of running is a bit ridiculous, he loves to hop like a bunny around the yard, then runs a little bit, then goes back to hopping! It is adorable. Jack is a calm, sweet, affectionate, young man!! Jack wants to please his people! Meet Yukon Jack today!!
Meet Florence:
Hello, pals! My name is Florence and I am one of the happiest, most lovable dogs you'll ever meet. I'm a 7 year old pit bull weighing in at about 50 pounds. An old injury (prior to my arrival at Wags) caused me to go blind in one eye, but don't worry- it doesn't affect me at all! In fact, the people at Wags say it makes me even more beautiful. I'm a goofy and friendly girl, and although I'm always down for an adventure, I'm also a major cuddle bug. I love spending time with my humans no matter what we're doing! I do well in my crate and walk nicely on leash with a confident handler. I'm a super special girl and I know I'll keep you smiling and laughing if you take me home forever. I promise! I'm healthy, up to date on vaccinations, microchipped and will be spayed by Wags & Walks.
Meet Milo:
Milo is short for Milagro, which means miracle in Spanish, and this little ball of love does the name justice. Milo came to us with a deformity on his front left paw, which eventually led to him losing the leg. As his name would indicate, though, this has not changed his life! Milo runs, jumps, climbs and plays just like any other healthy kitten. He also happens to be one of the most cuddly and sweet babies you'll ever meet. Milo would gladly snuggle in your arms for hours while filling up the room with purrs. If you want a happy "miracle" in your life, here's the opportunity!
Peter Zippi Memorial Fund Home (peterzippifund.org)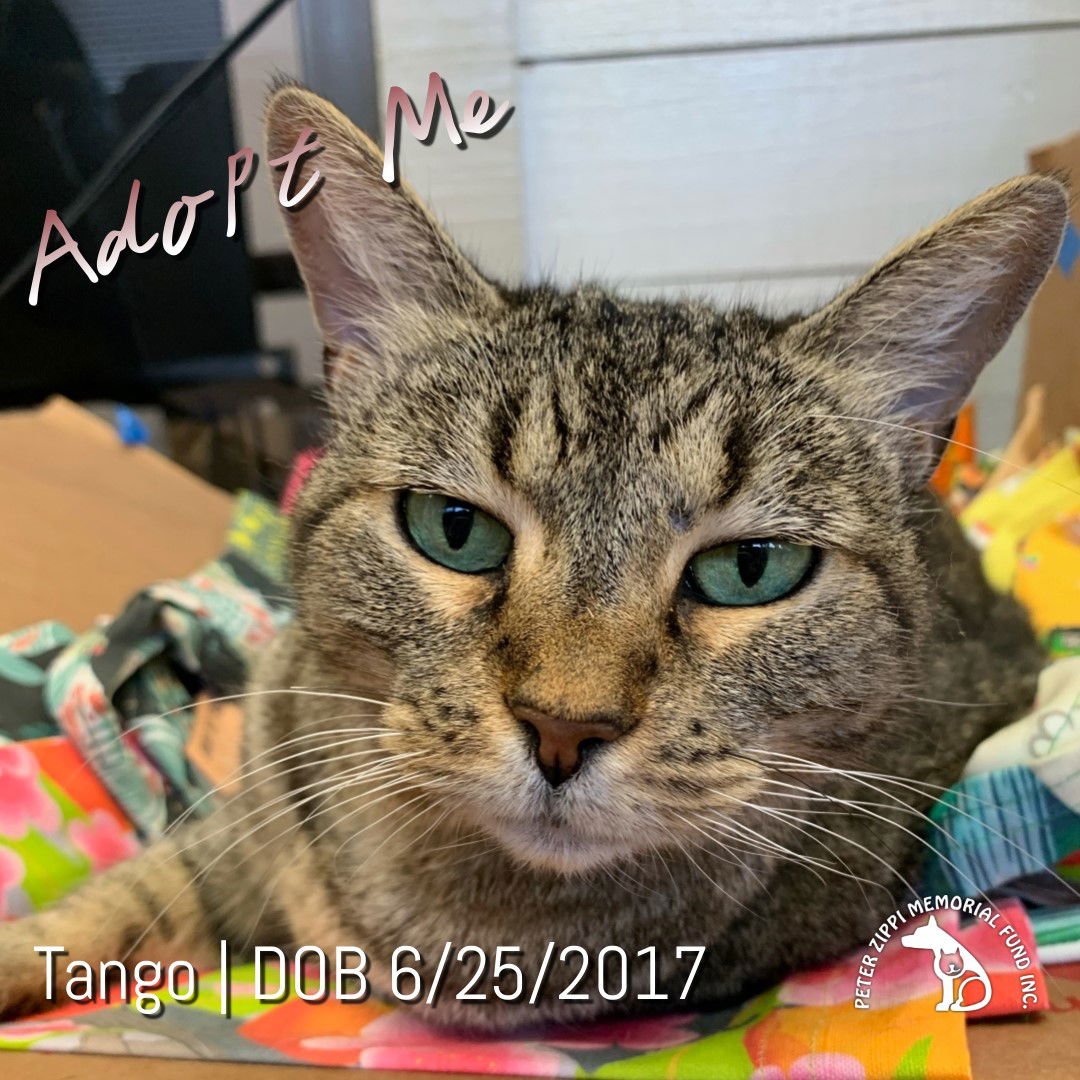 Meet Tango:
Tango joined us from an LA City Shelter after she was hit by a car and required medical care they could not provide. She had two extensive medical exams. We learned she really just needed time to heal and some meds to ease the pain of her encounter with the car. Tango is happy, healthy, and pain free now. She is a fabulously quirky young lady who is ready for a home where she will always be appreciated for the loving, yet sassy and chatty gal that she is. Tango knows exactly what she likes and what she doesn't. Laps? Yes, please! She is a lap-hopper. Sit down, and you have an immediate friend. Naps? In her favorite sunny spot. Playtime? When she's feeling it. Snuggles? Sign her up. Water? From the paw please. (see video) Although she loves people and affection, at times she may get overstimulated and need a break. Tango is confident and very much a people cat so there won't be a lack of attention from her. She often saunters up to volunteers and stares at them, waiting for her invitation to sit on their lap or cuddle up on their shoulder. She also has an affinity for helping with paperwork. Tango will do best with a person who will take the time to get acquainted with this unique little lady and the ways she likes to be given affection and the signals she gives when she needs a break. We're also getting a sense that she would prefer to be the only cat. Who is ready for this independent yet loving lady?
Peter Zippi Memorial Fund Home (peterzippifund.org)
Meet Clyde:
Clyde is a sweet boy who is very friendly yet extremely shy, he is usually found with some of our other shy ones in our backroom or sometimes even the bathroom. He gets along well with other cats and people, however gets overwhelmed with so many. He and his sister Bonnie were pulled from a shelter when they were on the list to be put down. The previous owner had to surrender them, unfortunately. However, any of our kitties adopted through us can be returned to us no matter how long it has been since adoption, no matter the reason! We will always take them back!! Both are very sweet, they would do better together, however, we would be willing to adopt separately as we have seen them be ok separately in quarantine. Clydes favorite toy is a little mouse and loose shoelaces! Bonnie also loves string toys! This iconic duo would do amazing in any home, preferably not with more than 3 other pets, however very kid-friendly!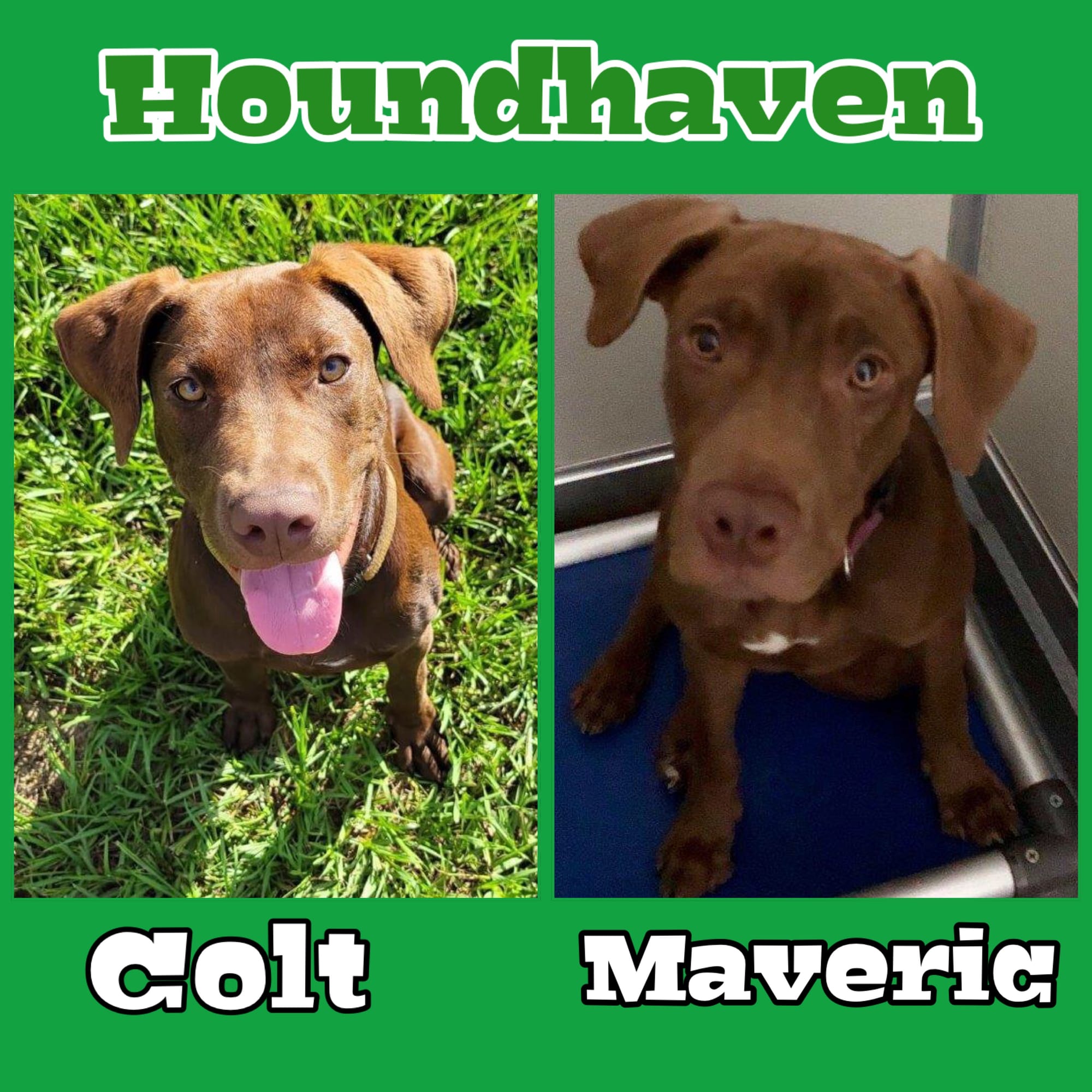 Meet Colt & Maverick:
Howdy pardners! These two handsome boys are not only easy on the eyes, but they are also very brave. Colt and Maveric were initially found as strays in Northwest Florida and were brought to animal control. We couldn't resist their adorable faces and brought them to Houndhaven to have a fresh start at life. After arriving, we discovered that they were not feeling well and were diagnosed with parvovirus. Their strong will to live and great vet care got them through this difficult time. Now we have two happy, tail wagging pups that are looking for their forever home.
Colt and Maveric are adorable, chocolate lab mixes and are just shy of being one-year old. If you think you are seeing double, they do look pretty similar because they are brothers. They are a nice size and have fun puppy personalities. Although Colt and Maveric have become volunteer favorites due to their cute faces and funny antics, we hate seeing them grow up in a shelter setting.
They love playing together in the yards and really love playing with all kinds of toys. When we go to adoption events, they enjoy laying in a pool full of ice and water, and we can envision them on pool floaties in a pool of their own someday. They do know "sit" and we know with time, they will surely learn more since they are so eager to please. Colt and Maveric love to receive lots of attention and snuggles and give the sweetest kisses in return.
Colt and Maveric have not had the easiest life, but they have not let that affect them as can be seen in their amazing personalities. Since they are so sweet together and have so much fun playing with one another, our dream would be to have them adopted together. While we know this might not be possible, they can be adopted separately, but we will keep our fingers and paws crossed that a family is looking for two handsome chocolate boys.
If you've been looking to add a lot of sweetness and fun to your family, Colt and Maveric are the boys for you. These two boys will give you a lifetime of unconditional love that will surely have you saying "yeehaw"! To learn more about adding Colt and Maveric, or any of our amazing dogs to your family, please visit www.houndhaven.org to review our adoption policies and procedures and complete an application.
Your browser does not support HTML5 video.

Meet Bleu:
Domestic shorthaired / 4 years old
I am a spunky, fun, and playful adult cat. I was left in an abandoned house waiting for love and attention. When I came to Sunrise Humane Society I was then shown how to get cuddles and that it is okay to trust strangers. I love to be the center of attention and up high so people can always see me at eye level. Toys and catnip are the keys to my heart.
Your browser does not support HTML5 video.

Meet Kingsly:
Meet staff and volunteer favorite Kingsly! This cutie is around 5 years old and we think he may be an American Pit Bull Terrier mix. What we do know for sure is that Kingsly is an ace at making "sad puppy-dog eyes", snuggling, and he walks very well on leash. He is picky about his dog friends and would appreciate a meet-and-greet before going home with any potential doggie siblings. He has begun learning commands such as "sit" while he has been with us and keeps his kennel very tidy. If you're looking for a snuggling pit, look no further! Kinglsy and all of his adoptable friends can be viewed online at hstc1.org.
Meet Addie:
APPROX. 1 ½ YEARS OLD – FEMALE- ROTTI MIX
Hello, my name is Addie. I came into the shelter as a stray. They believe I may be a Rotti Mix, and guessing about 1 ½ years old. I really like some people, but then some people make me nervous (some men). So, please go slow with me and be patient. I'm really trying and will warm up soon, so I can find my forever home!
Meet Reese:
4 yrs, spayed female, Catahoula utd on vaccines and microchipped
What a nice dog! She's a little bit playful, energetic, doesn't jump on people and loves being petted. Despite being energetic, she calms right down and will "sit" for treats, which she takes gently. Reese is kissy & likes to "talk", telling you the whole story "ah-woo-woo-woo". She doesn't like being alone and would prefer to have company all the time, if she could!
Your browser does not support HTML5 video.Meet Marley:
Marley is a 6.5 year old American Pit Bull Terrier Mix looking for her new fur-ever home. She would prefer a home with older children and without other pets. Marley enjoys going for short jogs and playing with toys. She walks very well on leash and keeps a very tidy kennel. Marley even knows a few basic commands such as "sit"!
Ready to meet this fun lady?
Marley is a HSTC Dolly's Dream Dog! This means her adoption fee has been sponsored AND she comes with a bunch of extra goodies to help her adjust to her new home. Some of these bonus goodies include a crate and a FREE 6 week training class!
Your browser does not support HTML5 video.Meet King:
Batman and his brother King are both very special kitties looking for the purr-fect home for them. They are both Feline Leukemia Positive (FeLV+) and need home with either no other cats or other FeLV+ cats as they do not want to spread this to any negative kitties. Batman is about 3.5 years old and very outgoing and sweet once he warms up to his new surroundings. For more information on what it means to adopt a FeLV+ cat, please give the staff at HSTC a call at 772-223-8822. Batman and King are both accepting visitors at the HSTC main shelter located at 4100 SW Leighton Farm Ave. in Palm City, FL.
Your browser does not support HTML5 video.Meet Hope:
1 YEAR OLD– FEMALE- ROTTWEILER MIX
Hi there, my name is Hope; I'm a super sweet girl and love attention. Due to my size, I would do best with kids over 15 years old. Also, although I love people and have no issues with women, I do need a slower approach with men. Other dogs don't seem to bother me, but as always a meet & greet would be necessary. I am vetted and spayed, and my tail is not/and cannot be cropped. I'm looking forward to finding my forever home!
Your browser does not support HTML5 video.

Meet Batman:
Batman and his brother King are both very special kitties looking for the purr-fect home for them. They are both Feline Leukemia Positive (FeLV+) and need home with either no other cats or other FeLV+ cats as they do not want to spread this to any negative kitties. Batman is about 3.5 years old and very outgoing and sweet once he warms up to his new surroundings. For more information on what it means to adopt a FeLV+ cat, please give the staff at HSTC a call at 772-223-8822. Batman and King are both accepting visitors at the HSTC main shelter located at 4100 SW Leighton Farm Ave. in Palm City, FL.
Your browser does not support HTML5 video.

Meet Rocky:
5 1/2 YEAR OLD – LAB/SHEPHERD MIX - MALE
My name is Rocky, and I found myself at a high kill shelter for being a wallflower. Dogs and Cats Forever saved me from that shelter. I'm good with other dogs, but a slow introduction is always recommended. I love to go on long walks, and would enjoy a fenced-in yard. I do get excited and pull on the leash, but with some extra training I'd be perfect. I'm really looking forward to finding my forever home!


Your browser does not support HTML5 video.

Meet Snow:
Snow is a gorgeous 17 years young Ragdoll mix cat. He came to HSTC when his mom passed away and there was no one in the family able to care for him. He is very sweet guy, if a little shy here at the shelter. With age comes wisdom and some age related health concerns, and Snow is no exception. He is Feline Leukemia Positive (FeLV+), and has some age related vision (his eyes are a bit cloudy, but he gets around just fine!). For more information on Snow, please give HSTC a call at 772-223-8822 or visit us online at hstc1.org.
Meet Timber:
2 yrs male neutered, hound mix Timber is a friendly dog who participates in play but isn't a "nudge" who pushes play. He does have lots of energy, though, and does love to play. He is an independent, confidant dog who is not "needy" for attention. Can "give" the ball when asked, "leave it" to leave a toy alone and "sit".
Your browser does not support HTML5 video.
Meet Max:
Domestic shorthair Tabby / 4 years Old

I was found wandering the streets looking for someone to love me. I am a typical Tabby boy who loves my food, toys, treats and especially my catnip. I can be picky with who I share my territory with but most of the time I will get along with anybody. Someone who has plenty of free time to give me attention is my ideal home.
Meet Skyler:
Husky Mix / 2 Years Old / 59 lbs
Always on the GO, GO, GO! He is an energetic adventurer that loves to sniff around and explore the outdoors. A family that can keep up with his active lifestyle is key. Skyler is not a fan of cats but surely loves a good time playing fetch, running around, jumping and of course the occasional cuddle session.
Your browser does not support HTML5 video.

Meet Lexi:
Lexi is a super sweet, people loving 2.5 year old German Shepherd. Her favorite activities are playing and running. She knows several basic commands such as "sit" and has lived with children in the past. What makes Lexi unique is that she has a medical condition called Megaesophagus. Due to this condition, Lexi has to eat upright in a special chair (called a Bailey's Chair) and maintain a very strict feeding schedule. She doesn't let this stop her from acting like a regular dog! Lexi has quickly become a staff and volunteer favorite; it is hard not to fall in love with this adorable lady.
If this special needs pup sounds like she may be the one for you, please give us a call at 772-223-8822!

Your browser does not support HTML5 video.
Meet Grace:
Grace has a tale of woe for you. Grace originally came to HSTC in November 2020 along with 16 other Doberman Pinschers as part of a neglect case. She was the mother of several of the dogs and many of them were adopted before she was. Grace was adopted and thought she had found her forever home, however, she was recently returned to our care when her adopter had to move into a new home that did not allow pets. Grace is a loving pup who is looking for a caring and understanding home. She can be picky about her human friends and would prefer no small children in her new home. At nearly 8 years old, she is well past the puppy stage and keeps a very clean kennel. Grace and all of her adoptable friends can be seen online at hstc1.org.
Your browser does not support HTML5 video.
Meet Beans
Beans may seem a little grumpy sometimes, but you probably would too if you ended up living in a cage at the age of 14!
BUT, don't let him fool you! Beans is actually a nice guy and he likes to PLAY! Beans needs a home that will let him be himself and enjoy some play time and nap time and love on his own terms (he does enjoy being brushed!!)
Thanks to our friends at Florida Native Grill Cleaning for sponsoring Beans' adoption fee! Beans is currently accepting visitors at the HSTC main shelter at 4100 SW Leighton Farm Ave. in Palm City, FL. Any questions? Visit us online at hstc1.org or give us a call at 772-223-8822.
Your browser does not support HTML5 video.

Meet Tahiti:
Tahiti is a big girl with even a bigger problem. She's a 7 year old cat who recently lost her home because her owner had to move and could not take her with them. Tahiti is used to being a one and only gal, but now that she's with over 100 of her feline friends at the shelter, she's very sad. Right now she is living in the bathroom by herself so they can make sure she is eating. But she really does not feel like doing much of anything. She misses the life she once had and would like to find a new forever home with someone who will make her feel wanted again. Tahiti is extremely friendly with people and is ready to be taken to a new and forever home. Maybe that home is yours!
Your browser does not support HTML5 video.
Meet Zeke:
Black Labrador Mix / 4 years Old / 80 lbs

Likes to run and play a little bit but tires out after a few rounds of playing fetch with the ball. When he tires out, he loves nothing more than relaxing in the peace and quiet. You'll know it's cuddle time when he lays beside you and rolls over to show his big'o belly waiting belly rubs. He will share the couch, share the love, and affection; but does NOT like to share his food bowl. He would make a great family dog as long the family does NOT have any small children. Teenagers would be acceptable. He is going to be most happy in a home with someone who likes to play a little but love A LOT.


Meet OBJ:
OBJ is an absolute love-bug, but he wasn't always that way. He has spent the majority of his life as a community cat living outside here at HSTC. Everything changed when he collapsed; it was determined that he had a severe urinary tract infection that required immediate attention. Over several weeks, he was in an HSTC foster home recovering and learning to enjoy being an inside kitty. OBJ has decided he does not ever want to be an outside kitty again. He enjoys long cuddles in your lap and is described as quite the snuggler. He is on a special diet to prevent any future urinary issues.
OBJ was adopted in 2019 and was recently returned to our care after his owner passed away; he is a little over 8 years old. Since his return to our care, we have found that OBJ prefers to drink out of a wine glass and loves bossing the volunteers cleaning his kennel around. He is great with people of all ages – including little kids!
OBJ's adoption fee has been sponsored by Home Team Lending! If this handsome man sounds like the one for you, give HSTC a call at 772-223-8822 or visit us online at hstc1.org.

---
Meet Grandma Pippin:
Grandma Pippin arrived at HSTC as a stray in late October. While we don't know anything about her past, our medical team was quick to discover that Grandma Pippin is diabetic. Her diabetes is currently regulated with a combination of insulin and a special diet. She is a petite little lady and is one of your youngest senior kitties at only 9 years old. Grandma Pippin was in a foster home where it was discovered that she would probably prefer to be the only feline in her new home. For more information on Grandma Pippin, give us a call at 772-223-8822.

Your browser does not support HTML5 video.Meet Emma:
APPROXIMATLEY 8-9 YEARS OLD– FEMALE- DALMATION MIX
Hi there, my name is Emma and I'm a Dalmatian mix, 8-9 years old. I'm a very good girl, but can be territorial with my food and other animals. I would be best as an only dog with older or no children. I love to run around so I need a fenced in yard. I'm very friendly and loyal. Ask to come meet me, and I'll give you 101 reasons to take me home!
Your browser does not support HTML5 video.

Meet Skyy:

Skyy is a gorgeous American Staffordshire Terrier mix and at 6.5 years old, she is patiently waiting for her fur-ever home. She has been here at HSTC since March of 2021 when she was transferred in from another shelter. Skyy had a brief vacation in a home environment and they said she was wonderful and an amazing dog. She got along with children that lived in the household and ignored the cat. Skyy does get very attached to her people and would prefer it if she did not have to share them with any other dogs. Skyy can be seen online at hstc1.org and is accepting visitors at the HSTC main shelter at 4100 SW Leighton Farm Ave in Palm City, FL.
Plus, her adoption fee has been sponsored by a very generous donor!
Any questions? Give us a call at 772-223-8822!
---

Your browser does not support HTML5 video.Meet Wonder:
Wonder came to HSTC in January of 2021 when she wasn't feeling well and her owner was not able to provide adequate care. We determined that Wonder was diabetic and quickly began regulating her diabetes with a special diet and insulin. Wonder is a very sweet, calm and quiet cat. She likes to be brushed and to watch out the window. Wonder is 13 years young and her adoption has been sponsored by a very generous donor! She is accepting visitors at the HSTC main shelter at 4100 SW Leighton Farm Ave. in Palm City, FL and can also be viewed online at hstc1.org.
Your browser does not support HTML5 video.

Meet Peanut:
Humane Society of Treasure Coast

Meet Rayna Cruz:
Female /1-Year-Old
It's easy to see why Rayna Cruz is a volunteer favorite. While many other 1-year-old pups would rather be playing, she's happiest in someone's lap and getting pets instead. To meet her stop by HSNEGA's Adoption Center located at 845 West Ridge Road in Gainesville GA today 12-6 pm. Lindsey
Meet Scarlett:


9-year-old Female
Scarlett can always be found lounging in the HSNEGA Cat Room enjoying the sights and waiting for someone to come to visit her. The moment they step inside, this 9-year-old is ready to ask for pets with a head butt and a meow hello. Meet this affectionate feline at HSNEGA's Adoption Center Tuesday-Sunday from 12-6 pm.
Meet Chief:
Male /3-year Old
A little timid at first, Chief really shines when he is in playgroups with his other canine pals. He spends all morning running and chasing his friends before visiting his favorite humans for a pet or two.

Meet Angelicat:
Female /3-year-old
Fluffy and grey, Angelicat will chase away all of your bad days. She would absolutely love to be your one and only. Meet her at HSNEGA Tuesday-Sunday 12-6 pm.
Meet Judi:
Female / 1-year-old
While most dogs Judi's age want to run and play, this kind-hearted 1-year-old would be happy just by your side or taking a nap. She's the perfect summer movie buddy!
Meet Alice:
Female /2-years-old
Alice is always lending a helping hand in the HSNEGA Cat Room! Anytime you walk by, you'll always see this 2-year-old's helpful paw reaching out to greet you.
Meet Argus Filch:
Argus Filch /1-year-old /Male
Argus Filch is tall, dark and handsome! On top of always being dressed in a gorgeous black and white tuxedo, this 1-year-old Terrier mix also knows how to act like a true gentleman!
October 6 marks one full year that Argus Filch has been at HSNEGA. He isn't letting that get him down though! After all, he is always PAWsitive and knows his family is out there. Until they find him, he is going to enjoy playgroups with his canine pals and snuggling with his human friends. Meet Argus at HSNEGA's Adoption Center Tuesday-Sunday 12-6 pm where until October 31, his adoption fee is $25 off!
Meet Thomas:
Male /6-Years-Old
Thomas is as soft as satin and as sweet as sugar. Despite his fur color, this affectionate 6-year-old will have you feeling anything but grey. Until October 31, for Adopt-a-Shelter-Dog Month, Thomas has his adoption fee $25 off!
Meet Minnie:
3-year-old / Female
Minnie doesn't enjoy sitting in laps but she will ask you for pets anytime. Give this 3-year-old some extra affection at HSNEGA's Adoption Center Tuesday-Sunday 12-6 pm.

Meet Dexter & Po:
These 2 boys are a bonded pair that are looking for a hero to adopt them together! They have lived together their whole lives and have recently ended up in our shelter. Dexter is a ~12 yr old cattle dog mix and Po is ~9 yr old basset hound mix! Both dogs are said to be house broken, good with kids, know "sit," and love to cuddle and be around people. Do you have room in your heart for 2 super seniors?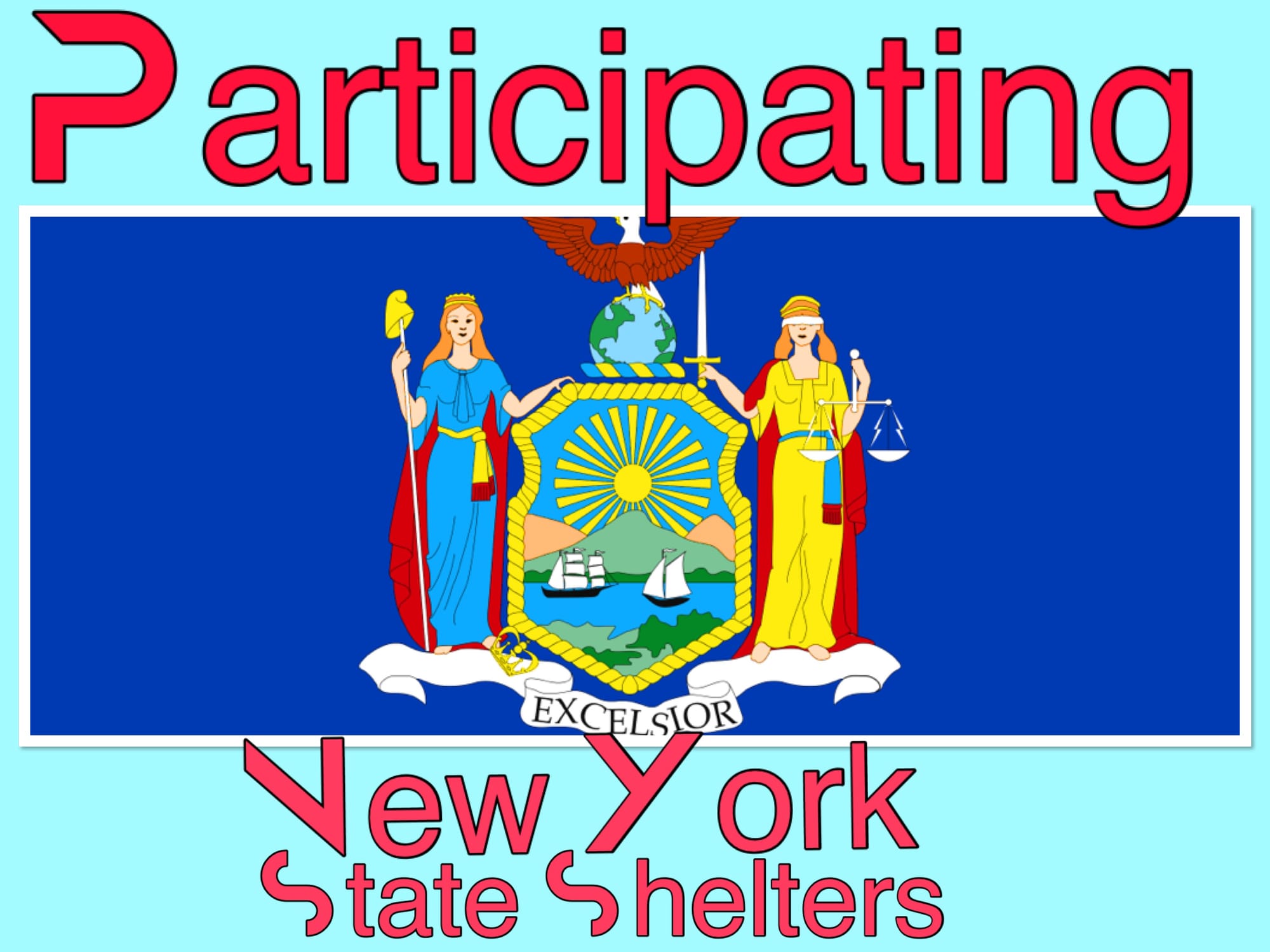 Your browser does not support HTML5 video.
Meet Clint & Summer:
6-year-okd Clint (black and white) was at another shelter who lost their lease before coming to us. This sweet guy loves to play and is super friendly. What he loves most of all though is his girlfriend, Summer (4 years okd). The two are absolutely inseparable and we would love to get them a home together. Summer is also super sweet. Both are healthy and have recently had good bloodwork and some dental surgery.

Your browser does not support HTML5 video.

Meet Elliot:
18-year-old Elliot's owner passed away suddenly leaving Elliot alone. He is such a doll and we are looking for a home for him to live out his remaining years. He was pretty scraggly when he first came in but is looking pretty good after his grooming. Total snuggly lap cat!!
Meet Irina:
At 10 years old, Irina's owner never spayed and when she became pregnant, her owner brought her to Animal Care Centers in NY. This pregnant gal was then transferred to the Ladew Cat Sanctuary in Long Island where she had her only kitten, Boris,(who has since been adopted, and it's really too bad they couldn't go out as a bonded pair).
Irina was super shy when she came in, but now has become a social butterfly. She's been spayed and is a sweet & petite little lady who just recently had dental surgery and is healthy and ready for a new home.



Meet Nenita:
Four-year-old Nenita lost her home when her owner moved out and left this sweet girl behind. She is healthy and friendly and looking for someone to adore her.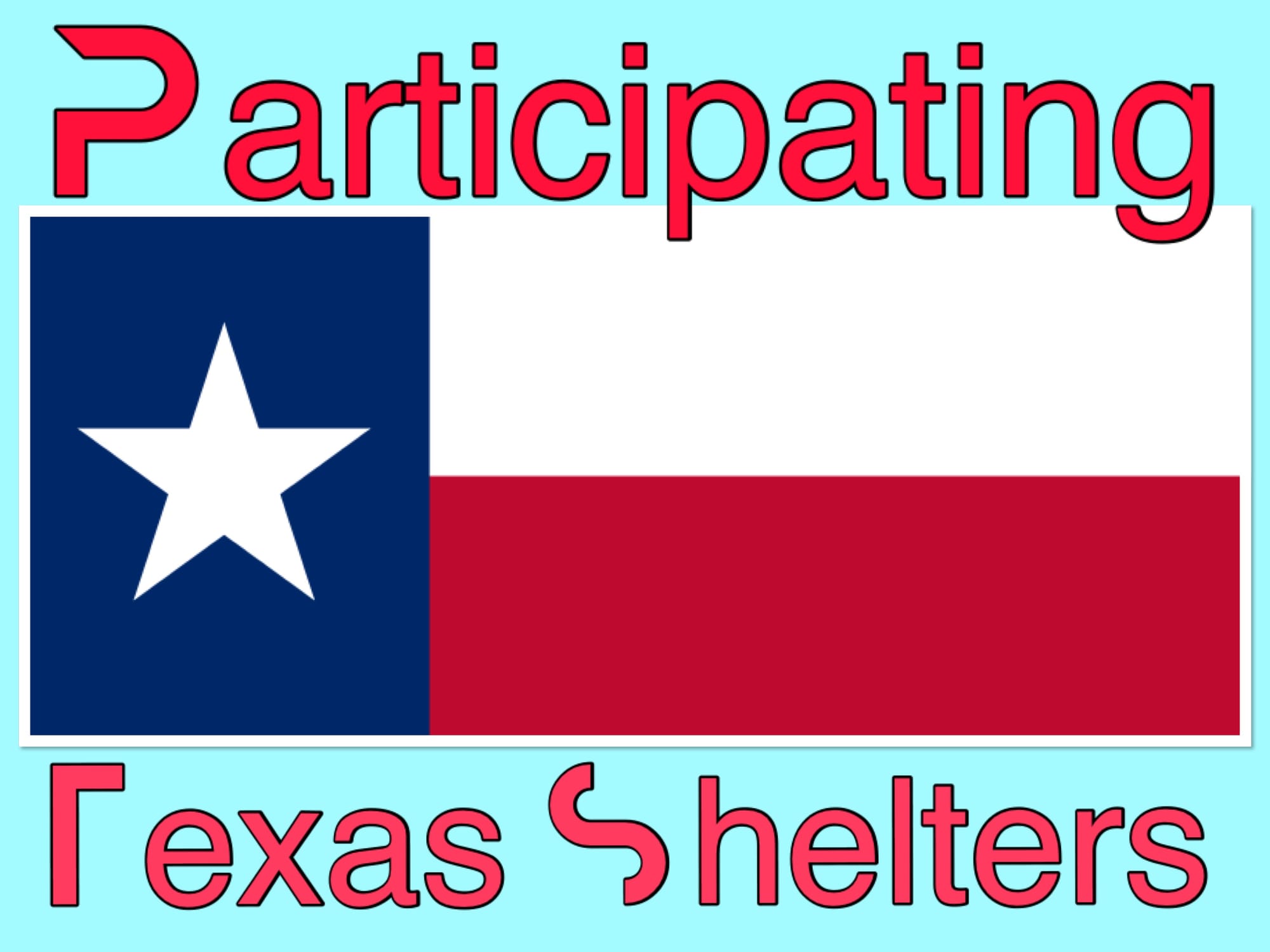 Meet Gordy:
A senior male Chihuahua mix, spunky funky boy Gordy does not realize he is a senior. In his mind, he's Speed Racer!!
Gordy is:
-good with other dogs
-good with cats if introduced properly
-good in a car
-good on a harness
-good with people and wants your love and attention
-good at being your shadow to follow you around
-neutered, vaccinated, microchipped and heart worm negative- so all good there.
Are you getting good Gordy vibes yet?!?!
Chihuahuas can live a loooonnnngggg time, so though he's a "senior" there is PLENTY of life left for this adorable dog! He just needs a great home to do more living.
Meet Blue:
Not sure how I got that name but that's what it's always been and foster mom hasn't changed it yet. So probably whoever adopts me will. Anyway I sure could use a new home. My previous owner passed away and I ended up at the shelter. I was not doing well at all there so they convinced foster mom to bring me to her house. I like it here but would love a home of my own.
I get along with everyone and have lots of toys to play with. As you can see I love to play ball. I mind pretty well too. I really don't like to be crated but I'm trustworthy in the house especially with a pet door. I know basic obedience and walk nicely on a leash as well.
So if you are in need of a new best friend please apply today!
Spayed female
2 years old
Heartworm negative on prevention
Current on shots
Microchipped
House trained
Uses pet door
Does not like crating
Good with people and other dogs
Not tested with cats or children
Meet Wernher Von Braun:
Hi! Wernher Von Braun is my name, but my parents call me Von. I was named after a German rocket scientist! and playing is my game! I'm just a little (BIG) love bug full of energy and I would love to roll into your life and give you some excitement. I love people and will be your best friend, like really, I want to be around you all the time. I do like to jump though, and new people don't like that very much. Some new people scare me, so I start barking at them. I can meet new people and adjust to them, but my dog parents should watch over me. I like my dog sister a lot and we play so much, but I'm not sure I would be good at a dog park. I need to learn more manners, and I've been working on them. I would probably be fine with older, teenage children but smaller ones I would probably knock down so that might not be a good idea. I live with 2 boys under 11 right now, and the pizza they walk around with is just too tempting, so I take it from their hands. They don't like that very much. I'm pretty protective of my own food bowl too. I just love to eat, who can blame me!? When they run around the yard, I get a little worried, so I run after them and try to jump on them.
I'm all ready to go to my forever home but I would need someone who will take me to training or give me some guidance and help me work on my doggy manners. I get along with other dogs, share toys and show no aggression. I would probably do best with a large yard so I could run and burn off some of my excess energy. I LOOOOVE sticks! I'll play with a stick all day, and I think I want to play fetch, but I have a hard time letting go of my toy. I also do really good on a leash. My mom right now takes me on runs, and I really like that. My dog parents love me a lot and know I have such a good heart. I just have some growing up to do, and shouldn't be around little kids. It will be sad to leave, but I know I will be the BEST dog in the right environment. So if you would like to open your heart and your home to me please fill out an application.
Neutered male
Almost 3 yrs old
Heartworm negative on prevention
Current on shots
Microchipped
About 70lbs
High energy
House and crate trained
Gets excited around people
Does good with other dogs
Meet Chance:
Chance is a gentle soul with a heart of gold. He can be timid with new people and in new environments, but his soft demeanor and loving nature always shine through. He is SO snuggly and loves to give and receive affection. Don't let his initial reserved behavior fool you! It doesn't take long for those silly puppy mannerisms to show. Chance would be happiest in a low key home that will introduce him to life's many wonders at his own pace.
Chance recently had his eye removed but is fully recovered from the surgery and does not require any additional care.
Chance is neutered, vaccinated, microchipped, and heartworm negative. Chance and his best buddy, chocolate lab Gatsby, are one-eyed wonders who love to play together (Gatsby is owned by one of our kennel techs.) When they play outside together we call it the 'Pirate Pen,' as if they two of them are saying, "Arrrrrrr!" Can somebody give Chance… a chance? He is a shelter favorite!
Meet Flash:
Fluffy boy Flash is mellow and sweet. He has affectionate moments but is also very independent and prefers to receive pets and love on his own terms. He enjoys wide open spaces and would be happiest in a setting with plenty of room for him to explore and roam. Flash has been through a lot of changes recently and needs a low key home where he can relax. We are searching for a peaceful, patient forever family that will love him for the handsome stoic that he is! Flash is neutered, vaccinated, microchipped, and heartworm negative.
Is a male Newfoundland (or Landseer) mix
Is 4.5 years old
Weighs 85 pounds
Walks nicely on a leash
Is good with other low key dogs
Will load up into a car, but does not enjoy car rides
Appears to be potty trained
Is low to medium energy
Is not good in a home with children or a small yard
Meet Conan:
Just thought you might like to know, I'm named after Conan O'Brien a late night talk show host as I can be vocal at times. Not Conan the barbarian or destroyer. That's not me! Anyway, I am a sweet guy in search of a new forever home preferably with no chickens, so if you would like me to come live with you please fill out an application! Love, Conan
Well here I am looking for a new home again. I was adopted from the shelter but lost my new home and was returned. You see, the neighbor had chickens and I just couldn't help myself! Over the fence I went, and then back to the shelter. I thought they wanted to play, but the neighbors were not amused at all. The chickens weren't very happy either. I've never tried to jump the fence here because I have friends and there are no chickens on the other side. I like the other dogs here, Rosita is my favorite. I wonder if she's my Mom as we came from the same shelter and she makes me behave. And we sure look a lot alike. Whoever owned me before never gave me Heartworm prevention so now I have those nasty Heartworms. Foster mom started me on slow kill and will give meds and instructions to my new family, or we can discuss doing the quick kill if they prefer and can keep me calm and quiet for the duration.
Neutered male
2 years old
Current on shots
Microchipped
Heartworm positive, slow kill started but can do quicker method after adoption if preferred
House and crate trained
Good with other dogs and people but needs help with manners
Not cat or child tested
Not okay with chickens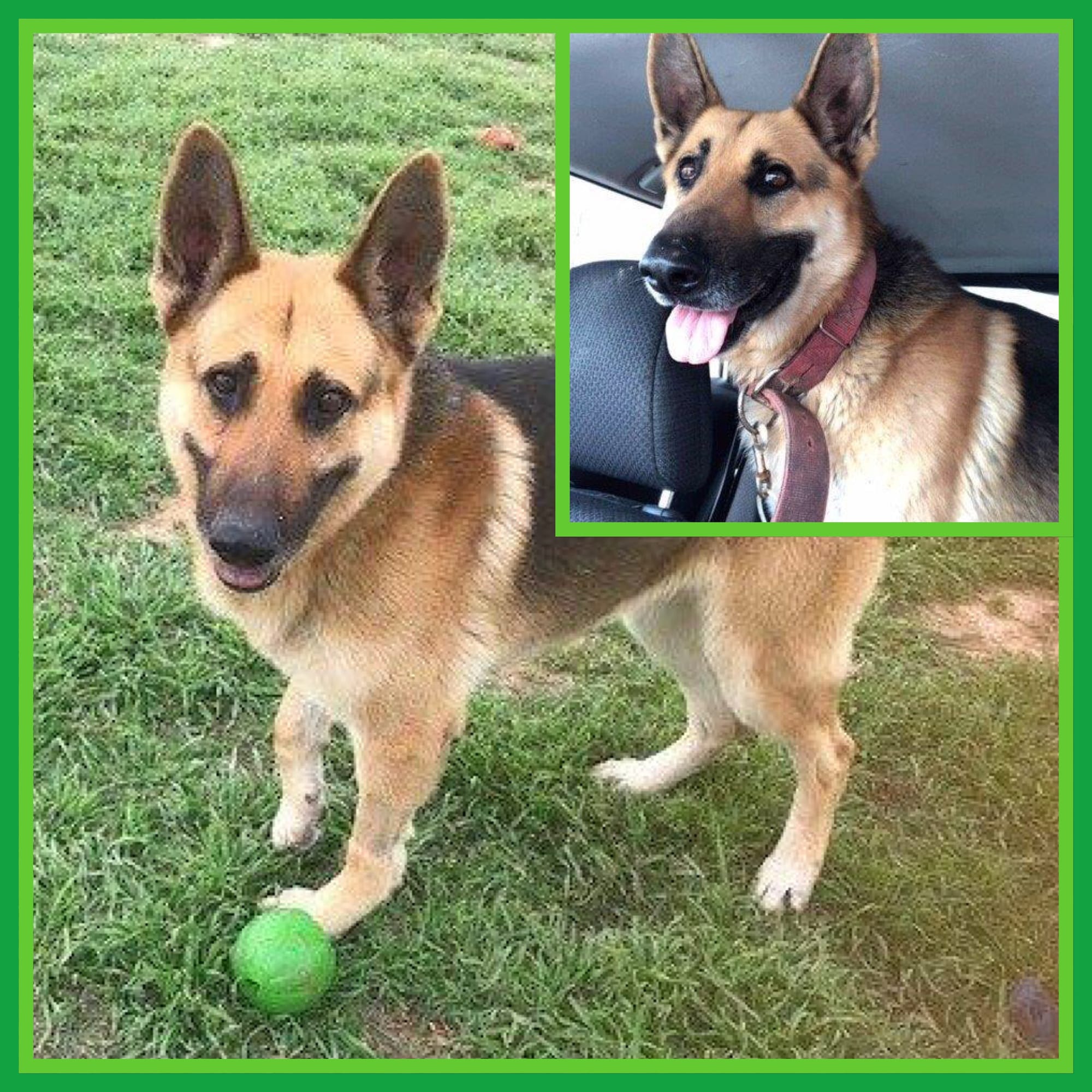 Meet Cameron:
This handsome guy is Cameron and he is taking applications for his forever home. He is a big sweet guy but needs a very competent experienced owner. He hasn't had any training other than what his foster mom is giving him and he is very stubborn. He would do well going to training. Cameron is very food motivated and also loves affection. He is gentle but probably wouldn't be good in a household with children under the age of 12 because of his size. Cameron once had a home but his owners decided they didn't have time for him so they took him to a very high kill shelter and left him there. With the help of several wonderful people Cameron made it all the way up here from South Texas.
He was extremely underweight and his coat was dull and brittle but he's now gaining weight and his fur is getting thick and shiny. He loves to play with the ball; he's not that great at bringing it back to you and will carry it around in his mouth. And also because of the neglect Cameron is heartworm positive. We've started the slow kill and will provide all meds but will work with the adopter if they would prefer to do a quicker method after adoption.
Neutered male
3 years old
Current on shots
Heartworm positive, slow kill started
House and crate trained
Microchipped
Not tested with cats or children
Good with some dogs
Experienced adopters only
75-80 lbs.
Meet Cubby:
Hi ! My name is Cubby and I would love to be your new best friend. I'm shy at first but once I know you I love to get lots of petting and treats. I was terrified of everything when I was rescued. My best friend Queenie helped me find my confidence. With her help and foster Mom giving me lots of good food I started coming out of my shell. I'm very trainable for treats and I think I'm pretty smart. I know how to use a pet door and have never had any accidents. Foster mom gets frustrated when she tries to take pictures of me as I make sure my ears are cupped. As soon as she gives up they just seem to stand up all the way. She tells me I have a beautiful tail. And I'm very handsome. She also thinks I look like a little bear cub so she started calling me Cubby. So if you would like a new best friend please fill out an application for me! Love, Cubby
Neutered male
1 year old / About 65 lbs
Heartworm negative and on prevention,Current on shots, Microchipped
House trained and Uses pet door
Shy at first, but Loves other dogs
Not tested with children or cats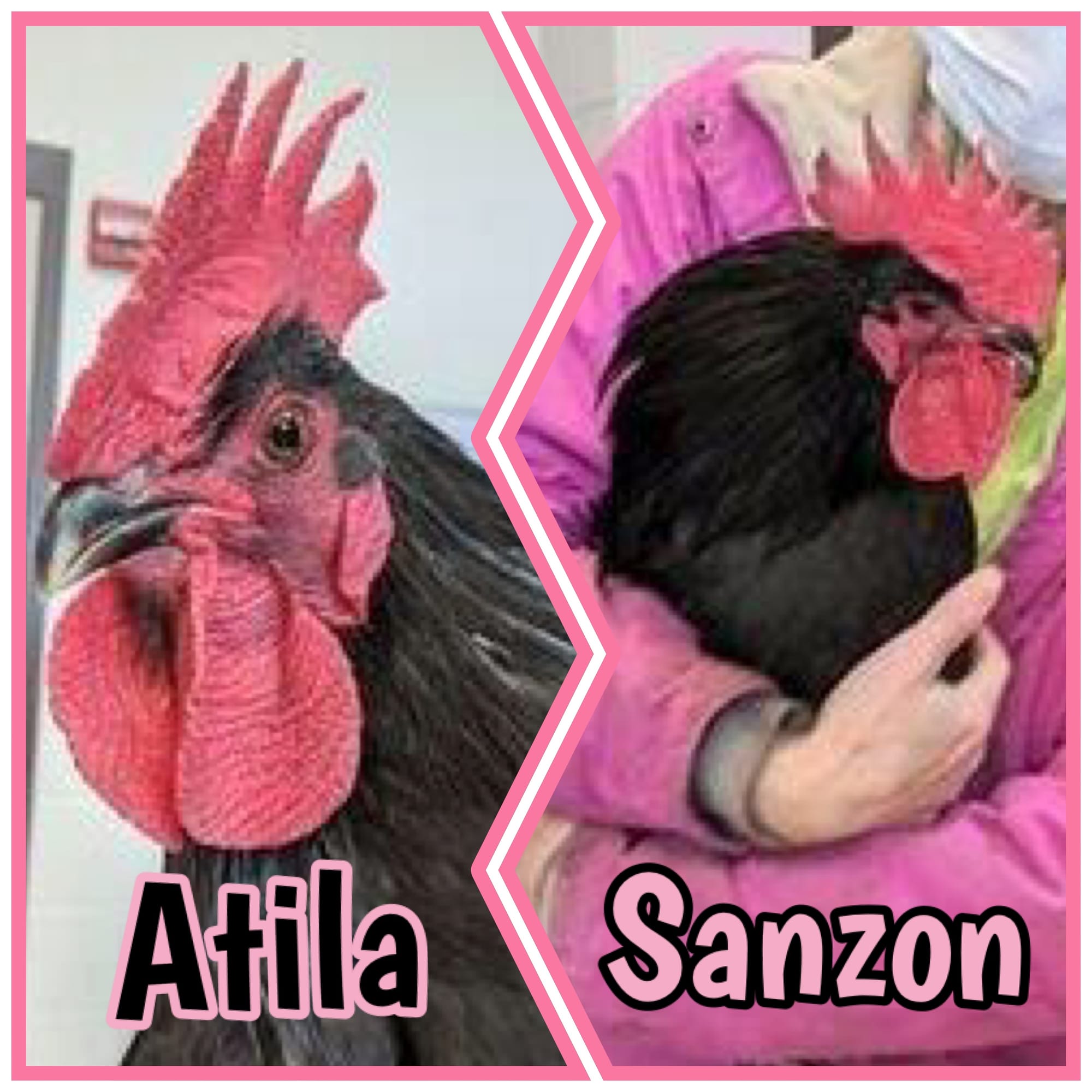 Meet Atila & Sanzon
Meet Atila and Sanzon! Atila (ID A472017) and Sanzon (ID A472018) are two gentle Australorp rooster brothers who were surrendered at the shelter together in January of this year. They are both sweet, gentle boys who would love the chance to dustbathe, feel the sun on their feathers, and run around in the grass. They are both use to being around people, as they have lived at the shelter about half of their lives.
Available at: Montgomery County Animal Shelter // Derwood, MD // 7315 Muncaster Mill Road // (240) 773-5900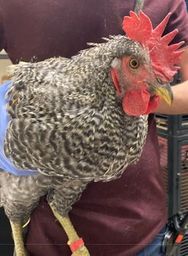 Meet Bert:
Meet Bert! Bert (ID 3269) was brought to the shelter several months ago while he was still quite young. He didn't even have his tail feathers in yet! He was found making amorous advances on a flock that someone owned. They brought him in to the shelter and informed them that he was likely abandoned by a neighbor for growing up to be a rooster. He is an easy-going rooster who is okay with being picked up. He loves mealworms and would love his own flock of hens to look after!
Available at: Spokane County Regional Animal Protection Services
scraps@spokanecounty.org
Meet Joey:
Meet Joey! Joey (A468913) is a strikingly handsome rooster who was brought to the shelter with his four brothers back in October 2020. Joey is really quite adorable and he is a huge fan of blueberries and cherry tomatoes. He is okay with being held by humans and would love the opportunity to look after his own flock of hens.
Available at: Montgomery County Animal Shelter // Derwood, MD // 7315 Muncaster Mill Road // (240) 773-5900