Meet Little Foot
Little Foot 🖤 is back at the Follow Your Heart Animal Rescue Shelter because sadly the family who adopted him were not able to provide an outlet for his adventurous spirit so they returned this little foot. And the shelter is so grateful they made the selfless decision to bring him back so he can move forward with the next chapter in his life. He has been a perfect gentleman with all of the dogs at the shelter and absolutely adores every person he has met as well. He spends most of his day playing with the other dogs outside but is sure to smother the volunteers with kisses every time he comes in. Little Foot is doing an excellent job with his basic obedience. He definitely needed a refresher on crate manners but is doing a much better job with consistency and patience. At only 1 year old, this sweet 40-45lb husky/shep/pit mix is an energizer bunny! As he awaits His perfect fit the good folks at the shelter are loving every minute with this sweet boy. If you want to see a photo and read a more detailed bio about Little foot, please log on to PRR.com and click on the Pets of the day page.
Meet Sam:
Fantastic Sam is a pretty mellow guy that likes to give kisses. He is also quite photogenic, as one can see from his picture. And he has these adorable little freckles on both his nose and his lips. Fantastic Sam is very people oriented and seems to prefer them over any feline companionship. While he does do fine with other cats, he is a very confident cat himself. So, if there are already cats in the home, he would do best with other confident or independent cats. Please note: Fantastic Sam is diabetic and requires daily insulin, which is easy to administer. Our adoption consultants can elaborate on what this diagnosis means for Fantastic Sam and the family that adopts him. Fantastic Sam wants to make sure we tell you that he is currently living in a foster home so contact us to schedule a meet and greet with this handsome guy. He knows his perfect family is looking for him and will find him soon. Maybe it's you.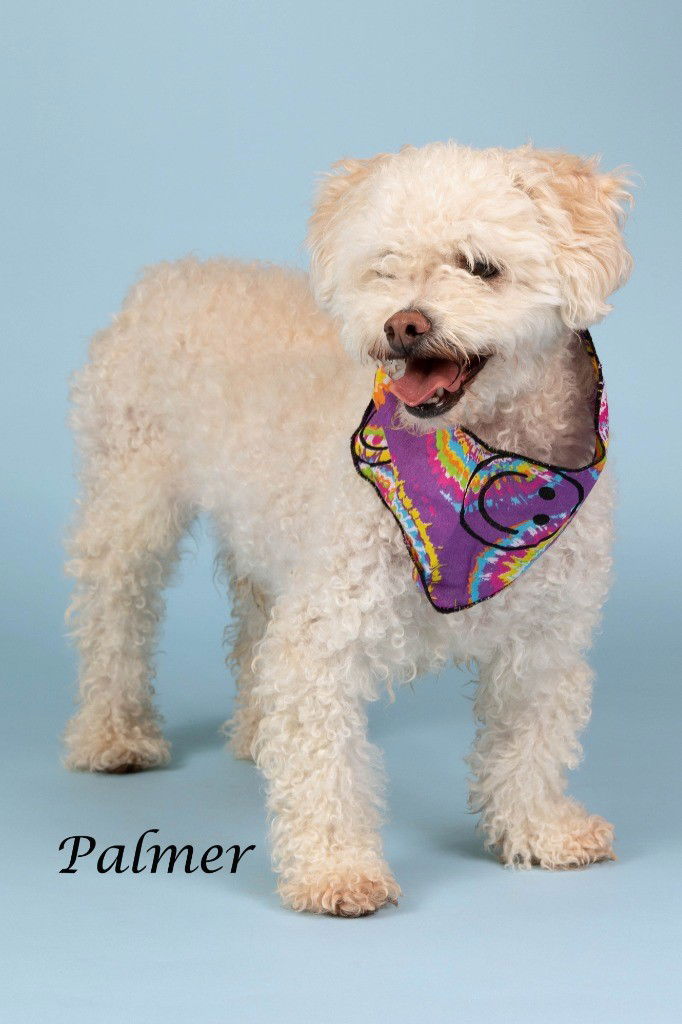 Meet Palmer:
Palmer was found as a stray with his friend Arnold. He came to us from Apache Junction, where he was turned in as a stray. Don't let his age of 8 fool you as he is a fun loving spunky boy! He tells us 8 is the new 6! He is an adorable poodle mix. His kennel buddies tell us that he loves to run across the big dog park and race past you when called! He also loves to come for snuggles with people he is familiar with.
Meet P. Hatcher:
P. Hatcher is a wonderful boy who is looking for his forever home. He is a friendly & affectionate cat, who is also super cute! P. Hatcher tested positive for FIV but is, otherwise, very healthy. He can go on to live a long, healthy and happy life. Our adoption consultants can elaborate on what this diagnosis means for P. Hatcher and the family that adopts him. If you would like to meet P. Hatcher he is living at our adoption center currently. He can't wait to meet you!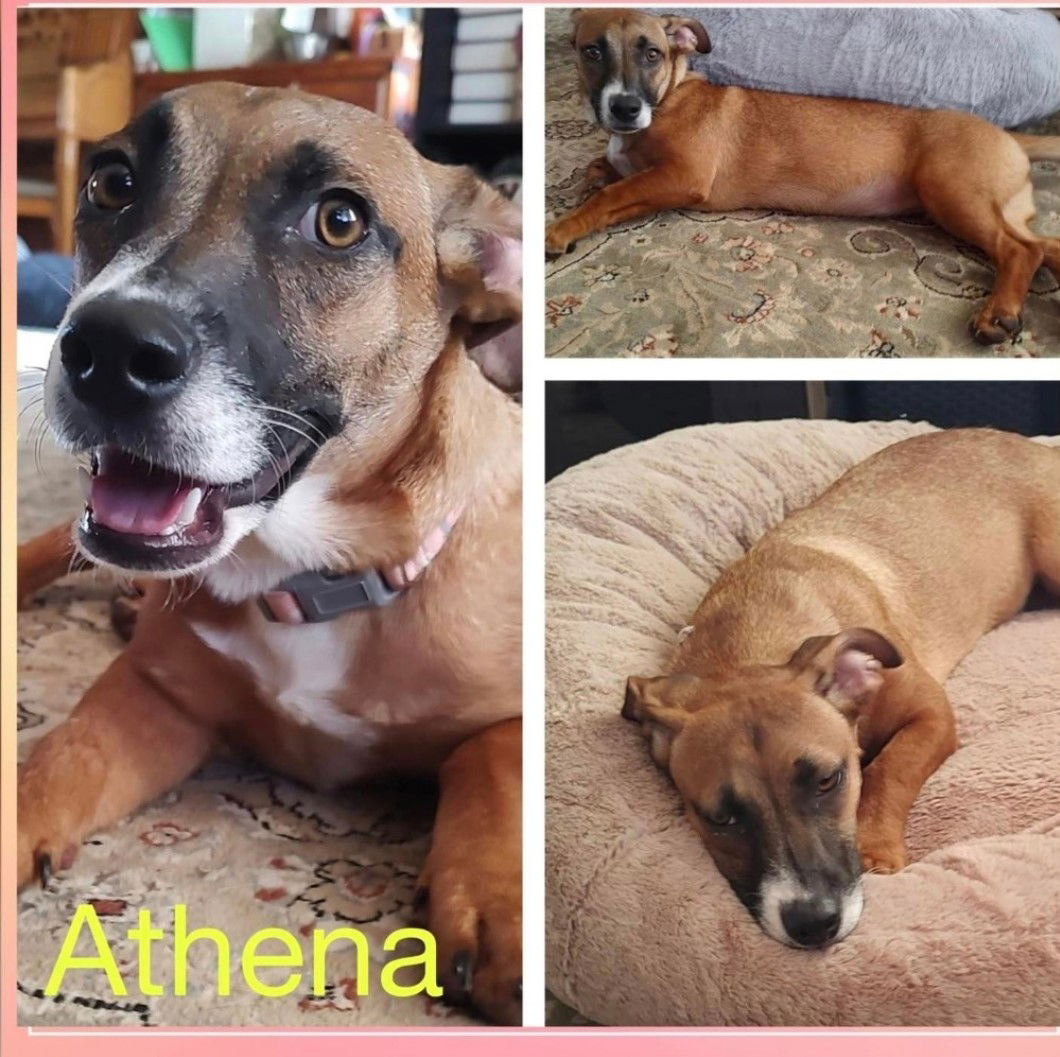 Meet Athena:
Athena is available for adoption now. This sweet girl is almost 8 months old and weighs 22 pounds.
She loves to cuddle in your lap and take naps. She loves car rides and plays well with other dogs.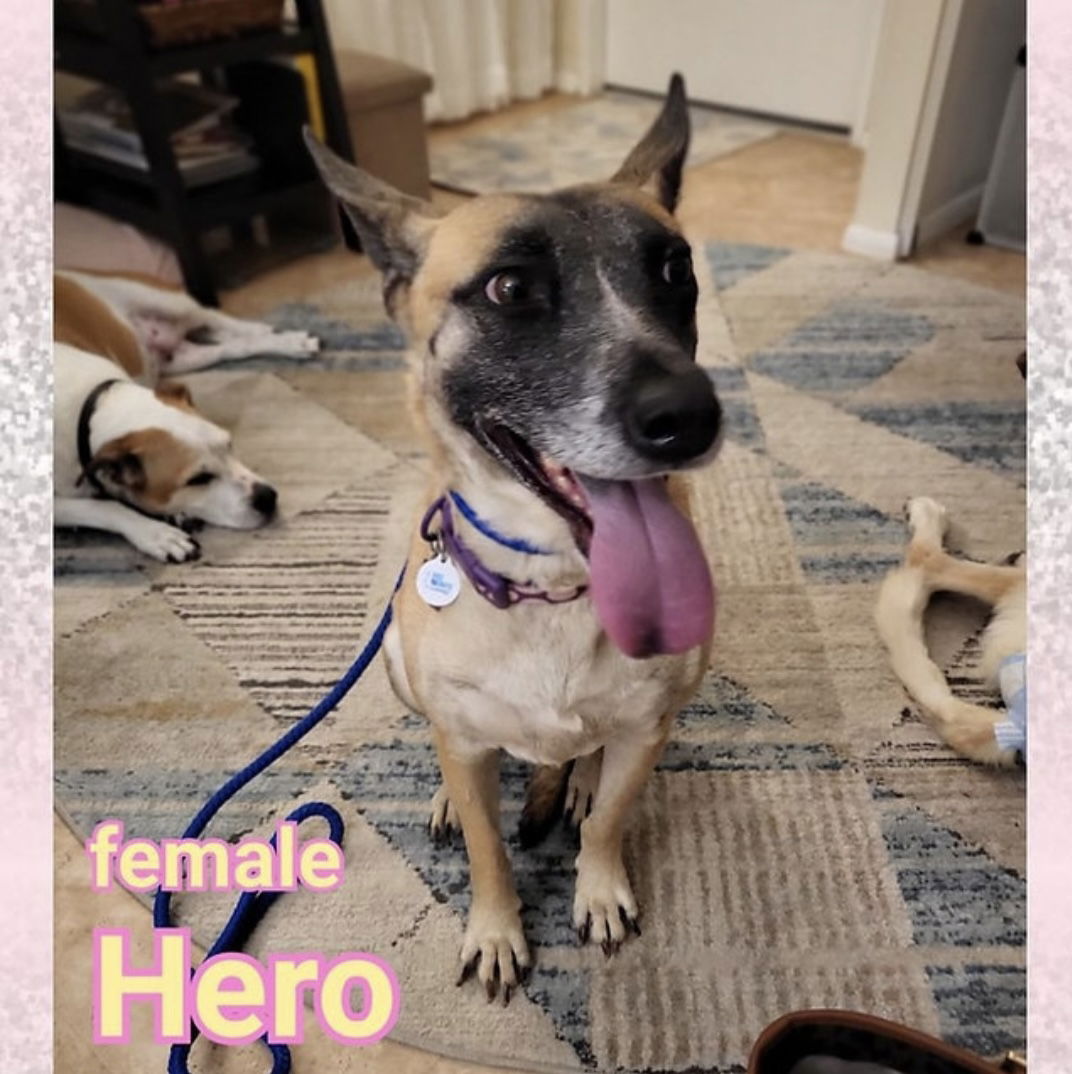 Meet Hero:
Hero is a 2-year old Shepherd Mix who's a shy, polite gal that likes people, kids and other dogs. Hero can crate and she had the privilege of attending training school and learn how to be a good girl just for you! She's only about 40-50 pounds. Hero is spayed, walks well on a leash, has had obedience training so she can be trusted when you're not home and doesn't chew! No separation anxiety experienced and doesn't jump up or snap at you. Totally laid back. Hero is still fearful but makes improvements every week. She could be adopted if you are willing to be patient & work with her. She is great on a leash and good with other dogs. Hero prefers polite chill dogs and loves treats!
Hero is very shy with new people and new environments. She will need a patient adopter who will continue to work with her and allow her time to become adjusted. Another dog in the home might be a benefit.
She is fully vaccinated and microchipped.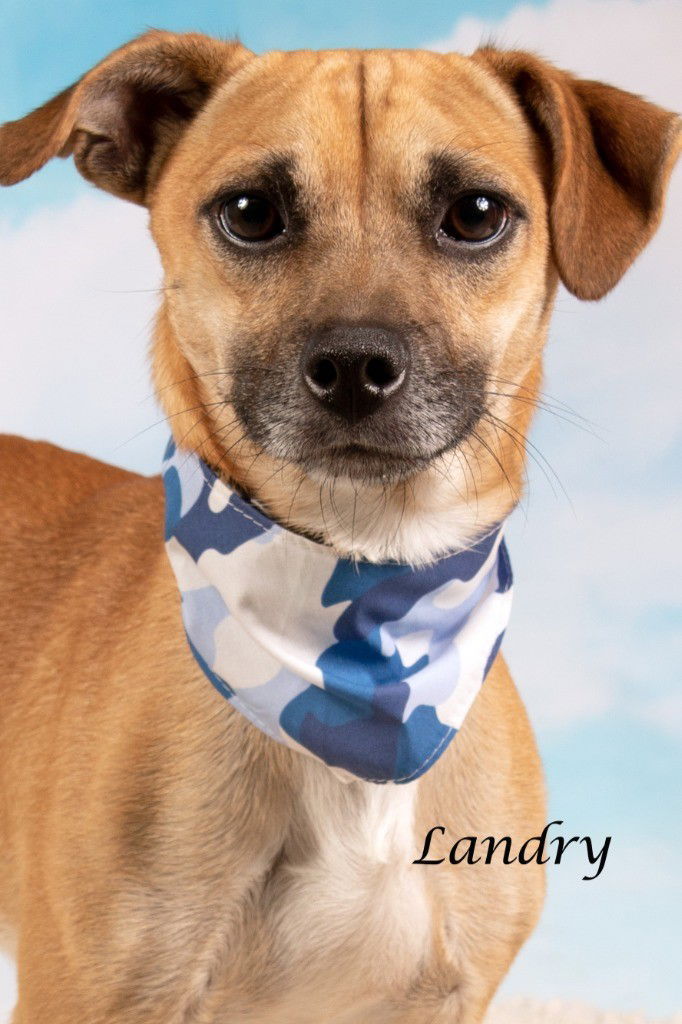 Meet Landry:
Landry is a fun 2-1/2 year old 12 pound Chihuahua who is looking for his forever home. Landry is living in a foster home with other dogs and is currently living his best life, which he hopes to continue in a new forever home. His foster dad says that Landry is a very personable dog who gets along great with his dog, and they play together very nicely. Landry sleeps on the bed at night with foster dad and the other dogs in the home. He is potty trained and he uses the doggy door. He likes playing with toys, and he's very loving and affectionate. He is a great little dog who would love to meet you! Landry has been in a home with cats but he tends to chase them, so he'd prefer his next home to be feline-free. He is on medication to regulate seizures, and the medication is very inexpensive. Landry will need a family willing to open their home and their hearts to him, and give him the spoiled life he deserves. Landry is at our adoption center every Saturday, but you can come see us during the week or email us at FFLdogs@azfriends.org to set up an appointment to meet him during the week.
Meet Dimple:
Meet our new sweetheart Dimple! She is always happy and excited to see you. She is a friendly girl and her kennel buddies tell us she is quite the cuddle bug! She loves playing with her soft toys. She also enjoys a little pampering and enjoyed be brushed gently. This smart girl is a quick study. She knows the verbal command to sit and stay. She comes right away when called. Dimple is a one year old terrier mix and she weighs around 48 pounds. She will do best as your only canine companion.

Meet Rolanda:
Rolanda was adopted as a kitten from Friends for Life, but fate brought her back to us recently as a stray. This independent girl is looking for a forever home that can accommodate her outstanding personality and slight, visual impairment. Rolanda is a sweet lover and, as an older cat, she can be a bit grumpy at first, but quickly warms up to people and other mature cats. Rolanda likes her space but is drawn to friendly voices and needs cuddles. She has had a tough go at life and has the scars to prove it but that does not stop her from being a loving companion. In her forever home, she will sit next to you on the couch, hang out on the bed, and be a buddy who will always be nearby, as she is full of trust and love. She is great with other older, independent cats like her, and will do her best in an adult only home. Rolanda is visually impaired in one eye, but has no issues navigating stairs, cat forts and her favorite window perches to meow, squeak, and chirp at the birds outside. She relies on lifelong daily eyedrops for Glaucoma, which she tolerates well. This confident lady will need a calm and predictable home with a family that will allow her time to transition and warm up to them, but she will give her all as she seeks human contact and affection. Rolanda is currently living in a foster home so contact us to arrange a meet and greet with this sweet girl.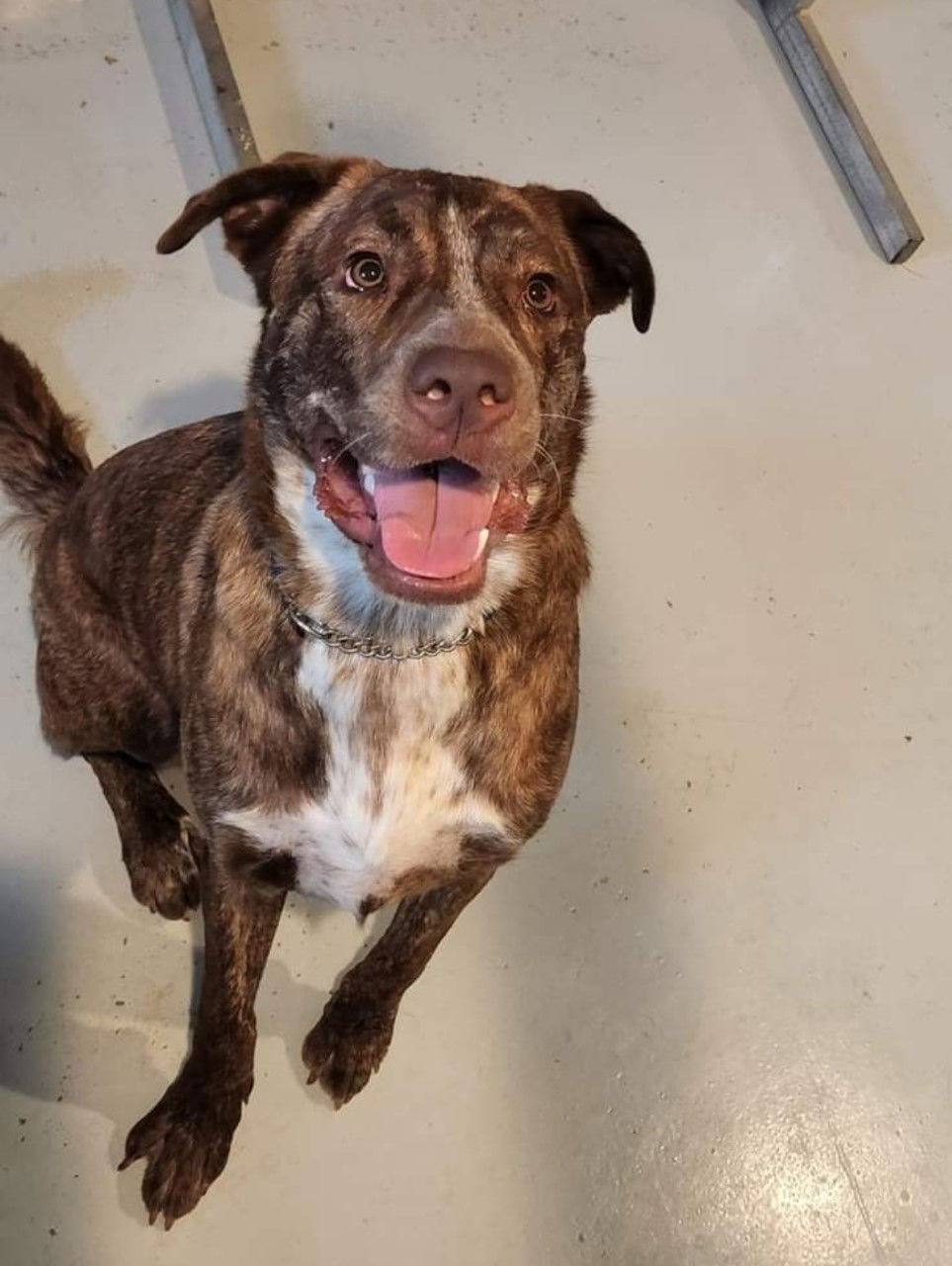 Meet Copper:
Introducing Copper!
Copper is a 80lbs, male pit, terrier mix. He is crate trained, housebroken, and does well on a leash although he may pull a bit. He does great with other dogs, he has not been around cats. Copper is always ready to play, and loves to be by your side. He does get excited and will want to jump on you, or when meeting new people, in a playfully manner he will sot when you ask him, and is treat motivated. He a great dog and would be a great addition to just about any home.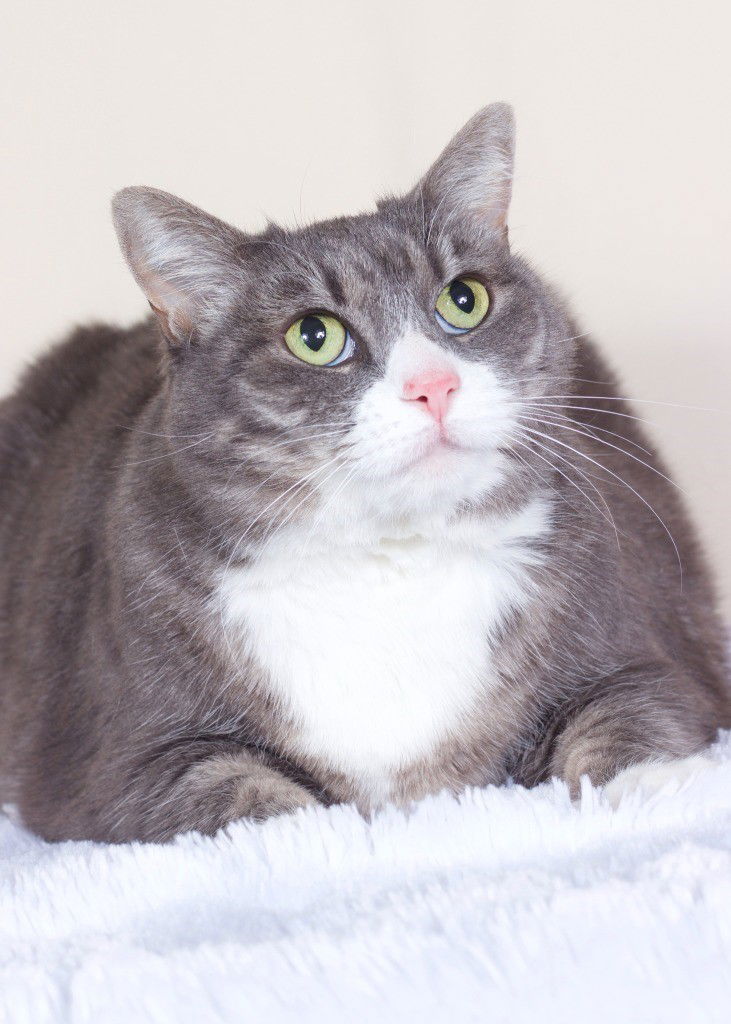 Meet Lexxie:
Lexxie Lou is hoping to find a forever home soon. This girl has a lot of love to give & she can't wait to get to know you! She is very sweet & will jump out of her bed when her caregivers come to see her. Lexxie loves to play with wand toys, but she loves to snuggle and be pet more! This girl is extremely affectionate and loves to purr. She will meow to get your attention. Lexxie Lou is a sweetheart with a lot of character, just waiting to meet you! Lexxie Lou is altered, vaccinated and microchipped.
Meet Arnold:
Arnold, who was found as a stray! This handsome 6 year old is a happy, easy going guy who is eager to explore while on his walks, and is well mannered and leash trained. He comes when called, and knows some basic commands such as sit. Although he was rescued along with his friend Palmer, he may prefer to be an only dog. Of course, introductions to other canine siblings in the household is always required so if you would like to meet Arnold, be sure to bring other canine family members along for the adventure!

Meet Batman:
(Batty, B-Man) - This gorgeous gray tabby is a purr and play machine. He'll snuggle for hours and make you smile just by watching him explore. Batman is athletic, sweet, and incredibly cute. This baby will greet you at the door and play with the clothes while you're doing laundry. Love and cuddling galore! Due to his age, he would benefit from having another feline companion to romp with and also snuggle up to when the humans are busy. He has been right next to his brother, Robin, since birth and the two are best friends, a perfect pair, what a combo!
Meet Robin:
(RoRo) - This beautiful gray tabby makes it hard not to smile! He's just so full of curiosity, adoration, purrs, and gentility. Robin will snuggle into you for the whole day if you let him, and he'll also never pass up some quality play time. This little boy is ideal for anyone, as you'll never find an animal or person he doesn't like. Even though he loves all people, he would benefit from having another feline companion to romp and wrestle with. RoRo has been with his brother, Batman since birth, they ARE a dynamic duo. Their personalities are both outstanding and they play wonderfully with each other. Time to take the Gotham Boyz home!
Meet

Chocolate

&

Spice

:
This precious duo lost the only home and person they have ever known which is why they are here with us. They are 12 years old and are bonded so they will only be placed in a home together. They both love walks, still play with toys and have fit right in here with our other little dogs. They sleep together curled up in a chair at night and we can only imagine they are dreaming of their forever home. Chocolate does need to lose a little bit of weight and is taking a daily medication to bring her liver levels down. We are hopeful with the proper diet and exercise she will not need the medication in the future. Please consider welcoming this sweet senior pair into your life.
Meet Pumpkin:
As one of the most exotic multicolored calicos you'll ever find, Pumpkin matches her beauty with a fabulous personality. She is adoring, playful, fun, and constantly purring. Her only goal is to make you smile while getting belly rubs. This baby has grown up with four siblings and, at such a young age, it would be best to take her home with a playmate. They're all equally wonderful, so you can't go wrong!
Peter Zippi Memorial Fund Home (peterzippifund.org)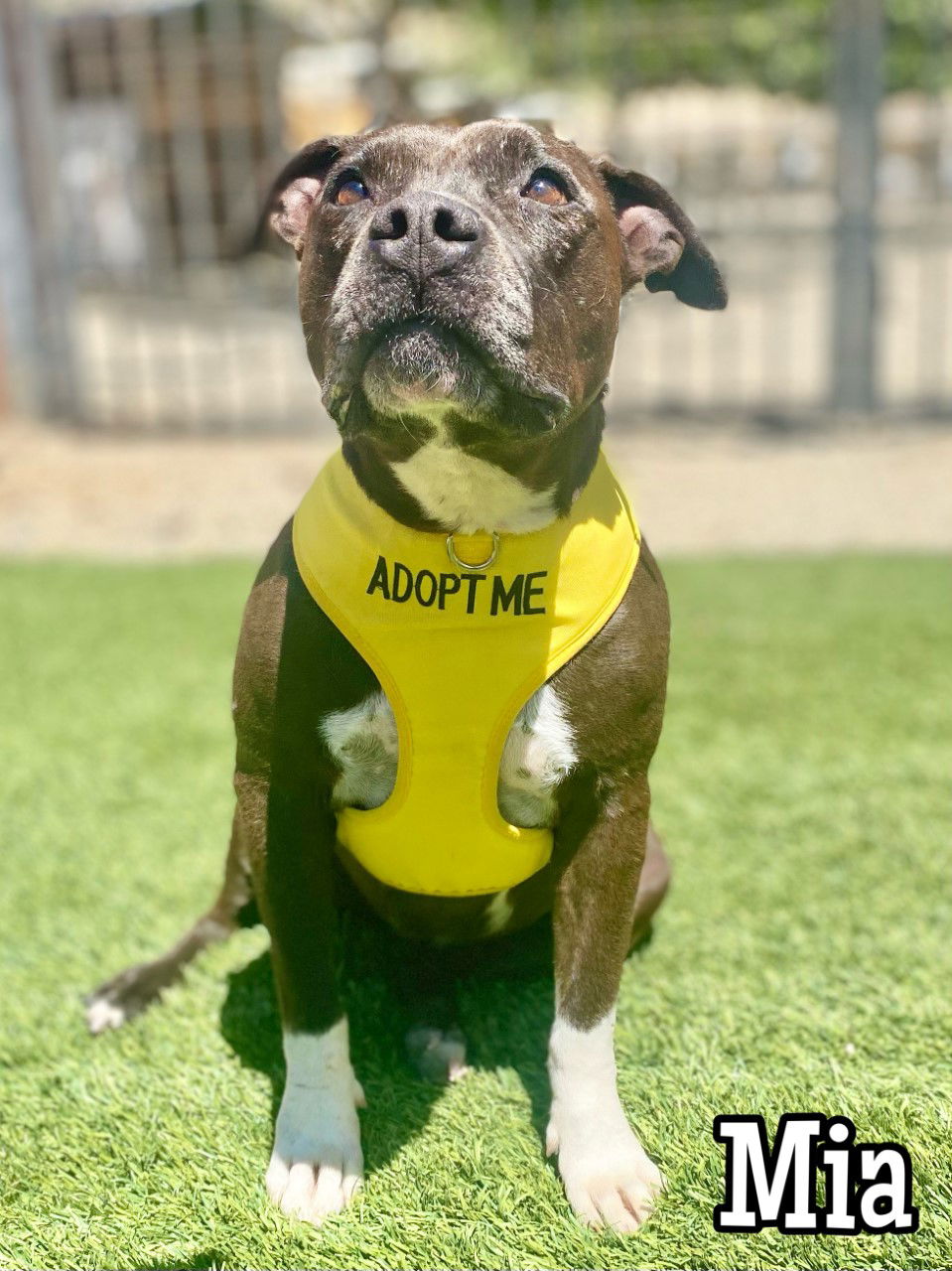 Meet Mia:
Mia is 7 years old, absolutely delightful, and she's only here because her family lost their home.
This silly wiggle butt is already vying for the title of happiest pup at The Ranch.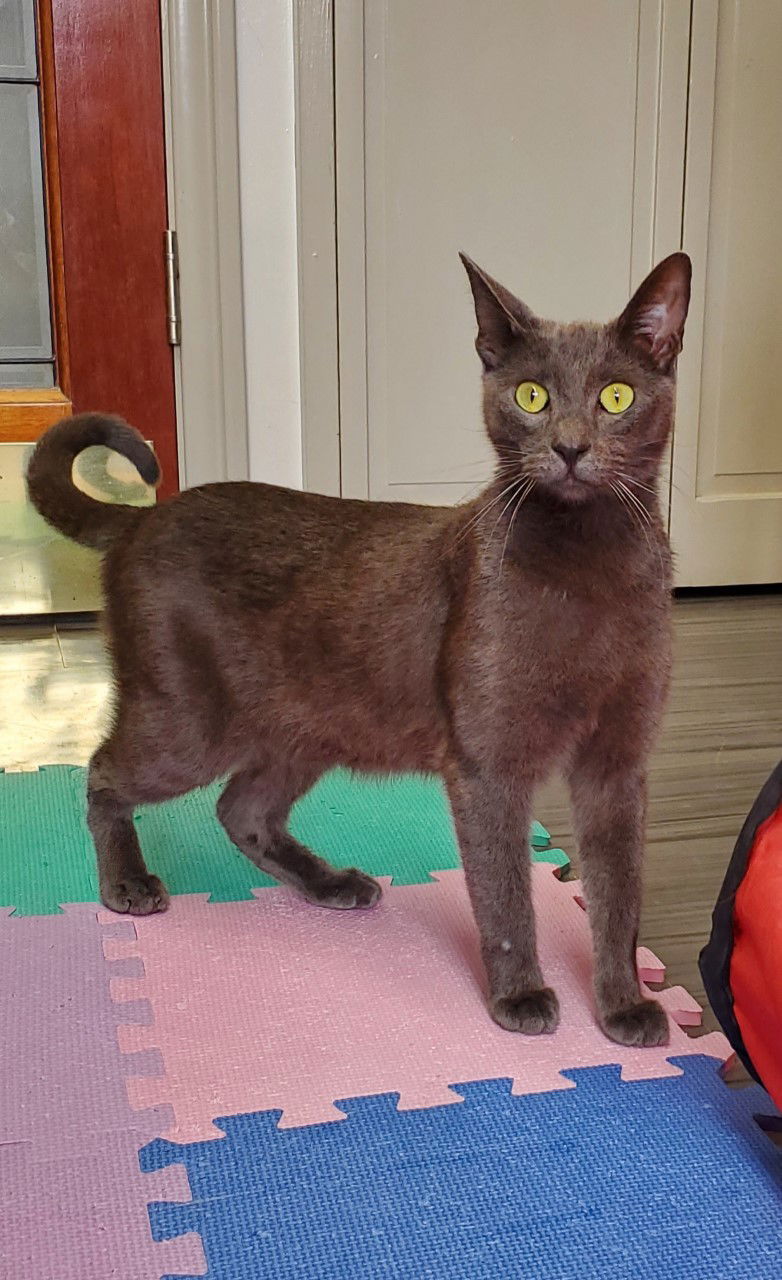 Meet Jaspurr:
Jaspurr's history is largely unknown. He showed up at someone's patio door in a neighborhood one day but no one had seen him before. He is a quirky young man with an independent spirit who also has a loving side. Jaspurr takes a bit of time to get to know you but generally goes with the flow. His zoomies are sure to bring a smile to your face and so will his head butts and nose kisses. He does well with other respectful cats. We're not sure we've discovered Jaspurr's full personality yet but he's sure fun to get to know and we already believe he would make a great companion for someone who is looking for an easy going cat that loves to play but also doesn't mind just hanging out.
Peter Zippi Memorial Fund Home (peterzippifund.org)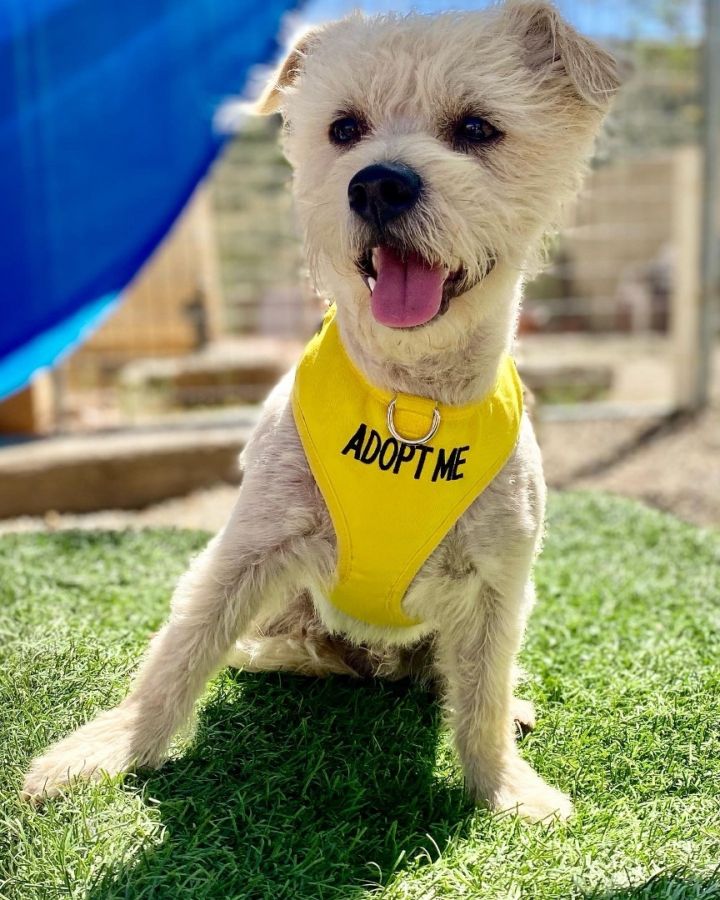 Meet Twin:
This cute, scruffy-faced terrier is still a puppy. He is 18 months old and weighs around 20 pounds. He's a little apprehensive about meeting new people and enlists the help of his best friend Chicka to assess the situation, but once she gives the go-ahead, it's all love from there. He went for his first walk on a leash with us just a short time ago and he is doing great with leash manners. He is quite silly and loves to play with toys too. Twin and Chicka are both here because they used to live in a house with way too many dogs, almost 20. We feel strongly that Twin will do best in a home with another dog with whom he can play and grow up.
Meet Patty & Polly:
Cuteness overload with sass, spunk and smarts thrown in for good measure. This precious duo had been living in a garage for years. We have no idea why someone would do such a thing to these adorable tiny ones. Despite barely being let out and left to only roam around a garage they have fit right in here with our other seniors. They are the first to greet everyone who comes in. They run up with smiles and tails a wagging. They are petite in size, each weighing 7 lbs. We think they might be Yorki Poos and they are about 10 years old. They are inextricably linked and will only ever be placed together. They recently went for their first walk so they are just getting used to how a harness feels so that minor detail is a work in progress. Despite all these two have been through, their love shines through.
Meet Red & Scout:
Red and Scout are about 6 years old Boxer / Australian Shepherd x who tragically lost their beloved owner.
They are sweet with everyone, especially with kids and are very playful. They are not a good fit with cats or other smaller animals. Their energy would be ideal for someone that enjoys hiking and long walks. Check out this bonded sweet, playful and loving pair!
Meet Elijah:
Elijah exudes confidence in all situations. He doesn't shy away from strangers and always enjoys being the center of attention. Elijah would do well in an active household with people who want a friendly cat. He loves interactive playtime. Socially, he is very sweet and likes to follow his people around and often comes running when you call his name. Elijah is a very loving boy who has no problems accepting affection or just sitting in your lap while you work.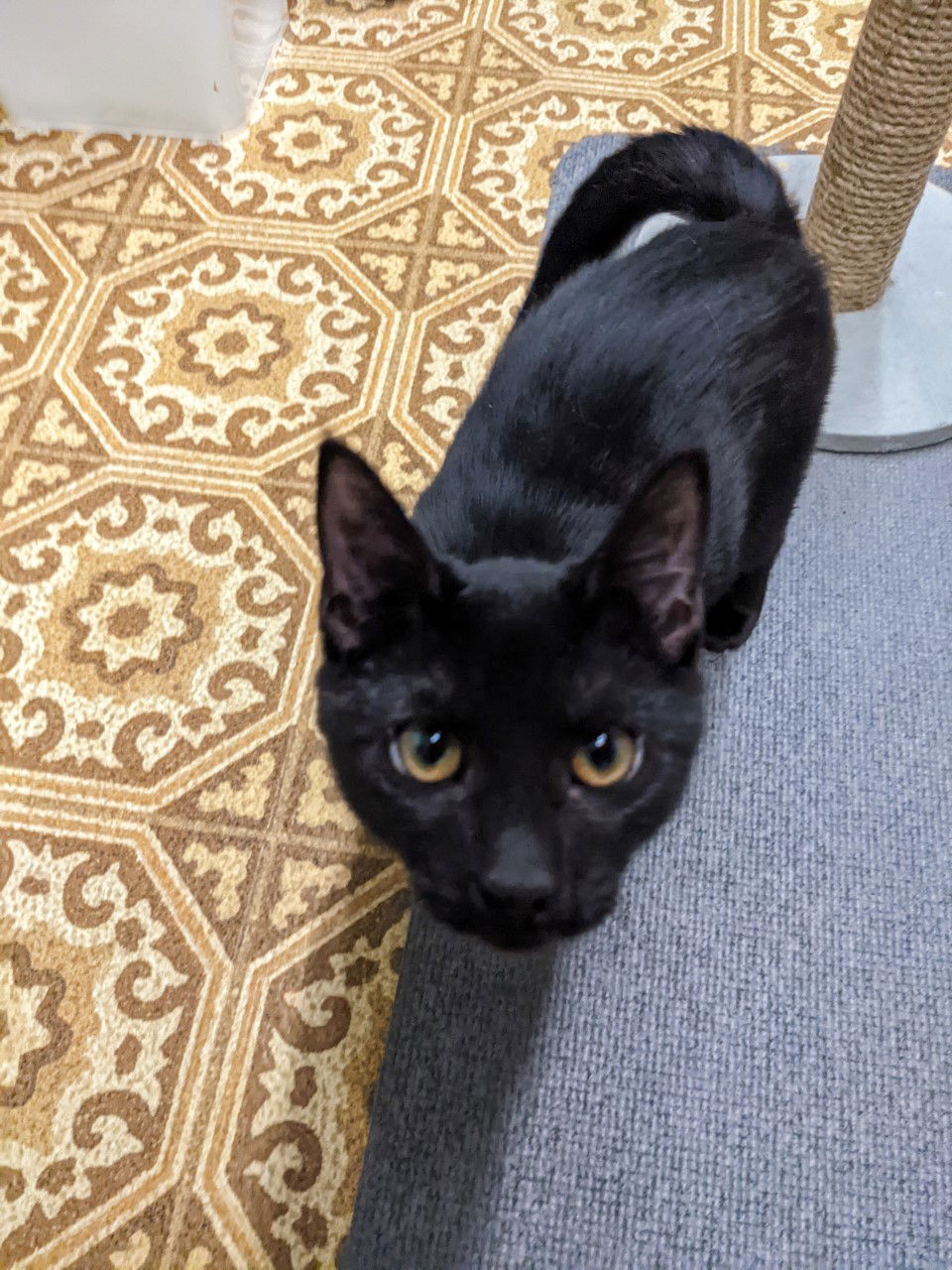 Meet Lucille:
Lucille has a huge personality. From a tiny kitten, she has been bold, rambunctious and fearless. She is an explorer who is curious about everyone and everything happening around her. Lucille loves to romp and play with her feline friends but will settle down for the sweetest cuddles once she is through. She adores human attention and loves all kinds of kisses and cuddles. Lucille was raised by a family so she is comfortable with kids and adults alike. Even though she loves all people, she would benefit from having another feline companion to romp and wrestle with. Any one of her feline friends in our kitten community room would be a purrfect match!
Meet Zoey:
She has been with us for over 2 years and we are at a loss as to why? She is stunning, athletic and loves every person she meets. We know placing a dog as an only dog makes adoptions more difficult but we just know the perfect home is out there for her. We know she needs a very active home and life. She has loads of energy and potential. We are certain there are no limits to what she can learn, she's that smart. We do know she needs space to run and walls to keep her safe. She can easily scale a 6 foot wall. She just breaks our hearts because she is just 3 years old and has now lived 90% of her young life in a shelter or rescue. She deserves so much more.
Meet Taz:
Taz is an adorable miniature Schnauzer who has a lot of love to give. With the proper introduction, he gets along great with other dogs. He enjoys the company of the other pups and cats in his foster home, but can get a little reactive while passing another dog on a walk. He needs an assertive, confident and dog savvy-owner who can give him corrections so he feels more secure. Taz loves walks and would even be a good running buddy.
We are looking for an adult-only home for Taz as he has bitten before when he's felt insecure and nervous. Again, an owner who can make Taz feel at ease and who can give him the time and STRUCTURE he needs will help this guy thrive and succeed. Taz really does like to "work" and to learn/follow commands. He is also crate trained.
Taz has a history of seizures, but it is controlled with medication and he hasn't had had a seizure in several months now.
We know Taz can be safely placed in the right home, and we are dedicated to waiting for that perfect home for him. Once Taz decides he loves you, he is yours forever, and you are his. If you're interested in meeting Taz,
He's Loyal, Smart, Affectionate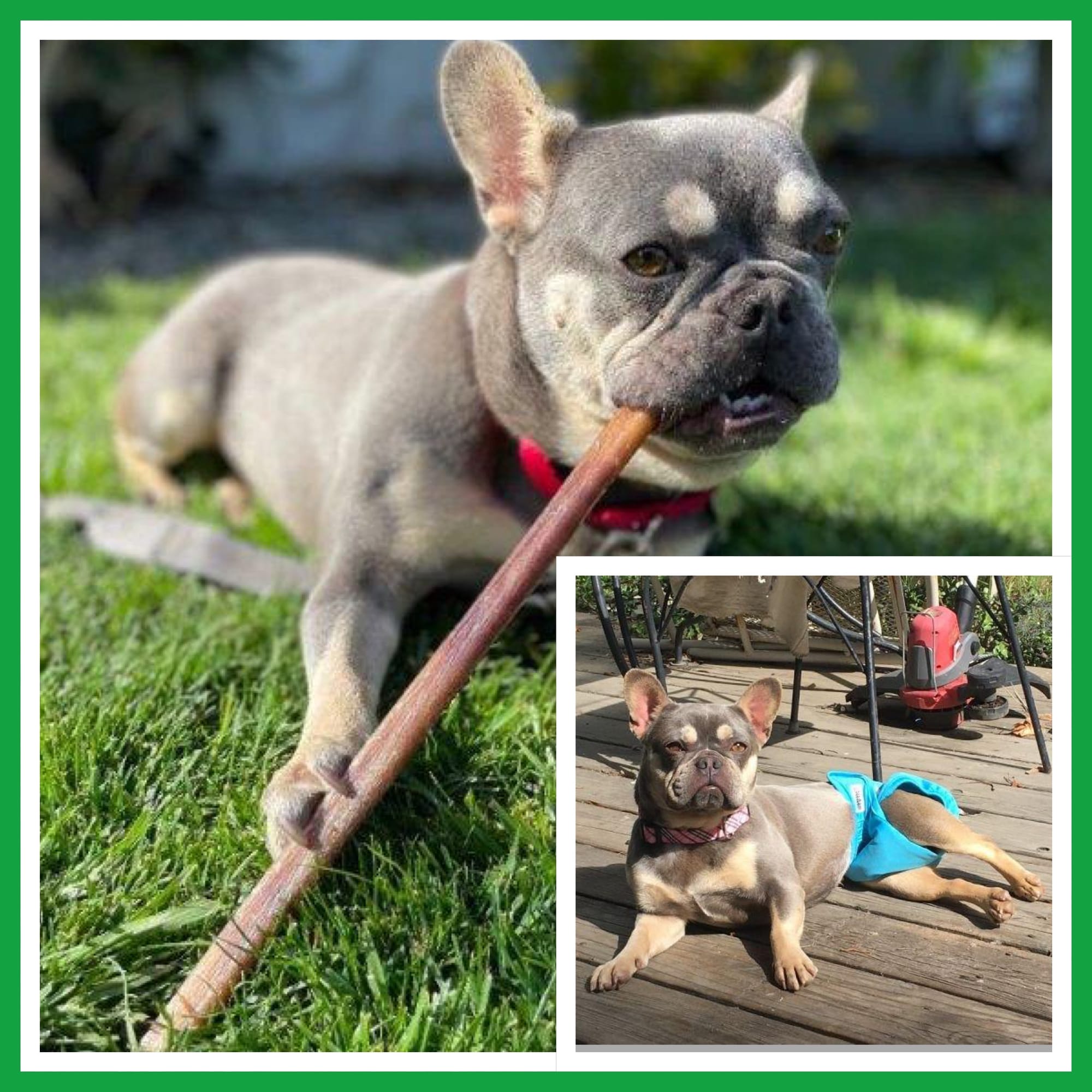 Meet Estelle:
This petite gal is so deserving, so full of love and just wants to play with her toys, enjoy her bully sticks, go for walks and show you her belly for all the belly rubs. She's only 2 years old and was dealt an unfair hand, born with spinal issues that don't get in the way of her enjoying life but do cause incontinence.
The perfect foster or better yet forever home for her would be: Someone who has a yard and an area where she can spend some time outside diaper free. Someone looking for a sweet, affectionate, playful, sensitive companion.
Estelle loves all people and she would be very happy as the only pup but has also lived with other dogs (we would provide proper intros for you to assess compatibility). She does have that Frenchie play style/energy with other dogs.
Having hardwood/wipeable floors is a plus but not necessary as she can be diapered inside as needed and you can also set her up in an area with puppy pads. She does great being left alone and sleeping in her own area quietly and content and is happy to see you when you get back.
Please, we need your help sharing Estelle. We know her family is out there. Yes, she needs a little extra care, but with a routine and proper setup, the payoff and love in return is beyond worth it.
Vaccinations up to date, spayed / neutered, special needs.
Meet Salem:
Salem is a very chill, calm gal. A sweet pea who loves human cuddles, you can count on her to curl up in your lap for a snooze. She is a bit more reserved and an observer. Salem is content to find herself a quiet, comfy spot to relax out of the fray of the energetic tussles of her feline friends. That being said, Salem loves to play with feather toys and mice at a more mellow pace. She was raised by a family so she loves human attention and is comfortable with kids and adults. Salem is serene as can be but would still benefit from having another feline companion to grow and learn with. Any one of her feline friends would be a purrfect match!
Meet Lady Di:
Get close enough and this young lady will let out a soft meow to inform you that pets are most welcome. Lady Di is very befitting of her name - distinguished and agreeable. She is always calm, cool, and collected. Never demanding but always ready to give and receive love. Lady Di made a Hermosa Beach neighborhood her "home". Everyone enjoyed her company. When one of the residents noticed she may be pregnant, one of our fabulous foster moms agreed to take her in. A few days later, she gave birth to 6 beautiful kittens. She was a great Mom and now that her babies are weaned, it's Lady's time to shine in a permanent home of her own. She enjoys sitting on a perch to observe the outside world but a warm lap is even better. If you are looking for a loving lap kitty who will be totally content just being with you, Lady is the girl for you. She is FeLV+ and would love to be your one and only or a BFF for another FeLV+ cat.

Meet Bowie:
This little guy is Bowie. We pulled him from a county shelter over 3 years ago with his son. His son was diagnosed with an inoperable cancer and passed away in 2019.
Bowie never gets any interest 🥲. He does take a minute to warm up to men and we think would be best as an only dog. He is one of our longest residents here and we would love to see him live the years he has left in a cozy and loving home. We think he is 11 years old, only weighs 10lbs and is probably Chi and Corgi. He walks great on a leash, loves toys and keeps his room here incredibly neat. Thank you for helping Bowie be seen. ❤️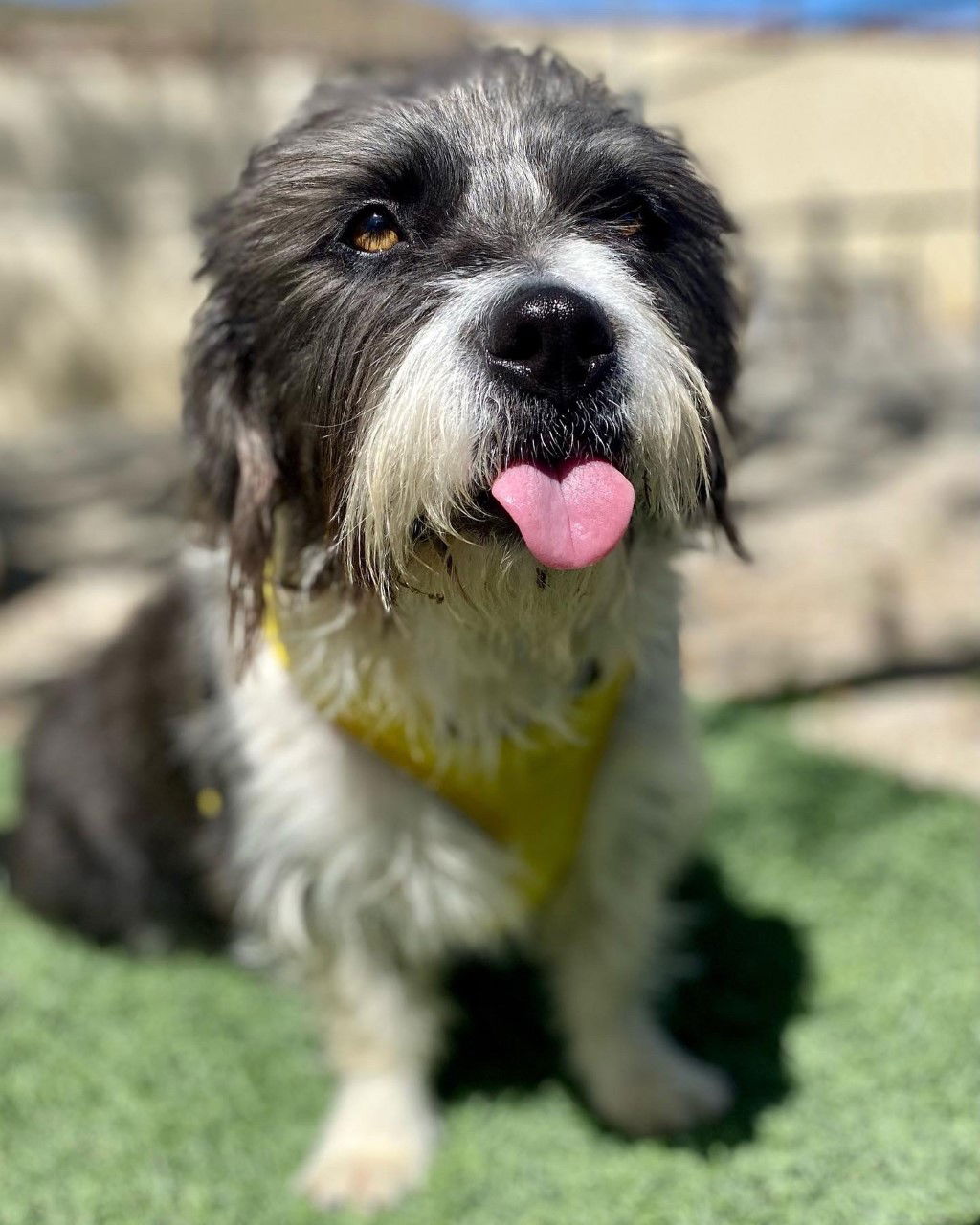 Meet Chicka:
Disney dog alert: Chicka could be a movie star. Not only is she stunning, she gets along great with other dogs and loves everyone she meets. We think she is about 3 years old and is a terrier mix. We think we see a little Shih Tzu in her too, but she weighs a healthy 40 pounds, so that has us a little perplexed. Both her and her best friend Twin are here because they were living in a home that had way too many dogs in it, over 20. We believe she would do best in a home with other dogs. She is an absolute delight and whoever is fortunate enough to welcome her into their family will certainly be blessed.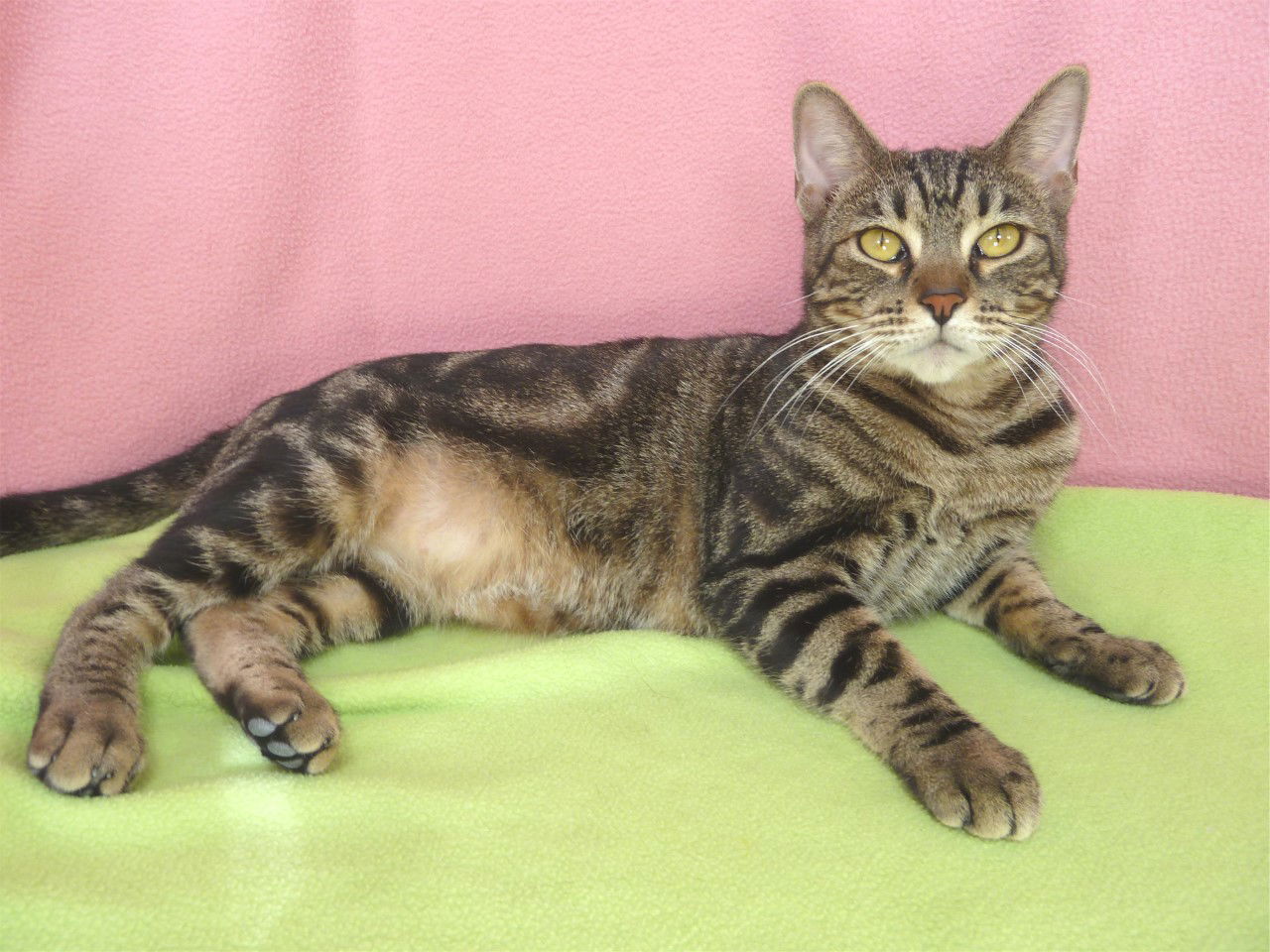 Meet Gracie:
Gracie is a beautiful, confident young lady with striking tabby markings. She is a confident girl who loves to sit up high and watch what's going on in the room. Gracie is affectionate with every person she meets. Napping in a comfy bed or a box of craft paper is one of her favorite pastimes. A good brushing and some chin scratches are sure to get her motor running. Gracie is an easy-going gal who could smoothly join a household with another resident cat with a similar personality or a respectful dog. She would also do equally well on her own.
Peter Zippi Memorial Fund Home (peterzippifund.org)

Meet Miss Kitty:
Miss Kitty is a declawed, 12-year-old senior with Hyperthyroidism, which is a very common disorder of older cats. She's on special food and medication and is looking for an adopter with a huge heart and a love for senior animals. Miss Kitty is a sweet senior who would love a warm bed to sleep in. Our shelter staff would be more than happy to speak to any potential adopters about how to manage Miss Kitty's condition. We also offer a foster-to-adopt program which allows potential adopters to foster an animal or 14 days prior to making the decision to adopt.
Meet Ryan:
Ryan has brought puppy love to Houndhaven. He and his sister, Tatum, made their way to Houndhaven from a southeast Alabama animal control. Being a young pup in an animal control is no way to start life, but that chapter of his life is behind them and Houndhaven is working on finding him a happily ever after in a forever home. Tatum has found her forever family, and we know it's just a matter of time that Ryan will be following in her footsteps.
Ryan is an adorable, five-month-old black lab mix. He weighs 27 pounds and is still growing. He has puppy energy but has a calmness about him as well. He loved playing in the play yards with his sister and chewing on his toys, especially the squeaky ones. Ryan enjoys getting snuggles and gives sweet kisses in return.
If you've been looking for a sweet new family member that's as cute as they come, Ryan is the one for you. He will need a family that will provide him the time necessary for puppy training and attention. Please visit www.houndhaven.org to review our adoption policies and procedures and to complete an application.
Meet Porkchop:
I am a handsome two year-old boy who was living in rural Georgia when I was rescued. I love people and I love to be the center of attention. I get along with other cats just fine but my dream is to be a house cat surrounded by people who will pet me and love me! I'm waiting to meet you, so stop by and let's fall in love.
Great news!! My guardian angel has paid my adoption fee.
Meet Dunkin:
~ I can live in a single family home, condos and apartments considered.
~ I want to live with adults.
~ I prefer to be the only pet so I can get all the attention.
~ I am calm but have my moments of energy and need to get some exercise every day.
~ I am still learning and want to get off to a great start in my new home; it is recommended that my new family continue my training here at one of our awesome behavior classes.
Your browser does not support HTML5 video.
Meet Cinders:
2 year old orange/white Domestic short hair female cat
Very snuggly
She has Lived with other cats in her previous home and she
Loves belly rubs!
Meet Scooter & Tony:
Bonded Pair- surrendered to us due to owners deteriorating health
Tony- 5yo Neutered Male, Shepherd/Hound Mix
Scooter-6yo Spayed Female, Catahoula Mix
Both dogs are sweethearts who just want to shower you with kisses. They love going on walks or playing together. Scooter adores squeaky toys. They're both dog friendly and we think they would do great with kids 5 and older due to scooters size.
Been with us since March 2022
Meet Sandy:
11 year old, female, bulldog
~ I can live in a single family home, condos and apartments considered.
~ I want to live with adults.
~ I prefer to be the only pet so I can get all the attention.
~ I am calm but have my moments of energy and need to get some exercise every day.
~ I am a great dog with lots of potential. I need a family with senior dog experience.
~ I have some special medical (Metabolic weight loss food) needs but still have lots of life to live and love to give.
Meet Malibu:

Sweet, photogenic Malibu is a 7 year old Black-Mouth Cur mix who has been in the care of the Humane Society of the Treasure Coast since December of 2020. Malibu loves long walks around the neighborhood and just hanging out while you watch your favorite TV show. She is very tidy in kennel (she may be housetrained!) and knows several basic commands such as "sit", "down", and "come". Malibu can be a bit of a nervous pup- she is scared of young children, thunder, lightning, fireworks, and vacuum cleaners. But please don't let her nerves stop you from meeting with her, she is as sweet as can be with plenty of love to share. Malibu is a bit picky about her dog friends, so she will need to meet any potential doggy siblings before going home. Malibu's adoption has been sponsored by Lauren Carroll with Rick Carroll insurance!


Your browser does not support HTML5 video.Meet Calista:
Calista is a one year old calico girl who came to the shelter with eight kittens. She's a very friendly girl and gets along with other cats as well as people. she's had a very hectic lifestyle so far so she would enjoy being in a semi active home where she could get some TLC
Meet Buddy:
9 year old Domestic shorthair mix male cat
Gets along with dogs, cats and even guinea pigs
Meet Bella:
5 year old Domestic shorthair mix female
Bella is a bit Overweight!
Loves people and getting attention from people
Meet Cinnamon:
Hi, my name is Cinnamon and I'm approximately 10 years old. I'm a blonde Chow and very friendly. I like to go on walks and do well on a leash. Due to my breed, I have some immune disorders, and came into the shelter with a hot spot, after my owner passed away. The shelter got me a much needed grooming, and I'm healing. I've been told I'm beautiful, and looking forward to finding my forever home!
Meet Lemon:
Hello everyone, I'm Lemon! Just look at my pretty face!
I'm a calm and reserved young lady who sits patiently to observe the world around me. I'm curious but quiet, and also very playful if you're ready to play! I know how to sit and would love for you to teach me some other tricks - I love working for treats!

I love going for walks and having my people love on me - you can touch me all over and I will love it! If you let me, I'll crawl right into your lap - I would be an excellent couch buddy! I'm such a good, go-with-the-flow kind of girl that I even stand still for nail trimmings.

Unfortunately, I have heartworm. SHS will cover my treatment once I am adopted, as I would much rather go through treatment at home with you!
Sunrise Humane Society | United States (sunrisehs.org)
Meet Mavis:
1 year old female rabbit. Shy and sweet. Recovering from a broken leg and doing great.
Meet Bebe:
I'm young, handsome, and fluffy. What could be better than that? I'm an awesome two-year-old boy who lost a home because I am FIV positive. Many people don't know what that is but actually it's no big deal because I'll have a normal lifespan and I don't need any special medicine or special food. All I need is a loving home where I can be indoors. Come and meet me today. I'm waiting for your call.
Great news!! My guardian angel has paid my adoption fee.
Meet Kuna:
5 year old female
Catahoula Leopard dog mix with a beautiful brindle like coat
~ I can live in a single family home or condo, apartment considered. I can hop fences.
~ I want to live with kids over the age of 10.
~ I prefer to be the only pet so I can get all the attention.
~ I am a high energy kind of dog and am looking for a home where I can get lots of exercise every day.
~ I am a great dog with lots of potential. I need a family with Catahoula leopard type of dog experience
Walks great on a leash & takes treats very gently
Knows basic commands
Meet Simba:
1-year old Domestic shorthair male fun kitty cat that is waiting to join a new family. He will put up with other cats although he loves to be the center of attention. Treats and love is how you will win your heart. Such a perfect family pet looking for his forever home. Simba also does vey well with kids! He's got a lifetime of memories to make with his forever family that takes him home. Please watch my video and see!
Sunrise Humane Society | United States (sunrisehs.org)
Meet Frankie:
~2-Year old male Lab Retreiver mix
- I want a fenced in yard at my new home.
~ I want to live with adults.
~ I need to be the only pet so I can get all the attention.
~ I am calm but have my moments of energy and need to get some exercise every day.
~ I am a great dog with lots of potential & loves to play in the pool so if you have one that would be a BIG bonus
Meet Zeke:
Zeke would make a great addition to any family. He loves playing ball just as much as he loves eating peanut butter! Contact the shelter for more info. Zeke is a cute and playful White – Male – 4 years old – American Bulldog
Please check out my video and watch me run around in the Florida Sunshine
Meet Jack:
Well, hello there – I'm Jack! How you doin'?
I'm a friendly young adult who came to Dogs & Cats Forever after being injured as a stray in Miami. I'm definitely feeling better now and ready to meet the public. I'm very friendly and I get along with other cats. Unfortunately, I am FIV-Positive as a consequence of living outside but I don't need any special food or special medical treatments. All I need is a loving home!
Great news!! My guardian angel has paid my adoption fee.
Meet Saitama:
Saitama is a 3-year-old male who was found as a stray in May. This sweet boy is very playful and loves chasing string! He would love an active family home with lots of room to run and play.
Meet Matisse:
I'm a 17-year-old senior cat, but the folks who visit me say I don't look a year over 10. I'm still an active tan and black female domestic short hair cat that would really appreciate living out the rest of my golden years in a loving home and maybe it will be your home! Please watch my playful video to the song the "year of the cat" and hofefully this will be the year of Matisse.
Meet Toby:
9 year old male, black mouth cur mix
~ I can live in a single family home, condos and apartments considered.
~ I want to live with adults.
~ I prefer to be the only pet so I can get all the attention.
~ I am a relaxed kind of dog who will appreciate lots of time to sleep and lay around.
~ I am still learning and want to get off to a great start in my new home; it is recommended that my new family continue my training here at one of our awesome behavior classes.
Meet Sasha:
Female Terrier Pit Bull Hound mix / 2+ years old / 50 lbs
Look at the perky ears on this adorable girl! Sasha is happy about everything and happy all the time! More often than not, you'll find her carrying around a ball in her mouth like a pacifier. She is also known to flop on your feet for belly rubs or to nudge you gently for attention. She also loves giving kisses!
This stocky cutie pie is curious and likes to explore new things, enjoys toys but will share, and will sit when asked. She walks well on the leash, would be great with kids, and is fine with other dogs. Sasha is a super sweet girl who is 100% go-with-the-flow type of gal, content to hang around and happily wag her tail.
This snuggle bug would love to come home with you, especially since she has been at the Sunrise Humane Society for OVER A YEAR! We don't know why, as this lovable chunky girl is sure to pour her heart and soul into a special family.
Unfortunately, Sasha has heartworm. SHS will cover her treatment once she is adopted, as she would much rather go through her treatment at home with you!
Your browser does not support HTML5 video.

Meet Aurora:
Aurora is an 8-year-old female who arrive at HSTC in April. This beautiful girl loves receiving attention from visitors and exploring out of her cage. Aurora has a reserved personality and would enjoy a quiet home with adults or older children.
Aurora is calm but has moments of energy and would need to get some exercise every day.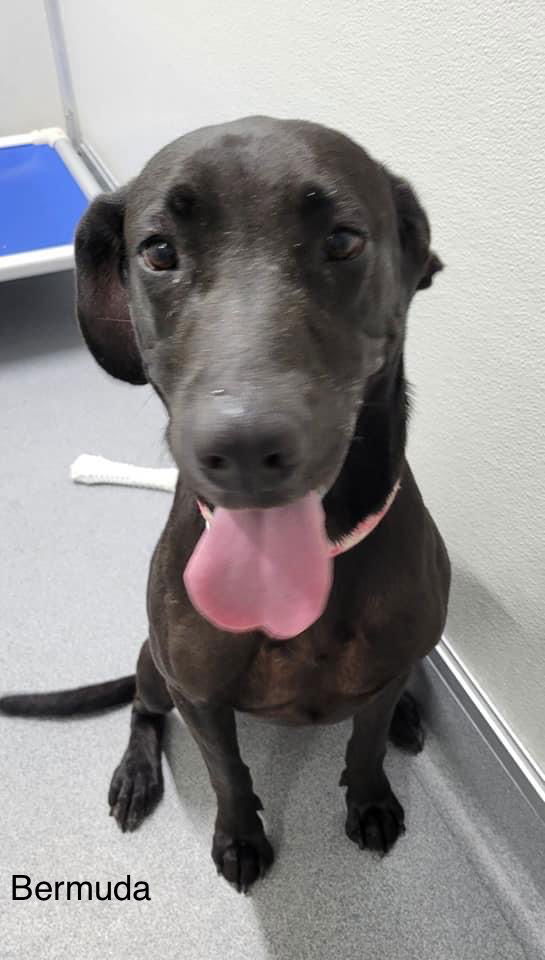 Meet Bermuda:
Bermuda is one happy girl, but we assume she wasn't very happy when she was found as a stray in northern Florida and was picked up by animal control. Houndhaven rescued her and we've only seen a happy, sweet girl and we are sure she will even be happier once she has found her forever home. Until that day comes, the volunteers love to give Bermuda lots of attention and tell her that she's a beautiful girl.
Bermuda is a lovely, three-year-old black lab mix. She weighs 55 pounds, which isn't big, but she can be quite strong on a leash, so she needs someone that can handle a strong dog. Bermuda is crazy about belly rubs and will stop during her walks to try and score a few of them along the way. She loves running around the play yards, especially with her friend, Scooby.
Bermuda is an affectionate girl and loves spending time with the volunteers. If you've been looking for a beautiful, loving, active girl to become a part of your family, Bermuda is the girl for you. Please visit www.houndhaven.org to review our adoption policies and procedures and to complete an application.
Meet Lucy:

At nearly 7 years young, Lucy the American Bulldog mix is looking for a home that is just as active as she is. She enjoys car rides, long walks, and time spent outdoors in the backyard. She is great with people, knows several basic commands, and seems to be house trained. Lucy would prefer a home with no other canine or feline siblings. Her adoption fee has been sponsored by a very generous donor!
I am described as an ultimate couch potato. I'm super laid back but also enjoy playing with squeaky toys!"
Meet Turk:
Turk between 1 and 2yo neutered male Terrier mix
Found as a stray
He is super friendly and energetic and loves every human and dog he meets. He seems hyper but shelter life is no good for him. He needs a fenced yard to run and play in.
Great family dog with 8yo and up children due to his exuberance. He will most likely settle down as he gets used to a home life and ages. Turk is just a happy go lucky kind of dog. He'd probably do better having a fursibling than being an only dog.
Meet Archie:
I am a handsome nine-year-old boy who lost my home when my owner moved. I was recently found as a stray and I'm ready to start over with you! I'd love a quiet adult home where I can catch up on some TLC. I don't like car rides, so I would just love to stay home with you. Meet me and let's fall in love.
Great news!! My guardian angel has paid my adoption fee.
Meet Gizmo:
I'm a handsome six-year-old boy who would like to get to know you better. My family had to move out of the country so now I'm on my own. I've been a house cat my whole life. I have excellent manners, and I do best with adults and older kids. Let's get together and fall in love!
Great news!! My guardian angel has paid my adoption fee.
Meet Babydoll:
Babydoll's name suits her perfectly because she is the sweetest girl around. She recently had puppies and was found as a stray in northern Florida where she and her pups were picked up by animal control. Her puppies were taken by a rescue that only takes puppies so Babydoll couldn't go with them. Houndhaven couldn't resist her sad story and brought her to our rescue to make sure she would find a wonder forever family. With her sweet, loving personality, she will find her forever home in no time at all.
Babydoll is a lovely chocolate and white spaniel mix. She is approximately two years old and weighs 50 pounds. She doesn't let her size stop her from crawling into the volunteers laps for some snuggling and since she's so gentle, everyone welcomes her with open arms. Babydoll walks like a lady on her walks and will stop and ask for loving from time to time along the way. She is affectionate and loving and enjoys when volunteers sit with her give her lots of snuggles.
Babydoll had a rough start at life, but she hasn't let that affect her loving personality. If you've been looking for a new family member that is all heart, Babydoll is the girl for you. Please visit www.houndhaven.org to review our adoption policies and procedures and to complete an application.
Meet Dixie:
Dixie arrived at the shelter after her owner became allergic to her. she is a sweet Six year old girl who loves people. She would be best in a calm adult home. I'm a sweet six-year-old girl who lost my home because my owner was allergic. I'm very good with people and I tolerate other cats but my dream home would have me as an only pet in a quiet adult setting. I have excellent manners and I'm hoping for a forever home soon!
Your browser does not support HTML5 video.

Meet Major:
Major is a year and a half old and is looking for a home all his own. He does not want to live with any other pets but loves people –especially older children and adults. Major is very high energy and enjoys learning new things. This cutie has only been at HSTC since November 2021, but is ready for his fur-ever home. Major is accepting visitors at the HSTC main shelter located at 4100 SW Leighton Farm Ave. in Palm City, Florida.
Meet Bubby:
I am a very sweet Russian blue mix boy who's helping to meet a new family. I've been on my own for quite a while, but I love people and I really love to eat. I am FIV positive but it's no big deal. I'll have a normal lifespan and I don't need any special food or special medicine.
I would love to meet you soon, so please stop by. Great news!! My guardian angel has paid my adoption fee
Meet Tunchi:

Tunchi is a charming, 10-year-old, male who would love to be your one and only pet in the home. This sweet boy knows basic commands and enjoys playing fetch in a big, fenced yard. He is treat motivated and takes them gently out of your hand. He loves to play ball, walks wonderfully on a leash, and is content just sitting with his human watching the outdoors.


Your browser does not support HTML5 video.

Meet Darla:
i'm a beautiful six-year-old calico tiger girl lost my home because I could not get along with the new baby. I would be best as an only pet and a house with people who could give me lots of TLC. I'm very sweet and loving But I don't like to share Your attention with anyone else. In return, you will have all my attention and love.
Great news!! My guardian angel has paid my adoption fee
Meet Lima:
Lima 6yo GSD Spayed Female
Surrendered un January 2022 due to owner being a truck driver and not having anyone to care for her while he was OTR.
Lima can be extremely dog selective but became best friends with Turk. She is loving and affectionate and gives the best hugs. She loves her humans. Good with children 5 and up. She has a pancreatic disorder which is easily managed with enzyme powder mixed into her kibble. Loves playing in the yard and going for walks. Great on a leash.
Meet Cutie Pie:
Sweetie Pie is right below me because in this case it's beauty before age :)
Cutie pie is a one and a half year old gray tabby girl who loves people. She's very easy-going and she gets along with other cats, also. She's been a house cat her whole life and she has excellent manners. She loves to be loved and will give you love in return
Meet Sweetie Pie:
Cutie Pie may be right above me because I'm that much sweeter!
I'm a beautiful nine-year-old girl who has recently been coping with vestibular syndrome. My head is slightly tilted and I walk a little unsteadily right now but I will get better. Doctors say it was probably caused by an infection in my ear but I can hear just fine and I'm ready to be your special girl! I am not comfortable around other cats so I would enjoy being your one and only.
Great news!! My guardian angel has paid my adoption fee.
Meet Yardly:
Yardley captured the hearts of many volunteers from the moment she arrived at Houndhaven since she reminded them of one of recent rescues, Admiral. Since he had great success in finding his happily ever after, we promised Yardley we would do the same for her. Yardley was found as a stray in Florida's Panhandle and was picked up by animal control, from which Houndhaven rescued her. She has been a very good girl and loves all the attention that she has been getting from everyone.
Yardley is a one-year-old chocolate lab mix. She weighs 36 pounds and that's a nice size for having her join you on the couch for a Netflix binge-a-thon. Yardley walks nicely on leash and takes treats gently. She loves spending time with all of the volunteers and is friendly to everyone that she meets. She likes other dogs, and we suspect is sisters with Journey, who was rescued with her.
If you've been looking to add a new member to your family that loves attention and will give you so much love, Yardley is the girl for you. Please visit www.houndhaven.org to review our adoption policies and procedures and to complete an application.
Meet Ginger:
3 year old tan/white female pitbull. Ginger is a stage 1 clinger - she will be your little shadow! She always wants cuddles and belly scratches. Nice, calm, gentle, amiable girl, very well-behaved. She does not get along with other dogs, however, she LOVES all people!She walks fairly well on a leash, and enjoys squeaky toys but will give it to you if you want a toy too. Ginger enjoys being petted and will sit down to make herself "available", then wait patiently for you to pet her. She's a little potato who loves to lay in the sun. Her ideal home would be a couple who likes to stay home and enjoys time together, where she can be their one-and-only, devoted snuggle bug!

Sunrise Humane Society | United States (sunrisehs.org)
Meet Larry:
2-year-old /Male
With Larry, his big smile is just the tip of his happiness iceberg. This 2-year-old Labrador Retriever mix is PAWsitively brimming with joy he can't wait to share!
Larry loves to make a splash! He likes to think that he is half dog and half fish. Larry would love it if his adopters let him visit the lake or even have a kiddy pool of his own! After going on the Pooch Pontoon we learned that Larry rides well on boats and will let the wind flow through his luscious ears with not a care in the world.
Larry needs a home with a very large fenced-in yard for him to play in because he gets distracted easily and will hyper-focus on other dogs walking or cars. When he is alone with you he thrives, spending time basking in the sun and learning tricks. He is a gentle giant and needs a FURever home that will spend time and have patience with him!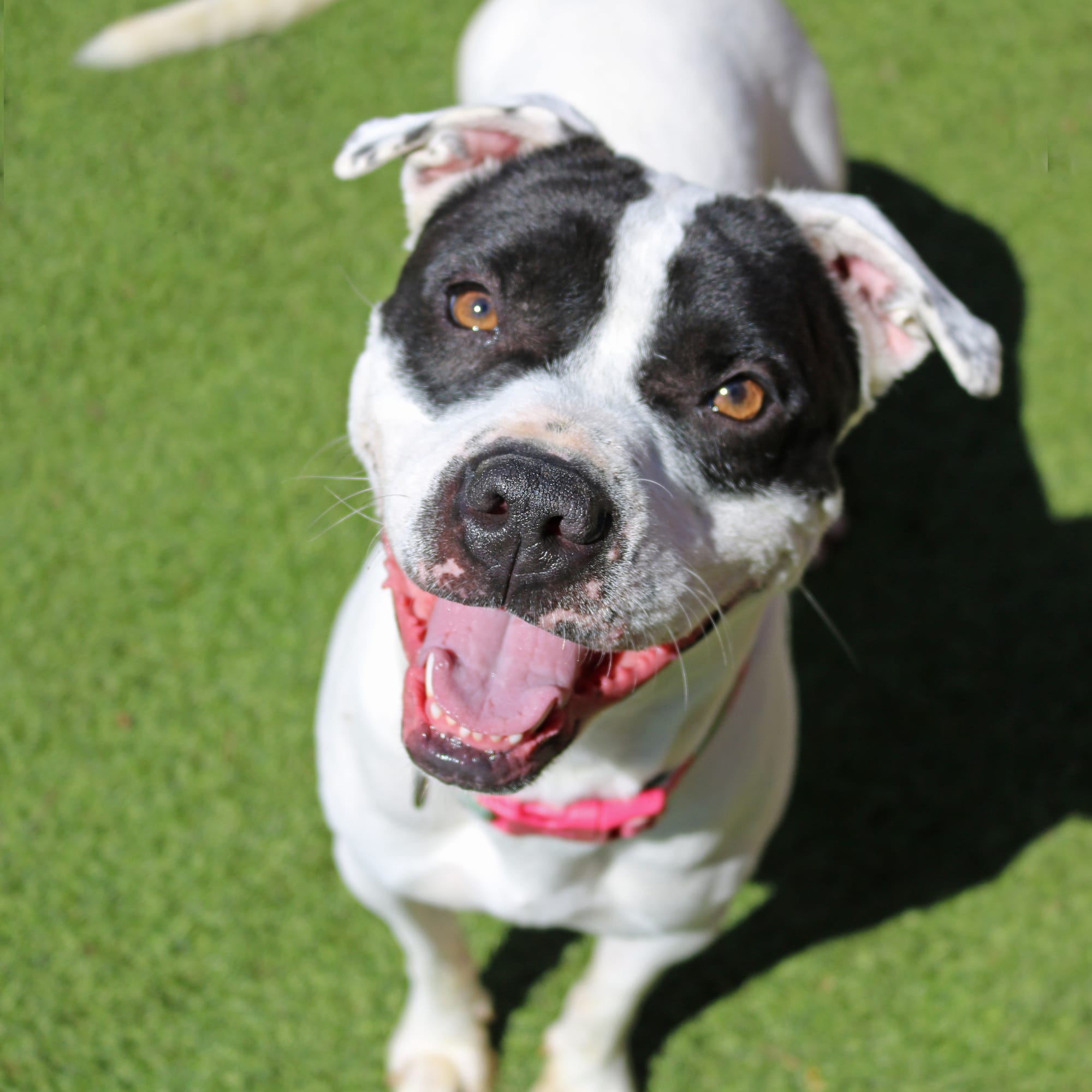 Meet Zoomie:
3-Years-Old Female Terrier Mix
40 LBS
This three-year-old Terrier mix has so much energy and quite literally always has the zoomies!
She is a sweetheart who always has a smile on her face and needs a family just as active as
her. Zoomie prefers to be the only animal around so she can have you all to herself, but she is
currently working with our ACE Team on introductions to a couple of our rescues! She loves to
sit in your lap for kisses and will be your best friend FURever❤️
Meet St. Louis Cardinal
6-Months-Old, Female
Terrier Mix
St. Louis Cardinal is as curious as any 6-Month-Old puppy. What makes her stand out is her sweet personality and loyal heart. She would do well in a home with other dogs, or as an only child. Meet her at HSNEGA's Adoption Center Tuesday-Sunday from 12-6 pm!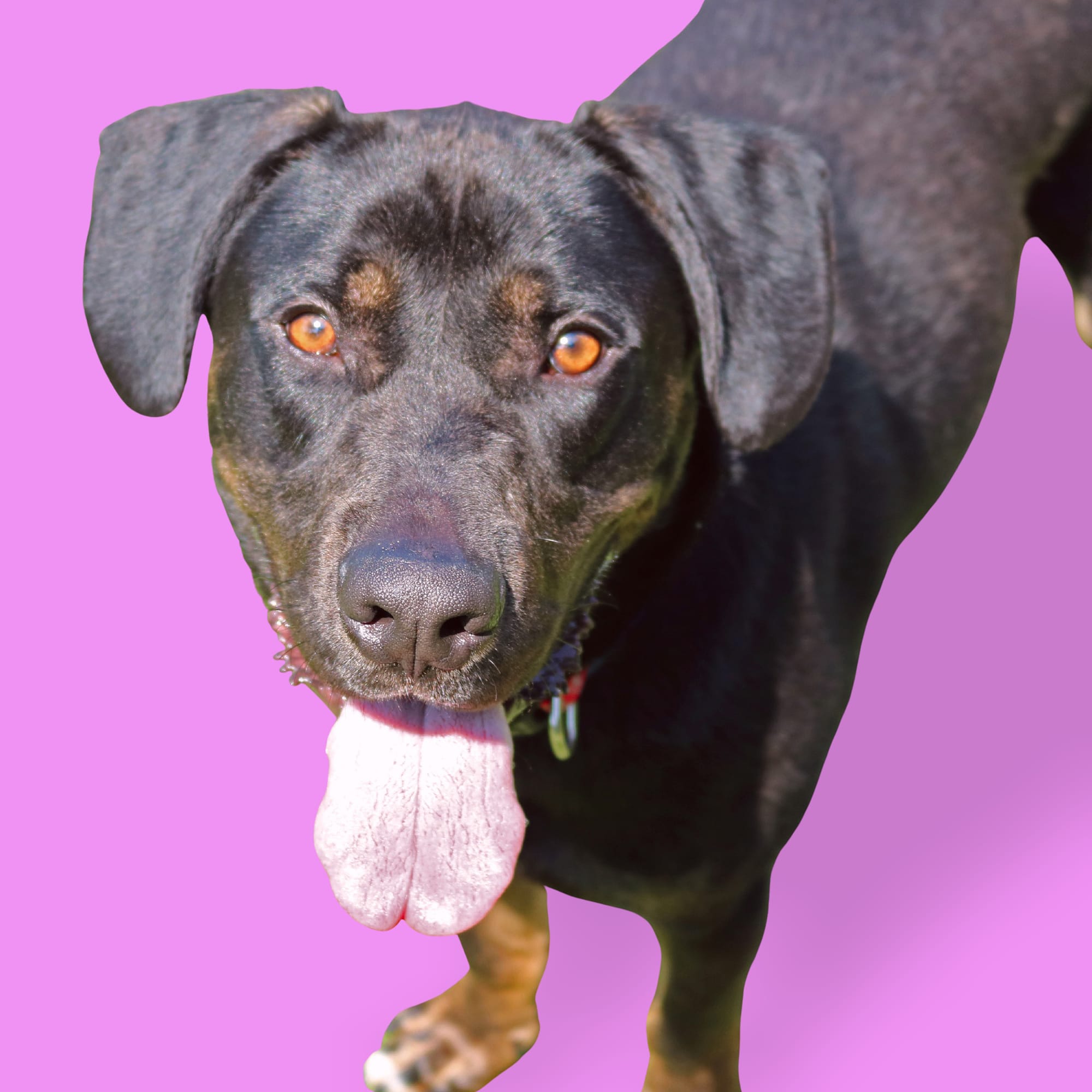 Meet Tito:
4-Year-Old, Male
Shepherd Mix
Meet Tito! This energetic 4-year-old Shepherd Mix loves to play and spend time with his favorite people in the Bark Park. He is very well-behaved, loves squeaky toys, and has no problem laying down for a nap after playtime.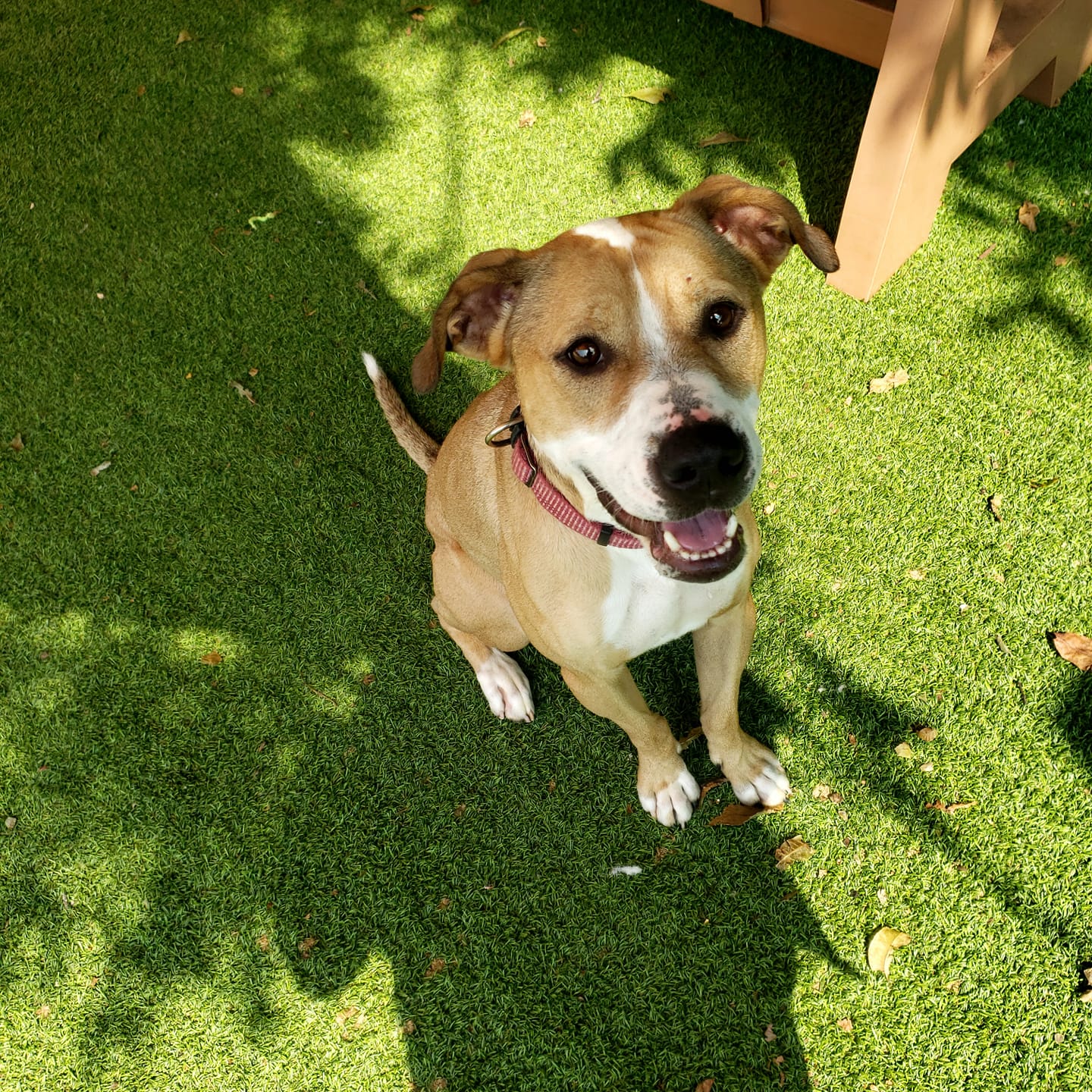 Meet Judi:
2-Years-Old Female Terrier Mix / 47 lbs
This clever and always smiling 2-year-old girl has been through a lot in her life. She came to
HSNEGA in April of 2021. Sadly she tore a ligament in her leg and worked hard to recover. Judi
stayed with one of our amazing foster families until she was able to heal and become available
for adoption. Her first adoption unfortunately did not work out, and she is back in our care
searching for her FURever home. Judi is such a sweetheart and is overall a great dog! She's
smart, walks well on a leash, and is so beautiful. She's a volunteer favorite and still waiting for
someone to give her the lifelong love she deserves.
Meet Snapdragon:
1-Year-Old /Male, Hound mix /58 LBS
This one-year-old Hound mix is just as beautiful as the flower he was named after💐 He walks
well on his leash and loves sitting next to you, looking back to make sure you see what he sees.
He loves toys and playing fetch, but also laying around for belly rubs! He loves all people and
will love meeting YOU!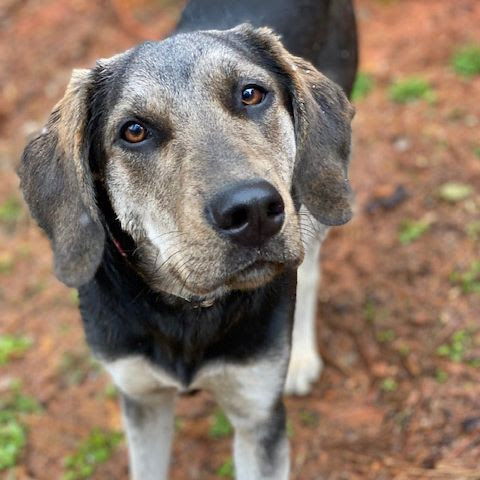 Meet Tasha:
Female /Coonhound Mix / 1 Year 4 Months
Tasha the one-year-old Coonhound mix is such a sweetheart 💕 She has been through so
much abandonment in her short life that even the coldest heart would break for her. Once she
gets to know you she comes out of her shell and brings out her wonderful personality. She just
wants to be loved by a forever family and needs someone that will be there often to show her
affection. She's such a beautiful girl, all of the volunteers and staff love her!

Meet Cassie:
Cassie is a little ray of sunshine. She loves belly rubs, being around her humans, and chasing tennis balls. She is low maintenance, housebroken, and gets along well with other dogs. Cassie is a goofball who loves snuggling and greeting her humans with a lick in the face. She would make a wonderful addition to a family and will fit in well in a home with another dog. For more information please email foster@caabr.org.
Meet Maddie:
Meet Maddie! She loves to play ball and enjoys chasing all things with wings - bumble bees, birds, and moths. She walks great on leash right at your side, and has learned to stop when you do and will continue to walk with a slight tug on the lead. Loves to watch "Vets Pets" with her foster parent at full attention. Maddie is very loving and enjoys all the attention. She is a sweet girl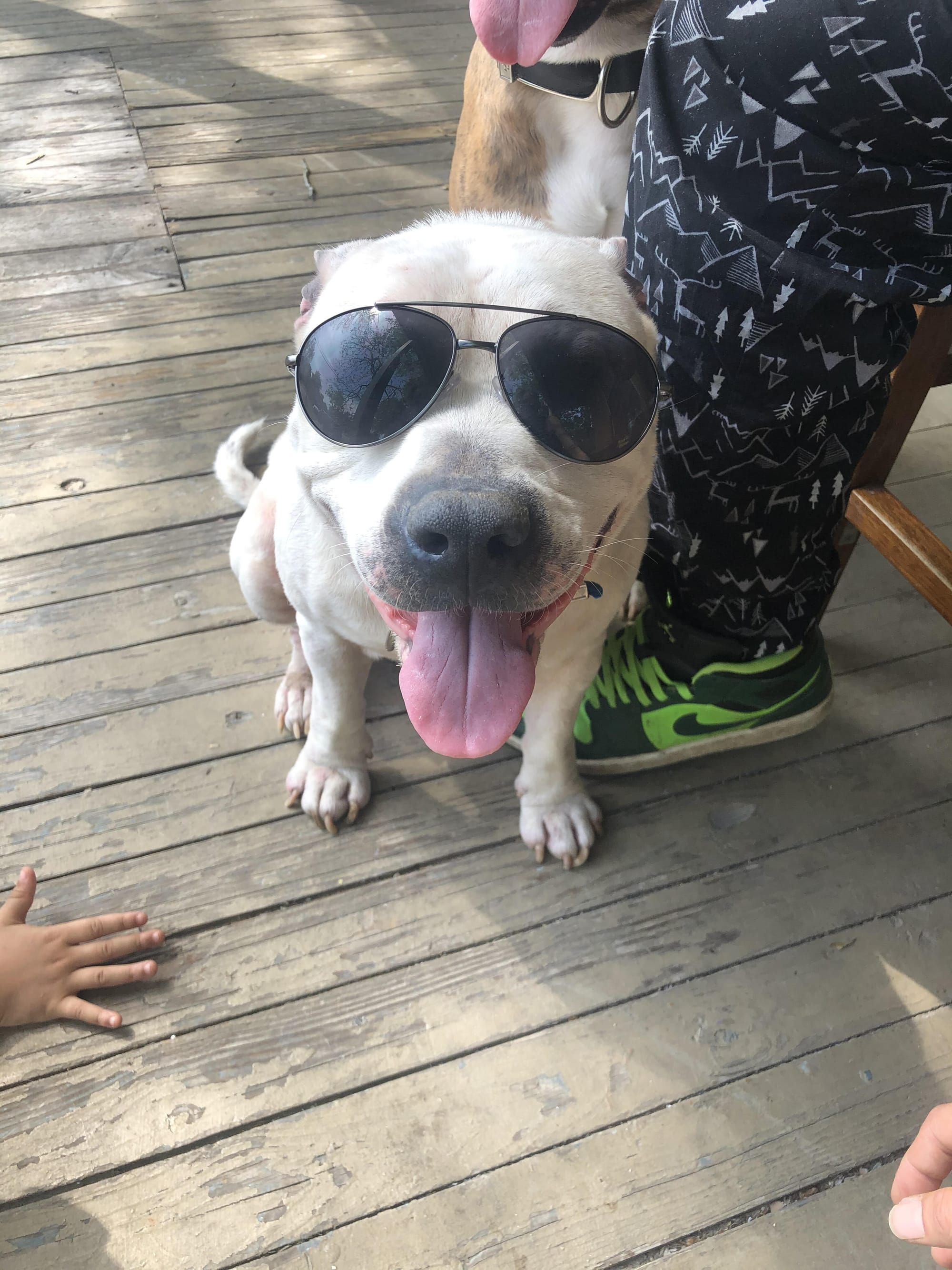 Meet Midas:
My name is Midas and I love people! I love getting pats, rubs, and baby talk from anyone I meet. I want you to love me by the time you walk away! I love peanut butter, cheese, all meat, and anything I'm probably NOT supposed to have. I will do anything for a snack and have even gone through training with my mom using treats! My nicknames are "Baby Bear", "Polar Bear", and "Midas Man". I love chasing squirrels, birds, and cats. So if you spot one, YOU HAVE TO TELL ME! I can be excited by just a few words or I can be laid back and such a couch potato. Our days and routines will be solely up to you. I understand very well when you talk to me. I like taking car rides and if you ask "Wanna go for a ride?", I'll do a dance. I especially like hanging out of the window to smile at everyone. I like sitting in the window at home too, so I can watch everything going on. I am an inside dog at heart and am house trained, although I'll go camping with you anytime!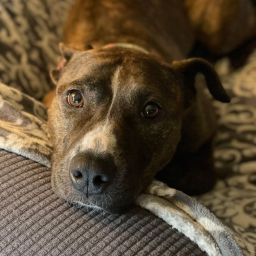 Meet Barbie:
If you're looking for a lazy, cuddly best friend - Barbie is your girl! With an overall calm demeanor, this gentle pup is made for a life of relaxation and treats. Barbie is house trained, there have only been a few accidents here and there as she explores new rooms. She is also kennel trained, while it isn't her favorite place to be, she doesn't bark or whine while in it at night or while we are away during the day. She is not a fan of thunderstorms and will shake if it gets too crazy but as long as you're there to cuddle and reassure her, she will calm down quickly. She walks very well on a leash and enjoys sunbathing on warm days. She has done very well with her 3 large, foster pup siblings even though she is still learning when the playing is "too much". But for 90% of the time, you can find her sleeping on the couch, stretched out and making herself right at home! As long as you have a soft spot for her to lay and treats in your pocket, this little piglet will snore the day away and keep you warm with her snuggles!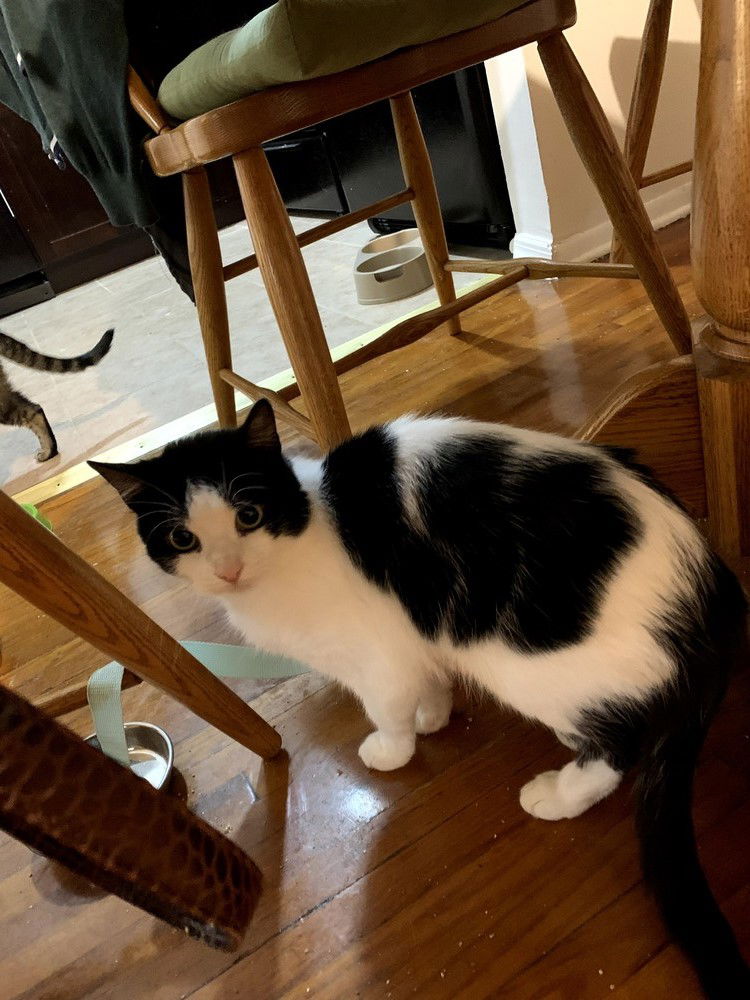 Meet Beautiful:
Beautiful is a gorgeous 4 year old female white and black petite cat. She is a sweet girl who gets along well with other cats and would do well in a low-traffic home, with a patient and cat-experienced owner. She takes a while to come out of her shell. But, once she does she loves to come out and rub around her foster's legs for food, and get head scratches and brushes! She is very food motivated and loves wet food, but above all, she would love to finally find a forever home! If you are interested in adopting a Beautiful from our rescue, please fill out an application on our website.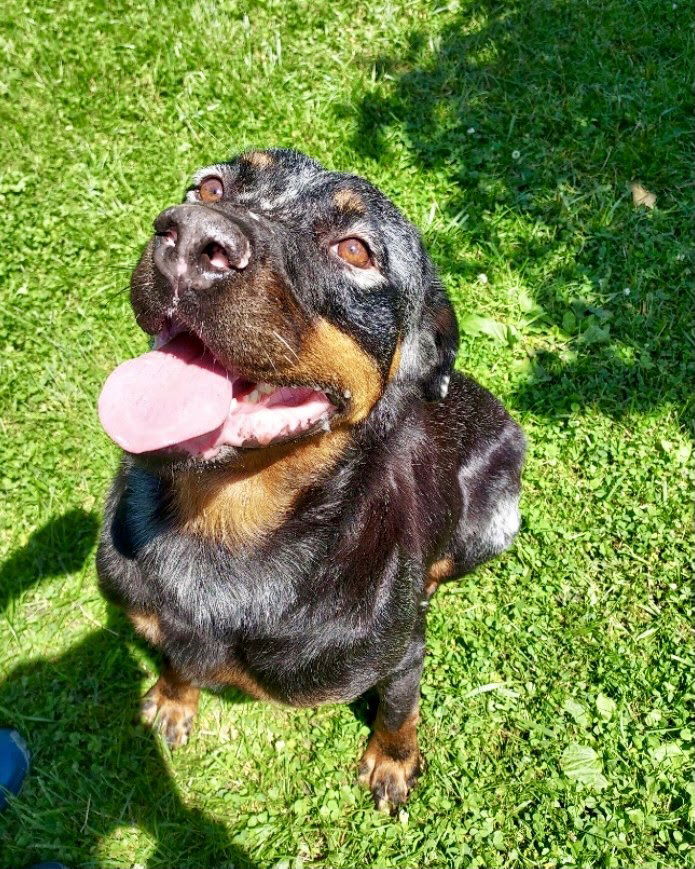 Meet Ana:
Ana is just under 5 years old. This rottie has the most unique markings! She can be shy when she first meets someone, but in just a short amount of time she'll be jumping around, excited to meet a new friend. She loves giving kisses, too! She enjoys meeting other dogs, but isn't great with cats and may need more time with smaller dogs. This sweet girl is also a fast learner, and will do anything for a treat!
Meet Brisket:
"Brisket just started coming out of her shell. She still hides quite a bit in her but likes to play with toys that make noise. She likes to hang out with other cats."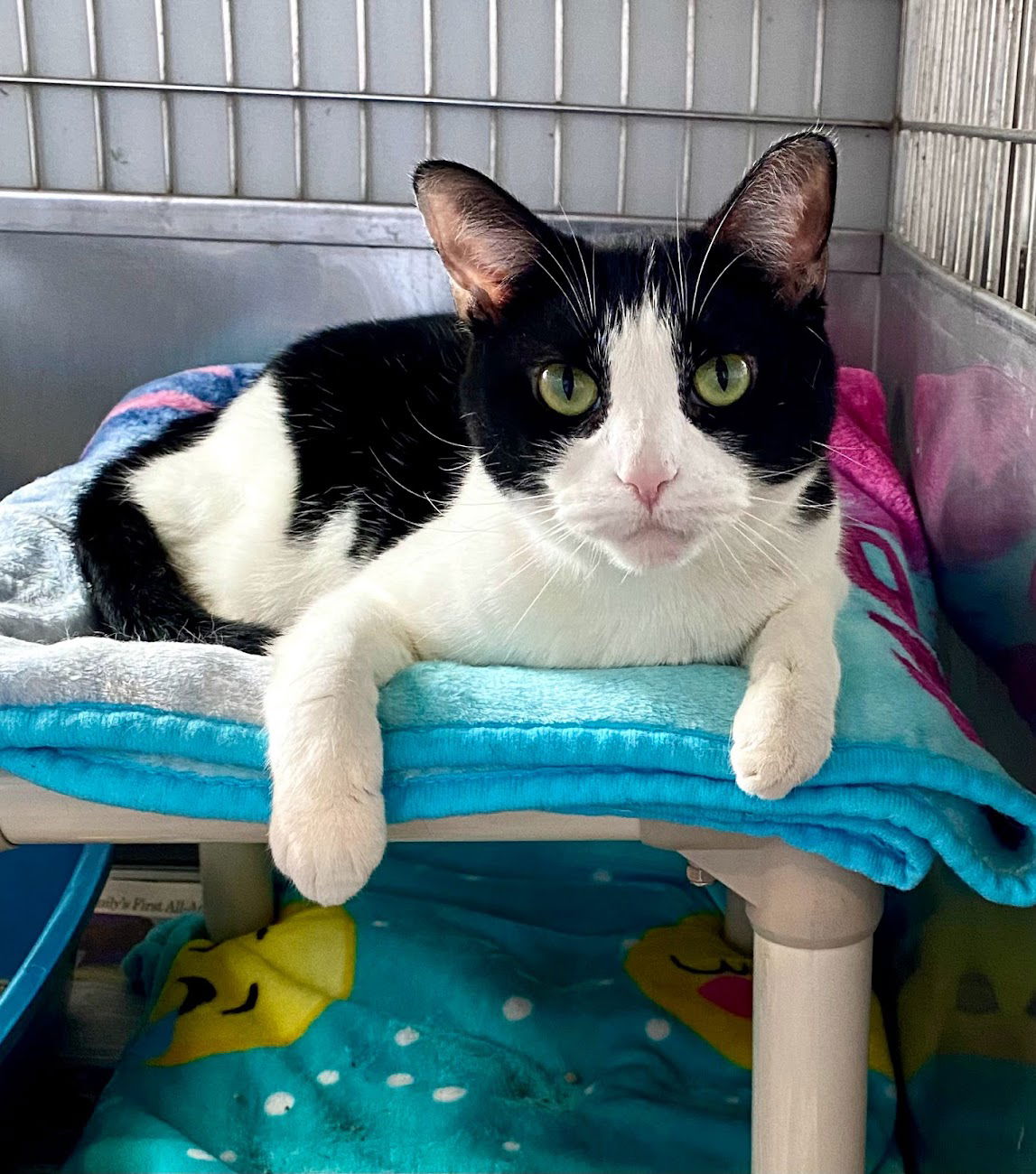 Meet Colette:
Colette was adopted from us as a kitten, then returned about 5 years later. Within a few months she was adopted again, and within a year returned again - both returns were due to the health of the owners. So, we are hoping her next adoption is her last! Colette is a "one person" type of cat - she will bond with her owner but get a little sassy with others. She is definitely the boss around here! She can be picked up and held but is not the biggest fan - she definitely displays some "catitude"! We are sure that all she needs is a loving home.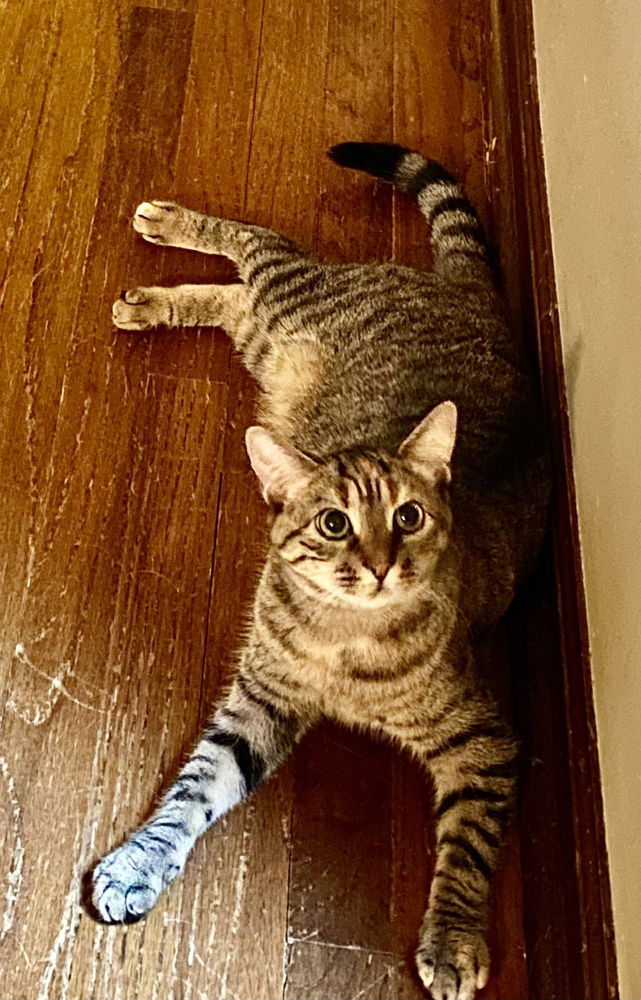 Meet Lakshmi:
Hi there I'm Lakshmi! I am a young female cat who is on the shyer side, but quite curious. I tend to follow my foster siblings around the house, always watching what they are doing. Although I am not a cuddler yet, I do love head and back scratches. I get along with both cats and dogs! I will do best in a home that has another cat (male or female) that I can follow around and snuggle with, and for my adopters to have patience to work with me to trust and love! If you are interested in adopting me, please fill out an application on our website at pittiepartyrescue.com.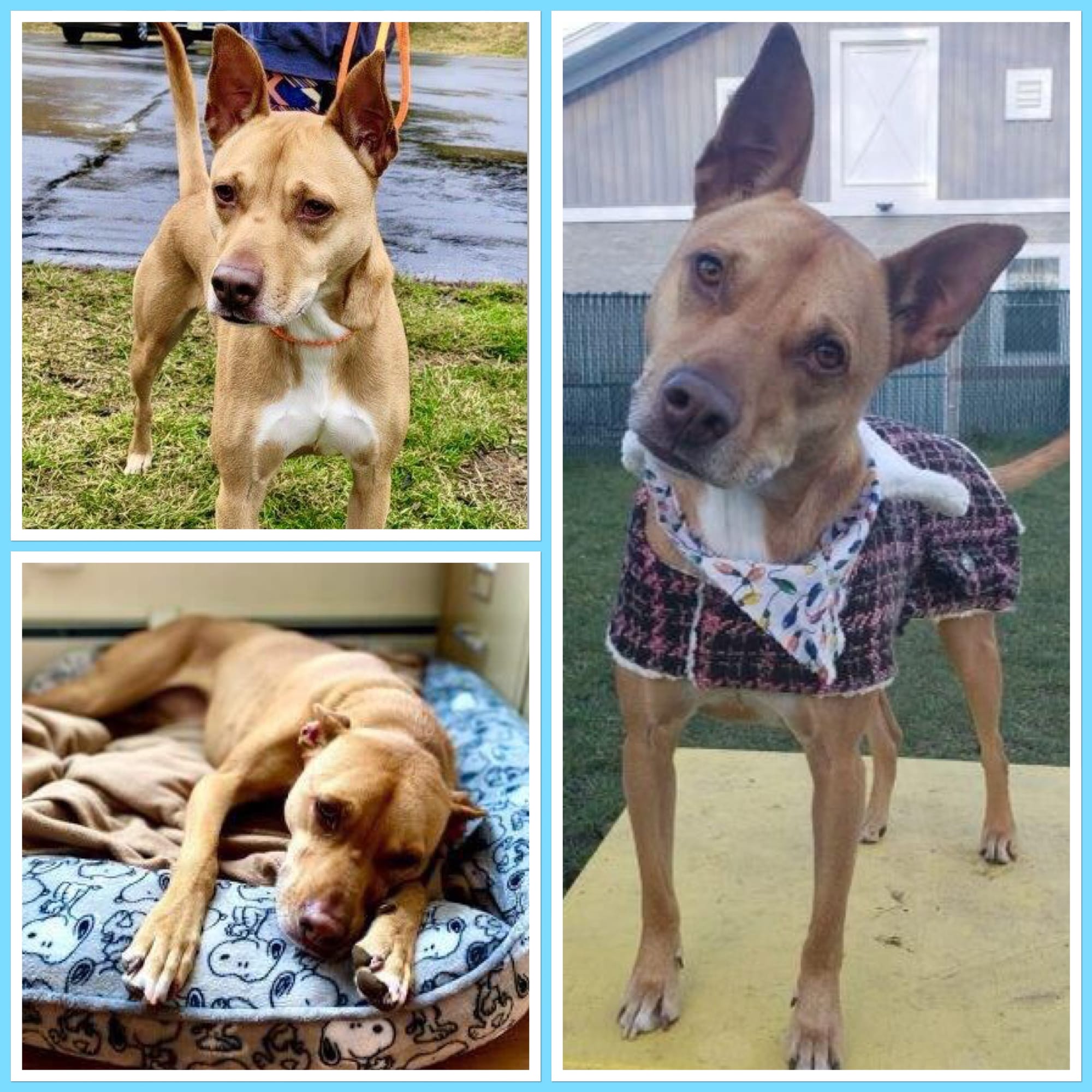 Meet Shelly:
Shelly is a 4 ½ female pit mix who can be a little shy at first, especially when it comes to men. She will need some time to become comfortable with you, and for you to earn her trust, but once you have it, she will stick to you like glue. She has a lot of energy and loves running in the yard, but would also enjoy going on hikes with you! Although she'd prefer a home without other pets, she has lived with older children before, and all she wants is to have a family again.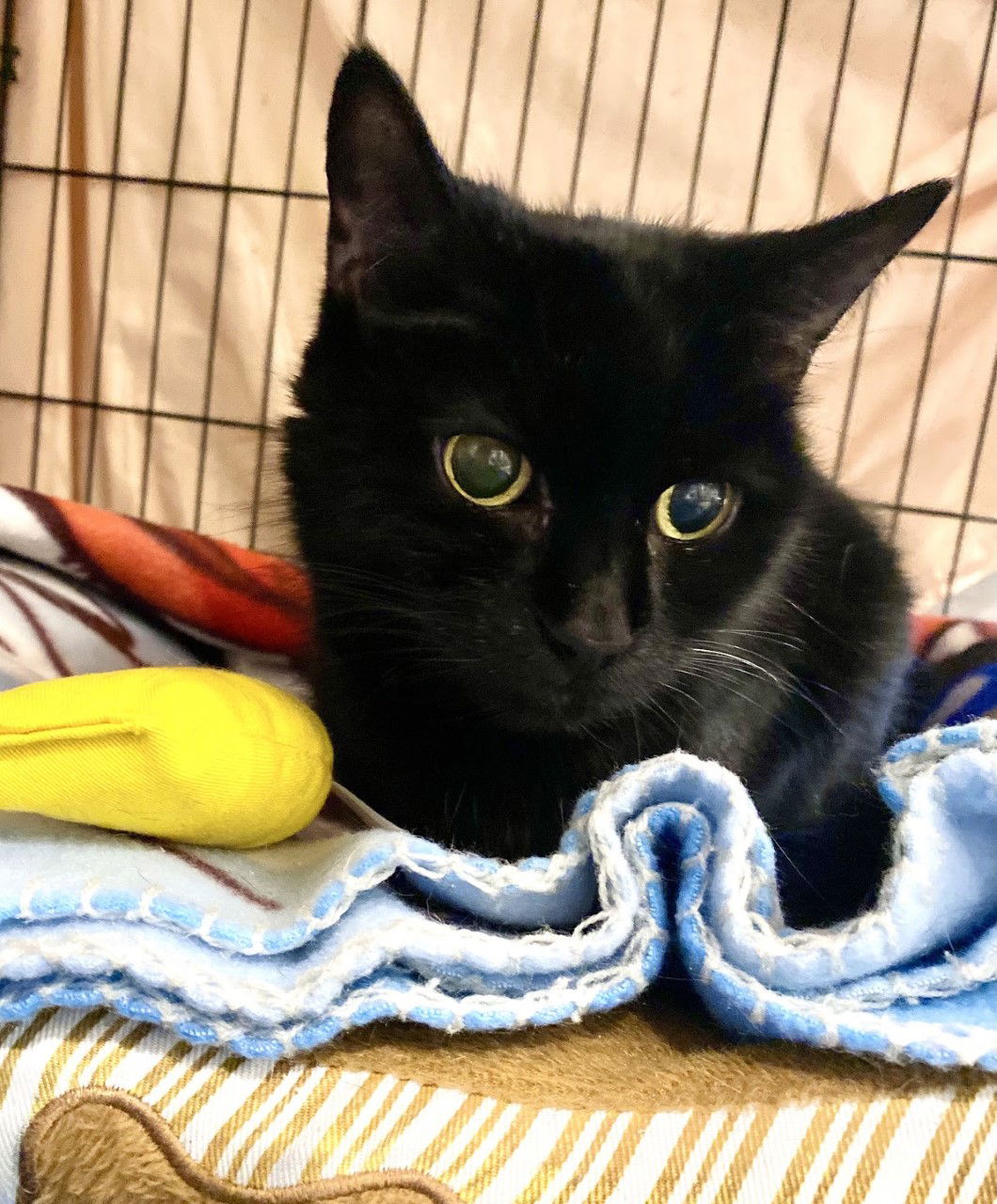 Meet Smitten:
Smitten is a 9 year old spectacular senior who is missing her previous home! She lived with a veteran who unfortunately had to go into hospice, which is how she found her way to us. This girl deeply misses being in a home! She is curious about the people here at the shelter, and will come up to say hi to you - but that doesn't always mean she wants to be pet! Sometimes she enjoys it, but sometimes she will give a hiss when you pet her, so she needs an adopter who will read her body language and who will understand that this older lady doesn't always want cuddles. Because of this, Smitten would do best in a home without children - teenagers 13 and over would be best. She does get along with other cats and previously lived with several, as well as a dog! As long as she can have her own space, Smitten will be happy. Smitten will certainly need an understanding adopter, but this is one of the most rewarding relationships you can have. Although she's older and a little quirky, Smitten still deserves love after all she has been through, and while she's relatively low maintenance, she will make your life so much richer!
Meet Miss Bowser:
Miss Bowser is the sweetest and loves people. Miss Bowser had 5 kittens of her own before being spayed, but now all of her babies are being adopted and she is ready to be the baby of your home! This petite little lady is one of the most affectionate and calm cats we have ever met. She absolutely loves to purr, cuddle, and be held. Miss Bowser is ready to be your new best friend!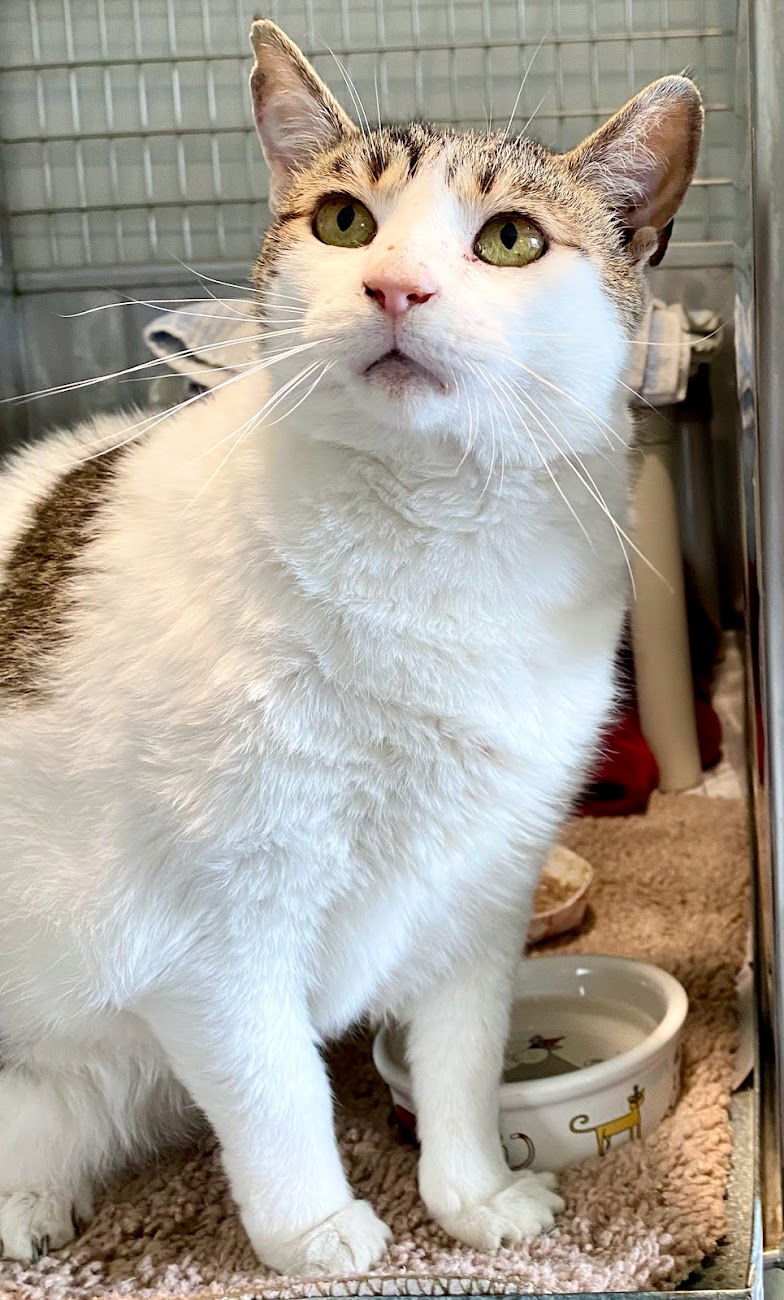 Meet Potato:
The coolest cat you'll meet, he's about 6 1/2 years old and FIV+. This is the second time this handsome guy has been returned to us, through no fault of his own! He is incredibly affectionate and loving, and despite his FIV+ diagnosis, can live a long and happy life if properly cared for.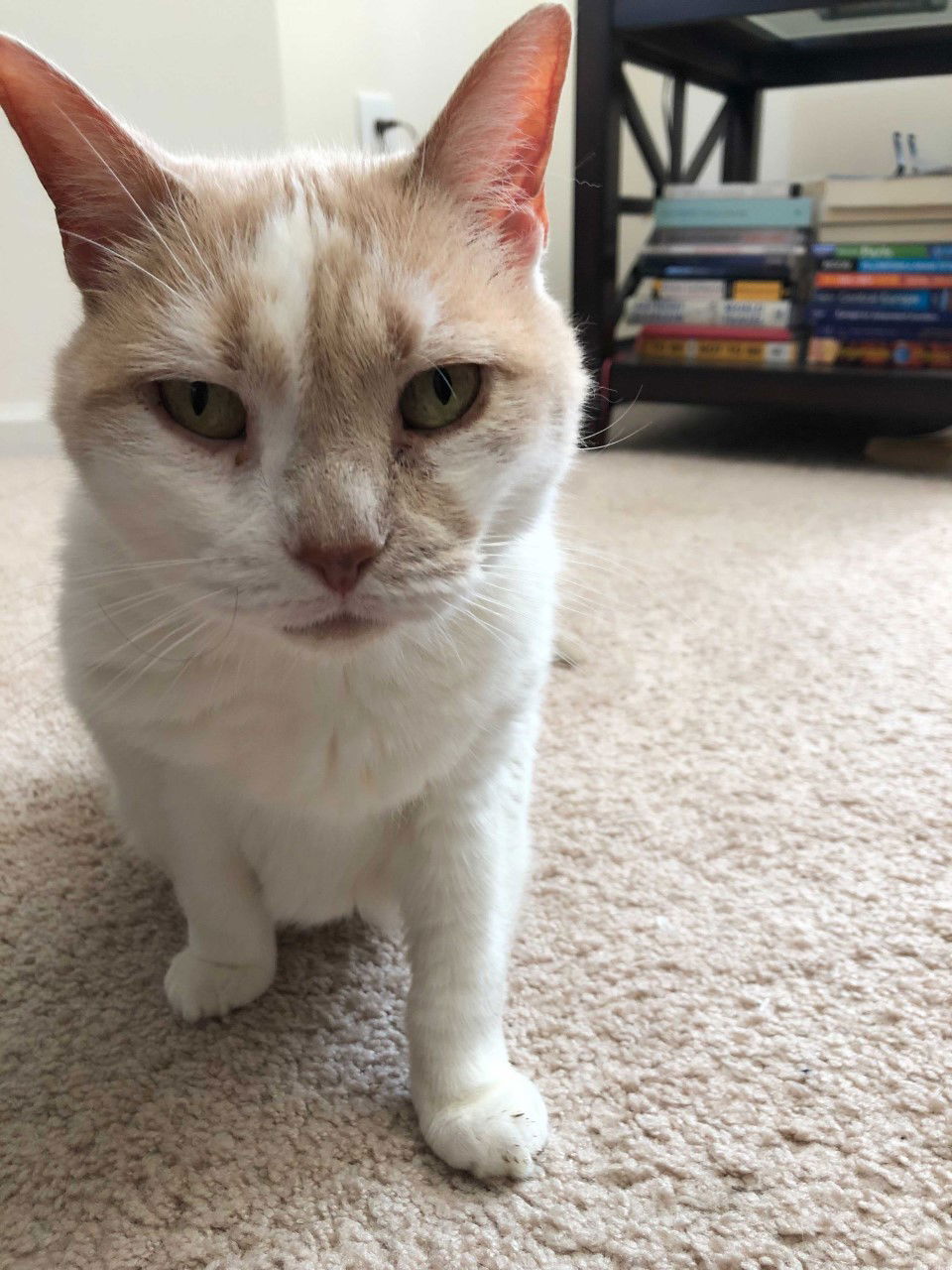 Meet Elizabeth:
Elizabeth is a female patched orange tabby who is 17 years old! She may be a senior woman, but she doesn't act her age! Even the vet guessed that she was 8-11 years old, but then discovered she was Microchipped in 2005 and dates do not lie. Elizabeth would do well as an only cat, and loves the attention of humans. She is super super friendly, and talkative, and loves to greet you after work and would love to hang out on the couch with you or bask in the light through a window perch. If you are interested in adopting Elizabeth from our rescue, please fill out an application on our website.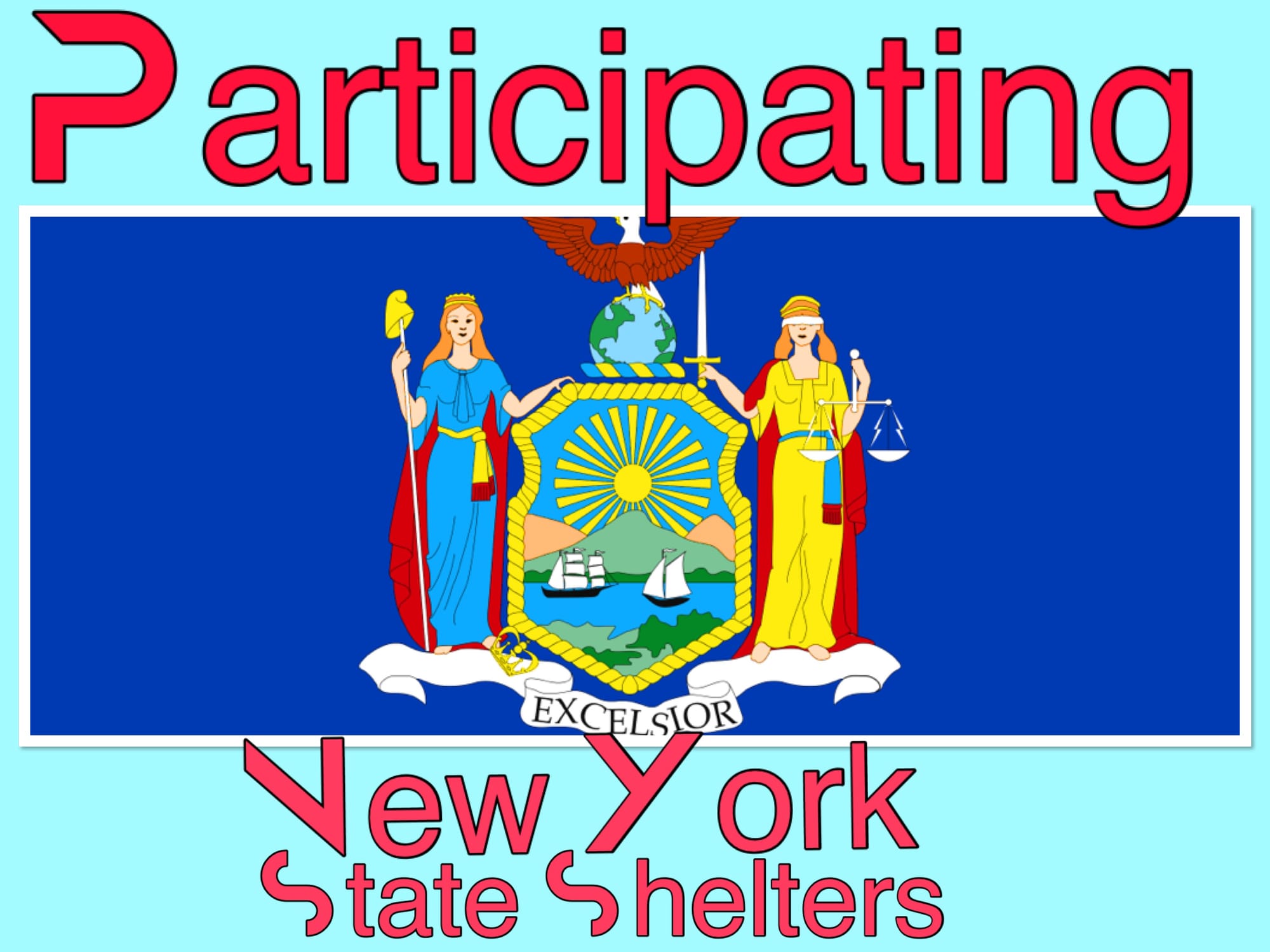 Meet Waldo & Wilbur:
Waldo and Wilbur are bonded brothers and we would like to keep them together. Waldo is a little on the chunky side (he's on the left - with his chunky tummy in front of the window). Waldo has a cute mischievious side and Wilbur is more reserved. We think they would do well in any home. Both are very affectionate (Waldo a little more than Wilbur). Both are heatlhy and ready for a new home.
Meet Picasso:
2-year-old Picasso was found as a stray and brought to Animal Care Centers of NYC. She was petrified there and not doing well in a cage so they asked us to take her. She's adorable and a ton of fun. She's lively, social, sweet, affectionate, playful, people oriented and curious.
Meet Cindy Lou:
Cindy is a 5 year old and was left behind when her owner moved. She wound up at a municipal shelter and was transferred to us. She is a little shy at first but will make a wonderful companion when she gets to know you!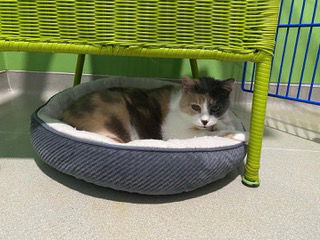 Meet June:
10-year-old June was living as an outdoor cat. The woman who fed her had to go into a nursing home and sell the house. The new homeowner wanted the cats GONE. Rescuers stepped in and tried to move the cats to a new feeding station, but June kept running back home. We saw the video of her going back home and it nearly broke our hearts!
We offered placement for June (who is not feral) and she is just the sweetest little girl on the planet! She is healthy and is available for regular adoption but also through our Seniors for Seniors program, where we cover her reasonable future medical care if adopted by an approved senior citizen.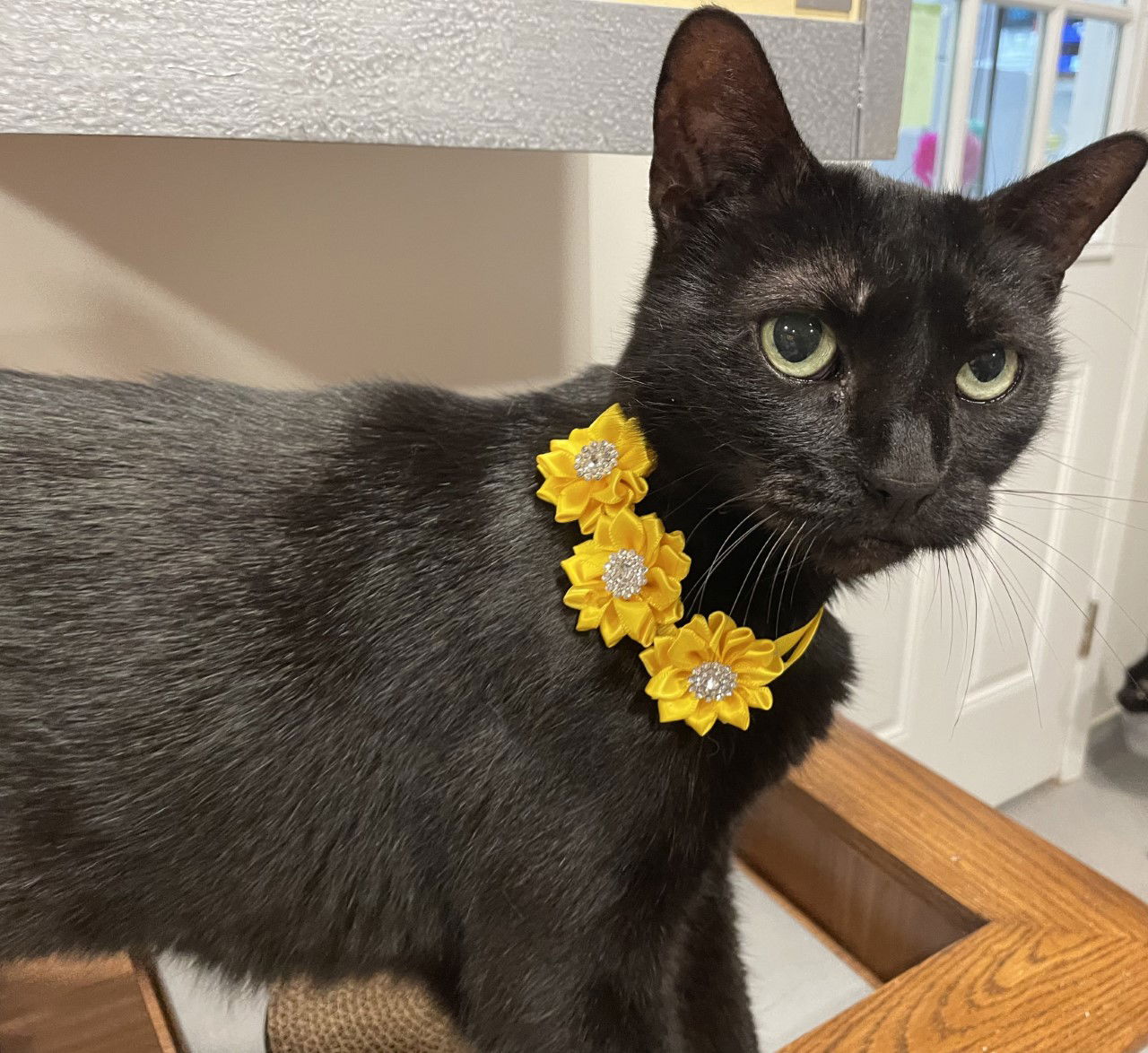 Meet Mary:
Mary's owner passed away last year and Mary and her 7 roommates all came to us for care.
Her owner, Elise, used to do our newsletter, so I've known Mary since she was a kitten.
Mary is a talker and Elise used to say that she was saying "I'm Mary, Damn It", hence the nickname. Mary will come right up to you when you walk in the room and start talking immediately. She's the kind of cat who enjoys long conversations (although she will monopolize it). She has a playful side and is known to give love bites.
She's lost a bit of weight recently, but her medical all checks out so we think it's just because she lost her home. Mary is also available through our seniors for seniors program where we will cover her reasonable future medical care through a participating veterinarian to any approved senior citizen who adopts her.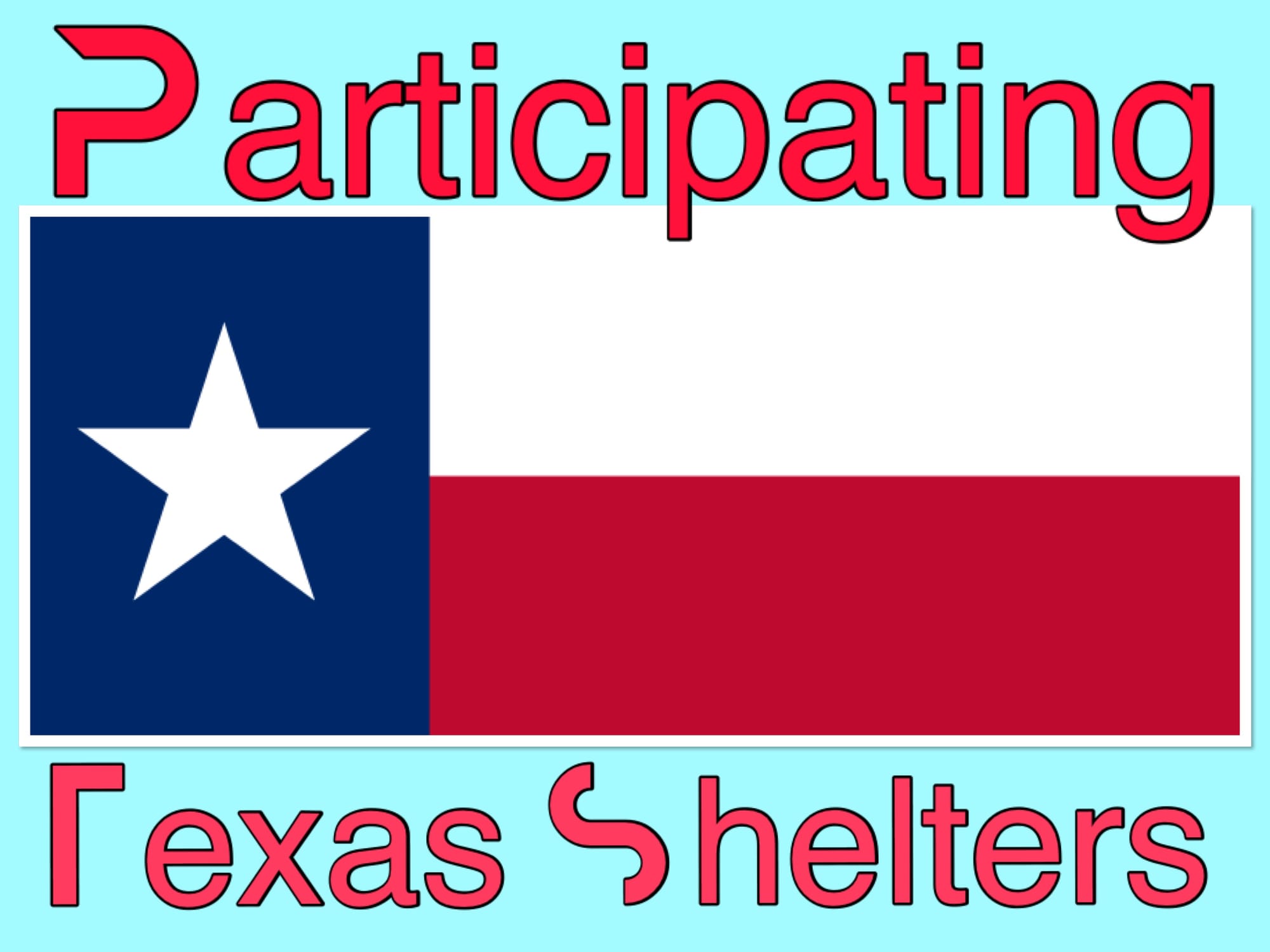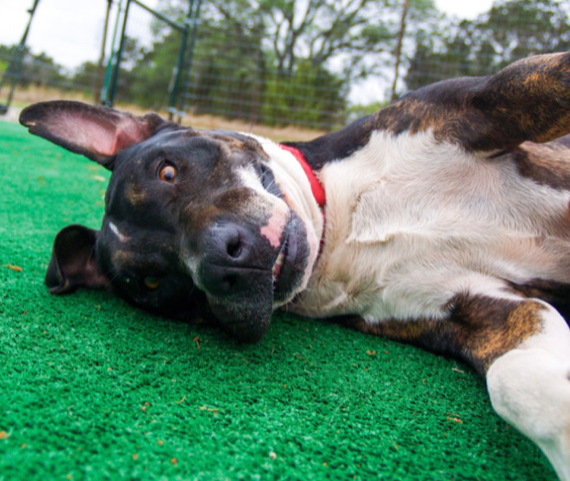 Meet Briggs:
We are so sad to report that The Saturday of Labor Day weekend, the Highland Lakes Canine van was rear-ended at high speed as they were transporting dogs back from an adoption event.
Briggs was in his crate in the back and had to be cut out with the jaws of life.
He was rushed to the vet but he did not make it through his injuries and he passed away.
The van was totaled and by the grace - our staffer (who is expecting)- survived the crash and our other dogs did, too.
Briggs was a bright, fun, dynamic dog who loved us unconditionally.
We rest in knowing he left us very loved, spoiled and adored.
We extend our condolences and prayers to Susan and her staff at the Highland Lakes Canine Rescue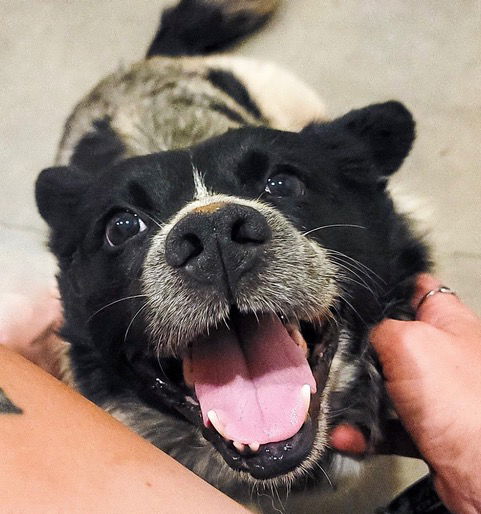 Meet Sheba:
Is a 7-year old female Australian Cattle Dog/Chow Chow mix who weighs 41 pounds
She's Is good with other medium to large dogs & walks nicely in a harness
Is potty trained and of medium to high energy
This confident little lady is spunky and unique, and she owns it! She loves to cuddle her trusted humans and never tires from sharing her affection. Sheba loves to play outside and go for walks, but has excellent indoor manners and is calm inside. Although she would be content as an only "child", Sheba can keep up with most dogs and has plenty of energy for playtime. She would be the perfect fit for a family who wants a warm, outgoing spirit that is always ready to light up their day! Sheba is spayed, vaccinated, microchipped, and heart worm negative.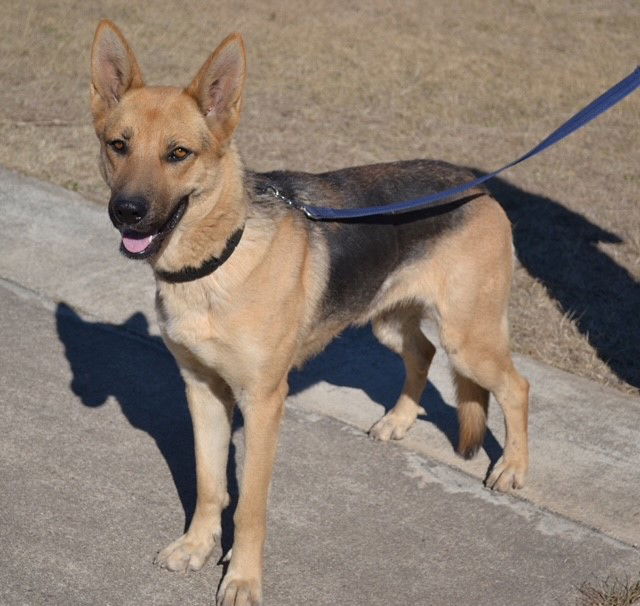 Sweet Pea:
Hi! My name is Sweet Pea and they called me that because I am very sweet. I love other dogs and people and would love to be your new best friend. I lived with some smaller dogs and did OK with them, but I would really like to have a bigger dog to play with as little dogs are nice but they really don't like to play the way I do. I'm house and crate-trained and I've learned how to use a pet door; that was so easy. I've made lots of new friends here at my foster mom's house.
I was adopted from the shelter and returned. They just put me in the backyard and then wondered why I dug out to go play with the dogs next-door. I have plenty of friends here and I'm not left outside especially alone so I have no desire to escape. Besides the food is really good here and I get lots of it. I was really skinny when I got here but I'm starting to fill out. I do like to play with balls and toys too. I have fairly nice house manners and I don't counter surf or steal things.
I would really like my own home though because I'd like more attention as foster mom has several other doggies to share her attention and love with. So, I'm really happy here for now but I sure would love my own human or humans and a place of my own and I think I would do better with another four-legged friend to play with.
2 Year Old Spayed female
Current on vaccinations & Microchipped, Heartworm negative an on Prevention
House and crate trained & Good with other dogs and people
She's a bit Underweight at about 60 lbs
Not tested with cats or children and is being Fostered in Round Rock, TX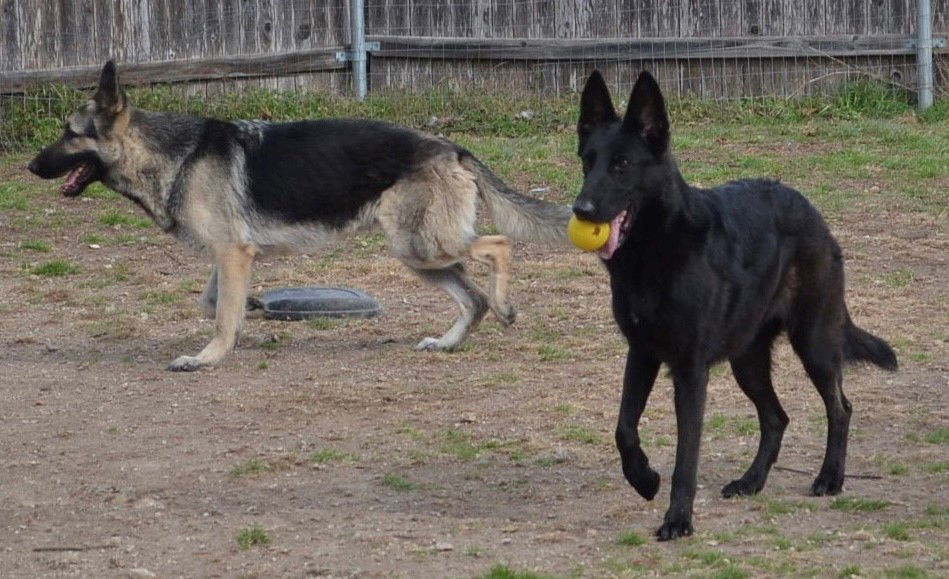 Captain Crunch & Cocoa Puff
Introducing the "cereal" pups – Captain Crunch and Cocoa Puff, otherwise known as simply Captain and Cocoa. They are an extremely bonded pair who came to us together and must be adopted together. They are about 2 ½ years old and as sweet as they can be. Very playful but shy to people they don't know. They are not posted on our website yet but will be once their vaccinations are updated.
Meet Yogi:
2-year old Male border collie mix
Weighs 51 pounds
Is good with other dogs
Walks nicely in a harness
Is not potty trained
Is medium energy
Yogi is a bonafide teddy bear, and he will let you snuggle to your heart's content. He is very social, loving and attentive to the humans in his life (let's be honest, with strangers too). He is companion oriented and prefers to be by your side or with a playmate. He loves activity but doesn't need to be on the move all the time; this handsome fellow would make a great best friend for someone who enjoys going for walks or the occasional camping trip. Yogi is still mastering his inside manners, but he wants to please and will do his very best to learn what the rules and boundaries of his new home are.
Yogi is currently undergoing treatment for heartworms and expected to make a full recovery. For more information on the treatment process and how HLCR will assist, contact our office at 830-693-0569.
Meet Galena:
3-year old 65 to 70 lbs Spayed female
Heartworm negative, on prevention & current on shots
Microchipped, house and crate trained
Self-confident & walks nicely on leash
Good with other dogs and people but not cat or child tested
Hi! Miss Galena here! I'm currently taking applications for my forever home so I hope you're apply if you are interested in me. I've really improved since I came into the rescue. I was not socialized with other dogs or people and I did not understand being in a crate and really scraped my nose up. I was so skinny you could see my ribs. I have come a long way! I've also learned how to use the pet door too and almost drove foster mom nuts going in and out once I figured out how to do it.

At Starmark Training Academy I learned basic obedience such as sit, heel, walk on a leash and how to place or "freeze" on command. I've made lots of new friends at my foster home and I've learned to play nicely with them. We have a huge yard to play in and I love it! I had never seen a ball or any toys before, but I really have fun chasing them, and the most fun is stealing them from the other dogs. But I think my favorite past time here is eating. I'm quite good at it and the food here is pretty good. My coat was really dull and ratty when I arrived but now it's much thicker and shinier.
So if you need a new best friend and if you like redheads please fill out an application for me!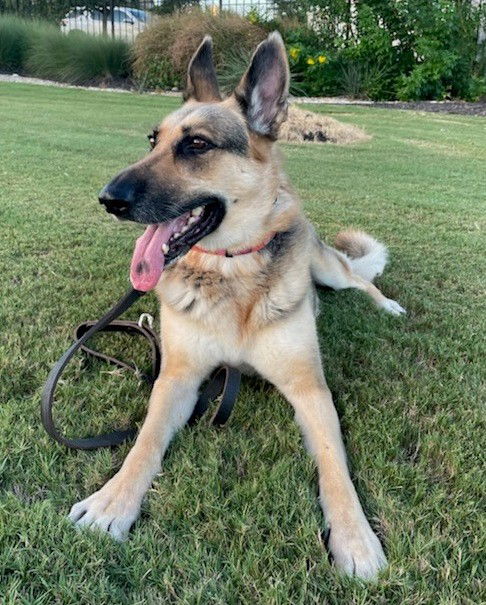 Meet Cortana:
5-year old Spayed female / 80 lbs
Current on vaccinations, microchipped & heartworm negative
House and crate trained
Good with other dogs and people but dominant
Not tested with cats or children yet
Location: Austin area Foster Home
The Rescue Lady said I should start with a fun fact. My favorite nursery rhyme is the one about the old lady that lived in a shoe and had so many children she didn't know what to do. Me too. At least they are pretty sure I had puppies at some point and puppies are basically dog children. Plus how cool would it be to live in a shoe?!! Right now I'm living in a people house with my Foster Family. I'm super calm and gentle with a low to medium energy drive. I still have mutternal instincts and like to carry all my stuffy toys and make a little nest on the bed. But technically I'm an empty nester now.
The best guess on my age is about 5 years old and I weigh 80 pounds now. I am very healthy. I'm a purebred dog. A French Bulldog. Just joking, I'm a German Shepherd. Almost made you make an eye doctor appointment didn't I? I was on heartworm medicine, and I am now heartworm free! Hoo-ray! I'm spayed too. No more need for the birds and bees talk, a little too late anyway. But you'll definitely need to have that worm talk.
I am a little shy initially but remain very calm when meeting new people or new dogs. I take a little time to trust people and it took me about a week to settle into the groove of my Foster House routine. I'm doing awesome in my crate and now I love settling down in the crate. My bathroom schedule is regular too. I do saunter over when I hear my Foster Family say "Cortana". But that's really the only people word I know. I do well on walks. My Foster Family took me for a drive and they said I was a calm curious rider. We went to PetSmart. It's a store for dogs. Even though I'm not that into treats or toys, it was still pretty cool to sniff so many whiffs in one place.
Since I do have a motherly way about me, I do consider myself the family matriarch, so I will do well with any non-dominant dog. I do not like dominant dogs or dogs that put on a show. Me and the other German Shepherd that lives here have established a good working relationship and mutually respect each other's space. I do interact and play well with dogs that want to play but I get tired quickly due to my heartworms. My Foster Family says "Overall she is an awesome dog, very caring, loyal and affectionate. Hope she finds a really good home to take care of her." Oh my, I think I'm gonna cry, that's the nicest thing any human ever said about me. I'm so thankful that they opened their home to save me.
Meet Tulip:
Tulip Is a 2-year old female Hound/Labrador mix who Weighs 56 pounds
Low to medium energy and Is great with other dogs
Rides well in the car / Appears to be potty trained
This caramel-colored sweet is a treat to be around! Tulip is a little shy at first but quickly blooms into an affectionate and calm companion. Even though she walks well on a leash, all she really wants to do is melt in your lap for some cuddle time. Tulip has gentle manners and would be a wonderful addition to a family household with younger children or other canines.
Tulip is currently undergoing treatment for heartworms and is expected to make a full recovery. For more information on the treatment process and how HLCR will assist, contact our office at 830-693-0569.
Tulip is spayed, vaccinated, microchipped and heartworm positive.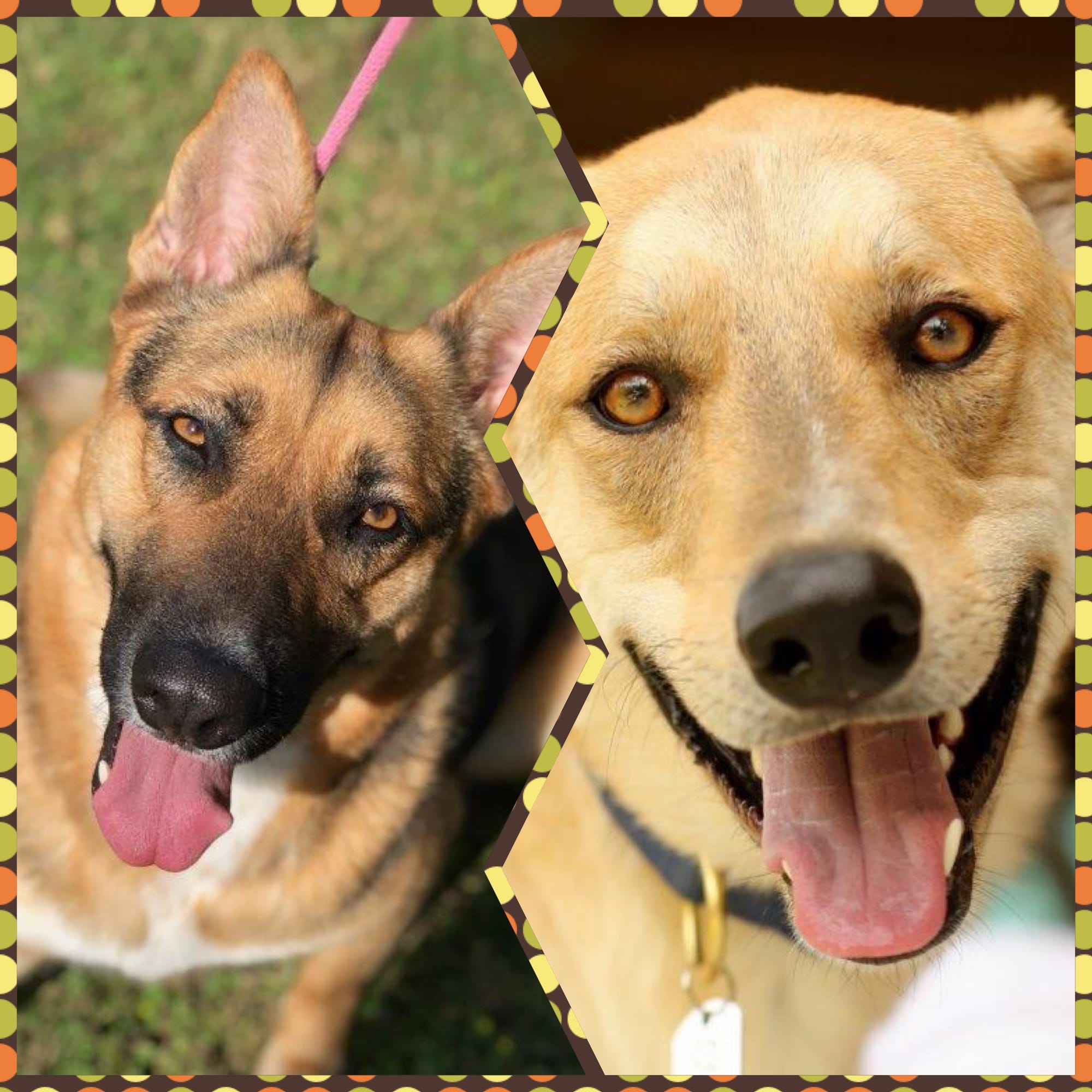 Meet Mandy

&

Cosmo:
Mandy and Cosmo are a bonded pair and adore each other. They love to play together at their foster home -- see movie of them playing in the snow! Both are about the same age, 2 ½ years old. Would really prefer that they be adopted together. We will be posting Mandy on the website soon and Cosmo is there already.
Meet Von:
Neutered male
Almost 3 yrs old
Heartworm negative on prevention
Current on shots
Microchipped
About 70lbs
High energy
House and crate trained
Gets excited around people
Does good with other dogs
His full name is Wernher Von Braun, but his parents just call him Von. He was named after a German rocket scientist! Von is just a little (BIG) love bug full of energy and would love to roll into your life and give you some excitement. He loves people and will be your best friend. Von does like to jump though, and new people don't like that very much. (you don't need to go any further than my houseguests because my two rescues do the exact same thing) He's a bit robunctious, but he's learning and working on his manners. Von would probably be fine with older teens as opposed to young children. .
Von gets along with other dogs, shares his toys and has shown no aggression. He also does well on a leash. He's got a heart of GOLD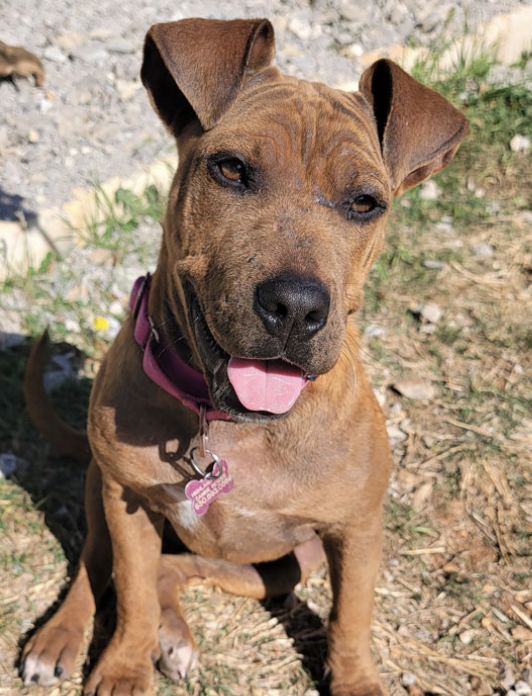 Meet Beacon:
Beacon is truly a beaming ray of puppy sunshine! She is always smiling and happy, ready to play at the drop of a hat. Snuggling is also a favorite pastime, but only after there have been plenty of opportunities to exercise! She is still a bit shy with new people, so continued socialization will be an important process. Beacon will also benefit from another medium/large dog at home. Always ready for adventure, this bright girl will be a fun and exuberant addition to her new family.
Beacon is spayed, vaccinated, microchipped, and heartworm negative.
Is a female Shar Pei mix
Is 6 months old
Weighs 36.5 pounds and may range from 50-65 full grown
Is good with other dogs
Appears to be good with cats
Walks nicely in a harness
Is high energy
Is not potty trained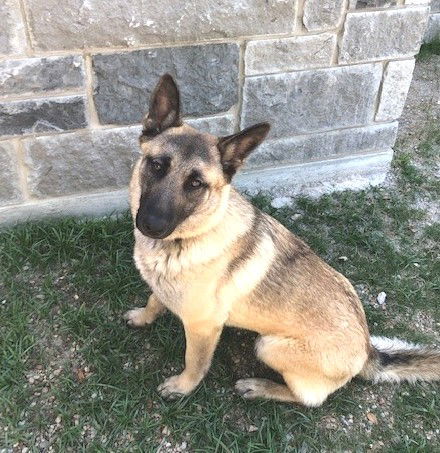 Meet Athena:
Athena takes a little time to warm up to people but once she understands you are her buddy, she will seek you out for pets, belly scratches and snuggle time on the couch. Athena is the perfect weight for her body structure and although she may be small, she more than makes up for that in energy and personality.
Athena adores the other dogs in her foster home but occasionally will try to be dominant and pushy so will need patient doggy friend/s if her potential adopters have other dogs as well as a savvy owner that will provide redirection. Athena is a "go, go, go" type of gal and likes to stay active but is sometimes content to just lay down and play with her toys.
Athena loves toys and playing ball. She is a hard chewer so it is best for her not to have any soft toys as they won't last very long. She also likes to do "zoomies" around the yard to get the other dogs in her home to chase her. Athena likes to try and dig so if you don't want her searching for a pot of gold in your yard, she will need to be watched and taught to not dig. She has been learning this in her foster home but if she gets a chance to sneak away, her foster may find the workings of a shallow hole.
Athena has not been around children in her foster home but we feel that she would be fine with older children as she is very gentle and for still being a youngster she doesn't jump or mouth.
11 month old Spayed female who weighs around 50-55 lbs
Current on shots & Microchipped
Heartworm negative and on prevention
House and crate trained & Good with other dogs
Not child or cat tested yet but Good with people (takes a little time to warm up)
Location: Fostered near Liberty Hill, north of Leander
Meet Luke (Formerly Kevin):
An 11 Month old Male Lab-Retriever Mix
Weighs 45 pounds and will likely range from 55-65 full grown
Is good with other dogs
Is good with children
Could be acclimated to a home with a cat
Enjoys car rides
Working on house training
Is medium to high energy
Prince Luke might just be the most handsome boy around! He is initially slow to trust the people he meets, but once you win his heart he is brimming with affection and confidence. This goofball is learning his manners swimmingly and responds well to training. He would benefit from another dog at home who can show him the ropes and be a playmate. Luke behaves well in public settings and is GREAT company to take on a walk or on a hike.
Luke is neutered, vaccinated, microchipped and is heartworm negative.


Meet Ashe:
5 years old neutered male / 80 pounds
Current on vaccinations & microchipped. He is Heartworm positive, slow kill started
House and crate trained & good with other dogs and people but leery of strangers (needs to build trust)
Not cat or child tested
Greetings! Ashe here! I'm kind of new to rescue. Foster mom has been trying to get some good pictures of me. I looked a bit rough when I first came in but I'm getting better and healthier every day. I wasn't given my heartworm prevention and so I have those nasty heartworms but foster mom has started me on the slow kill and we can do the quicker one after I'm adopted if my new family wants to do that or we can just finish up with the meds I'm taking now.
I've made new friends here. They didn't really care for me at first because I was a bit rude and lacked social skills. I'm still working on that, and I'm getting better but I'm still kind of rough around the edges. I like to play with balls but I don't really bring them back . Maybe I'll learn that later.
The food here is great and I get plenty to eat so my coat is getting shiny and I filled out to my right weight. I don't know if I would like children or not because I haven't met any here. I don't know if the little ones would be OK because I might knock them down; not on purpose of course. I'd probably be OK with older children but I'd have to meet them first. And I haven't met any cats here so I don't know if I could live with them or not, but I would be willing to find out. Anyway, if you have room in your home in your heart please fill out an application for me!
Love, Ashe