Meet Violet:
You can't help but fall in love when you stare into Violet's honey brown eyes! And then those floppy puppy ears that perk up every time she is happy to see you 🥺
Approximately 2 years old, 40 lb.
Was found pregnant and wondering the streets in New Mexico, although young, this girl is very mature!
Intelligent and quick-to-learn! Knows "sit", "down", "stay", "stop", and currently mastering "place"
Preferably no cats or tiny dogs, medium and up dogs should be okay with proper introductions! I think she'd love another doggy sibling to play with 🙂

Violet is as sweet as she is smart! She thinks she is a lap dog and wants to lay on your lap anytime possible, and if your lap isn't available, she will be at your side or by your feet. This girl is as loyal as they come and will thrive in a home with little humans as she just wants to play with and protect her two-legged siblings ❤ Violet is the perfect mix of puppy and maturity as she loves to play either with you or with her toys, but when play time is done, she's ready to cuddle up for a nap and relax on her own or with you! She is crate trained and goes in with no fuss! She is house potty trained and will only have an accident inside if she has to go badly and she can't get outside for some reason. Violet will go to the door to let you know when she needs to go to the bathroom too! She loves having her doggy toys and will carry them through the house with her❤️ Occasionally she will go for a small shoe if it's lying around, but the second you tell her "stop", she will drop it and go to her own toys. She has been practicing her commands and doing so well with them, she is SO smart and will do great will anything you can teach her!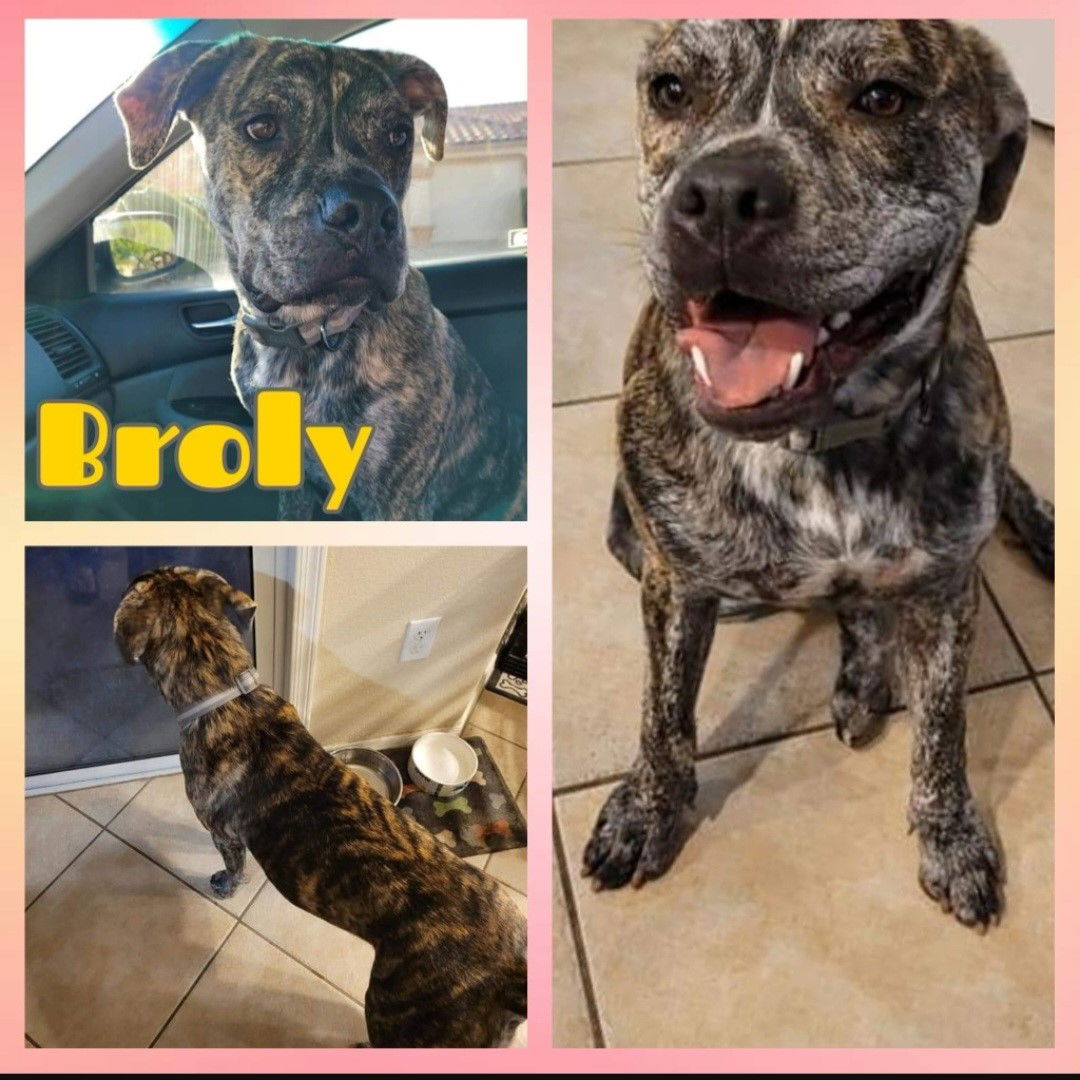 Meet Broly:
Broly is such a sweet guy who really just wants your approval and to know you love him! He takes treats very gently, responds very well to correction, and will sit on command and wait for the next direction.
At 1 year old, he still has lots of puppy energy and would love an active family to take him on walks and hikes! He also loves to play with other dogs so a dog sibling would be great! He likes to play hard and crash hard! We are working on crate training with him and night 2 he went in, whined maybe 2 or 3 times, and went right to sleep until it was time to get up!
Broly does very well with kids and doesn't jump or try to knock them down. He does have moments when he forgets they are around but immediately turns to give kisses if he bumps them. He hasn't knocked either of mine down in his time with us! - foster Emily
I love to run! I love to run! I love to run!! This is how most of our outside time is spent. Play, run, short break, repeat!! Broly LOVES to be outside and he LOVES playing with other dogs! He also likes a good game of fetch but gets easily distracted by all the things around him...sometimes you get the ball back, sometimes it is dropped half way 😅. He's so fun to watch and play with!!
Broly is incredibly high energy and will do best with an active family and a yard that has a block wall that is a minimum of 6 feet tall as he can jump 4-5 feet fences.
Meet Hunter:
Hunter is a healthy, handsome 13 year old senior who is looking for a home that loves to brush him and dote on him. Hunter was adopted from Friends for Life 10 years ago, and was recently turned in as a stray to an organization in Oshkosh, WI. Our volunteers flew to WI to bring him home, and at this point he has decided he wants all the love to himself, and wants to be an only pet. Hunter is still very playful and does not act 13. He has had a full medical work up and is very healthy. He is looking for a human to spend his golden years with. Hunter is currently living in a foster home so contact us to schedule a meet and greet with this handsome fella.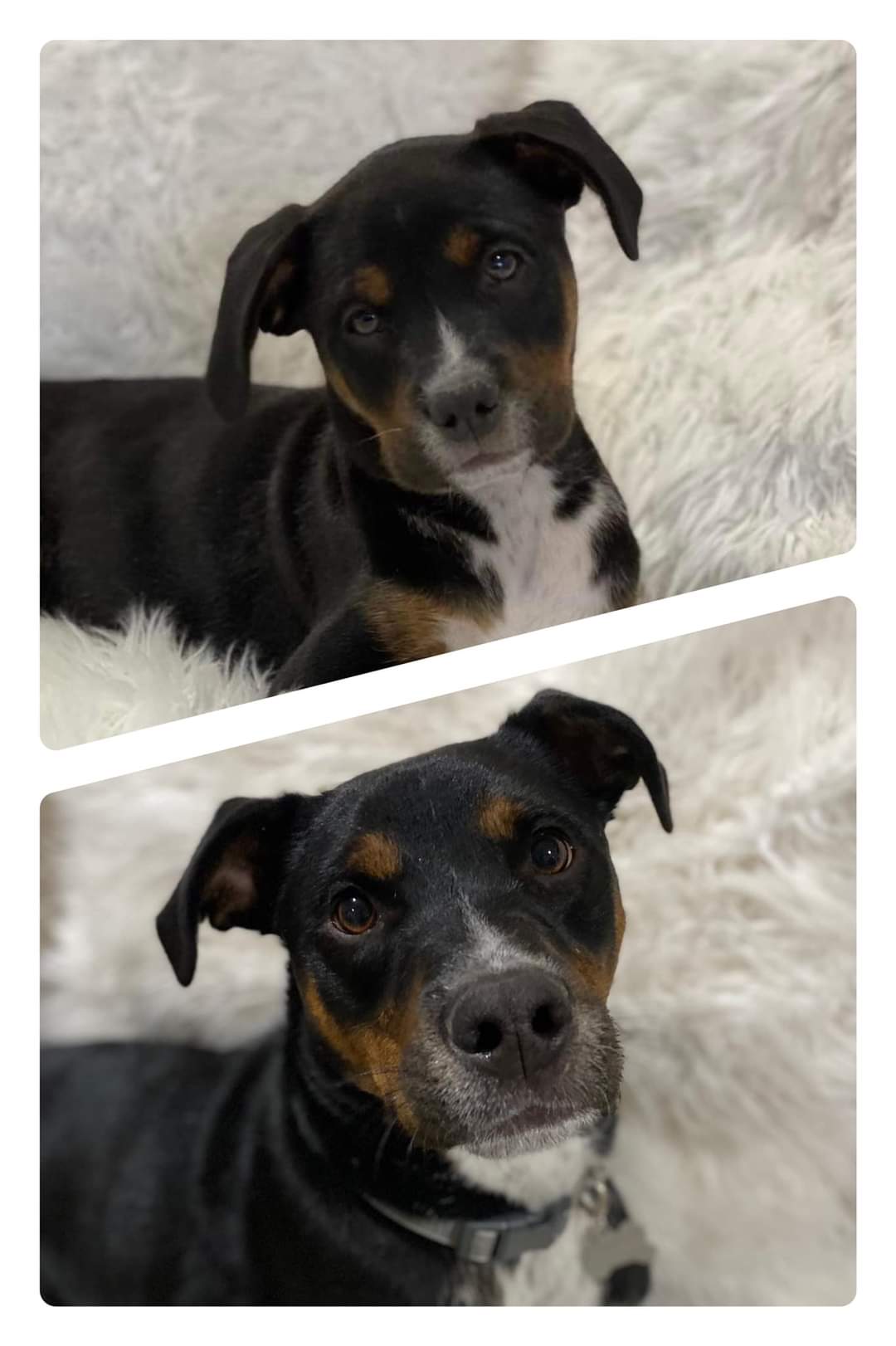 Meet Little Foot:
Welcome back sweet Little Foot 🖤 We are feeling pretty lucky to be reunited with our sweet wiggle butt now that he is not-so-Little Foot anymore! His family loved him so very much but knew he needed an outlet for his adventurous spirit that they simply could not provide. We are so grateful they made the selfless decision to bring him back to us, and are so excited for this next chapter in his life. We welcomed Little Foot back this week with with open arms, his very own dinosaur cuddle buddy & a few new dog friends. He has been a perfect gentleman with all of our dogs and absolutely adores every person he has met here. He spends most of his day playing with our dogs outside but is sure to smother us with kisses every time he comes in. Little Foot is doing an excellent job with his basic obedience. He definitely needed a refresher on crate manners but is doing a much better job with consistency and patience. At only 1 year old, this sweet 40-45lb husky/shep/pit mix is an energizer bunny! His perfect fit will embrace his energy & fill his life with adventure 🖤 in the meantime, we are loving every minute with our sweet boy.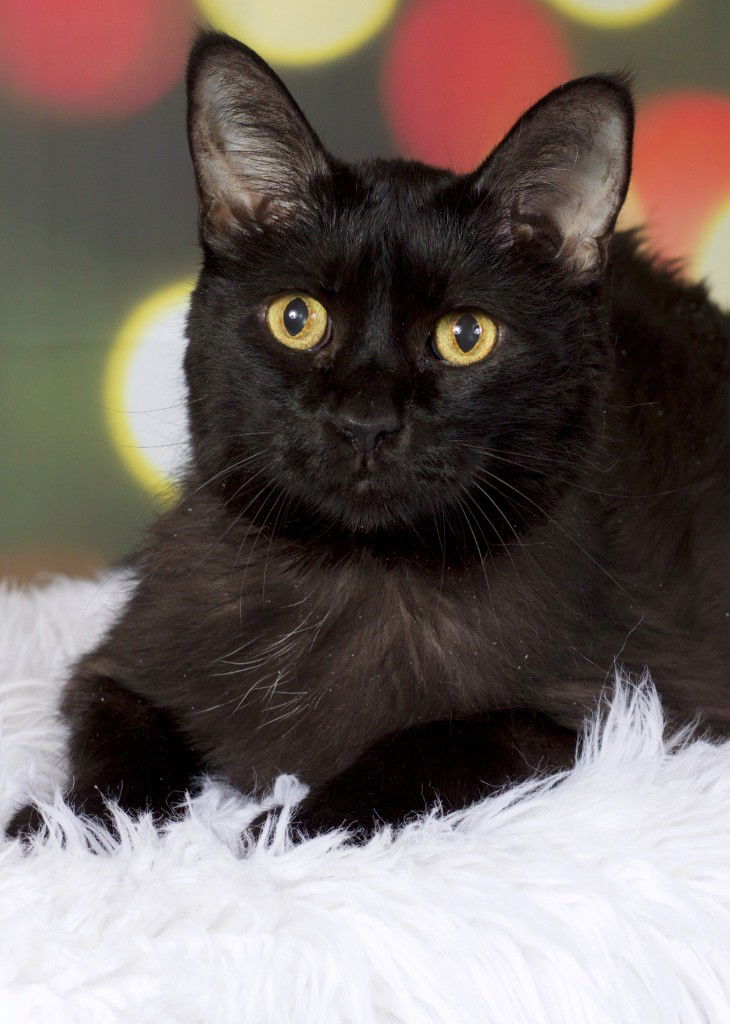 Meet Macy:
Macy is a gorgeous senior girl with a lot of spunk. She enjoys lounging around and getting attention. She has a lot of personality and that will keep you smiling at her silliness. Macy is diabetic and requires insulin shots twice a day, but she knows it makes her feel better so she doesn't mind at all! She is currently at our adoption center and would love to meet you.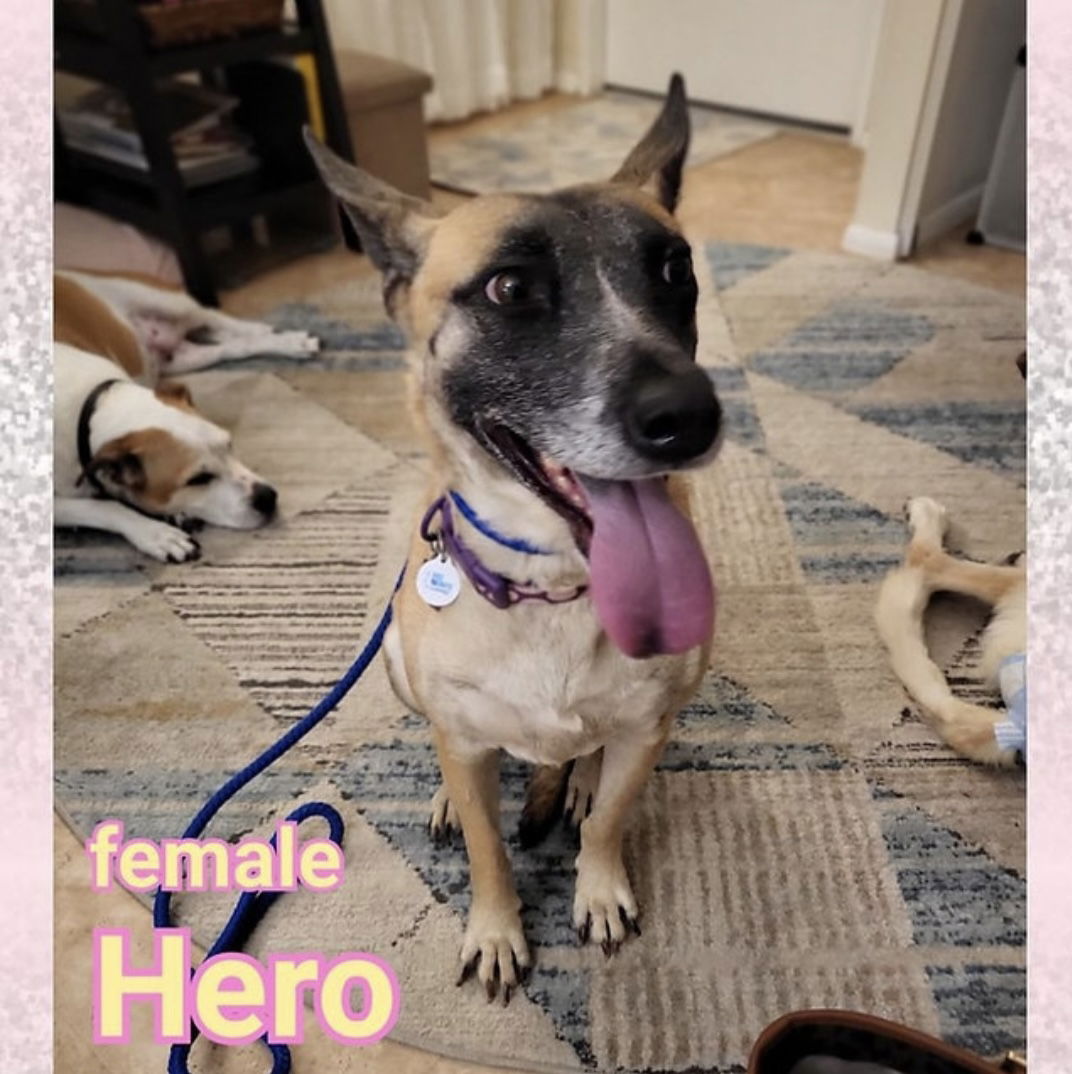 Meet Hero:
Hero is a 2-year old Shepherd Mix who's a shy, polite gal that likes people, kids and other dogs. Hero can crate and she had the privilege of attending training school and learn how to be a good girl just for you! She's only about 40-50 pounds. Hero is spayed, walks well on a leash, has had obedience training so she can be trusted when you're not home and doesn't chew! No separation anxiety experienced and doesn't jump up or snap at you. Totally laid back. Hero is still fearful but makes improvements every week. She could be adopted if you are willing to be patient & work with her. She is great on a leash and good with other dogs. Hero prefers polite chill dogs and loves treats!
Hero is very shy with new people and new environments. She will need a patient adopter who will continue to work with her and allow her time to become adjusted. Another dog in the home might be a benefit.
She is fully vaccinated and microchipped.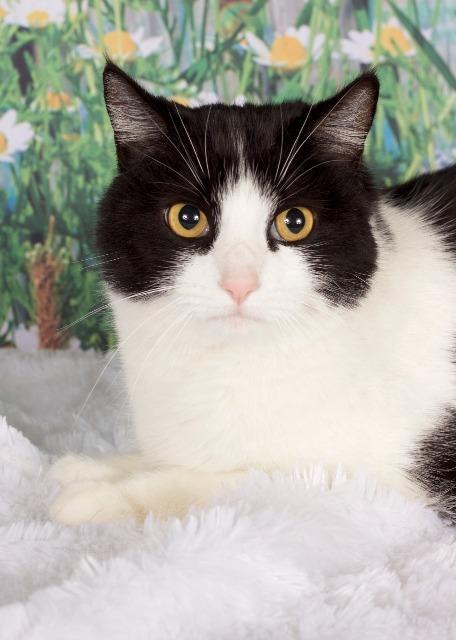 Meet Luna:
Luna is a sweet and loving girl who is looking for her forever home. This gorgeous girl was in a foster home after her owner passed away suddenly in New Mexico. While waiting to be transferred back to Arizona, she made herself comfortable in one of volunteer's home. Luna is 7 years young and weighs around 8 pounds. Luna settled in quickly and was very friendly and happy in her new surroundings. She was a perfect house guest and loved to be near her foster dad. She loves to cuddle and will make a great companion. She currently is residing in one of our cat rooms with two other cat friends. She would love for you to come and meet her and possibly be her forever family!

Meet Adorabelle:
We first met Adorabelle as a puppy when she was adopted from us in 2020. She is about 2 years old now, and adorable! Recently her family was unable to secure housing that would allow for Adorabelle, and she has returned to us. She is housetrained, enjoys other dogs and has lived with cats! She is extremely intelligent and knows basic commands such as sit, off, and up. She is very treat motivated and easy to train. When she gets excited, she will pull on her leash, however she is easy to redirect. Adorabelle is a sweetheart, and would love to make your acquaintance!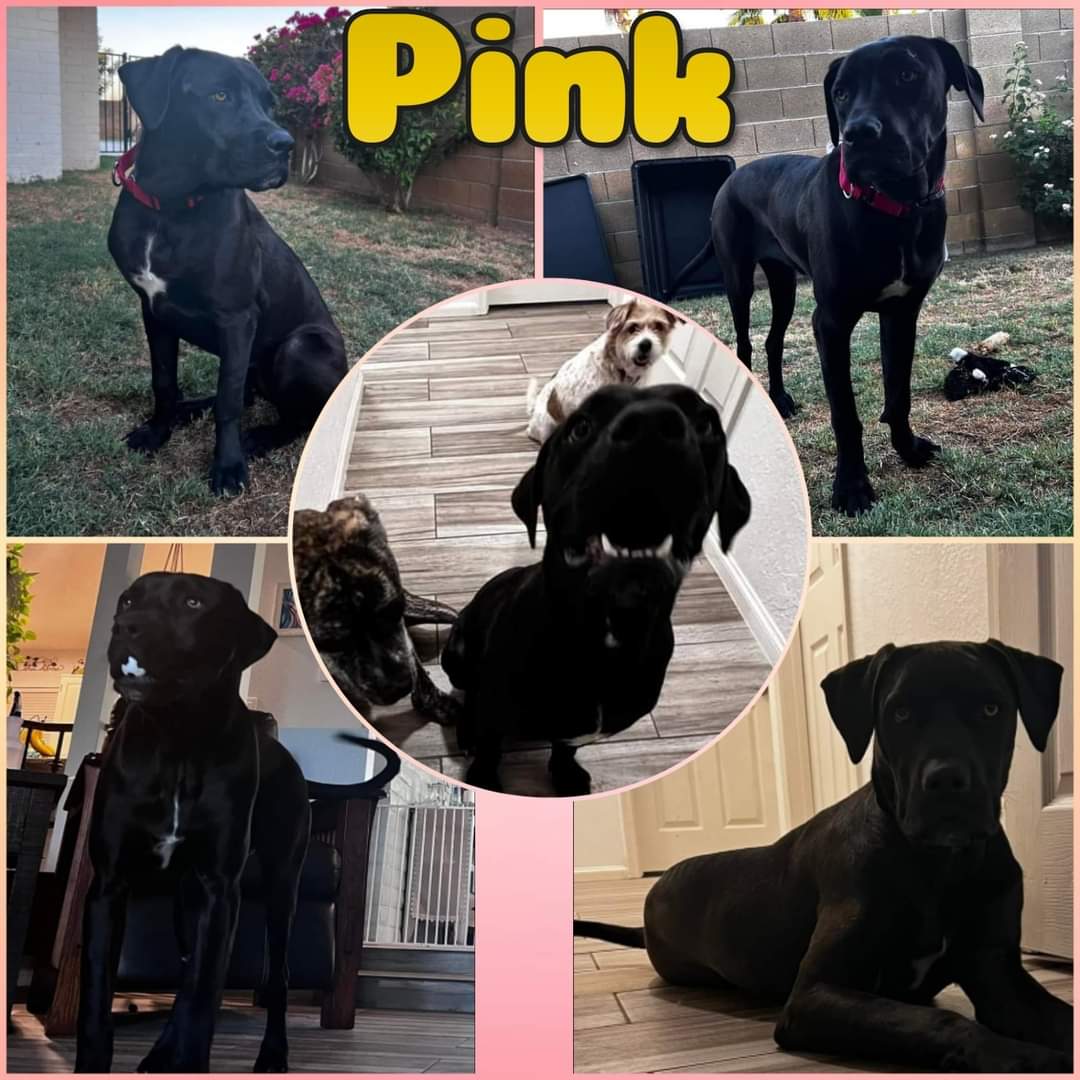 Meet Pink:
She has been doing incredible in her manners and starting to get things down pretty good. She still has a ways to go on some things but she is trying ❤️She is highly treat motivated and corrects super easy. Pink wants to please and do things that please you.
We are finally getting the leash and she has quit fighting it. Still pulls at first but so much better today. We had a nice walk this morning❤️ we are using prong/martingale and seems to be best for her.
She is so sweet and really loves to sunbathe and sleep! She also enjoys playing with frisbee, chasing the hose when watering the lawn. We bought a kiddie pool for her but she didn't want anything to do with that, so our tree got extra water🤪 she kennels well (no whining now!) and hasn't had a single accident….
*at this time we suggest Pink be the only pet in the home*
For more information about Pink, please contact us at followyourheartfoundation@gmail.com
Rescue | Follow Your Heart Animal Rescue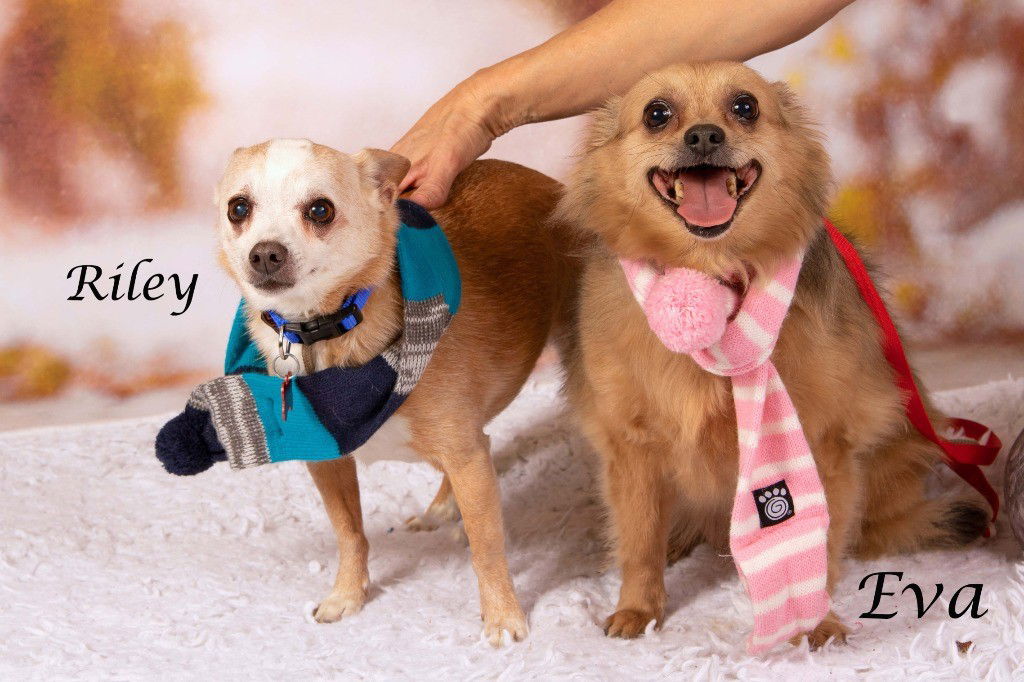 Riley

&

Eva
Riley and Eva are a bonded pair of 8 year old Chihuahuas who joined us recently when they lost their dad. They're very sweet and love to cuddle next to each other, and we'd love to find them both a forever home together, so they can stay together - they've lost so much and all they have is each other now. They are living in a foster home and you can contact us at FFLdogs@azfriends.org if you'd like to make an appointment to meet these little angels!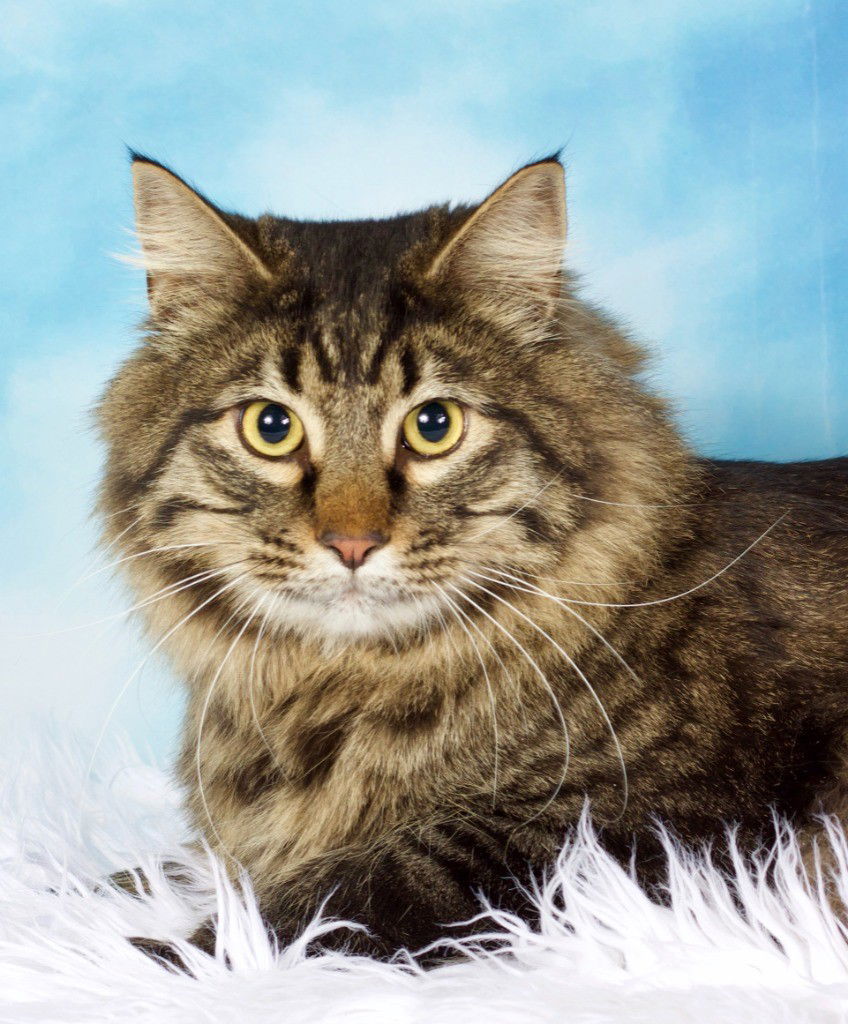 Meet Pudge:
Pudge is a big teddy bear who is looking for his forever friend. He has a gentle & handsome face that no one can deny. Pudge is quite the explorer & will be sure to make you laugh at his antics. Mr. Pudge would love to meet you soon and would prefer a home where he is the only cat. He is available to meet at our adoption center.
Friends for Life Animal Rescue

Meet Roy:
Where oh where art thou Roy? He may be underneath his blankets if he hasn't met you yet, or maybe watching you from above. As soon as you call him, his sweet little face will pop up and then you'll get to witness his even sweeter, unassuming personality. Roy is a handsome gentleman and all around good fellow who is quickly working his way into the hearts of all of our Volunteers. He was rescued from the streets during a TNR effort, it was noted after his surgery that he was friendly so returning him to the streets wasn't an option. It's truly a joy to watch his confidence grow with each passing day. Roy enjoys batting around a feather toy or napping in a perfect sun puddle (he is a cat, after all), but he seems happiest being smothered with ear scratches, belly rubs and generally basking in your love and relaxing in your presence. He's a smidge concerned about sudden noises and new experiences—but give Roy a little time to adjust and his confidence and tolerance will grow right before your eyes. A recent recipient of a dental glow up, Roy is ready to be your new best friend. Won't you stop by for a visit with this handsome fella?
Meet

Chocolate

&

Spice

:
This precious duo lost the only home and person they have ever known which is why they are here with us. They are 12 years old and are bonded so they will only be placed in a home together. They both love walks, still play with toys and have fit right in here with our other little dogs. They sleep together curled up in a chair at night and we can only imagine they are dreaming of their forever home. Chocolate does need to lose a little bit of weight and is taking a daily medication to bring her liver levels down. We are hopeful with the proper diet and exercise she will not need the medication in the future. Please consider welcoming this sweet senior pair into your life.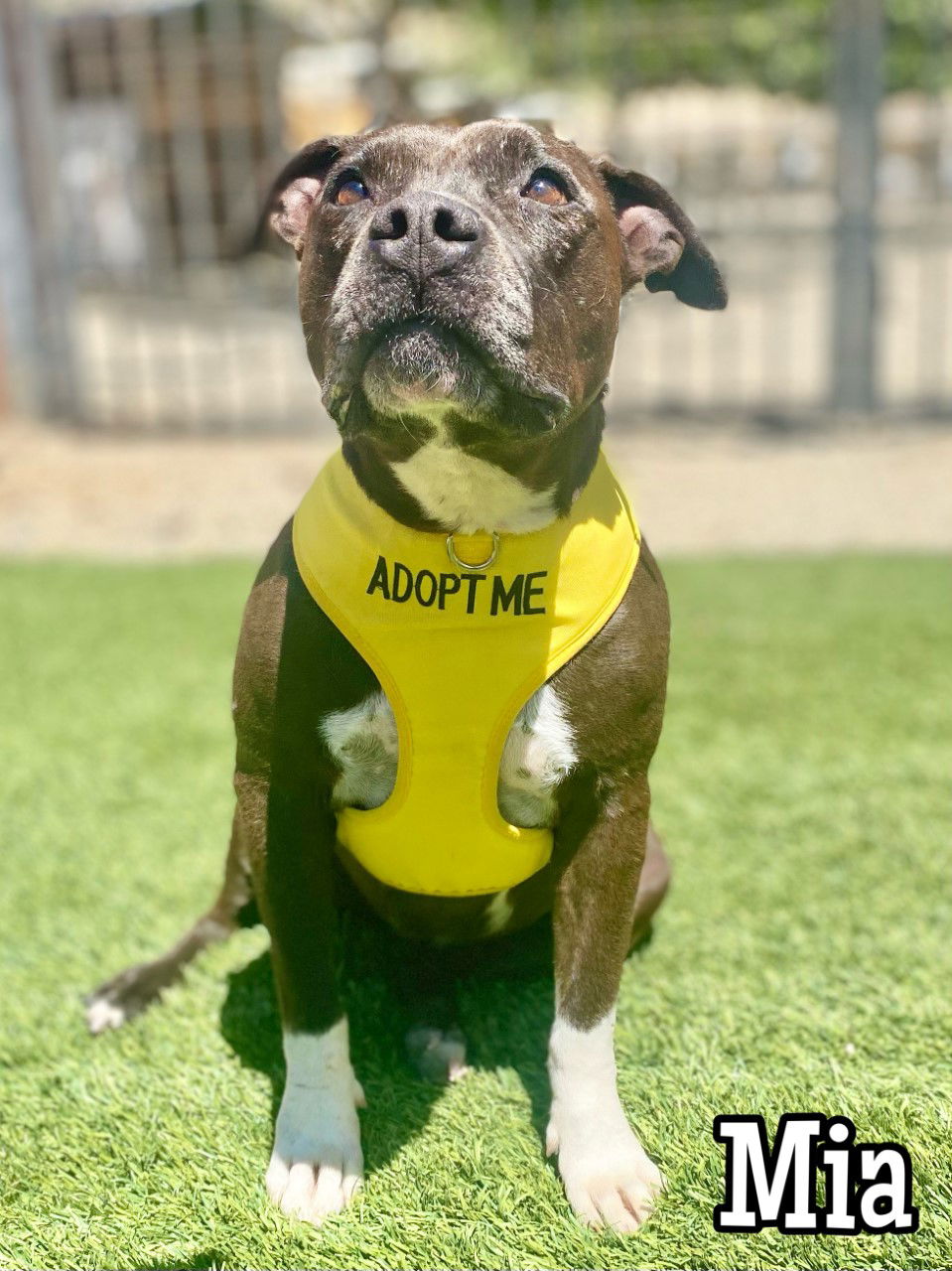 Meet Mia:
Mia is 7 years old, absolutely delightful, and she's only here because her family lost their home.
This silly wiggle butt is already vying for the title of happiest pup at The Ranch.
Home (brittanyfoundationonline.org)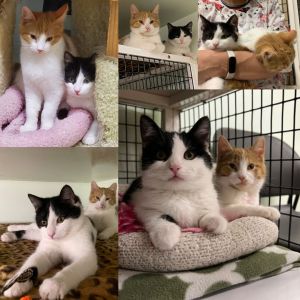 Meet

Winthrop

&

Susan

:
Winthrop and Susan are darling kitties who were saved from the streets by an exceptional independent rescuer. We knew instantly that they could be put through some charm school training and now they are ready for their purr-fect match. They are playful, smart, and were young enough when they came to us that putting them back in the TNR colonies would just never do. Winthrop is more reserved than his sister Susan. He needs a little time to build trust. Just like her, he does enjoy chasing and playing with all kinds of toys, particularly feather wands. He accepts being picked up and snuggled, but can be easily startled. It's been very satisfying seeing his progress over time. Susan is his "rock" and we would love to see them placed together. Are you ready to open your heart and your home? We are confident you will love having such a sweet and handsome boy.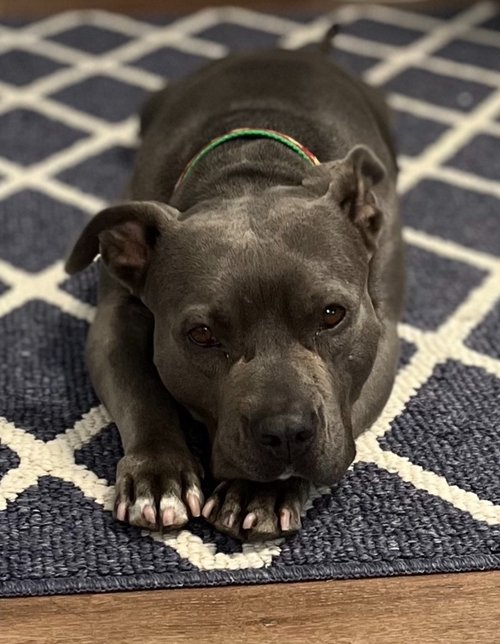 Meet Virginia:
Howdy! How are you? My name is Virginia and I'm an insanely lovable pit bull. The shelter listed me at 8 years old, but the people at Wags think I'm younger than that. I'm a petite gal at 50 pounds and have big chocolate brown eyes. My favorite thing in the whole wide world is hanging out with people. I will lay next to you asking for belly rubs for as long as you'll let me! I also love going for walks and exploring my surroundings. One thing that makes me extra special is that I'm deaf! Don't worry, though- that doesn't stop me from being the happiest, silliest pup. I'm not a huge fan of other dogs, so I'd love a home where I can be the apple of someone's eye. Will that someone be you? I'm healthy, up to date on vaccinations, spayed and microchipped.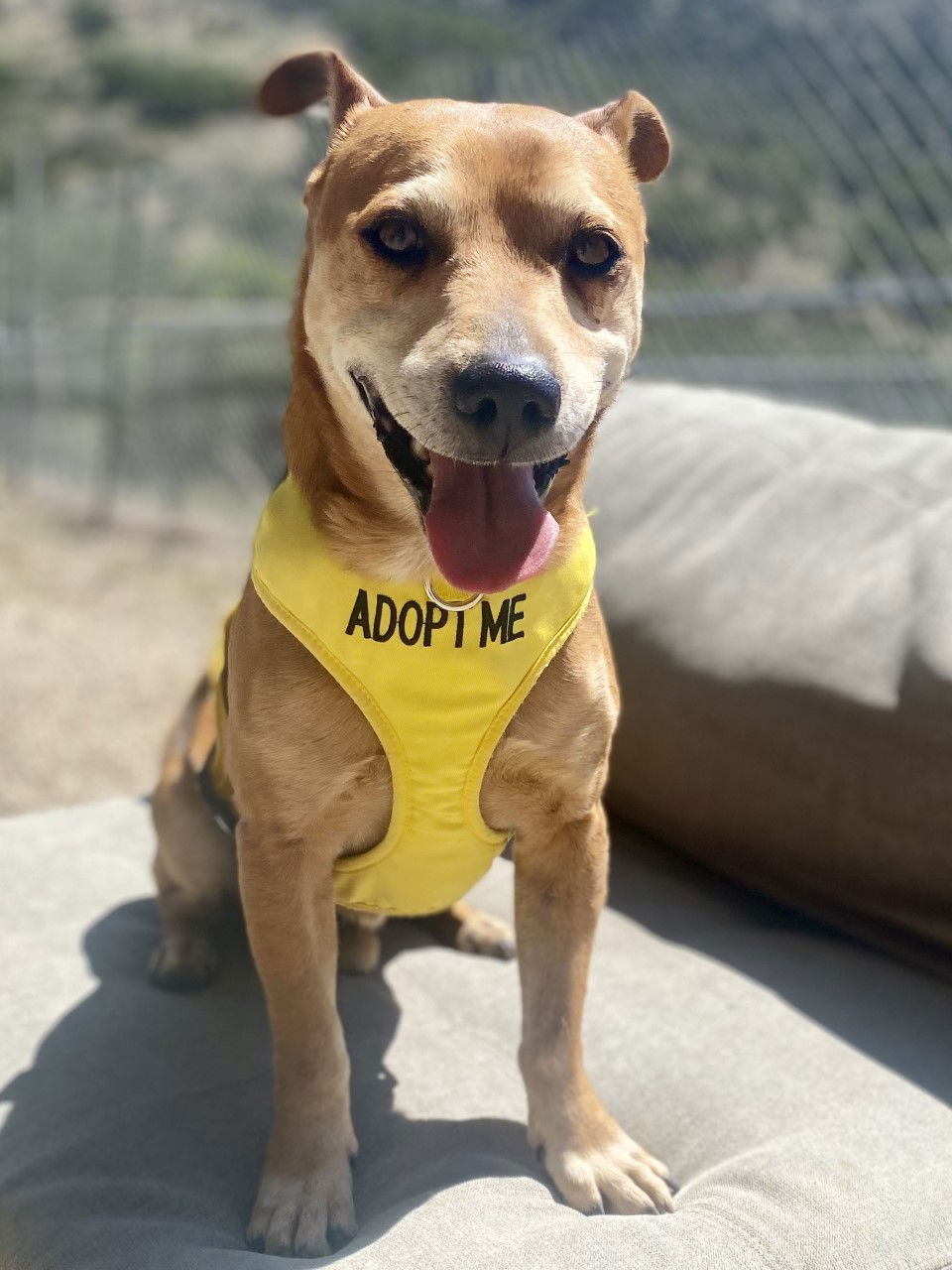 Meet Chicka:
Disney dog alert: Chicka could be a movie star. Not only is she stunning, she gets along great with other dogs and loves everyone she meets. We think she is about 3 years old and is a terrier mix. We think we see a little Shih Tzu in her too, but she weighs a healthy 40 pounds, so that has us a little perplexed. Both her and her best friend Twin are here because they were living in a home that had way too many dogs in it, over 20. We believe she would do best in a home with other dogs. She is an absolute delight and whoever is fortunate enough to welcome her into their family will certainly be blessed.
Meet Patty & Polly:
Cuteness overload with sass, spunk and smarts thrown in for good measure. This precious duo had been living in a garage for years. We have no idea why someone would do such a thing to these adorable tiny ones. Despite barely being let out and left to only roam around a garage they have fit right in here with our other seniors. They are the first to greet everyone who comes in. They run up with smiles and tails a wagging. They are petite in size, each weighing 7 lbs. We think they might be Yorki Poos and they are about 10 years old. They are inextricably linked and will only ever be placed together. They recently went for their first walk so they are just getting used to how a harness feels so that minor detail is a work in progress. Despite all these two have been through, their love shines through.
Meet Daphne:
Can you believe this gorgeous young lady found herself in the shelter system? Unfortunately, her family said they didn't have time for her or her injury. Daphne had a fractured leg that needed repair. She did wonderfully through treatment and is now fully recovered. Daphne is playful, joyful, spirited, affectionate, sneaky in a funny way, and vocal. Her foster "Mom" says she loves dinnertime and her favorite activity is pulling out all the toys from the toy basket and hiding them around the house. Daphne is a happy girl and loves to chase, nap with, and hang out with her furry foster brothers so we know she'd do well with another cat friend. Are you ready to adopt? Daphne is ready to be adopted!
Peter Zippi Memorial Fund Home (peterzippifund.org)
Meet Red & Scout:
Red and Scout are about 6 years old Boxer / Australian Shepherd x who tragically lost their beloved owner.
They are sweet with everyone, especially with kids and are very playful. They are not a good fit with cats or other smaller animals. Their energy would be ideal for someone that enjoys hiking and long walks. Check out this bonded sweet, playful and loving pair!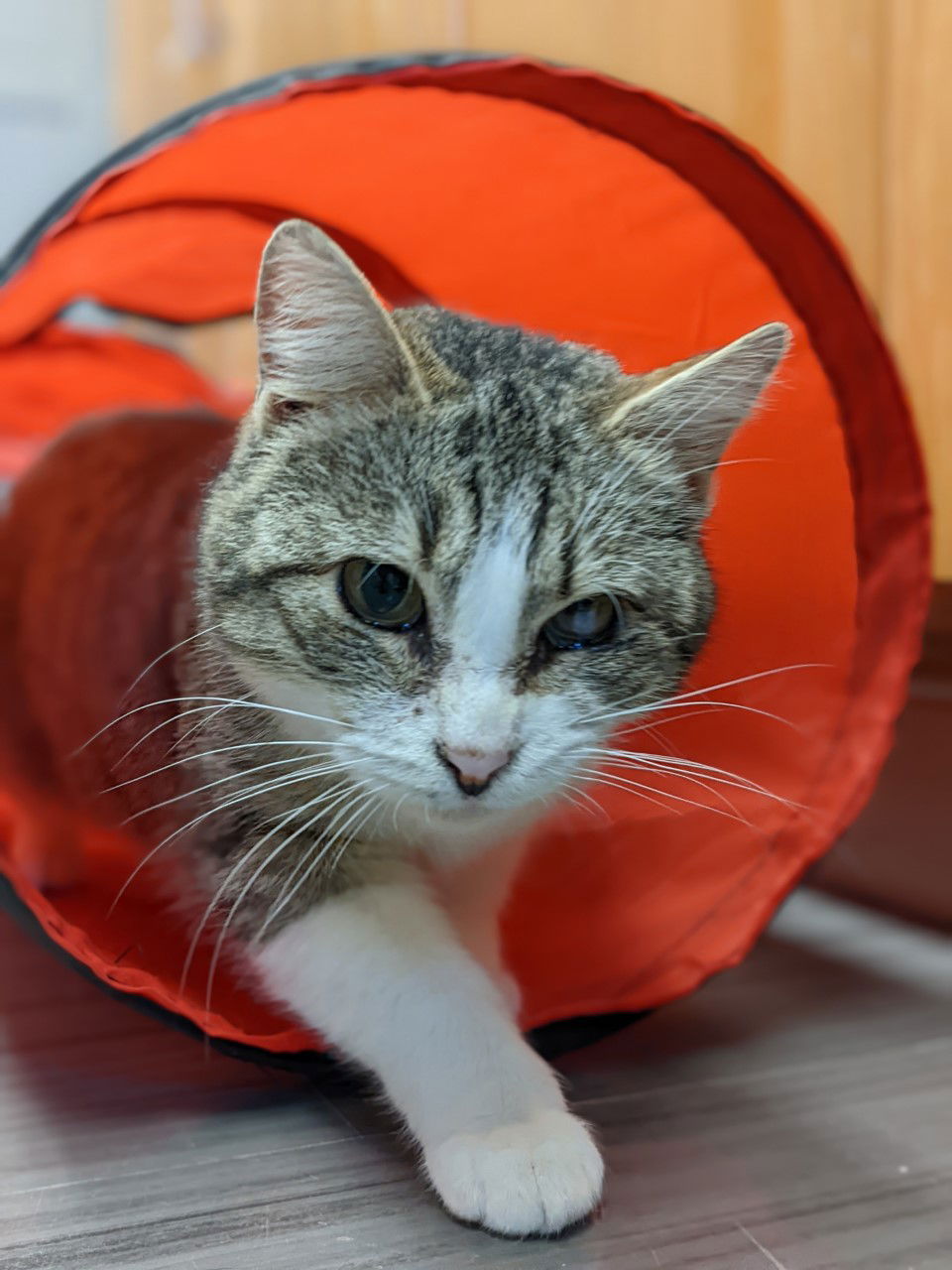 Meet Vivi:
Everybody loves Vivi! She was rescued from the streets of Los Angeles a few months ago. Life couldn't have been easy for her, but her charming personality remains sweet, her playful nature continues to shine, and you'll love the way she "chirps" and "trills" as she goes about her day. She may be cautious at first when meeting you, but within minutes she'll start purring up a storm in your arms. Vivi was seen by an Ophthalmologist who determined the cloudy spot on her eye is a congenital defect. The cute little smirk that is always on her face? Unfortunately, her facial nerve is damaged and the muscles don't work as they should. We all suspect trauma caused this. Vivi receives one drop of artificial tears in her left eye two times a day because she is unable to blink; this will likely be a lifelong requirement. She is a perfect angel when getting her eye drops. We can see her confidence growing with each passing day. Vivi loves running around our community cat room chasing her stuffed mouse or batting at a feather on a string. She'll also love lying on your lap, soaking up affection. Vivi is easy-going when it comes to fellow felines and would integrate well with another cat. She would also do fine as an only cat. Who's ready for a life with Vivi? She will jump on your lap, request some affection and will reward you with purrs.
Meet Kelsey:
Kelsey is such a delight. A few of our Volunteers have had the thought of stealing her. She's a very happy & engaging kitty who is full of love and play. Kelsey was a confident kitten roaming the streets. She knew she would be much better off indoors while she waited for her perfect human to find her so she walked right into the carrier when an independent rescuer approached her. Doesn't get much better than that. She is just adorable and would love to have you stop by for a visit.
Meet Zoey:
She has been with us for over 2 years and we are at a loss as to why? She is stunning, athletic and loves every person she meets. We know placing a dog as an only dog makes adoptions more difficult but we just know the perfect home is out there for her. We know she needs a very active home and life. She has loads of energy and potential. We are certain there are no limits to what she can learn, she's that smart. We do know she needs space to run and walls to keep her safe. She can easily scale a 6 foot wall. She just breaks our hearts because she is just 3 years old and has now lived 90% of her young life in a shelter or rescue. She deserves so much more.



Meet Jill:
Hi new friends! I'm so happy to meet you! My name is Jill. Aren't I gorgeous? I'm a 4 year old pit bull and I weigh about 60 pounds. I arrived at Wags with my baby, and now that she's grown up and found her forever family, it's my turn! I'm high energy and friendly but also laid back and love to relax. My foster mom says I'm the best of both worlds. My favorite thing in the whole wide world is sunbathing. I could lay outside for hours! It's a good thing I live in LA! I'm also fond of playing with toys, eating lots of treats and hanging with humans (especially if they give me pets). I'm still working on my leash manners but I'm a smart cookie and and continue to make progress. I'll make a great addition to any loving home. I'm healthy, up to date on vaccinations, microchipped and will be spayed by Wags & Walks.
Meet Taz:
Taz is an adorable miniature Schnauzer who has a lot of love to give. With the proper introduction, he gets along great with other dogs. He enjoys the company of the other pups and cats in his foster home, but can get a little reactive while passing another dog on a walk. He needs an assertive, confident and dog savvy-owner who can give him corrections so he feels more secure. Taz loves walks and would even be a good running buddy.
We are looking for an adult-only home for Taz as he has bitten before when he's felt insecure and nervous. Again, an owner who can make Taz feel at ease and who can give him the time and STRUCTURE he needs will help this guy thrive and succeed. Taz really does like to "work" and to learn/follow commands. He is also crate trained.
Taz has a history of seizures, but it is controlled with medication and he hasn't had had a seizure in several months now.
We know Taz can be safely placed in the right home, and we are dedicated to waiting for that perfect home for him. Once Taz decides he loves you, he is yours forever, and you are his. If you're interested in meeting Taz,
He's Loyal, Smart, Affectionate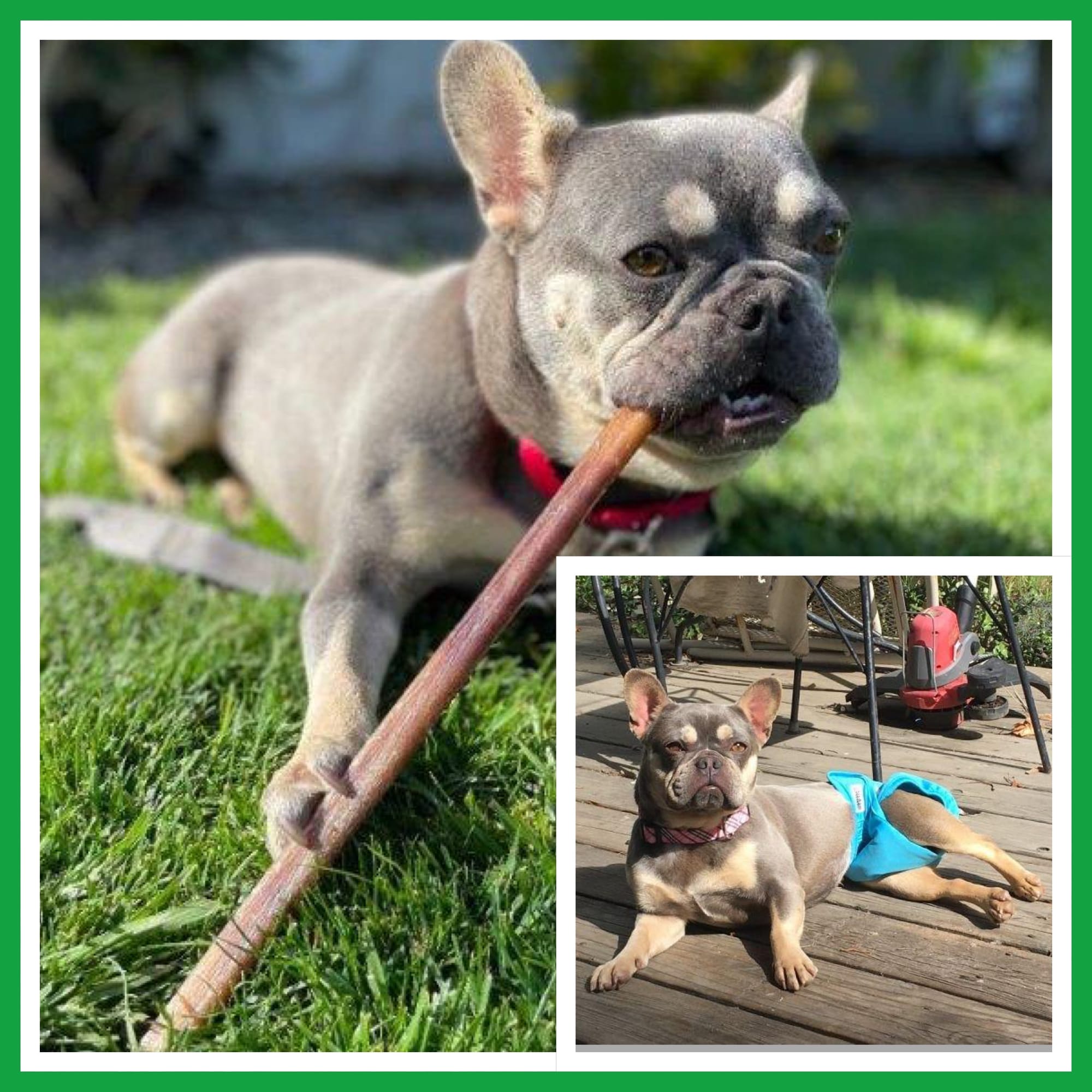 Meet Estelle:
This petite gal is so deserving, so full of love and just wants to play with her toys, enjoy her bully sticks, go for walks and show you her belly for all the belly rubs. She's only 2 years old and was dealt an unfair hand, born with spinal issues that don't get in the way of her enjoying life but do cause incontinence.
The perfect foster or better yet forever home for her would be: Someone who has a yard and an area where she can spend some time outside diaper free. Someone looking for a sweet, affectionate, playful, sensitive companion.
Estelle loves all people and she would be very happy as the only pup but has also lived with other dogs (we would provide proper intros for you to assess compatibility). She does have that Frenchie play style/energy with other dogs.
Having hardwood/wipeable floors is a plus but not necessary as she can be diapered inside as needed and you can also set her up in an area with puppy pads. She does great being left alone and sleeping in her own area quietly and content and is happy to see you when you get back.
Please, we need your help sharing Estelle. We know her family is out there. Yes, she needs a little extra care, but with a routine and proper setup, the payoff and love in return is beyond worth it.
Vaccinations up to date, spayed / neutered, special needs.
Meet Phoenix:
Named to honor both her femininity and quiet strength, if I could pick one word to describe Phoenix, it would be "inspirational." I know that might sound like a strange descriptor for a cat, but all those who meet her quickly understand why. Due to her highly affectionate behavior with humans, it is believed that Phoenix was a housecat once. Sadly, she was likely abandoned in the canyons of Azusa where she survived on her own, in the wild, hunting and managing to stay alive amongst the wildlife and predators in the mountains. At some point, she approached a residential home in the canyons, where the owners would leave food and water outside for her, but were unable to take her in. A few weeks later, they noticed she looked pregnant so they hatched a plan to get her indoors. Phoenix literally walked her pregnant self right into the carrier. Phoenix was placed in a foster home immediately. Even as a very pregnant cat, in a completely unfamiliar home (RIGHT on noisy PCH, no less!), she almost immediately warmed up to her foster. Within hours, she was showing her BIG pregnant belly, asking for belly massages, and nuzzling up for kisses. Shortly after, Phoenix went into labor, and gave birth to five beautiful and healthy kittens. Phoenix was a truly extraordinary mother. For days and days, she almost never left the birthing box in the closet, except for a few moments in the middle of the night. She nursed, groomed, and took care of her babies literally 24/7. As the babies grew, she slowly started spending some time away from them. She'd quietly watch them from her favorite perch. Phoenix is a massive fan of belly rubs, and scratchies under the chin. She loves to play with toys, especially little mice toys. She'll proudly parade around as if to say "look at my hunt". She enjoys her independence, but also loves to cuddle, and will sleep soundly in bed through the night. A truly phenomenal cat, Phoenix will bring so much joy to whoever brings her into her forever home. After being such a dedicated caretaker of others, she deserves to be showered with pets, pampering, and love. If you're wondering what kitty out there needs a loving home and would be the perfect cat, you've found her! (submitted by her foster, Eileen)
Peter Zippi Memorial Fund Home (peterzippifund.org)
Meet Twain:
Hello! My name is Twain. I'm a 2 year old pit bull with dashing good looks and a silly personality to-boot! I weigh 55 pounds, have a soft grey coat and wear the happiest smile you've likely ever seen. I'm a very social boy with any human that I meet. Whether I've known you for five weeks or five seconds, belly rub needs don't discriminate! I'm calm yet playful and snuggly yet independent! Basically, I'm the perfect catch. I graduated from doggie school where I learned lots of commands and polite manners, and I also learned that I'll thrive in a home with no other animals or children. I can't wait to meet you! I'm healthy, up to date on vaccinations, neutered and microchipped.
Meet Donnie:
Hey there friends! So nice to meet you. My name is Donnie. Aren't I handsome? I'm a 7.5 year old pit bull and I'm a thick boy at 85 pounds. I guess it might be time to go on a diet! I'm a low energy and gentle fella who loves to be around people. I have very nice manners and would be more than happy to hangout and relax at home all day. That being said, I'm also an outgoing pup and love to go on adventures and meet new people. I'm crate trained, potty trained and very food motivated. I'll be an amazing best friend and will thrive as the only animal in the home. I'm up to date on vaccinations, neutered and microchipped.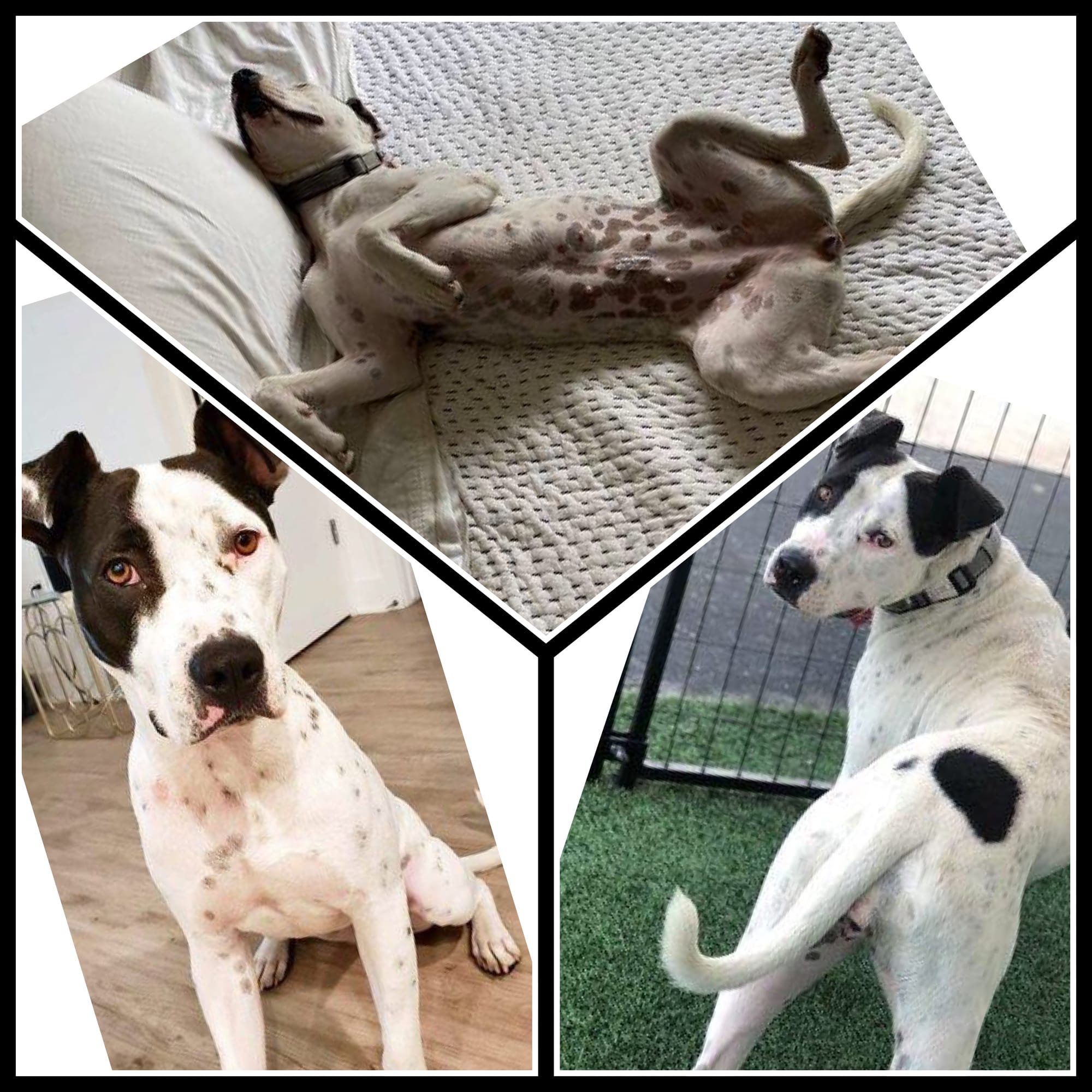 Meet Monet:
Hello! Were you looking at me? Maybe my soulful eyes? Adorable speckles? I know, I'm pretty cute! My name is Monet and I'm a 3 year old female pit bull mix. I weigh 55 pounds and am a very friendly pup! I love saying hi to new people and making them my best friend right away! I have plenty of kisses and tail wags to go around. I walk nicely on leash and am an all around 10/10 good girl. I know that I'll make any loving family very, very happy. I'm healthy, up to date on vaccinations, spayed and microchipped.

Meet Lady Di:
Get close enough and this young lady will let out a soft meow to inform you that pets are most welcome. Lady Di is very befitting of her name - distinguished and agreeable. She is always calm, cool, and collected. Never demanding but always ready to give and receive love. Lady Di made a Hermosa Beach neighborhood her "home". Everyone enjoyed her company. When one of the residents noticed she may be pregnant, one of our fabulous foster moms agreed to take her in. A few days later, she gave birth to 6 beautiful kittens. She was a great Mom and now that her babies are weaned, it's Lady's time to shine in a permanent home of her own. She enjoys sitting on a perch to observe the outside world but a warm lap is even better. If you are looking for a loving lap kitty who will be totally content just being with you, Lady is the girl for you. She is FeLV+ and would love to be your one and only or a BFF for another FeLV+ cat.

Meet Bowie:
This little guy is Bowie. We pulled him from a county shelter over 3 years ago with his son. His son was diagnosed with an inoperable cancer and passed away in 2019.
Bowie never gets any interest 🥲. He does take a minute to warm up to men and we think would be best as an only dog. He is one of our longest residents here and we would love to see him live the years he has left in a cozy and loving home. We think he is 11 years old, only weighs 10lbs and is probably Chi and Corgi. He walks great on a leash, loves toys and keeps his room here incredibly neat. Thank you for helping Bowie be seen. ❤️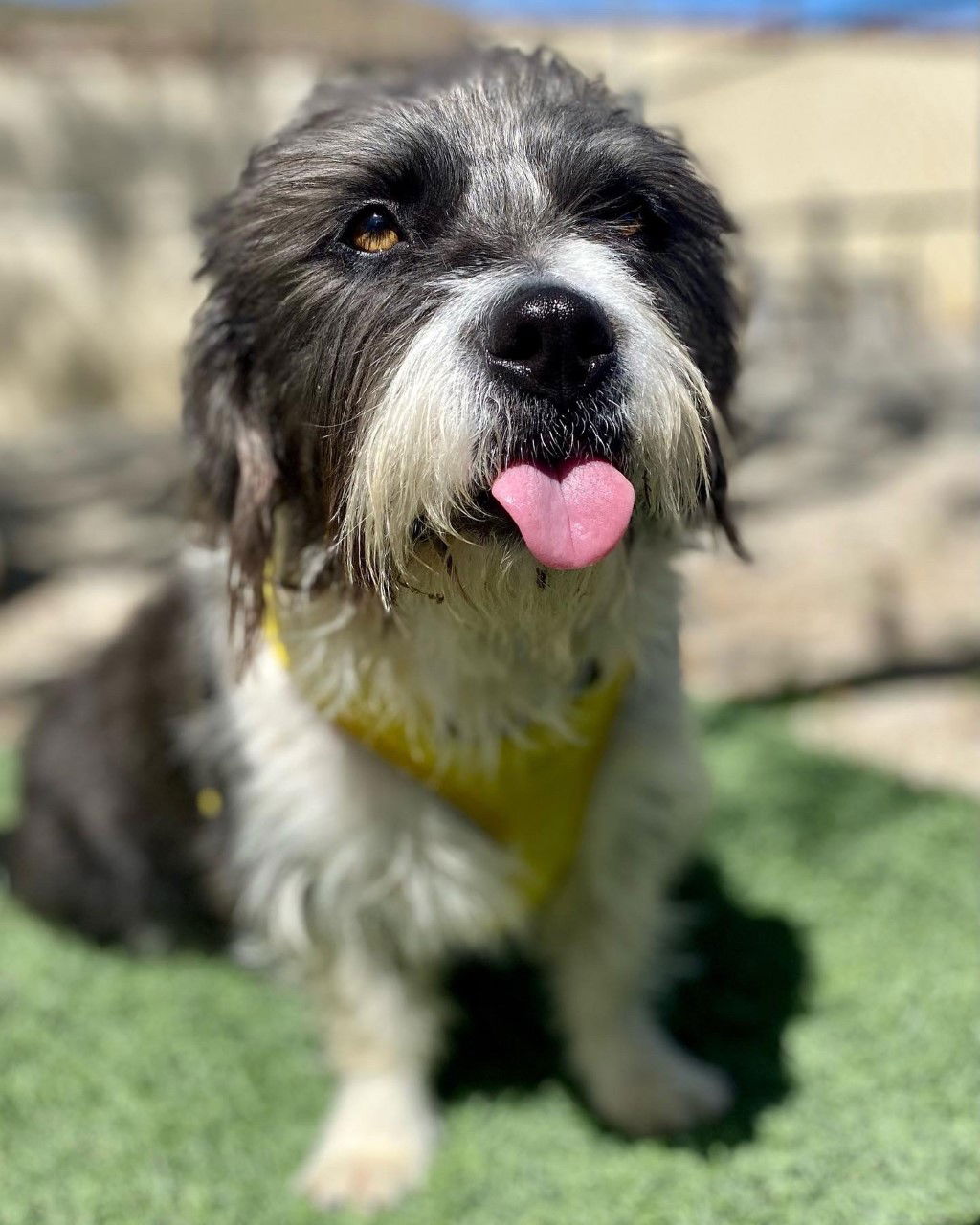 Meet Twin:
This cute, scruffy-faced terrier is still a puppy. He is 18 months old and weighs around 20 pounds. He's a little apprehensive about meeting new people and enlists the help of his best friend Chicka to assess the situation, but once she gives the go-ahead, it's all love from there. He went for his first walk on a leash with us just a short time ago and he is doing great with leash manners. He is quite silly and loves to play with toys too. Twin and Chicka are both here because they used to live in a house with way too many dogs, almost 20. We feel strongly that Twin will do best in a home with another dog with whom he can play and grow up.
Meet Phineas:
Hi people! Nice to meet you, I'm Phineas. I'm a 3 year old pit bull mix, and yes I'll teach you how to do winged eyeliner. I'm a big floppy puppy at 80 pounds, but don't worry- I've been told I have nice manners. I went to training school and learned all kinds of basic commands, how to walk nicely on leash and how to love my crate. I like to hangout in the sun and I do well with other large dogs…just ask my four legged foster sister! I can be a stubborn boy, so I'll do best in a home without young children, though I've made lots of teenager friends! I'm the perfect combination of active and low key. I love going on outdoor adventures (and I LOVE car rides!) but am also more than happy to hang on the couch all day- I'm a fantastic cuddle buddy. I can't wait to be someone's forever buddy! I'm healthy, up to date on vaccinations, neutered and microchipped.
Meet Florence:
Hello, pals! My name is Florence and I am one of the happiest, most lovable dogs you'll ever meet. I'm a 7 year old pit bull weighing in at about 50 pounds. An old injury (prior to my arrival at Wags) caused me to go blind in one eye, but don't worry- it doesn't affect me at all! In fact, the people at Wags say it makes me even more beautiful. I'm a goofy and friendly girl, and although I'm always down for an adventure, I'm also a major cuddle bug. I love spending time with my humans no matter what we're doing! I do well in my crate and walk nicely on leash with a confident handler. I'm a super special girl and I know I'll keep you smiling and laughing if you take me home forever. I promise! I'm healthy, up to date on vaccinations, microchipped and will be spayed by Wags & Walks.

Meet Miss Kitty:
Miss Kitty is a declawed, 12-year-old senior with Hyperthyroidism, which is a very common disorder of older cats. She's on special food and medication and is looking for an adopter with a huge heart and a love for senior animals. Miss Kitty is a sweet senior who would love a warm bed to sleep in. Our shelter staff would be more than happy to speak to any potential adopters about how to manage Miss Kitty's condition. We also offer a foster-to-adopt program which allows potential adopters to foster an animal or 14 days prior to making the decision to adopt.
Meet Porkchop:
I am a handsome two year-old boy who was living in rural Georgia when I was rescued. I love people and I love to be the center of attention. I get along with other cats just fine but my dream is to be a house cat surrounded by people who will pet me and love me! I'm waiting to meet you, so stop by and let's fall in love.
Great news!! My guardian angel has paid my adoption fee.
Meet Conan:
This is a beautiful and sweet black mouth cur mix who is approaching 3 years of age. Conan is very shy and nervous in the shelter environment. What Conan really needs is a family or individual who can take things slow with him and the time and patience to adjust to his new surroundings. He's made GREAT progress since arriving at the Humane Society this past March and is loving the attention he's getting from the staff and volunteers. Conan is so ready for his forever home and he will be grateful to his adopter for life! He's very chill and has got lots of potential.
Conan is recovering from Heartworm and the HSTC will cover his meds until completion. He's not potty trained but we think he will be a quick learner. Check out his video and go "Groovin" with Conan!
Meet Lenny:
4 month old Male / Lab Terrier Mix
Lenny's brother has already been adopted and Lenny wants to know when it will be his turn to go to a home that has lots of love to give him. Please come by to meet spunky little Lenny, he'll be so happy to see you! Please check out my video and levitate with me :)
Meet Jill:
Jill is a friendly, serene black and white female short-haired cat. She has a quiet and calm nature, opting to watch the shenanigans of the other cats in our loose cat room from a perch. She is gentle and affectionate, and will lure you in with her gorgeous green eyes! We estimate that she is about 4 years old, and that she will make someone a lovely companion for many years to come.
Sunrise Humane Society | United States (sunrisehs.org)
Your browser does not support HTML5 video.

Meet Calista:
Calista is a one year old calico girl who came to the shelter with eight kittens. She's a very friendly girl and gets along with other cats as well as people. she's had a very hectic lifestyle so far so she would enjoy being in a semi active home where she could get some TLC
Meet Cinnamon:
Hi, my name is Cinnamon and I'm approximately 10 years old. I'm a blonde Chow and very friendly. I like to go on walks and do well on a leash. Due to my breed, I have some immune disorders, and came into the shelter with a hot spot, after my owner passed away. The shelter got me a much needed grooming, and I'm healing. I've been told I'm beautiful, and looking forward to finding my forever home!
Your browser does not support HTML5 video.

Meet Nero:
Meet Nero, A male American Pit Bull mix who is nearly 2 years of age. Nero would do best in a home with a family who already has large breed experience and kids over the age of 12. He's medium size and as you can see from his video, he has a beautiful brindle coat. A fenced in yard would be great for Nero to play in and he would rather be the only pet in active household so he can get all of the attention. Please come on by and pay Nero a visit!
Nero is also part of Dolly's Dream Adoption program where not only will his adoption fee be paid for, but will also come to you with the following goodies:
Easy walk harness - Leash, collar & Bandana - Training crate - Interactive feeding toy - Set of bowls - Dog bed - ID Tag and a six week training program
Meet Mr. Burns:
What's new Pussycat, or should we say what's new Mr. Burns? This is a 2 year old male domestic short hair cat who's got lots of playful energy. Any interested potential adopter can also take Mr. Burns home for free as his adoption fee has been sponsored by a very generous donor. Please check out the video to the Tom Jones classic hit of "What's new Pussycat" and take this kitty home with you!
Meet Milo:
At nearly 4 years of age, this is a Male Terrier Pit Bull who weighs 70 lbs
Looking for a big, wiggly boy to be your best friend? This 70lb sweet and happy guy just wants to be around his people. In fact, he often can be found pouting when he is alone in his kennel, wondering if he'll ever have a home of his own. He doesn't jump on people, takes treats gently, and absolutely loves hip
scratches! They will send him crawling across the ground!
Milo seems more interested in men and would do best in a home where he'd be the only dog. Will you be Milo's new Daddy?



Sunrise Humane Society | United States (sunrisehs.org)
Meet Slice:
Slice is a peppy domestic short hair orange tabby who would like to find a home as the "ONLY" king of the castle. Please check out this fun video to see his personality to the "Cat Song"
Sunrise Humane Society | United States (sunrisehs.org)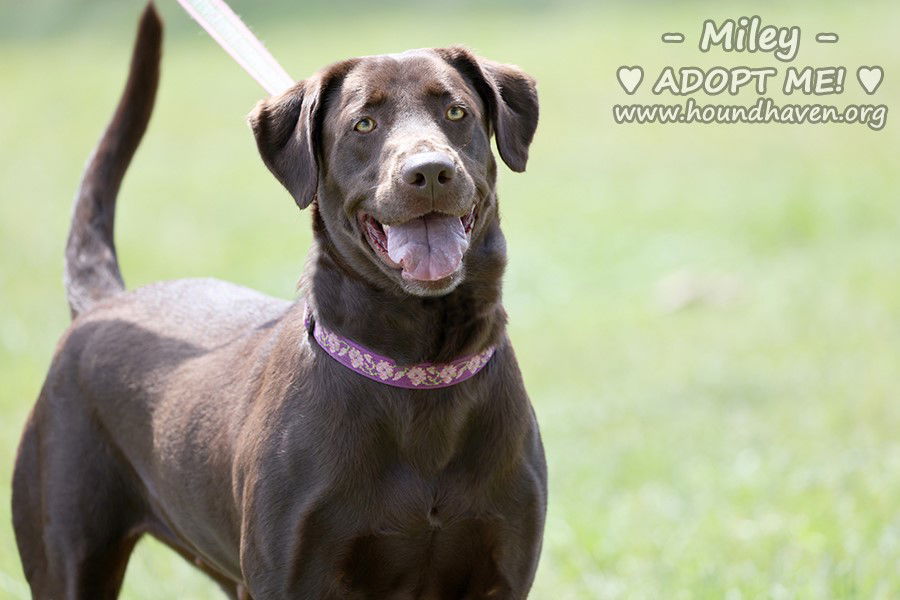 Meet Miley:
Beautiful Miley does not have much of a bark due to being banished to life in a garage. Someone in her previous owner's family allegedly had allergies and poor Miley lived most of her life in a crate in their garage. Thank goodness a Good Samaritan convinced her owners to give her up so that she could live the life she deserves, and Houndhaven is happy to help her find it.
Miley is a gorgeous chocolate Labrador Retriever and is almost three years old. She weighs 61 pounds and she's as sweet as a chocolate kiss. Miley hasn't met a person she doesn't like and is quick to fall in love with anyone that gives her attention. She is a fun-loving girl with a lot of energy and would do great with an active family. Miley has made a few doggie friends in the play yards while at Houndhaven, and her friend Tina even convinced her to splash around in the kiddie swimming pool.
Miley loves toys, but what she really loves is time spent with people. She is quite the snuggle bug, gives sweet kisses, and if given the opportunity will climb into your lap so you can really love on her. Miley knows "sit" and is eager to learn much more in her forever home. If you've been looking to add a gorgeous lab that's energetic and sweeter than a candy shop full of sweets, Miley is the perfect girl for you. Please visit www.houndhaven.org to review our adoption policies and procedures and to complete an application. Interested in volunteering at Houndhaven? Miley and all of her friends would love to have you spend time with them at the shelter or at adoption events. Contact houndhaveninc@aol.com for more information
Meet Hope:
1-Year old Female Rottwieler Mix
Hi there, my name is Hope! I'm a super sweet girl and love attention. Due to my size, I would do best with kids over 15 years old. Also, although I love people and have no issues with women, I do need a slower approach with men. Other dogs don't seem to bother me, but as always a meet & greet would be necessary. I am vetted and spayed, and my tail is not/and cannot be cropped. I'm looking forward to finding my forever home!
Meet Simba:
1-year old Domestic shorthair male
Sunrise Humane Society | United States (sunrisehs.org)
Meet Clyde:
I am a one-year-old male Pit Bull mix and they say I am quite the character. I love running around and playing all sorts of games. I would do best with kids over the age of 10 and even a canine sibling if you have one. But no cats PLEASE! I'm high energy and would do best with an active family so I can get in my daily exercise and I can help you do the same!
I am still learning and want to get off to a great start in my new home; it is recommended that my new family continue my training here at one of our awesome behavior classes. Please watch my Video and come and take me home :)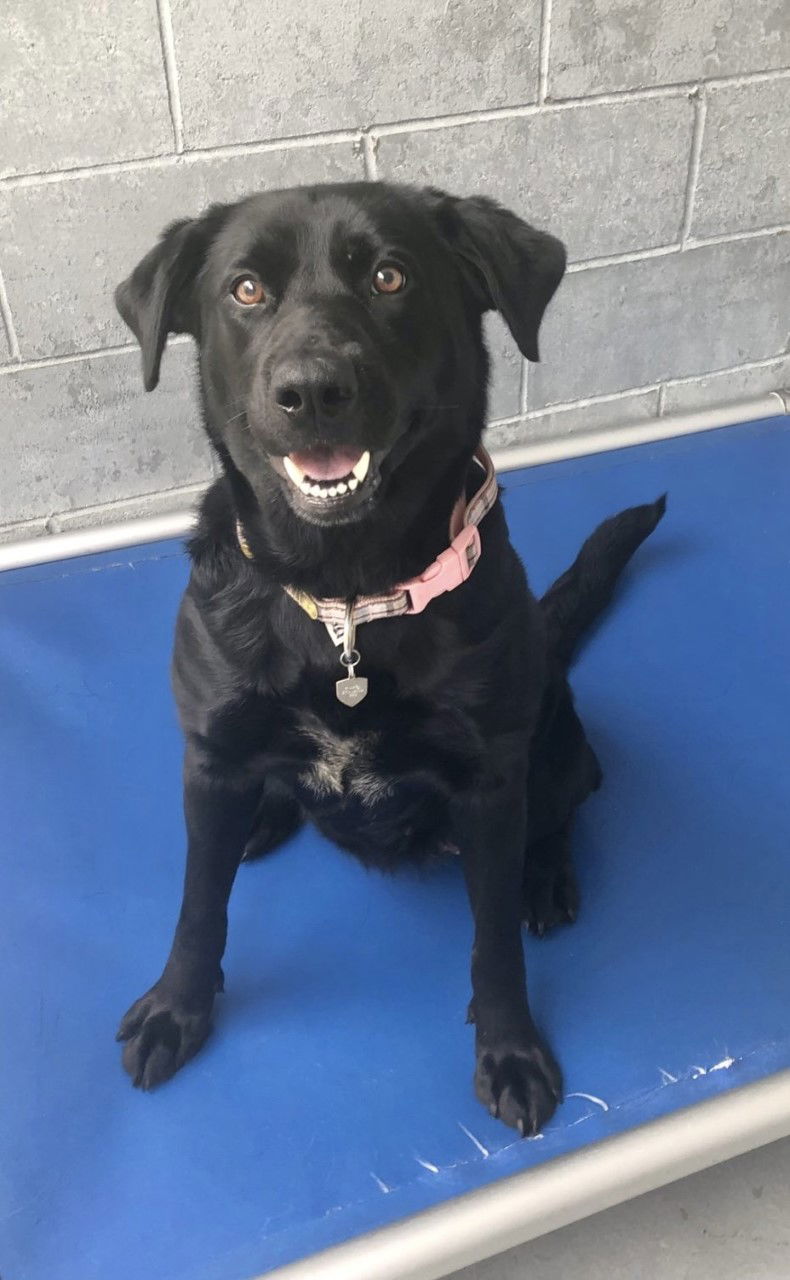 Meet Mari:
Mari is the main character in our rags to riches story. She has had a very sad start on life, but from the minute Houndhaven rescued her, everything changed for the best, and she started a new chapter on life. Mari was surrendered with a large number of dogs as part of a hoarding case and had lived her days outside tied to a satellite dish. Even after living in such a horrible situation, Mari has been nothing but the sweetest girl who loves everyone she meets and welcomes any attention that comes her way.
Mari is between two and three years of age and is a black lab. She weighs 61 pounds and that is 61 pounds of pure love. Mari is a little shy when she first meets people but warms up quickly and will ask you for your phone number so that you can be friends for life. She knows sit, takes treats gently, and loved her first bath and groom. Mari loves to snuggle, gives kisses, and has a playful side too. She would make a great friend to hang out and have a Netflix binge-a-thon with or go for long walks to help you reach your fitness goals.
If you've been looking to add a beautiful, sweet, loving girl like Mari to your home, and will be able to help write the rest of her story so that it is filled with love and everything good that she is so deserving of, please visit www.houndhaven.org to review our adoption policies and procedures and to complete an application. Interested in volunteering at Houndhaven? Mari and all of her friends would love to have you spend time with them at the shelter or at adoption events. Contact houndhaveninc@aol.com for more information.
Meet Zeke:
Zeke would make a great addition to any family. He loves playing ball just as much as he loves eating peanut butter! Contact the shelter for more info. Zeke is a cute and playful White – Male – 4 years old – American Bulldog
Please check out my video and watch me run around in the Florida Sunshine
Meet Jack:
Well, hello there – I'm Jack! How you doin'?
I'm a friendly young adult who came to Dogs & Cats Forever after being injured as a stray in Miami. I'm definitely feeling better now and ready to meet the public. I'm very friendly and I get along with other cats. Unfortunately, I am FIV-Positive as a consequence of living outside but I don't need any special food or special medical treatments. All I need is a loving home!
Great news!! My guardian angel has paid my adoption fee.
Meet Matisse:
I'm a 17-year-old senior cat, but the folks who visit me say I don't look a year over 10. I'm still an active tan and black female domestic short hair cat that would really appreciate living out the rest of my golden years in a loving home and maybe it will be your home! Please watch my playful video to the song the "year of the cat" and hofefully this will be the year of Matisse.
Meet Sasha:
Female Terrier Pit Bull Hound mix / 2+ years old / 50 lbs
Look at the perky ears on this adorable girl! Sasha is happy about everything and happy all the time! She is curious and likes to explore new things, enjoys toys but will share, will sit when asked. She pulls a bit on leash but is quickly learning to walk calmly.
Unfortunately, Sasha has heartworm. She's currently undergoing treatment, but would much rather be treated in a home setting with you to take care of her!
Meet Jelly Bean:
Jelly Bean is a black, 3-year-old male short-haired cat who was found as a stray. Let him captivate you with his big yellow eyes! Watch this Jelly Bean video and come by and take him home!
Sunrise Humane Society | United States (sunrisehs.org)
Meet Horatio:
Six month old Male Puppy Catahoula
Horatio is a playful little pup who is patiently waiting for his forever family.
Please stop in and meet Horatio, he will be happy to shower you with big ole puppy kisses.
Meet Calvin & Hobbes:
Calvin and Hobbes are Houndhaven's resident puppies and heart stealers. These two cuties were found as strays and picked up by animal control in northern Florida before making their way to Houndhaven. They have all of the Houndhaven volunteers in the middle of their paws and no one is complaining because the puppy kisses are endless. And who can resist puppy breath?
Calvin and Hobbes are male yellow lab mixes. They are about three months old and are brothers. Calvin has pretty blue-grey eyes and ears that stick up and is the smaller of the two, while Hobbes has darker eyes and floppy ears. Calvin and Hobbes love playing together with their toys, having puppy wrestling matches, and snuggling together during naptime. Even though they crave attention and love to snuggle with the volunteers, Calvin and Hobbes are actually rather calm for puppies.
Since Calvin and Hobbes are brothers and have been there for each other, we would love to see them get adopted together, but they can be adopted separately if a family is not quite ready for two puppies. Calvin and Hobbes will be up to date on their puppy vaccinations and microchipped before they are adopted. If you've been looking for a sweet pup or two to grow up with your family, you will certainly enjoy Calvin and Hobbes and all of their sweetness. Please visit www.houndhaven.org to review our adoption policies and procedures and to complete an application.
Meet Butters:
What's new Pussycat? Watch my video and find out!!
I am a sweet and handsome boy looking for a home with lots of TLC . I am middle-aged and the shelter has way too much activity for me. I need a quiet adult home where I can sit on the sofa and watch TV with my favorite human. Meet me today and take me home!
Great news!! My guardian angel has paid my adoption fee.
Meet Lucy:

At nearly 7 years young, Lucy the American Bulldog mix is looking for a home that is just as active as she is. She enjoys car rides, long walks, and time spent outdoors in the backyard. She is great with people, knows several basic commands, and seems to be house trained. Lucy would prefer a home with no other canine or feline siblings. Her adoption fee has been sponsored by a very generous donor!
I am described as an ultimate couch potato. I'm super laid back but also enjoy playing with squeaky toys!"
Meet Archie:
I am a handsome nine-year-old boy who lost my home when my owner moved. I was recently found as a stray and I'm ready to start over with you! I'd love a quiet adult home where I can catch up on some TLC. I don't like car rides, so I would just love to stay home with you. Meet me and let's fall in love.
Great news!! My guardian angel has paid my adoption fee.
Meet Gizmo:
I'm a handsome six-year-old boy who would like to get to know you better. My family had to move out of the country so now I'm on my own. I've been a house cat my whole life. I have excellent manners, and I do best with adults and older kids. Let's get together and fall in love!
Great news!! My guardian angel has paid my adoption fee.
Meet Dixie:
Dixie arrived at the shelter after her owner became allergic to her. she is a sweet Six year old girl who loves people. She would be best in a calm adult home. I'm a sweet six-year-old girl who lost my home because my owner was allergic. I'm very good with people and I tolerate other cats but my dream home would have me as an only pet in a quiet adult setting. I have excellent manners and I'm hoping for a forever home soon!
Meet Nacho:
Nacho is and active, bouncy 7 year old Labrador Retrieve mix who does not realize his age. He came to HSTC as a stray in November 2021 and is done living in the shelter. He can be a bit obnoxious and only recently learns a few manners (he completed a basic obedience class here at HSTC!). Due to his rough play style and boisterous behavior, we currently do not recommend that he live with young children. Nacho's adoption has been sponsored by Lauren Carroll with Rick Carroll Insurance!
Your browser does not support HTML5 video.

Meet Major:
Major is a year and a half old and is looking for a home all his own. He does not want to live with any other pets but loves people –especially older children and adults. Major is very high energy and enjoys learning new things. This cutie has only been at HSTC since November 2021, but is ready for his fur-ever home. Major is accepting visitors at the HSTC main shelter located at 4100 SW Leighton Farm Ave. in Palm City, Florida.
Meet Spot:
Sweet senior cat Spot is looking for the perfect fur-ever home. She is 10 years old and has the most adorable slightly grumpy face. She is very loving and has quickly become a staff favorite here at HSTC. Spot is currently accepting visitors at the HSTC main shelter located at 4100 SW Leighton Farm Ave. in Palm City, FL. Spot and all of her adoptable friends can also be viewed on our website at HSTC1.org.
Meet Tunchi:

Tunchi is a charming, 10-year-old, male who would love to be your one and only pet in the home. This sweet boy knows basic commands and enjoys playing fetch in a big, fenced yard. He is treat motivated and takes them gently out of your hand. He loves to play ball, walks wonderfully on a leash, and is content just sitting with his human watching the outdoors.
Meet Frank:
Frank has quickly become one of our most popular residents at Houndhaven. His size and uniqueness have separated him from our regular Labrador Retriever and Retriever mix rescues, and he is loving every minute of the extra attention. The extra attention helped out a lot when he first arrived because he was missing his family, who had to surrender him after not being able to afford to have an expensive surgery done for him. Houndhaven was approached by one of our Vet partners, and we agreed to take care of Frank's surgery and neuter expenses, and he is now a "hound."
Frank is a two-year-old Mastiff. This handsome, squishy-faced boy arrived at Houndhaven tipping the scales at 252 pounds and was immediately put on a diet since he was about 50 pounds overweight. He has lost some weight due to the diet, as well as getting long walks, and running for short periods of time along the play yard fences with other dogs. Frank is enamored with well mannered dogs, and in between playtime and snuggle time, he does enjoy a good nap…who doesn't?
Frank is a very gentle, good natured, sweet boy. He takes his low-calorie treats gently, enjoys receiving hose baths, and loves all the attention he receives at our adoption events, but he is ready for a forever home. The volunteers love him and offer him tons of love and snuggles, and we know he is most grateful for all of the affection, but we know he misses having a home, and probably his own sofa to relax on and watch T.V. with his family.
If you are a Mastiff lover, have experience with this giant breed, and are ready to give Frank his forever home of love, please visit www.houndhaven.org to review our adoption policies and procedures and to complete an application. Interested in volunteering at Houndhaven? Frank and all of his friends would love to have you spend time with them at the shelter or at adoption events. Contact houndhaveninc@aol.com for more information.

Meet Roxie:
Hi, I'm Roxie! I'm a coonhound mix who was found as a stray, estimated around 4 years old. I'm a very calm, easy-going couch potato. I'm polite and gentle, and love to give kisses!
The nice lady who found me said that I was friendly with other dogs, good with kids, rode well in the car, and seemed to be housetrained, too (I got to stay in their house for a bit!).
A dog of my demeanor can seem a little subdued and shy at the shelter, but come and meet me and you'll discover that I'm a diamond in the rough!
I'm overall very well-behaved and love everyone. I'm a go-with-the-flow type of gal, and ready to find a nice house of my own to live. I'm going to make an awesome friend and companion for someone, I just need my shot to prove it!
Your browser does not support HTML5 video.

Meet Darla:
i'm a beautiful six-year-old calico tiger girl lost my home because I could not get along with the new baby. I would be best as an only pet and a house with people who could give me lots of TLC. I'm very sweet and loving But I don't like to share Your attention with anyone else. In return, you will have all my attention and love.
Great news!! My guardian angel has paid my adoption fee
Meet Chirtley:
Chirtley is a ~2 year old orange and white male cat. He's a curious and playful boy who loves being the center of attention. He will keep you entertained for hours with his shenanigans. If you're looking for an interactive feline companion, look no further!



Sunrise Humane Society | United States (sunrisehs.org)
Meet Zanny:
2-Year-old Female American Pit bull mix
I just know that better days are ahead of me and watch my video to my new favorite song. I am full of energy and would prefer to be the only dog in my new household. I like playing with kids, but it would be best if they are 12 years or older. I'm still very young and whoever decides to take me home will be creating a lifetime of memories with me and my smiling face.
Treasure Coast residents, come and get me :)
Meet Cutie Pie:
Sweetie Pie is right below me because in this case it's beauty before age :)
Cutie pie is a one and a half year old gray tabby girl who loves people. She's very easy-going and she gets along with other cats, also. She's been a house cat her whole life and she has excellent manners. She loves to be loved and will give you love in return
Meet Sweetie Pie:
Cutie Pie may be right above me because I'm that much sweeter!
I'm a beautiful nine-year-old girl who has recently been coping with vestibular syndrome. My head is slightly tilted and I walk a little unsteadily right now but I will get better. Doctors say it was probably caused by an infection in my ear but I can hear just fine and I'm ready to be your special girl! I am not comfortable around other cats so I would enjoy being your one and only.
Great news!! My guardian angel has paid my adoption fee.
Meet Hope:
I'm a beautiful long-haired Siamese mix girl who is as sweet as can be. I love giving kisses and being brushed and petted are my two favorite things! I get along with other cats and I'm hoping for a home where I can get lots of TLC. Meet me today and fall in love.
Meet Ginger:
3 year old tan/white female pitbull. Ginger is a stage 1 clinger - she will be your little shadow! She always wants cuddles and belly scratches. Nice, calm, gentle, amiable girl, very well-behaved. She does not get along with other dogs, however, she LOVES all people!She walks fairly well on a leash, and enjoys squeaky toys but will give it to you if you want a toy too. Ginger enjoys being petted and will sit down to make herself "available", then wait patiently for you to pet her. She's a little potato who loves to lay in the sun. Her ideal home would be a couple who likes to stay home and enjoys time together, where she can be their one-and-only, devoted snuggle bug!

Sunrise Humane Society | United States (sunrisehs.org)

Meet Coco:
1-Year-Old Female Terrier Mix
55 LBS
Coco is a sweet 1-year-old Terrier mix who loves to be petted. She is very calm and just needs
someone to love her and toss a stuffed toy around from time to time. She's very smart and
learns quickly. Coco will make someone a wonderful companion! She's such a beauty.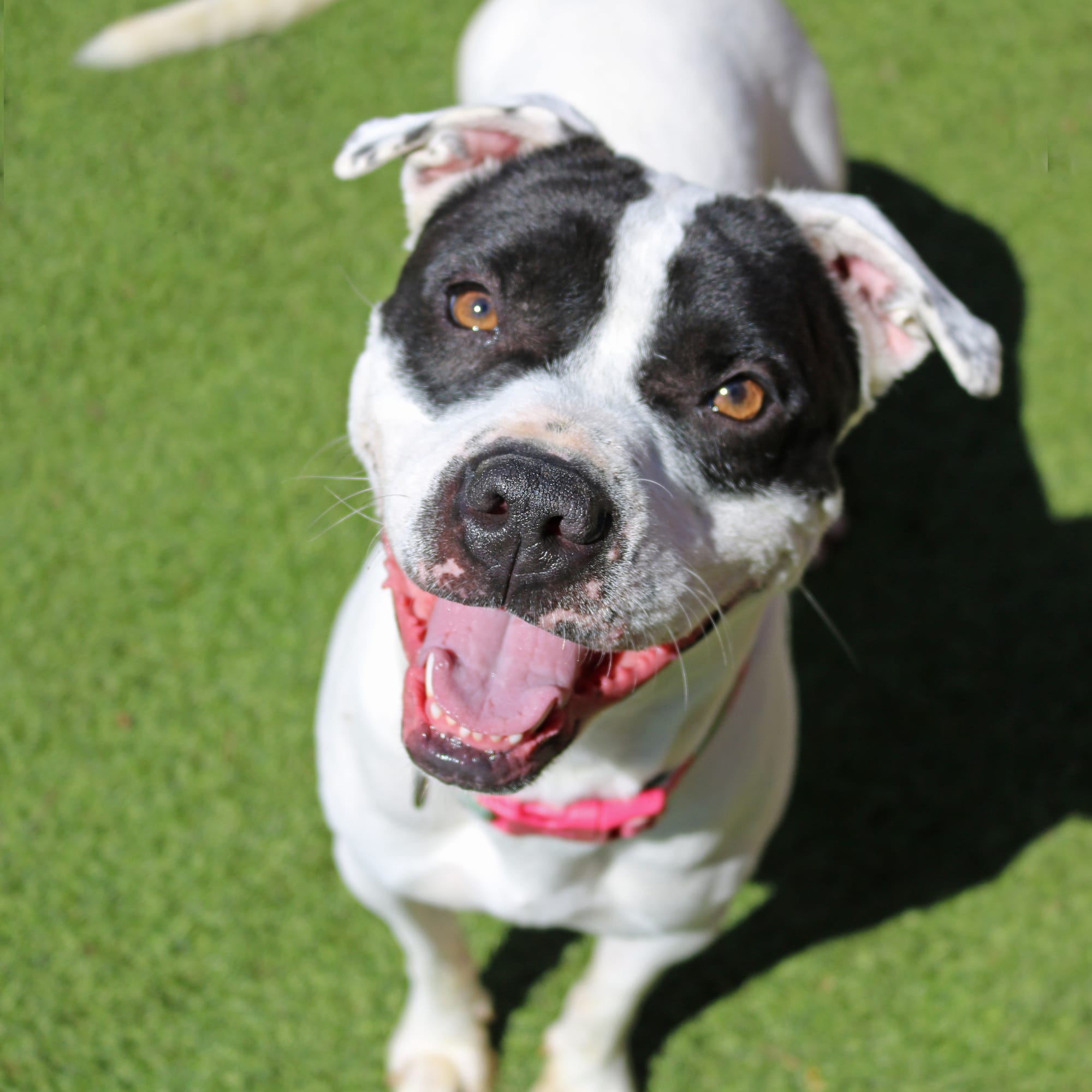 Meet Zoomie:
3-Years-Old Female Terrier Mix
40 LBS
This three-year-old Terrier mix has so much energy and quite literally always has the zoomies!
She is a sweetheart who always has a smile on her face and needs a family just as active as
her. Zoomie prefers to be the only animal around so she can have you all to herself, but she is
currently working with our ACE Team on introductions to a couple of our rescues! She loves to
sit in your lap for kisses and will be your best friend FURever❤️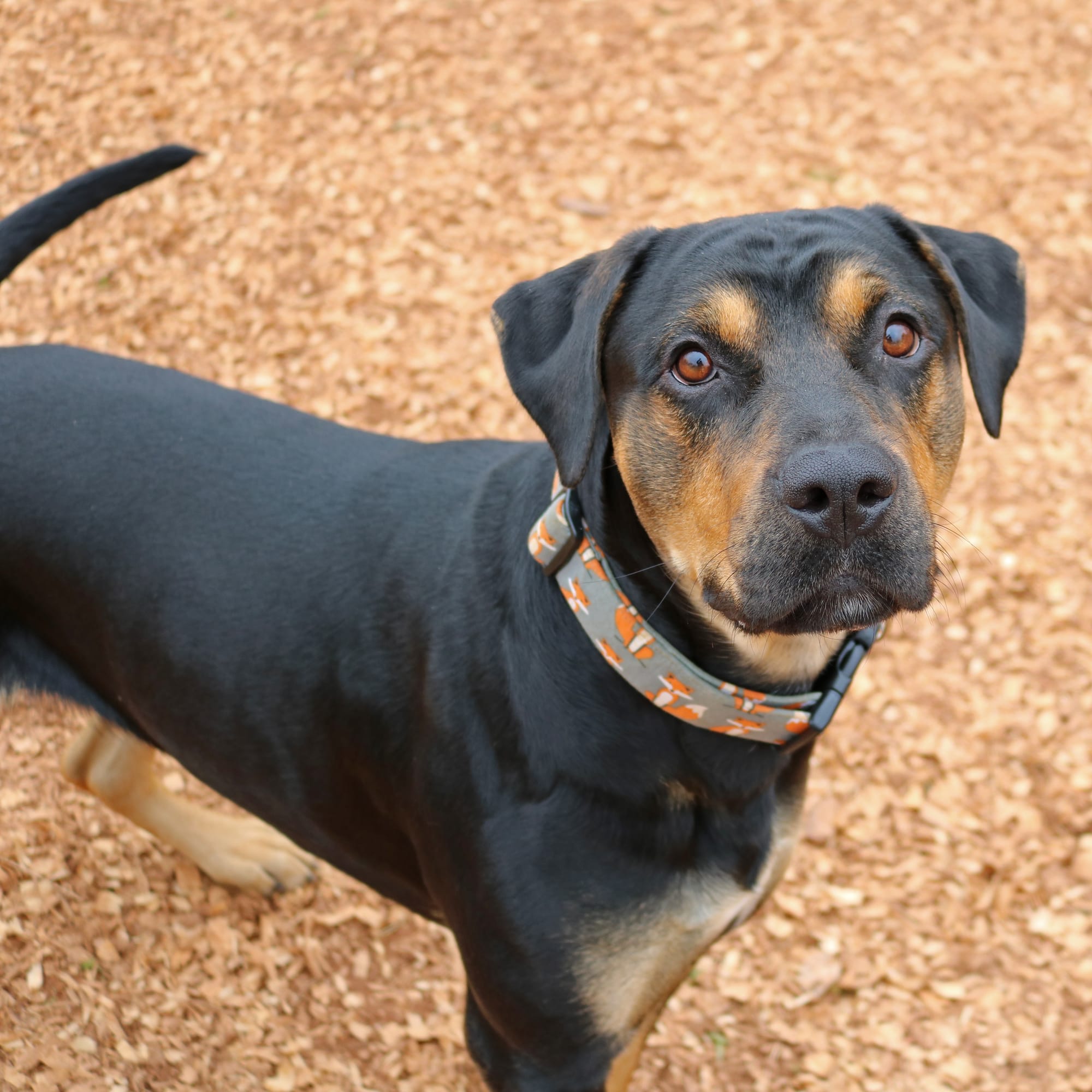 Meet Archer:
Archer, Male, Rottweiler Mix
3-Years-Old /74 LBS
This three-year-old Rottweiler Mix is an absolute cuddle bug. He likes stuffed toys and will lay by
your side and play. Archer is very smart and knows how to sit, shake, and fetch. He also walks
very easy on a leash without pulling. He would need to be an only dog, but he will give you
enough love to last a lifetime!
Meet Raven:
6-Years-Old / Domestic Shorthaired Female Cat / 9 LBS
Mama Raven's kittens just got adopted and now it is her turn to find a FURever home! This kitty
is so sweet and affectionate. She loves rubbing her head on you and making sure you feel
loved. Watching birds is one of her favorite hobbies and she even chirps back at them! She
would be a great family cat and would make another sweet cat like her the PURRfect friend!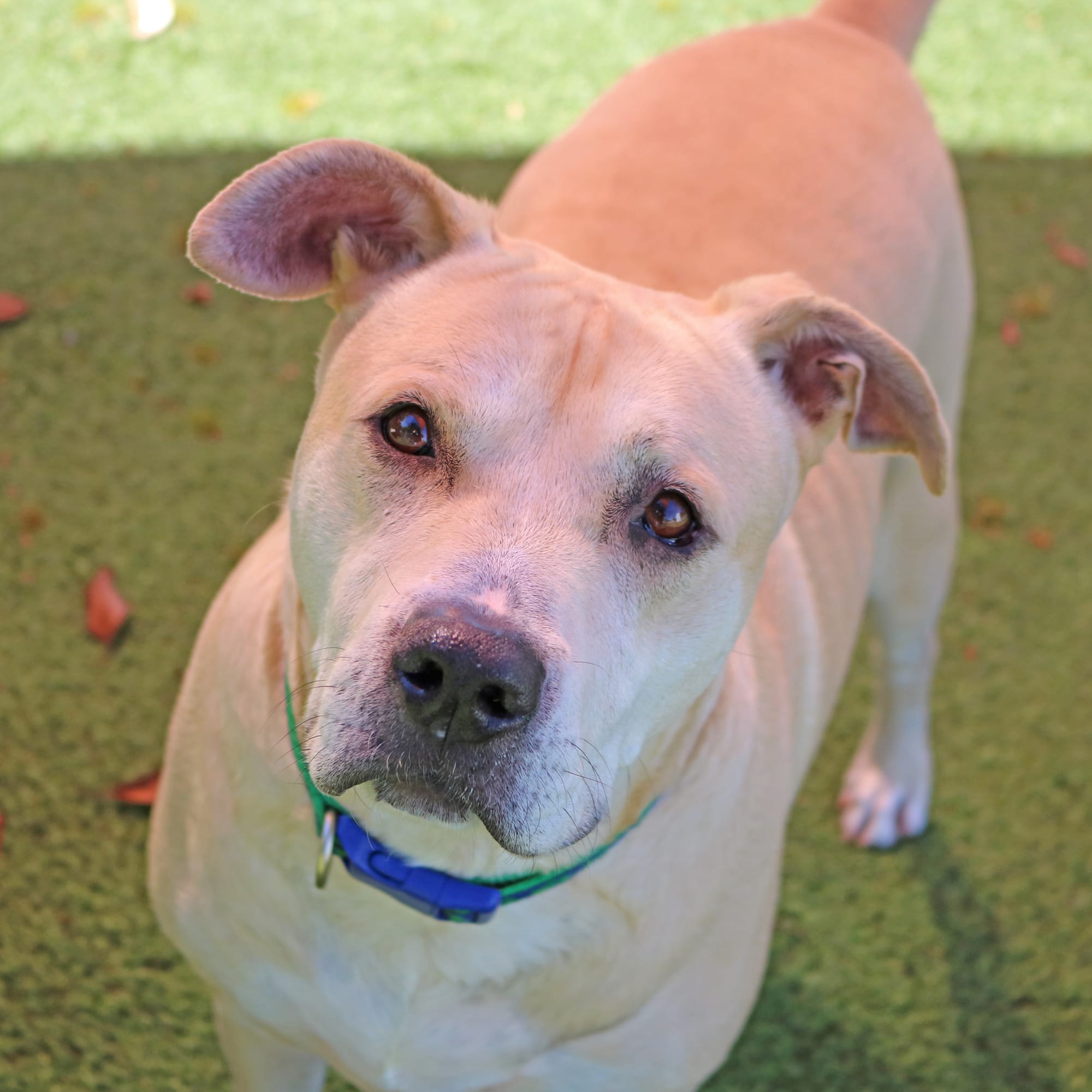 Meet Chipper:
4-Years-Old
Make Terrier Mix / 90 LBS
Chipper is an all-around great dog who could fit in with any family! He gets along well with other
dogs and does not mind the presence of cats. He rides well in the car, is potty trained, and just
wants someone to give him the attention he deserves.
Meet Fiona:
8-years-old
Domestic Medium Hair, Brown/Orange Female Tabby
Fiona likes to spend her time curled up. If you had a cat perch or window she would stay there
all day and watch out. She is a pretty independent girl, but she will always be grateful for face
rubs and especially for tasty treats. Being brushed is a sure way to hear her purr from a mile
away. She is a little bit bigger than her fellow feline friends, but that just means there is more of
her to love!

Meet Cassie:
Cassie is a little ray of sunshine. She loves belly rubs, being around her humans, and chasing tennis balls. She is low maintenance, housebroken, and gets along well with other dogs. Cassie is a goofball who loves snuggling and greeting her humans with a lick in the face. She would make a wonderful addition to a family and will fit in well in a home with another dog. For more information please email foster@caabr.org.
Meet Blaze:
Blaze is a very sweet, loyal, and active dog that loves to be by his person! He loves to play and loves to cuddle. He loves to go on long walks and play outside. He's potty trained, and is a giant teddy bear, but is scared of thunder and loud noises! This dog is available for adoption through Companion Animal Alliance. All dogs adopted through our shelter are spayed/neutered, up to date on all age appropriate vaccinations, up to date on flea and heartworm preventions, have been heartworm tested, and are microchipped.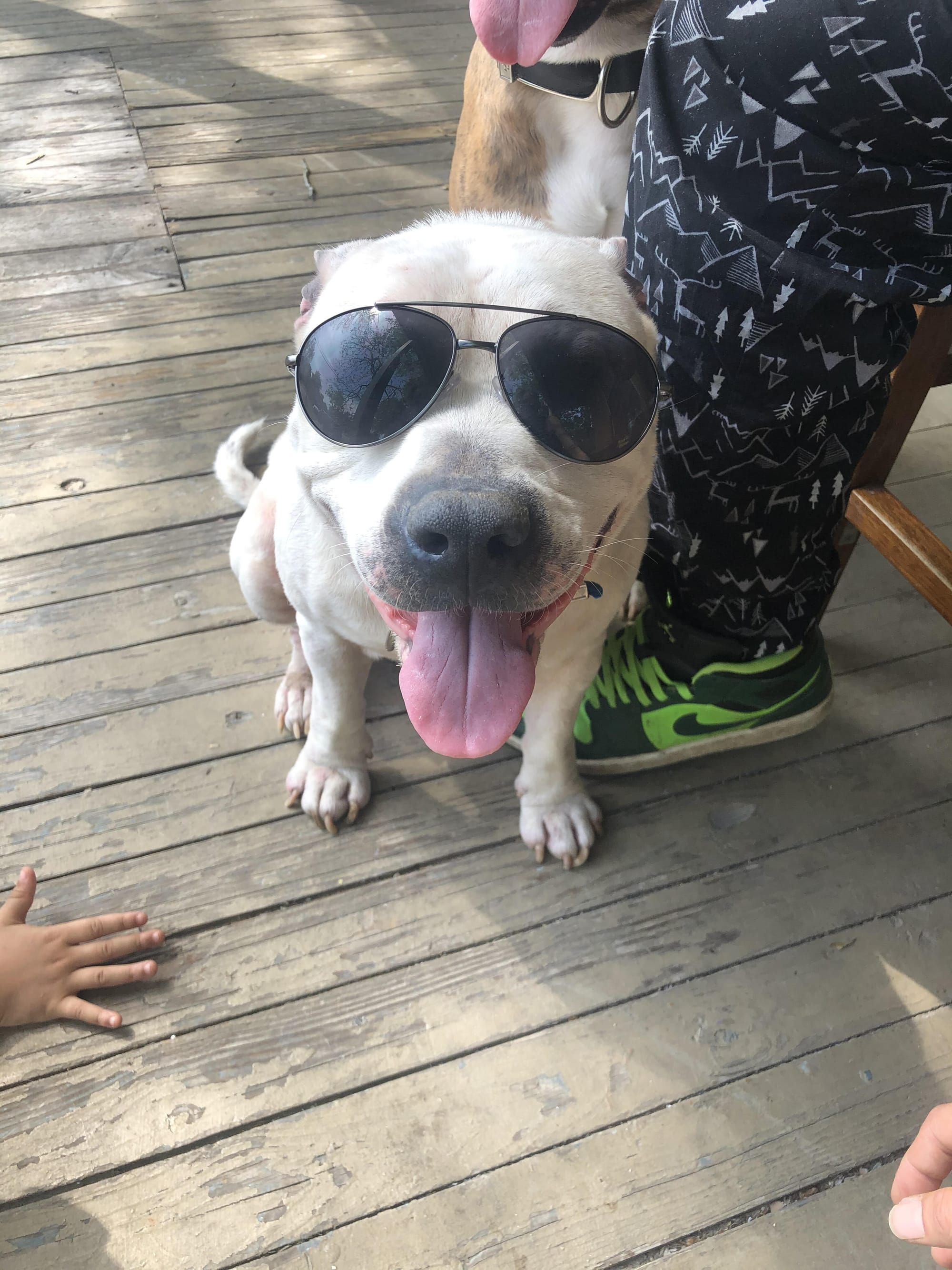 Meet Midas:
My name is Midas and I love people! I love getting pats, rubs, and baby talk from anyone I meet. I want you to love me by the time you walk away! I love peanut butter, cheese, all meat, and anything I'm probably NOT supposed to have. I will do anything for a snack and have even gone through training with my mom using treats! My nicknames are "Baby Bear", "Polar Bear", and "Midas Man". I love chasing squirrels, birds, and cats. So if you spot one, YOU HAVE TO TELL ME! I can be excited by just a few words or I can be laid back and such a couch potato. Our days and routines will be solely up to you. I understand very well when you talk to me. I like taking car rides and if you ask "Wanna go for a ride?", I'll do a dance. I especially like hanging out of the window to smile at everyone. I like sitting in the window at home too, so I can watch everything going on. I am an inside dog at heart and am house trained, although I'll go camping with you anytime!
Meet Felicity:
Felicity is a sweet girl about 7 years old. She is sweet and laid back. She is housebroken and does not jump up on people. She gets along well with the other two dogs in her foster household as well as the kids (ages 9-17). She is a well mannered walker and does well in a kennel when her foster family is away.
Meet Bear:
2 year old, 50 lbs mixed breed, House trained, Kennel trained, Knows how to sit, shake, and high-five
I am very much a ladies man!! I am a proper gentleman that you can take on long walks, I will always remain by your side, and I will always show you my manners. If there is another man in your life, I will need some time to adjust to that. If he gives me lots of treats and is as loving as I am, I will keep him too!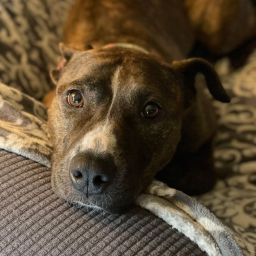 Meet Barbie:
If you're looking for a lazy, cuddly best friend - Barbie is your girl! With an overall calm demeanor, this gentle pup is made for a life of relaxation and treats. Barbie is house trained, there have only been a few accidents here and there as she explores new rooms. She is also kennel trained, while it isn't her favorite place to be, she doesn't bark or whine while in it at night or while we are away during the day. She is not a fan of thunderstorms and will shake if it gets too crazy but as long as you're there to cuddle and reassure her, she will calm down quickly. She walks very well on a leash and enjoys sunbathing on warm days. She has done very well with her 3 large, foster pup siblings even though she is still learning when the playing is "too much". But for 90% of the time, you can find her sleeping on the couch, stretched out and making herself right at home! As long as you have a soft spot for her to lay and treats in your pocket, this little piglet will snore the day away and keep you warm with her snuggles!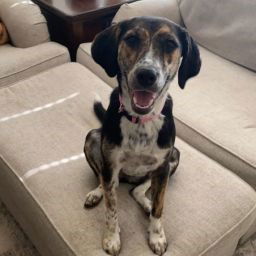 Meet Fancy:
Fancy is a sweet, calm hound mix who is looking for the perfect forever family to love her! Weighing in at only 38 lbs, she is the perfect medium sized doggo! One of Fancy's favorite activities is sitting for treats, kisses and pats on the head! Currently, she lives in a foster home with children and is very gentle and patient with them. She loves her human foster siblings! Fancy loves to run and play in the backyard followed by curling up on the couch with her foster family. Fancy is house broken, kennel trained, and loves to ride in the car. The perfect home for Fancy would be a loving family who wants a calm, relaxed companion. She would do best in a home as the only dog. Please reach out for more information if you're interested in adopting this awesome girl!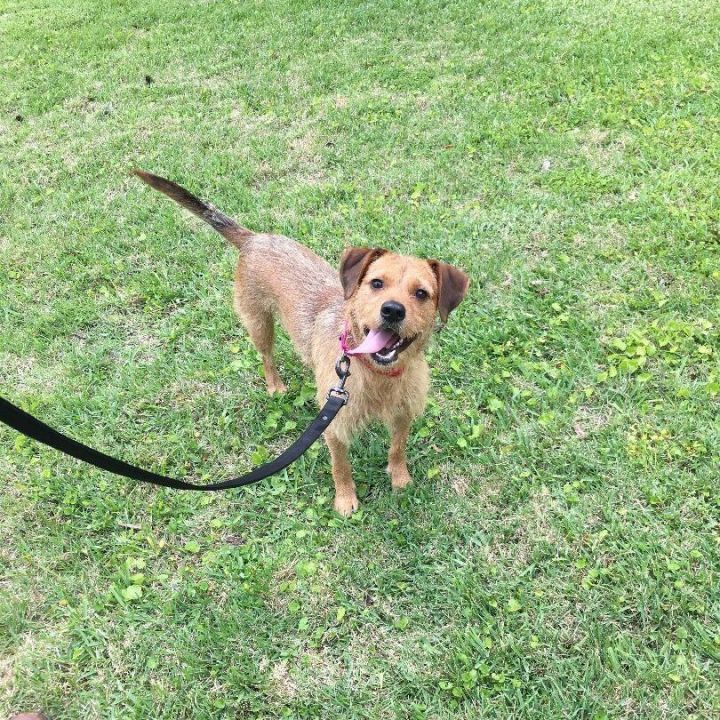 Meet Seymour:
Meet Seymour! Seymour is approximately 3 years old and weighs 35 pounds.
Seymour is kennel trained, housetrained, and knows basic obedience. He's treat motivated and loves to show off his tricks for a biscuit. Seymour also enjoys playing with toys (especially chewing on Nylabones and tennis balls) and will try to sneak a sock into his kennel if he gets a chance!
Seymour is recovering from a car accident and while his injuries are healing well, he will be on kennel rest until the beginning of June 2022. He'll need to continue his recovery plan when adopted, but is doing well and has maintained a happy-go-lucky attitude during the process.
Due to his injuries, Seymour isn't allowed to play with his four-legged foster friends just yet, but has done well when meeting them in brief, calm encounters. He's definitely looking forward to the day that he can run around the yard and go for long walks!
He's been fully Vaccinated and neutered.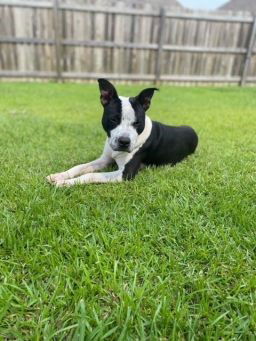 Meet Louie:
If someone is looking for a house ready pup Louie is it! He has had zero accidents in his foster home and is very good about telling his humans when he needs to go out. He's gotten much better at tolerating the leash and harness. He plays gentle enough but is a little rough. Louie could benefit from some training around kids and learning how to understand personal space!. He loves squeaky soft toys and is really content playing with them by himself. He also loves to peel the fuzz off of tennis balls. He was unsure of the noises the ice dispenser was making it first but once he realized the delicious ice cube treats it released he was willing to allow it! He loves being outside running around the backyard and sunbathing.Once Louie gets his initial energy out, he loves to settle down with his humans! He sleeps in the room with his humans at night with no issues and loves relaxing before bed.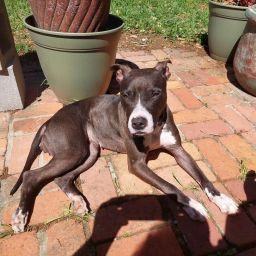 Meet Sansa:
Meet Sansa! Sansa is a one and a half year old soft-as-velvet pup who gets along with dogs, dog savvy cats, and loves people! Suzie spent over three months at the shelter where they described her as timid. She's now in a foster home and gaining confidence! Sansa is still figuring out life outside the shelter but here's what we know about her so far: awesome leash manners, calm and quiet, responds quickly to corrections from other dogs and people, and loves, loves, LOVES to be petted (like 24/7). Sansa's ideal home would be with another dog-friendly, confident pup who could show her the ropes of her new home. She'd also do well as an only dog but she might be a bit shy at first. Due to her timid nature, older kids would be best. Her new owners should be patient and expect to see more of her personality each day. A pup like Sansa is the gift that keeps on giving—her new family will get to see her blossom and learn that shelter life is in the rearview mirror.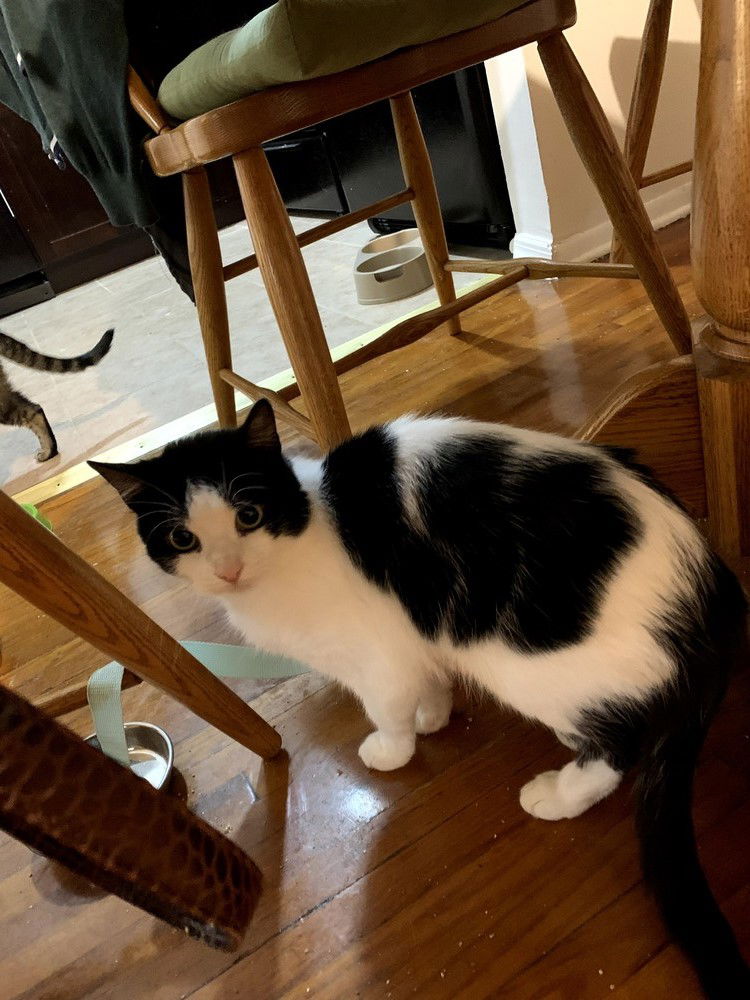 Meet Beautiful:
Beautiful is a gorgeous 4 year old female white and black petite cat. She is a sweet girl who gets along well with other cats and would do well in a low-traffic home, with a patient and cat-experienced owner. She takes a while to come out of her shell. But, once she does she loves to come out and rub around her foster's legs for food, and get head scratches and brushes! She is very food motivated and loves wet food, but above all, she would love to finally find a forever home! If you are interested in adopting a Beautiful from our rescue, please fill out an application on our website.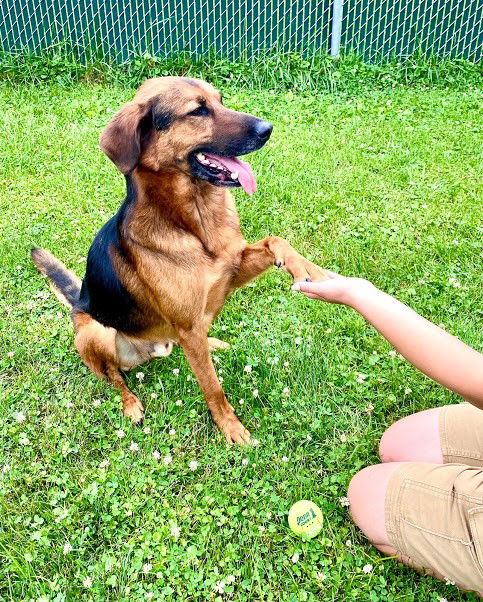 Meet Arrow:
Arrow is a 5 ½ year old male Shepherd mix who is unfortunately our longest resident, being with us for a year and two months. He came to us as a resource guarder, but through the training our staff has given him, he has progressed so much! Arrow is incredibly intelligent, so he will need an adopter who will continue training him to give him the mental stimulation he needs. He has high energy, and does get along with certain dogs - we'd love to do a dog intro to see if Arrow would be friends with your pup!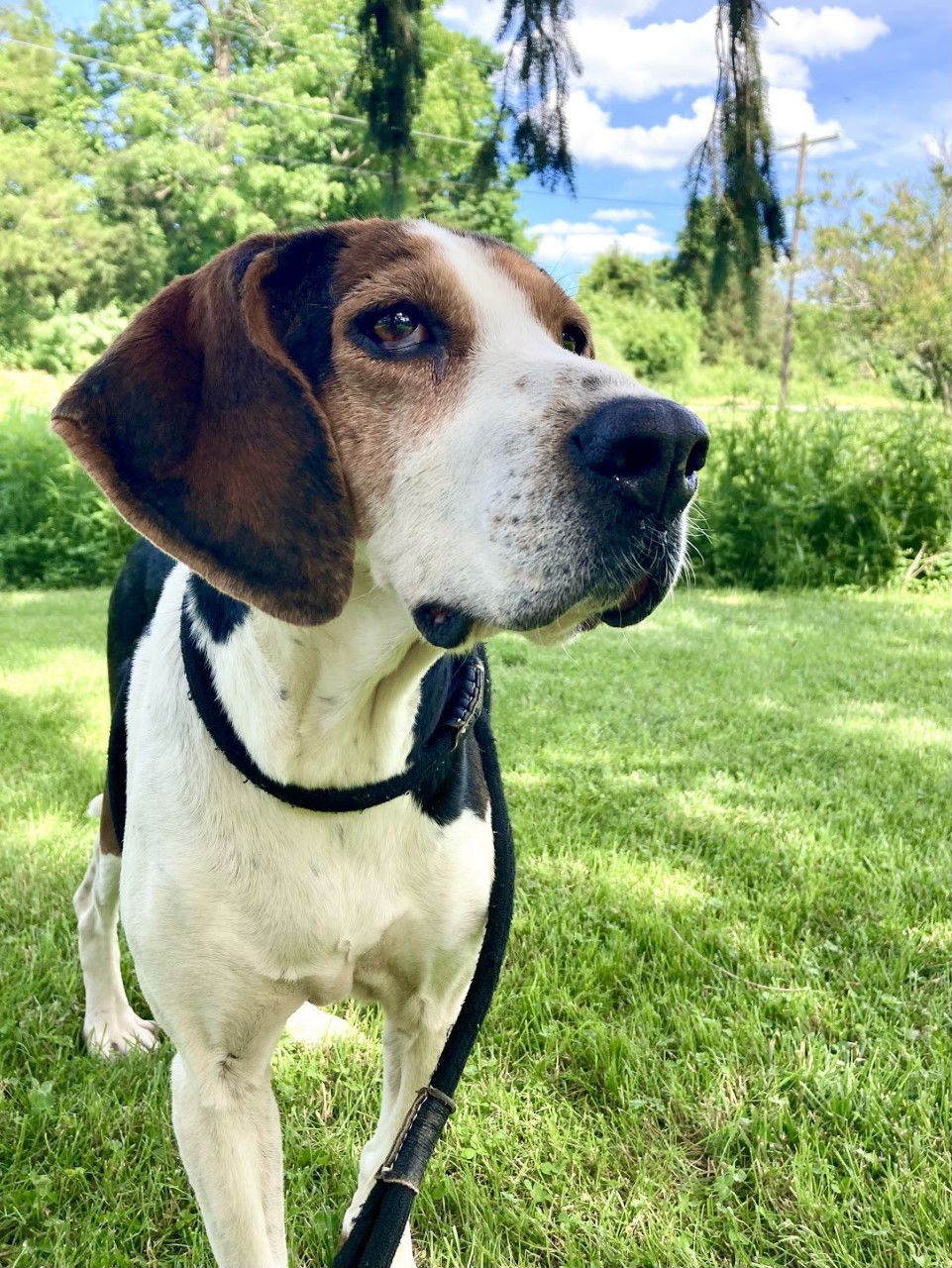 Meet Poppy:
This sweet lady came to us from our partner rescue in Virginia. She's incredibly shy (making it hard to get pictures of her), but given a little time she will warm up to you and love you. She does have some medical needs that we are addressing in the shelter. Poppy is 7 years old and looking for a home for her golden years!
Meet Marigold:
Marigold is a 6 month old kitten that was found wandering outside by herself. Marigold's happy and casual demeanor makes her a great addition to a family with children or other pets! She likes to play with wand toys and enjoys head rubs and being picked up.
Marigold is up to date on Vaccinations and has been spayed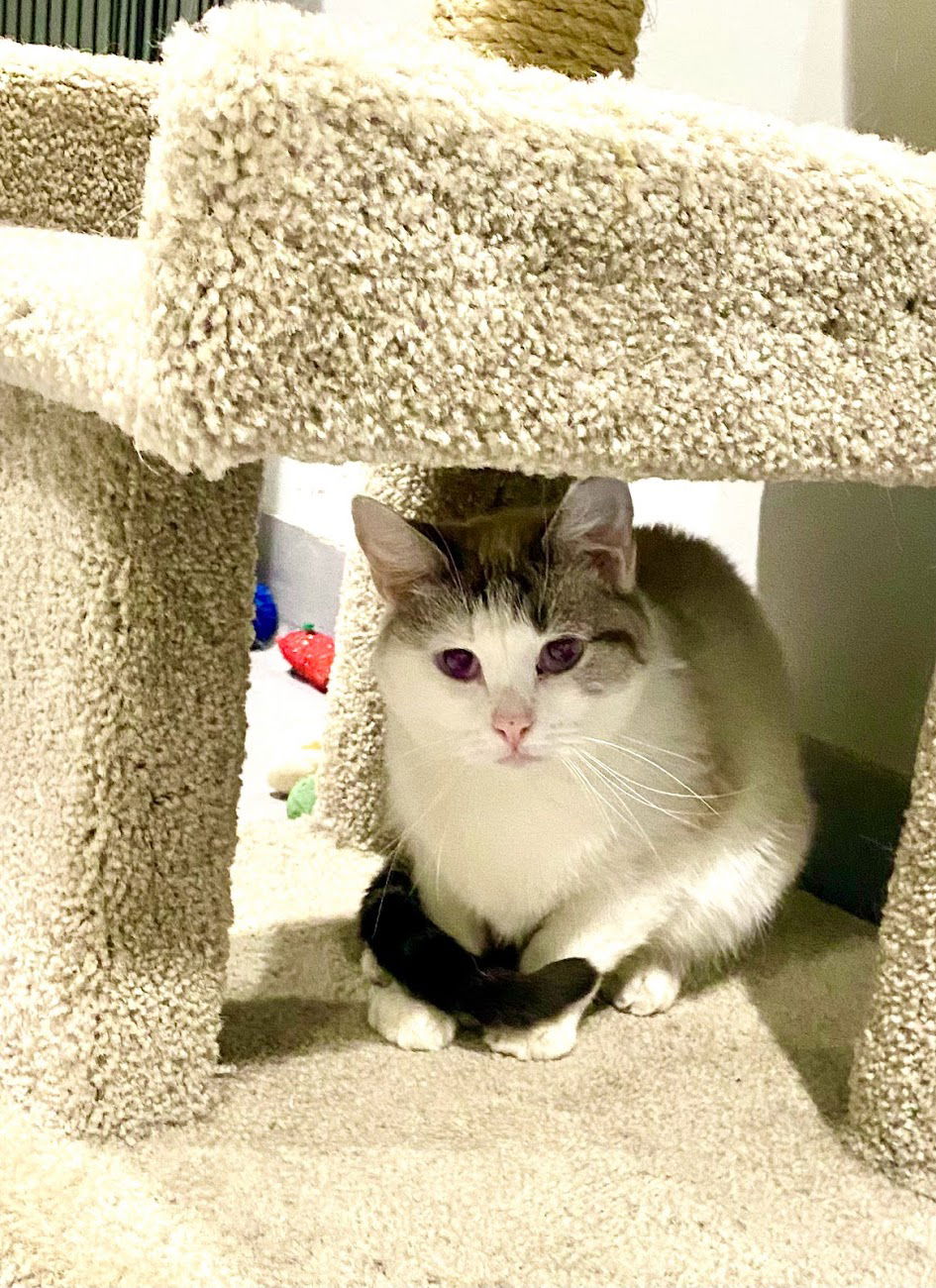 Meet Lady MacBeth:
Lady MacBeth was transferred to us from another shelter, who got her from a hoarding case. She came to us with 2 other cats, who have since been adopted, but Lady MacBeth was always the most shy of the 3. She is very laid back and independent, usually curled up in a bed or hidey hole, away from the hustle and bustle of the more rambunctious cats in our free roam room. She is slowly getting to the point where you can pet her, where previously she would hiss and try to get away, so she's making great progress, but she will only get better in a calm home, preferably without dogs or very young children, and with a patient, understanding adopter.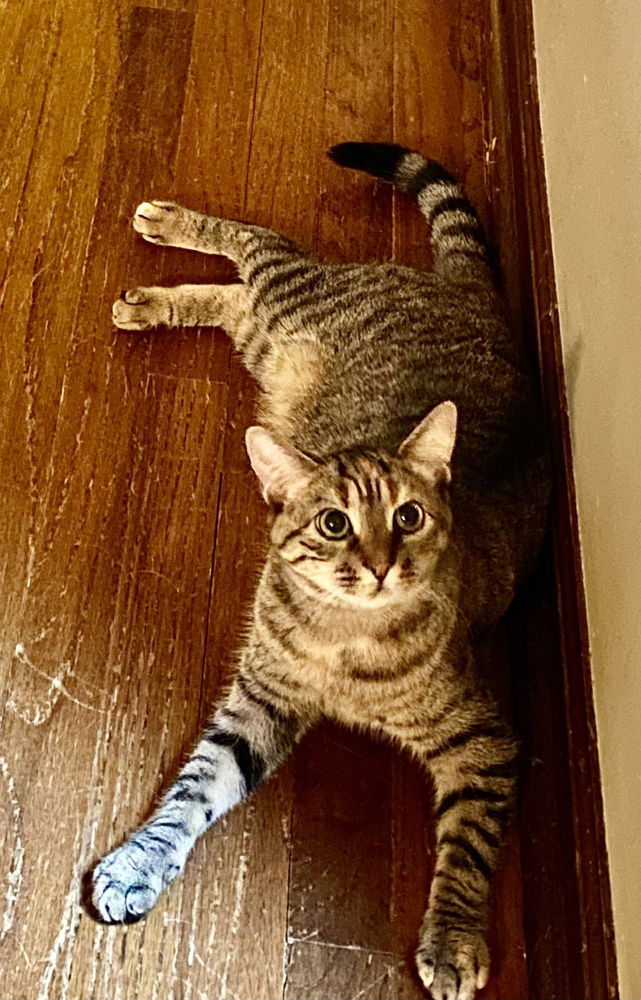 Meet Lakshmi:
Hi there I'm Lakshmi! I am a young female cat who is on the shyer side, but quite curious. I tend to follow my foster siblings around the house, always watching what they are doing. Although I am not a cuddler yet, I do love head and back scratches. I get along with both cats and dogs! I will do best in a home that has another cat (male or female) that I can follow around and snuggle with, and for my adopters to have patience to work with me to trust and love! If you are interested in adopting me, please fill out an application on our website at pittiepartyrescue.com.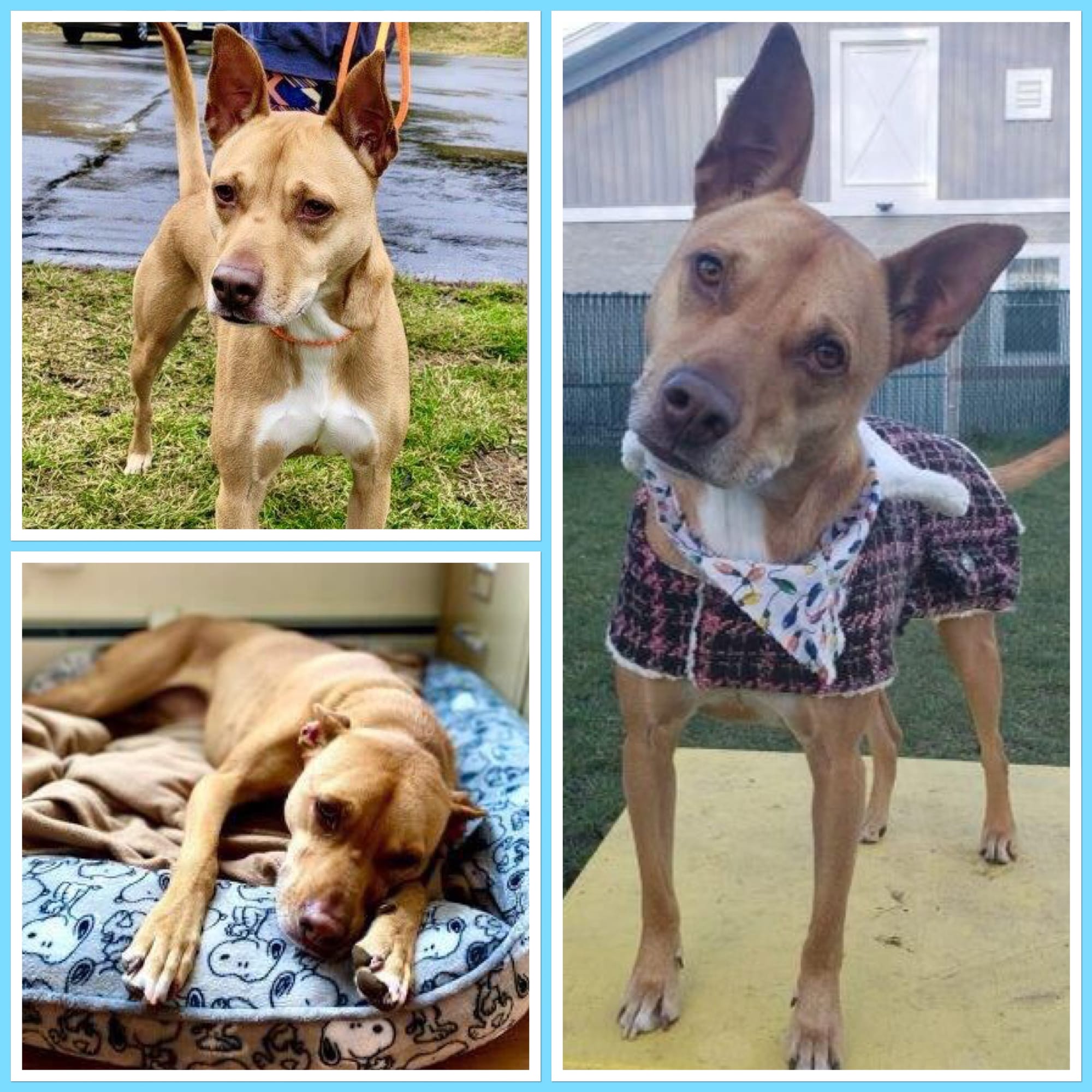 Meet Shelly:
Shelly is a 4 ½ female pit mix who can be a little shy at first, especially when it comes to men. She will need some time to become comfortable with you, and for you to earn her trust, but once you have it, she will stick to you like glue. She has a lot of energy and loves running in the yard, but would also enjoy going on hikes with you! Although she'd prefer a home without other pets, she has lived with older children before, and all she wants is to have a family again.
Meet Gumbo:
Gumbo is about 2 years old and the mama to our litter of soupling kittens! We are thrilled to have supported her through her last litter of kittens ever and she is, too! She is VERY sweet but likes to sniff things out and observe first. She definitely loves pets and will give little mews for attention! She may get along with other laid back cats, but she would also thrive on her own! Gumbo has one clouded eye from a previous eye infection but it does not affect her ability to see or do anything at all.
Gumbo is up to date on Vaccinations and has been spayed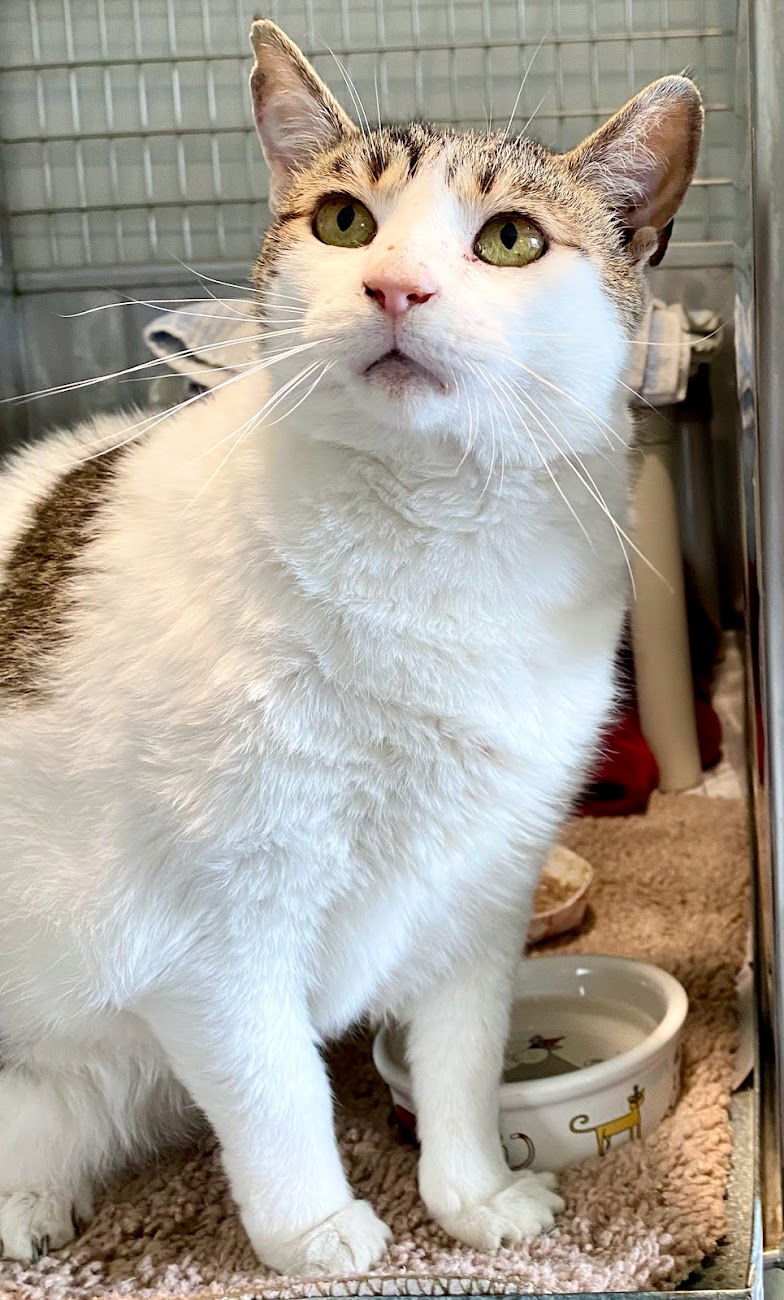 Meet Potato:
The coolest cat you'll meet, he's about 6 1/2 years old and FIV+. This is the second time this handsome guy has been returned to us, through no fault of his own! He is incredibly affectionate and loving, and despite his FIV+ diagnosis, can live a long and happy life if properly cared for.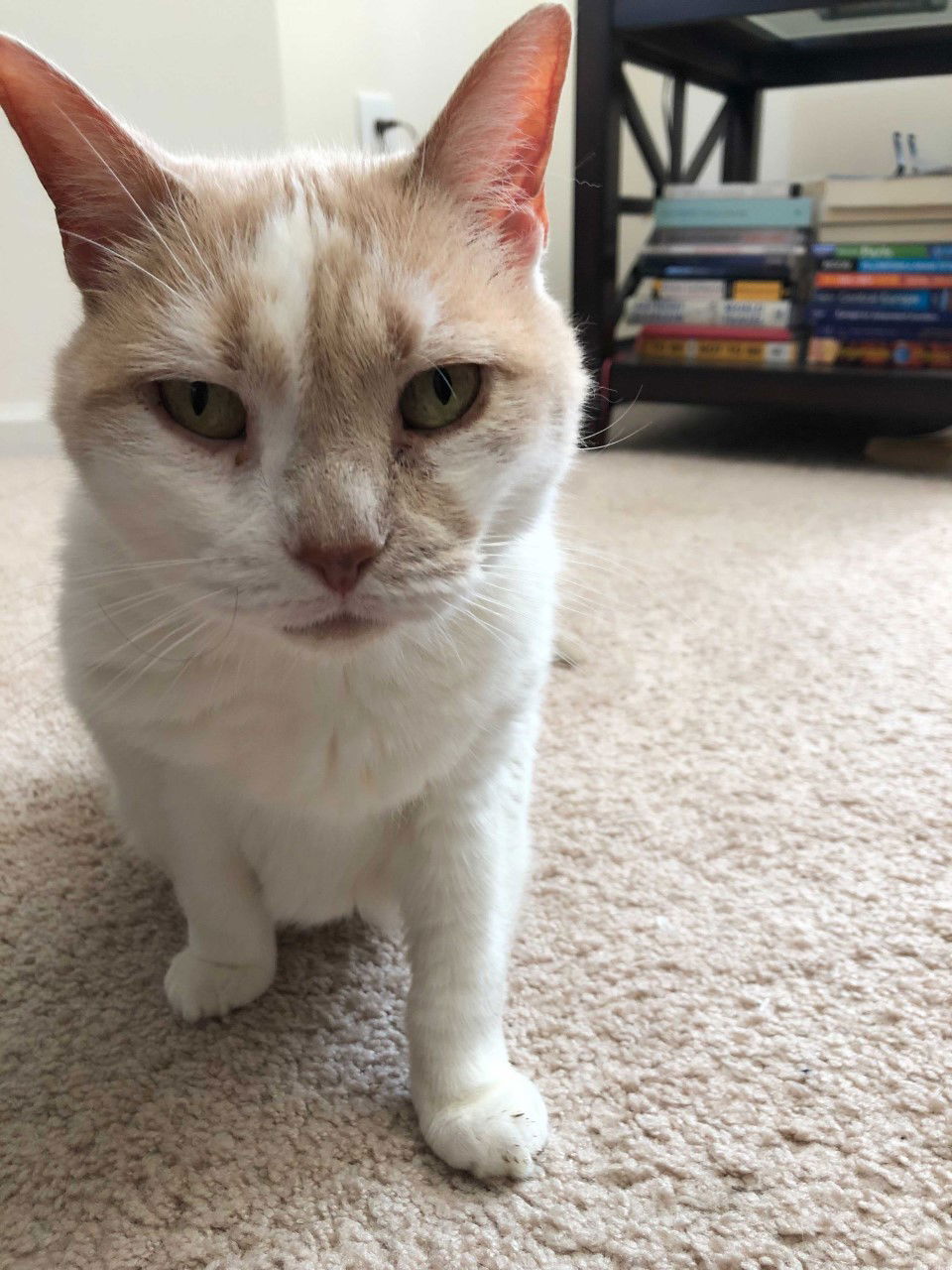 Meet Elizabeth:
Elizabeth is a female patched orange tabby who is 17 years old! She may be a senior woman, but she doesn't act her age! Even the vet guessed that she was 8-11 years old, but then discovered she was Microchipped in 2005 and dates do not lie. Elizabeth would do well as an only cat, and loves the attention of humans. She is super super friendly, and talkative, and loves to greet you after work and would love to hang out on the couch with you or bask in the light through a window perch. If you are interested in adopting Elizabeth from our rescue, please fill out an application on our website.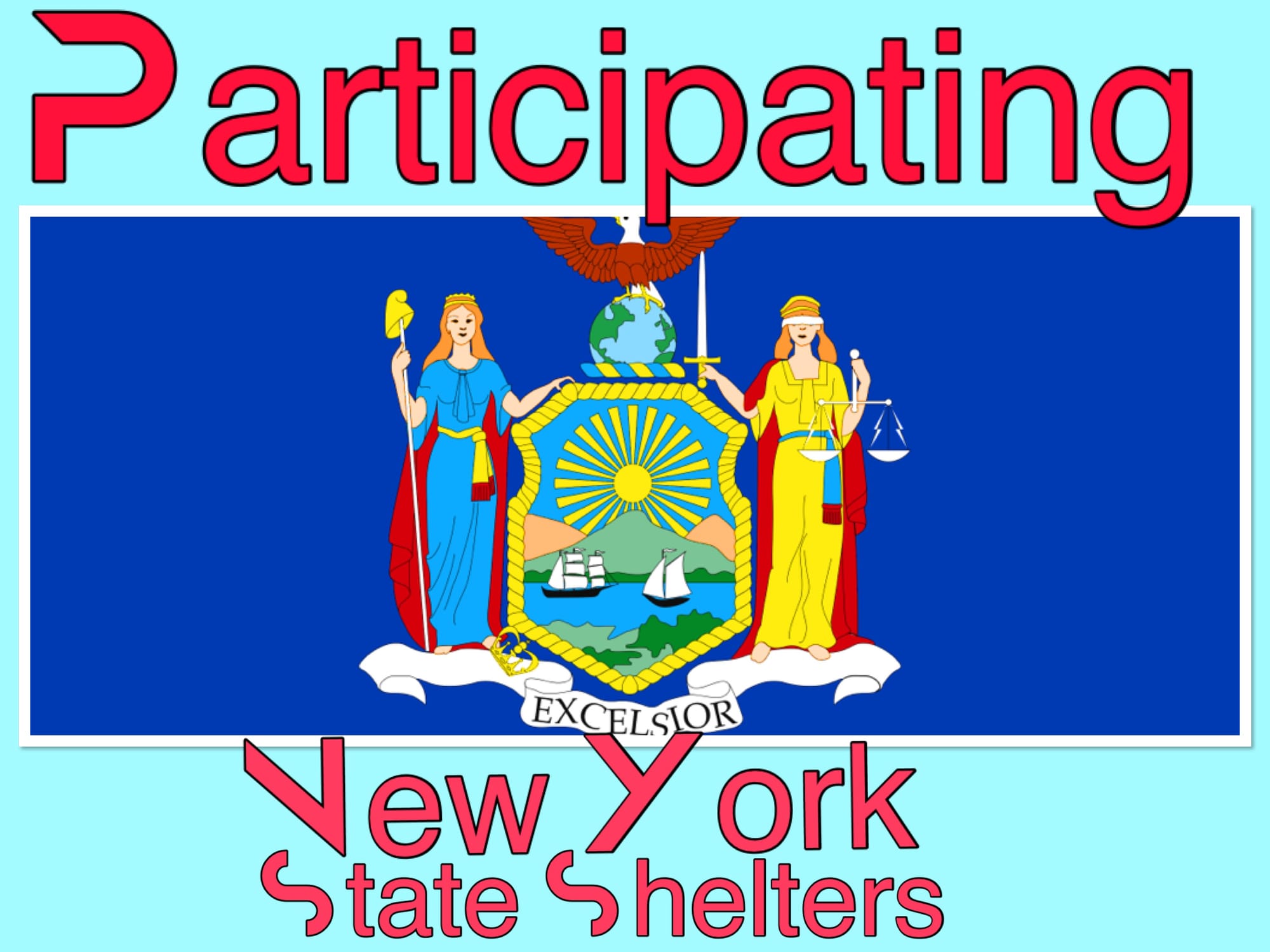 Meet Lillian
Lillian was brought to Animal Care Centers because her owners "had no time for her." They also didn't have time to have her mouth checked because when she came in she had a huge swelling on the side of her mouth. It was so bad we thought it was cancer.
Good news, we did a biopsy and it was just inflammation. She has since had the infected teeth extracted and she's doing well.
Lillian is so affectionate. She is a complete lap cat. She head butts and gives kisses. She also has a playful side.
Lillian is available for adoption and is also available through our Seniors for Seniors program where we cover her reasonable future medical care (with a participating veterinarian) to any approved senior who adopts her! She is amazing and we're sure we will find a home for her to someone who DOES have time for her!
Meet Waldo & Wilbur:
Waldo and Wilbur are bonded brothers and we would like to keep them together. Waldo is a little on the chunky side (he's on the left - with his chunky tummy in front of the window). Waldo has a cute mischievious side and Wilbur is more reserved. We think they would do well in any home. Both are very affectionate (Waldo a little more than Wilbur). Both are heatlhy and ready for a new home.
Meet Cindy Lou:
Cindy is a 5 year old and was left behind when her owner moved. She wound up at a municipal shelter and was transferred to us. She is a little shy at first but will make a wonderful companion when she gets to know you!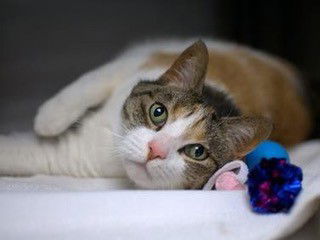 Meet Soca:
Soca is 8 years old and was relinquished to Animal Care Centers of NYC (ACC) due to her owner's allergies. She loves catnip, balls, string toys and stuffed toys. She is very affectionate and healthy! We'll be sending out a poll shortly to vote for the Queen and King of the Prom, so please keep this sweet contender in mind!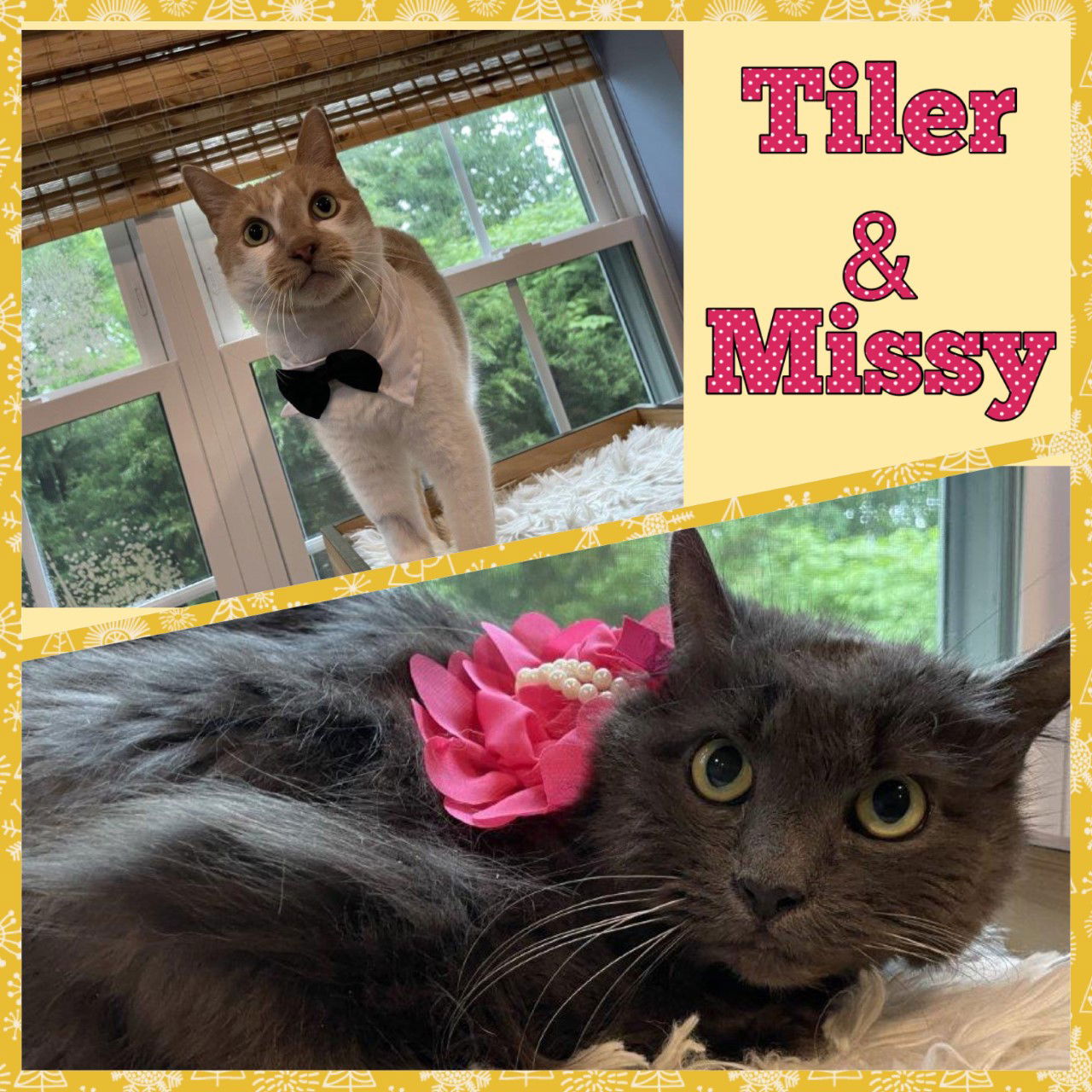 Meet

Tiler

&

Missy

:
Tiler and Missy also lost their owner. They are 10 years old and also very bonded. Their owner took amazing care of them, both have perfect bloodwork and had recent dental surgery.
Tiler will greet you at the door and follow you everywhere. Missy is a little reserved at first, but then follows Tiler's lead. Both are super sweet, love to be petted. Their favorite toy is a felt snake and will go home with them to anyone who adopts. They would be good for a cat owner of any experience.
They are on a special diet for hairballs (Missy has long fur) and they do well on it. Tiler and MIssy are also available through our Seniors for Seniors program.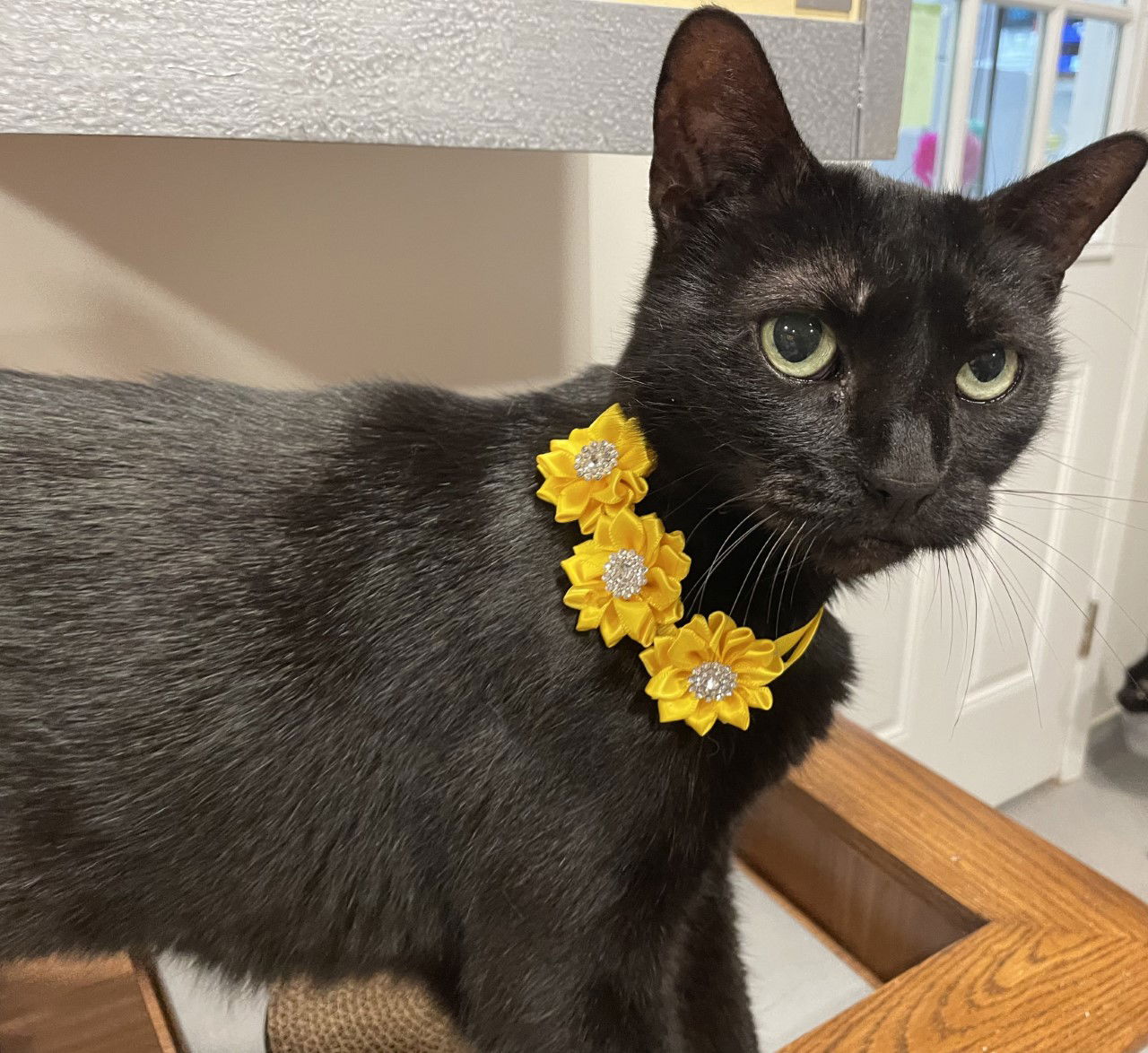 Meet Mary:
Mary's owner passed away last year and Mary and her 7 roommates all came to us for care.
Her owner, Elise, used to do our newsletter, so I've known Mary since she was a kitten.
Mary is a talker and Elise used to say that she was saying "I'm Mary, Damn It", hence the nickname. Mary will come right up to you when you walk in the room and start talking immediately. She's the kind of cat who enjoys long conversations (although she will monopolize it). She has a playful side and is known to give love bites.
She's lost a bit of weight recently, but her medical all checks out so we think it's just because she lost her home. Mary is also available through our seniors for seniors program where we will cover her reasonable future medical care through a participating veterinarian to any approved senior citizen who adopts her.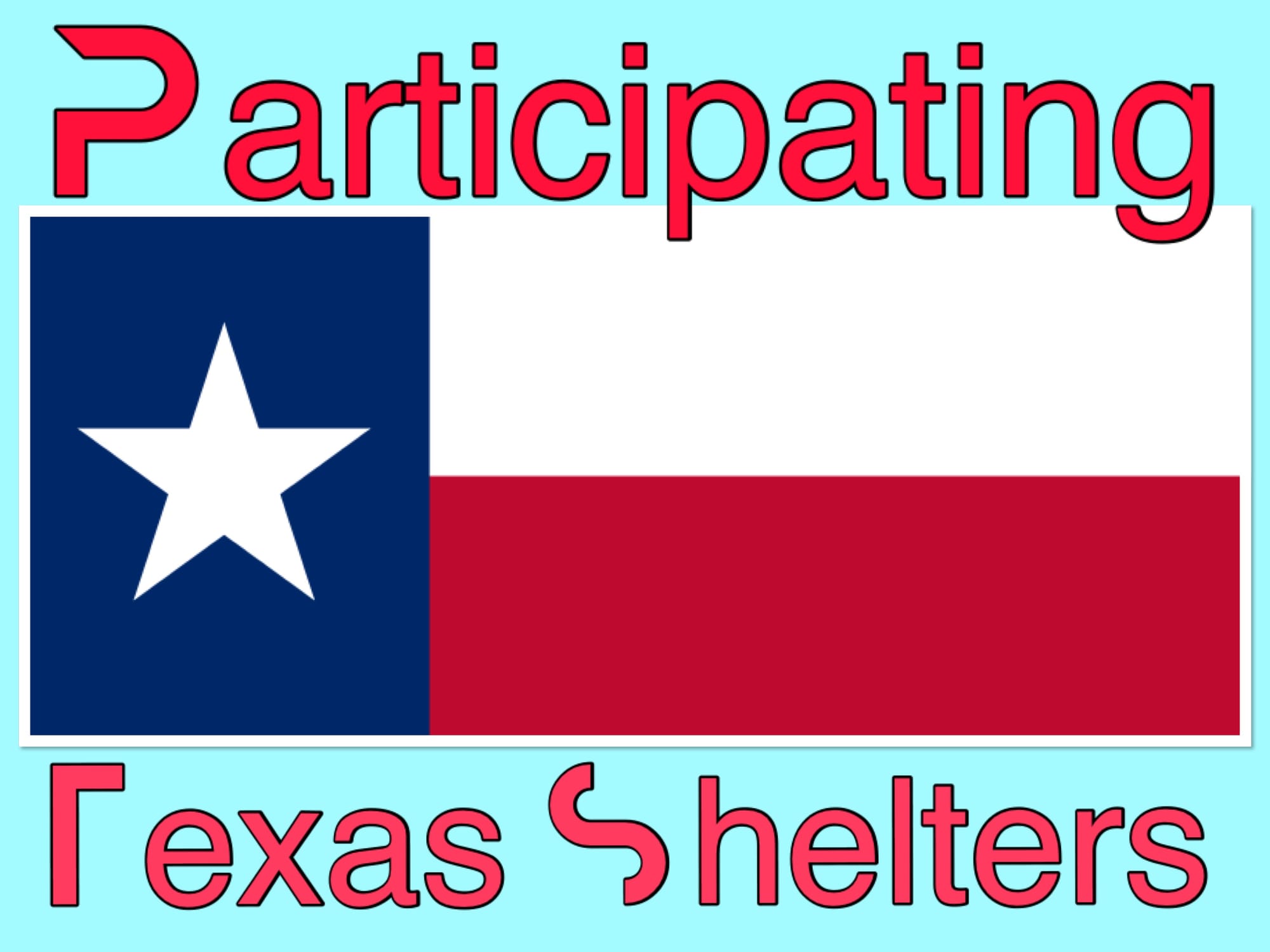 Meet Chili:
Is a 3 year old female Husky mix
She Weighs 70 pounds
Is good with other medium to large assertive dogs
Appears to be potty trained
Walks nicely on a leash
Is high energy and a bit nervous loading up, but enjoys car rides once inside the vehicle

Chili is remarkably intelligent and people oriented. She bonds deeply with her handlers, showering them with love and affection. Chili has a true husky spirit! She will flourish with a family who understands the breed and can provide structure and boundaries, and her optimal home is one with an active family or another high energy dog to play with.Chili is spayed, vaccinated, microchipped, and heartworm negative.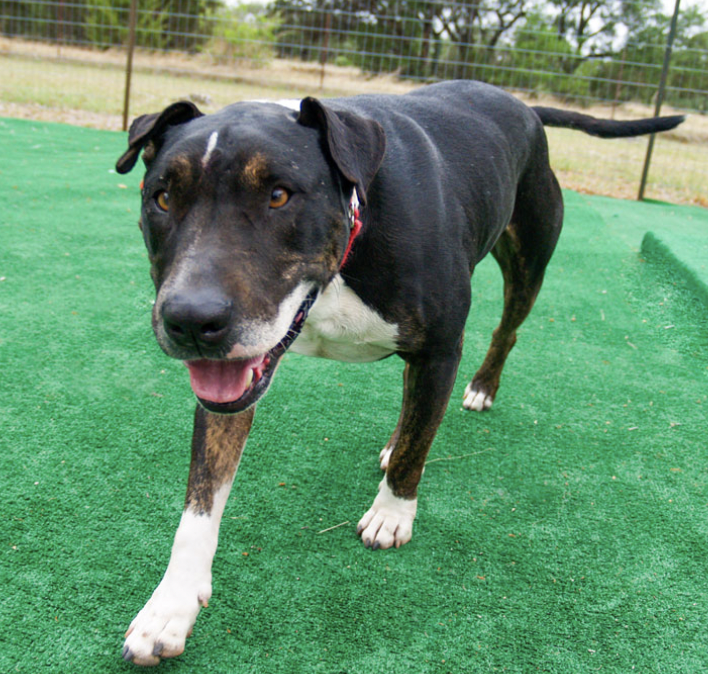 Meet Briggs:
Briggs is a phenomenal boy! He is happy, loving, respectful of other dogs and people, mannered indoors - you couldn't ask for a better dog. He has a great balance of playfulness and laid back energy; he will always be down for a hike or adventure but loves a little Netflix and chill too. Briggs enjoys going for drives and would make a fun road trip companion. This special boy has remained a bright light despite sometimes sad circumstances and deserves to find a loving forever home. We promise he will be a treasure!
Briggs is neutered, vaccinated, microchipped, and heartworm negative.
• Is a male Bull Terrier mix who Is 5.5 years old
• Weighs 69 pounds
• Is good with other dogs & Pottytrained
• Walks nicely on a leash or in a harness
• Medium energy & enjoys car rides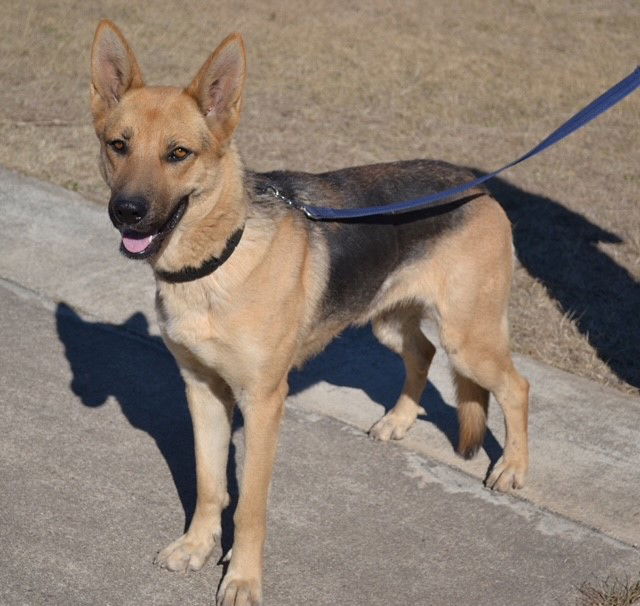 Sweet Pea:
Hi! My name is Sweet Pea and they called me that because I am very sweet. I love other dogs and people and would love to be your new best friend. I lived with some smaller dogs and did OK with them, but I would really like to have a bigger dog to play with as little dogs are nice but they really don't like to play the way I do. I'm house and crate-trained and I've learned how to use a pet door; that was so easy. I've made lots of new friends here at my foster mom's house.
I was adopted from the shelter and returned. They just put me in the backyard and then wondered why I dug out to go play with the dogs next-door. I have plenty of friends here and I'm not left outside especially alone so I have no desire to escape. Besides the food is really good here and I get lots of it. I was really skinny when I got here but I'm starting to fill out. I do like to play with balls and toys too. I have fairly nice house manners and I don't counter surf or steal things.
I would really like my own home though because I'd like more attention as foster mom has several other doggies to share her attention and love with. So, I'm really happy here for now but I sure would love my own human or humans and a place of my own and I think I would do better with another four-legged friend to play with.
2 Year Old Spayed female
Current on vaccinations & Microchipped, Heartworm negative an on Prevention
House and crate trained & Good with other dogs and people
She's a bit Underweight at about 60 lbs
Not tested with cats or children and is being Fostered in Round Rock, TX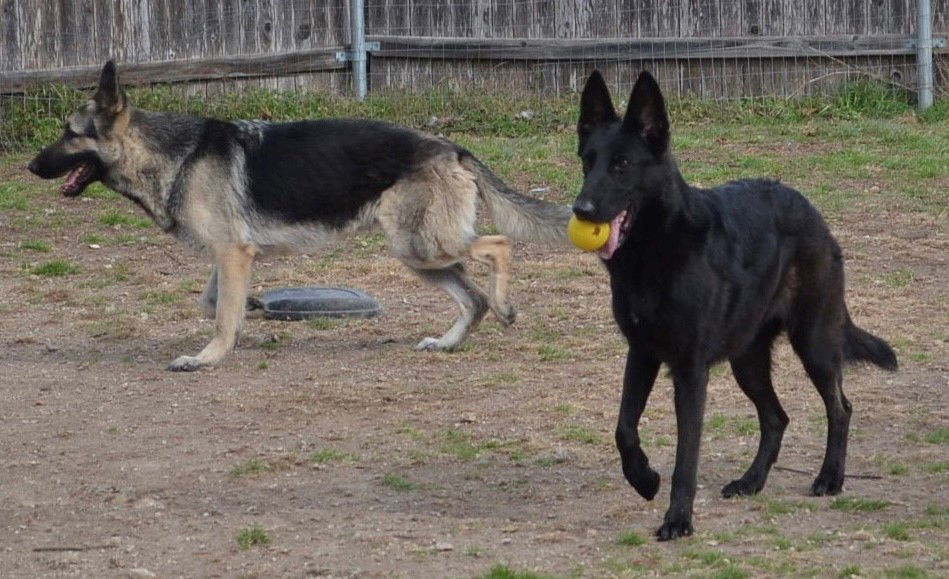 Captain Crunch & Cocoa Puff
Introducing the "cereal" pups – Captain Crunch and Cocoa Puff, otherwise known as simply Captain and Cocoa. They are an extremely bonded pair who came to us together and must be adopted together. They are about 2 ½ years old and as sweet as they can be. Very playful but shy to people they don't know. They are not posted on our website yet but will be once their vaccinations are updated.
Meet Flash:
Fluffy boy Flash is mellow and sweet. He has affectionate moments but is also very independent and prefers to receive pets and love on his own terms. He enjoys wide open spaces and would be happiest in a setting with plenty of room for him to explore and roam. Flash has been through a lot of changes recently and needs a low key home where he can relax. We are searching for a peaceful, patient forever family that will love him for the handsome stoic that he is! Flash is neutered, vaccinated, microchipped, and heartworm negative.
Is a male Newfoundland (or Landseer) mix
Is 4.5 years old
Weighs 85 pounds
Walks nicely on a leash
Is good with other low key dogs
Will load up into a car, but does not enjoy car rides
Appears to be potty trained
Is low to medium energy
Is not good in a home with children or a small yard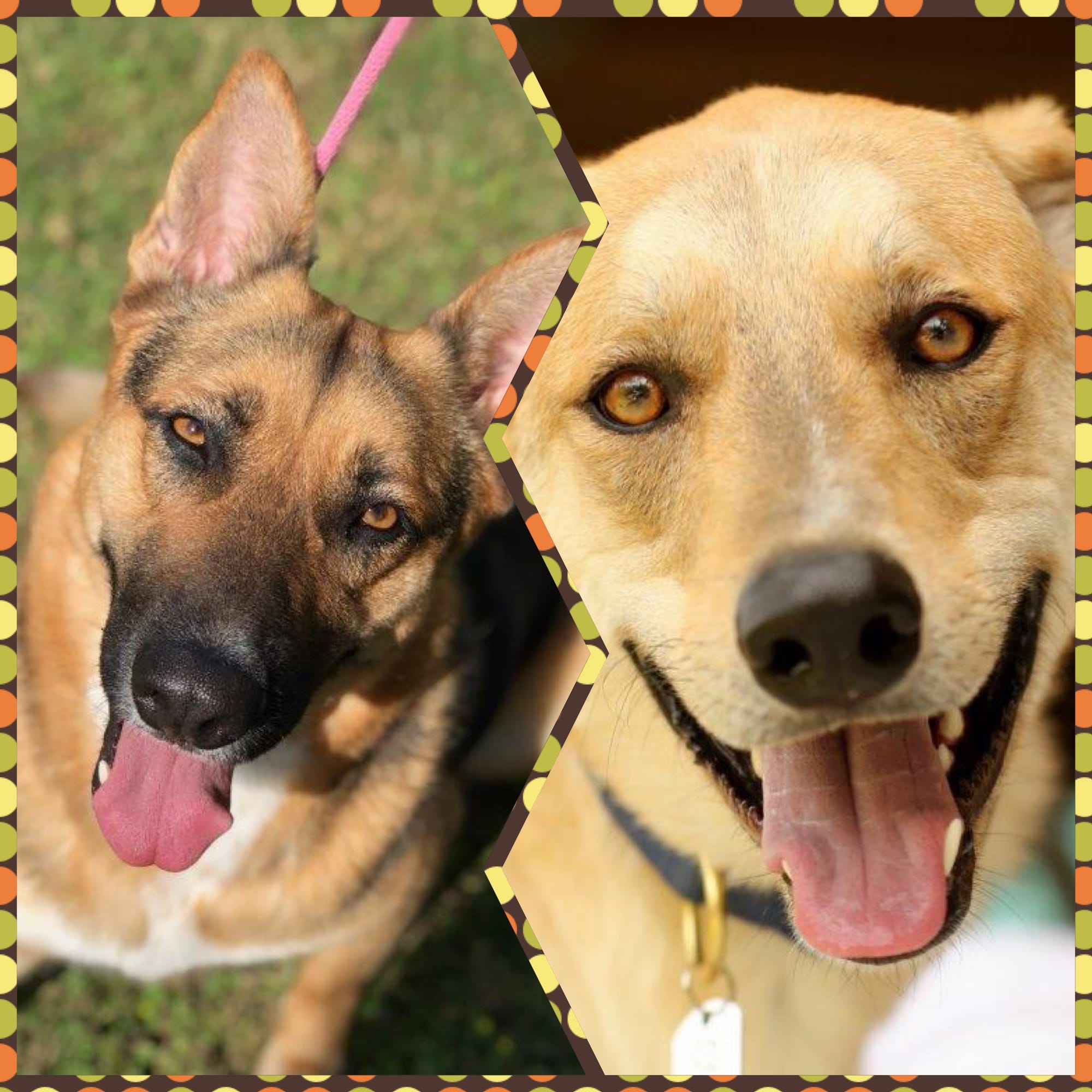 Meet Mandy

&

Cosmo:
Mandy and Cosmo are a bonded pair and adore each other. They love to play together at their foster home -- see movie of them playing in the snow! Both are about the same age, 2 ½ years old. Would really prefer that they be adopted together. We will be posting Mandy on the website soon and Cosmo is there already.
Meet Von:
Neutered male
Almost 3 yrs old
Heartworm negative on prevention
Current on shots
Microchipped
About 70lbs
High energy
House and crate trained
Gets excited around people
Does good with other dogs
His full name is Wernher Von Braun, but his parents just call him Von. He was named after a German rocket scientist! Von is just a little (BIG) love bug full of energy and would love to roll into your life and give you some excitement. He loves people and will be your best friend. Von does like to jump though, and new people don't like that very much. (you don't need to go any further than my houseguests because my two rescues do the exact same thing) He's a bit robunctious, but he's learning and working on his manners. Von would probably be fine with older teens as opposed to young children. .
Von gets along with other dogs, shares his toys and has shown no aggression. He also does well on a leash. He's got a heart of GOLD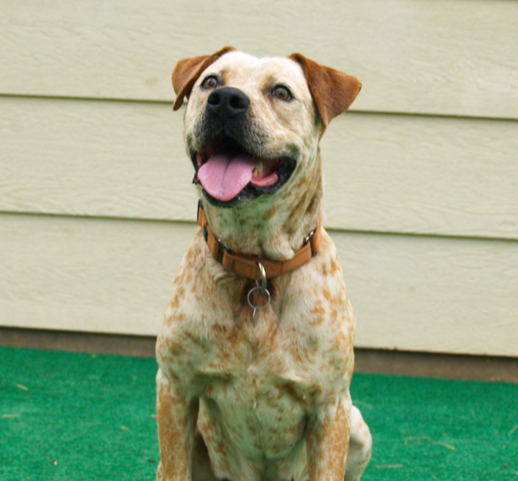 Meet Lacy:
Female Boxer/Red Heeler mix /3 years old / 55 lbs
potty trained & good with other dogs and kids
Very smart!
Lacy is a world class snuggler and easy companion. Happy to walk, happy to chill, happy to ride in the car, this girl is your go-to good pal to do whatever you want to do.
HLCR covers the cost of her medical treatment and we see her as fully likely to heal right up and rebound strong!
We see Lacy as a shelter favorite because of her inner light and lovely demeanor. Somebody will get an amazing gift with this great girl!
spayed, vaccinated and microchipped
currently undergoing treatment we are paying for to cure heart worm; expected to fully recover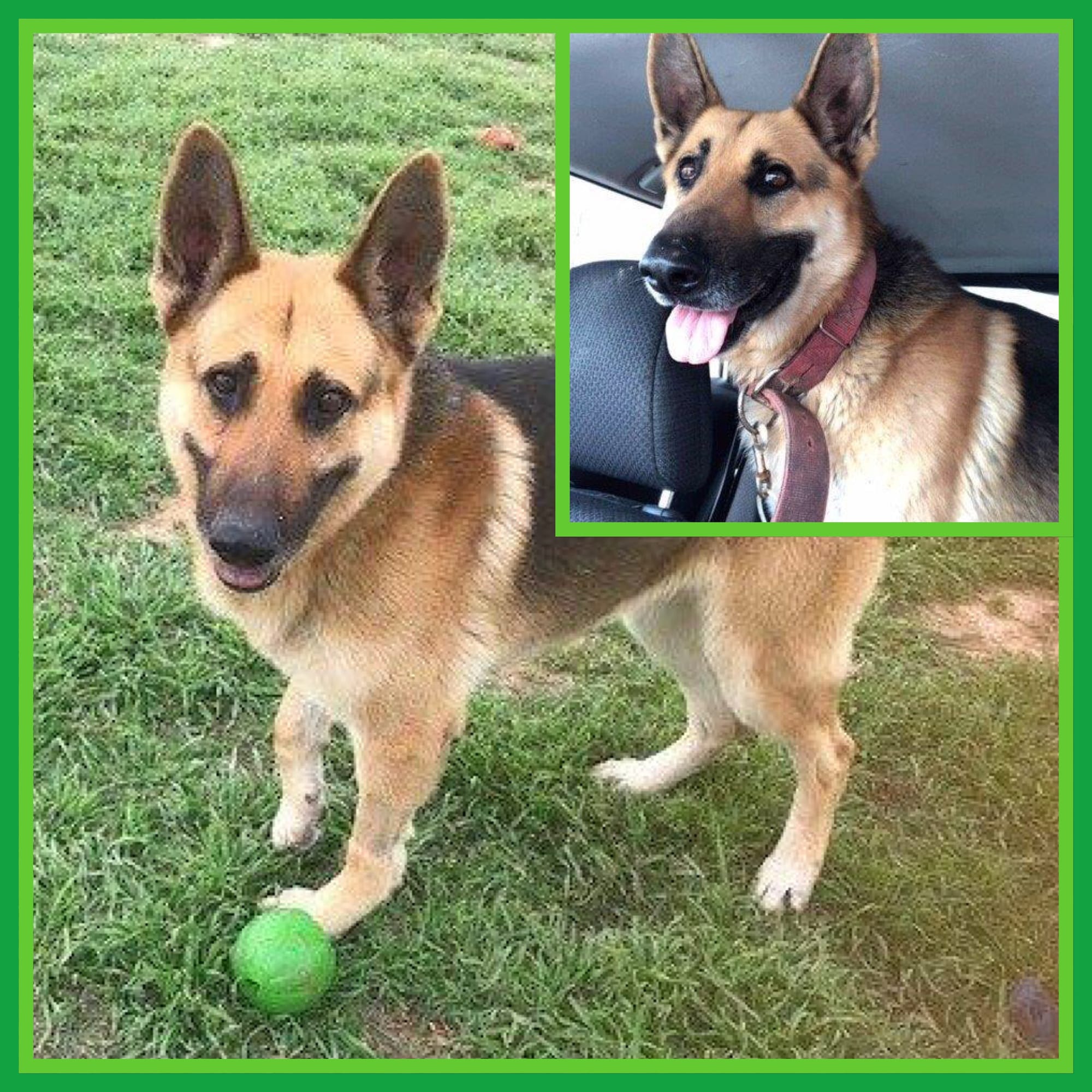 Meet Cameron:
This handsome guy is Cameron and he is taking applications for his forever home. He is a big sweet guy but needs a very competent experienced owner. He hasn't had any training other than what his foster mom is giving him and he is very stubborn. He would do well going to training. Cameron is very food motivated and also loves affection. He is gentle but probably wouldn't be good in a household with children under the age of 12 because of his size. Cameron once had a home but his owners decided they didn't have time for him so they took him to a very high kill shelter and left him there. With the help of several wonderful people Cameron made it all the way up here from South Texas.
He was extremely underweight and his coat was dull and brittle but he's now gaining weight and his fur is getting thick and shiny. He loves to play with the ball; he's not that great at bringing it back to you and will carry it around in his mouth. And also because of the neglect Cameron is heartworm positive. We've started the slow kill and will provide all meds but will work with the adopter if they would prefer to do a quicker method after adoption.
Neutered male
3 years old
Current on shots
Heartworm positive, slow kill started
House and crate trained
Microchipped
Not tested with cats or children
Good with some dogs
Experienced adopters only
75-80 lbs.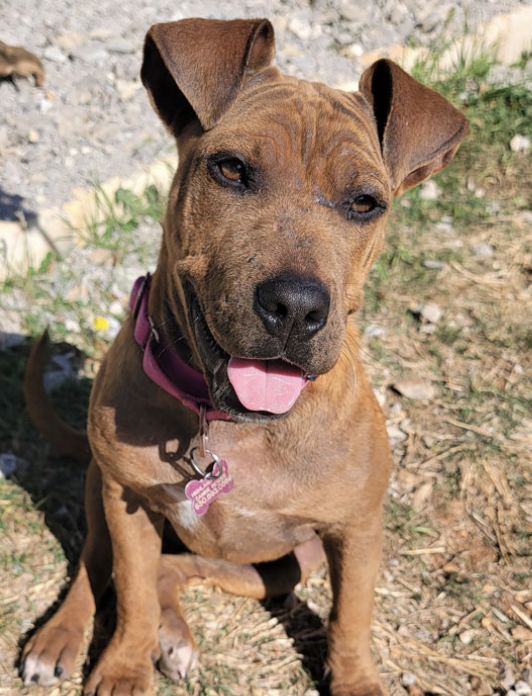 Meet Beacon:
Beacon is truly a beaming ray of puppy sunshine! She is always smiling and happy, ready to play at the drop of a hat. Snuggling is also a favorite pastime, but only after there have been plenty of opportunities to exercise! She is still a bit shy with new people, so continued socialization will be an important process. Beacon will also benefit from another medium/large dog at home. Always ready for adventure, this bright girl will be a fun and exuberant addition to her new family.
Beacon is spayed, vaccinated, microchipped, and heartworm negative.
Is a female Shar Pei mix
Is 6 months old
Weighs 36.5 pounds and may range from 50-65 full grown
Is good with other dogs
Appears to be good with cats
Walks nicely in a harness
Is high energy
Is not potty trained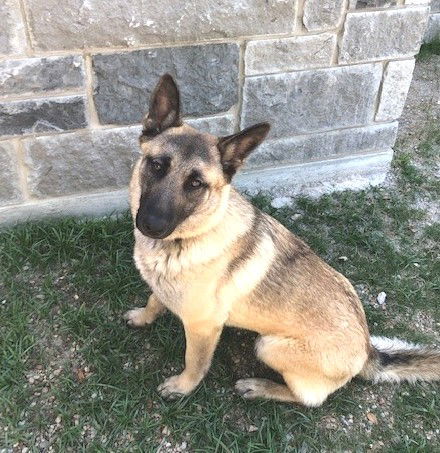 Meet Athena:
Athena takes a little time to warm up to people but once she understands you are her buddy, she will seek you out for pets, belly scratches and snuggle time on the couch. Athena is the perfect weight for her body structure and although she may be small, she more than makes up for that in energy and personality.
Athena adores the other dogs in her foster home but occasionally will try to be dominant and pushy so will need patient doggy friend/s if her potential adopters have other dogs as well as a savvy owner that will provide redirection. Athena is a "go, go, go" type of gal and likes to stay active but is sometimes content to just lay down and play with her toys.
Athena loves toys and playing ball. She is a hard chewer so it is best for her not to have any soft toys as they won't last very long. She also likes to do "zoomies" around the yard to get the other dogs in her home to chase her. Athena likes to try and dig so if you don't want her searching for a pot of gold in your yard, she will need to be watched and taught to not dig. She has been learning this in her foster home but if she gets a chance to sneak away, her foster may find the workings of a shallow hole.
Athena has not been around children in her foster home but we feel that she would be fine with older children as she is very gentle and for still being a youngster she doesn't jump or mouth.
11 month old Spayed female who weighs around 50-55 lbs
Current on shots & Microchipped
Heartworm negative and on prevention
House and crate trained & Good with other dogs
Not child or cat tested yet but Good with people (takes a little time to warm up)
Location: Fostered near Liberty Hill, north of Leander
Meet Harry:
Well, my name is Harry. Foster Mom calls me Harry Butt (it's so embarrassing, yet true at the same time). I'm a German Shepherd mix. You might say a fun size GS. I'm only about 40 lbs at 1 year old. A little guy with lots of love to give. Foster mom says I'm a 100% good boy. Ok, well maybe 99%. I am a puppy after all. The 99%…I know "sit", "back up" (sometimes Foster Mom needs her space). *rolls eyes* I love other dogs and my people. I'm a great snuggle buddy but will happily sleep on a bed beside your bed-no crate needed at night. Annnnnd that's where the 1% comes in. I will not confirm or deny a few empty Amazon package casualties when I was left alone uncrated. I don't like being put in a crate when you leave but that's the way it must be so I will keep practicing. I can be easily bribed in the crate with peanut butter in a Kong though. I've had the occasional accident in the house but I'm getting better. .
Don't let this serious face fool you. I love to play with the other dogs in the house. One of my foster sibs never even liked to play until I came along. I love a good puppy pawty! I get lots of compliments on my paws. People always say how cute they are and sometimes squeal "look at those peets!!" whatever that means. Don't expect me to do a lot of barking. I'm what they call the strong silent type. I might bark when barked at but I don't want to scare anyone with my big barks. Not when I can mesmerize them with my puppy dog eyes. I'm pretty good at using those on my Foster Family as required.
Oh and did I mention I love my people? I'm what they might call a Velcro dog. Feeling lonely? I'm here for you. Need an escort to the bathroom? I'm your guy. Need a companion while you work? I'm here! Just as I love playing I'm also content chilling by your desk as you work from home Home. That's what I'm looking for. A home with my forever human or humans.
Harry aka Harry Butt (but you didn't hear that from us)
1 year old medium 40lbs Neutered male
Heartworm negative and on prevention & Microchipped
House and crate trained and Good with other dogs and people
Not tested with children / May not be OK with cats
Playful with other dogs, also can chill around when needed
Being fostered in North Austin, TX
Meet Kevin:
An 11 Month old Male Lab-Retriever Mix
Weighs 45 pounds and will likely range from 55-65 full grown
Is good with other dogs
Is good with children
Could be acclimated to a home with a cat
Enjoys car rides
Working on house training
Is medium to high energy
Prince Kevin might just be the most handsome boy around! He is initially slow to trust the people he meets, but once you win his heart he is brimming with affection and confidence. This goofball is learning his manners swimmingly and responds well to training. He would benefit from another dog at home who can show him the ropes and be a playmate. Kevin behaves well in public settings and is GREAT company to take on a walk or on a hike.
Kevin is neutered, vaccinated, microchipped and is heartworm negative.

Meet Cubby:
Hi ! My name is Cubby and I would love to be your new best friend. I'm shy at first but once I know you I love to get lots of petting and treats. I was terrified of everything when I was rescued. My best friend Queenie helped me find my confidence. With her help and foster Mom giving me lots of good food I started coming out of my shell. I'm very trainable for treats and I think I'm pretty smart. I know how to use a pet door and have never had any accidents. Foster mom gets frustrated when she tries to take pictures of me as I make sure my ears are cupped. As soon as she gives up they just seem to stand up all the way. She tells me I have a beautiful tail. And I'm very handsome. She also thinks I look like a little bear cub so she started calling me Cubby. So if you would like a new best friend please fill out an application for me! Love, Cubby
Neutered male
1 year old / About 65 lbs
Heartworm negative and on prevention,Current on shots, Microchipped
House trained and Uses pet door
Shy at first, but Loves other dogs
Not tested with children or cats