Meet Wiggles:
Wiggles is a 59 pound white, beautiful Lab. This one year old playful puppy is looking for his forever home! He is an affectionate, eager to learn, people pleaser who loves to be praised! He likes to be close to his humans and he knows basic commands such as sit, down, and stay. Wiggles has a lot of puppy energy, but once he's had an opportunity to burn it off, he's ready for snuggle time! He is house trained, and will settle after a few minutes if crated. He is working on his leash manners, and is very curious while on his walks. Wiggles has a rough play style and not all dogs appreciate that, so he'll do best as your only canine companion. He can be "barky" when he sees other dogs while out on walks. He is looking for a home that is willing to put in the time to work with him, as he has not had much training prior to coming to us. He is very treat motivated and learns quickly. He is your typical lab that loves to hold something in his mouth, such as a toy or perhaps your water bottle! Wiggles is residing in one of our amazing foster homes.

Meet Rolanda:
Rolanda was adopted as a kitten from Friends for Life, but fate brought her back to us recently as a stray. This independent girl is looking for a forever home that can accommodate her outstanding personality and slight, visual impairment. Rolanda is a sweet lover and, as an older cat, she can be a bit grumpy at first, but quickly warms up to people and other mature cats. Rolanda likes her space but is drawn to friendly voices and needs cuddles. She has had a tough go at life and has the scars to prove it but that does not stop her from being a loving companion. In her forever home, she will sit next to you on the couch, hang out on the bed, and be a buddy who will always be nearby, as she is full of trust and love. She is great with other older, independent cats like her, and will do her best in an adult only home. Rolanda is visually impaired in one eye, but has no issues navigating stairs, cat forts and her favorite window perches to meow, squeak, and chirp at the birds outside. She relies on lifelong daily eyedrops for Glaucoma, which she tolerates well. This confident lady will need a calm and predictable home with a family that will allow her time to transition and warm up to them, but she will give her all as she seeks human contact and affection. Rolanda is currently living in a foster home so contact us to arrange a meet and greet with this sweet girl.
Meet Ravi:
Ravi would love to be your best friend. Ravi is a 7-1/2 year old German Shepherd blend. He is a big and lean boy and weighs around 75 pounds. Ravi has a very gentle and sweet personality, but he does get excited when he meets other dogs. He loves attention from humans and likes to know where everyone in the house is at. Ravi has previously lived with another dog and a cat. He is an excellent passenger in the car and seems to really enjoy rides. Ravi loves toys and balls and has chosen a big stuffed fish as his favorite and carries it around everywhere. He listens and follows directions well. He knows sit, stay, come, wait, and will give you his paw. Ravi is gentle taking treats . Ravi is residing in one of our amazing foster homes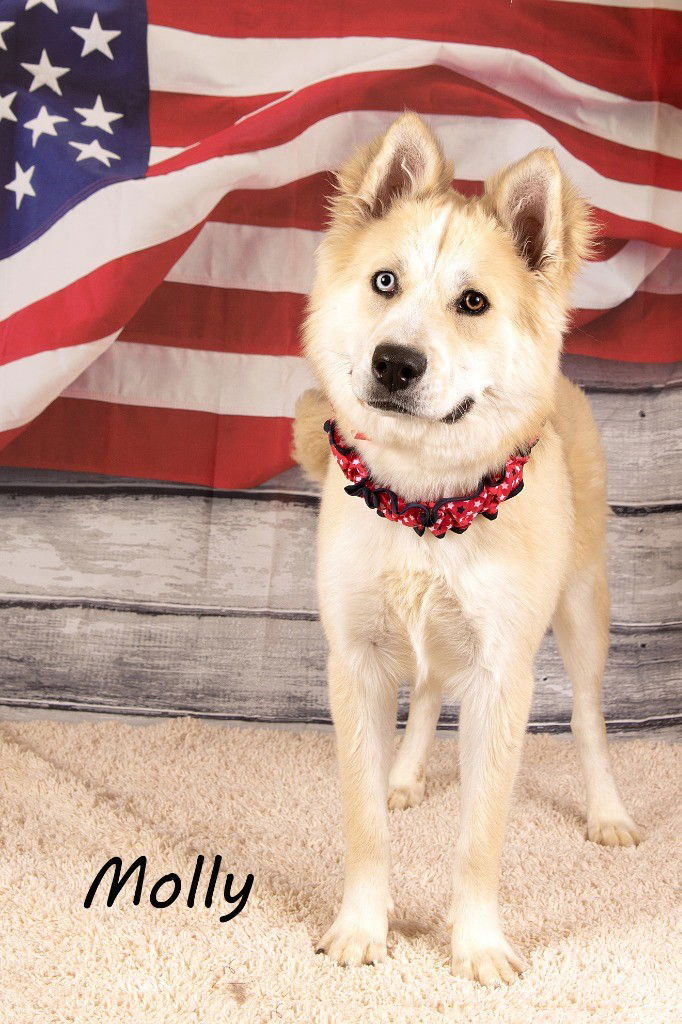 Meet Molly:
Molly is a beautiful 1 year old, 42 pound Husky blend who joined us recently from the Humane Society of Yuma. This sweet and silly girl still has a lot of puppy energy and if there will be another dog in her home, it should be a dog of similar size, with a similar play style. Additionally, due to her energy level, if there will be children in her home, it would be best if they are 14+. She's a Husky blend so she'll need regular brushing and grooming. This gorgeous girl is residing on site at the adoption center, looking for her forever home, and would like to meet you!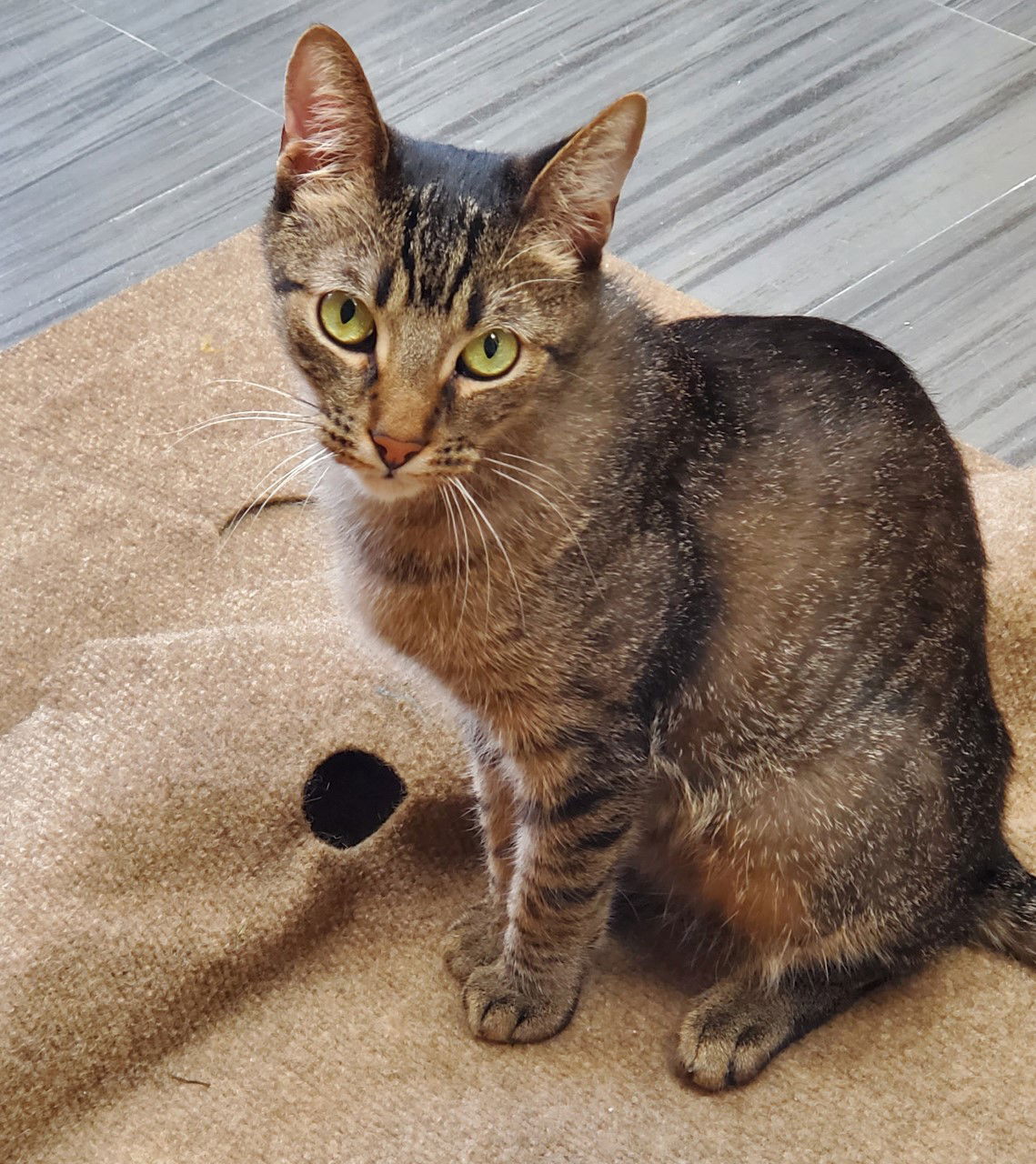 Meet Magnus:
Magnus is a dashing young man with soulful eyes. When he looks at you lovingly it will surely warm your heart and bring a smile to your face. Magnus was found on the streets of our community, alone and not altered. When an independent rescuer crossed his path, he ran straight for her as if to say "I'm looking for a better life.". Magnus is gentle and sweet with all who he meets, cats and humans alike. He loves to chase feathers and chitter at the crows outside the window. While he gets along well in our community room, we believe Magnus will truly thrive as your one and only.
Peter Zippi Memorial Fund Home (peterzippifund.org)
Meet Buffy:
Meet Buffy, a charming kitten with a "buff" and white coat as soft as a cloud. Like her brother Louie, she's a playful dynamo who isn't afraid of a little rough and tumble. While Buffy may show a hint of shyness initially, her purrs quickly fill the air once she's nestled in your arms.
Buffy's enchanting personality has a universal appeal – everyone who meets her can't help but fall head over heels. At around 3.5 months old, she's ready to grace a loving home with her presence.
Buffy's journey began with a rocky start – abandoned alongside her siblings in an animal hospital lobby, they overcame the odds as bottle-raised kittens. Now, Buffy is a shining example of resilience and charm.
If you're seeking a sweet and spirited companion, Buffy is here to steal your heart. Embrace the joy and love she brings, and welcome this wonderful kitten into your life.
Meet Chrissy:
• German shepherd mix, black & tan
• 5 year old, female, 61 - 70 Pounds
• very active! Loves people. Loves hiking! Potty trained. Super affectionate!
• spayed, microchipped & vaccinated.
• would prefer to be only pet in the home
• high energy. Very smart, knows many commands
Chrissy girl is a sweet natured pup who has really been dealt a bad hand in life. She was adopted out twice from another shelter and returned both times, get this (neither time was because of her) the families ended up having personal issues that they had to tend to and couldn't find the resources and time to care for her. she deserves a beautiful loving home where she will be your most loyal friend and cuddle buddy. She's an amazing dog that deserves another chance at a great life.
Meet Jody:
My name is Jody and I am an unaltered male, black Labrador Retriever mix. I only weigh 25 pounds, I am about the size of a beagle with the heart of an elephant. Shelter staff think I am about 3 years old. I have been at the shelter since Apr 01, 2023.
San Bernardino, CA
☎️ 909-384-1304
JODY WAS EUTHANIZED ON JULY 6TH. 20023


Meet Robert:
Robert is irresistibly charming and affectionate. With an open heart for both humans and fellow animals, Robert's warmth is immediate, even though he may need a brief moment to acquaint himself with new friends. A true purr machine, his playful and endearing nature will steal your heart in no time. His sweet disposition makes him a perfect companion for those moments of shared joy and cuddles. If you're in the mood for adventure, Robert is always up for some delightful playtime. Whether you're seeking a cozy snuggle buddy or a spirited partner for fun-filled romps, Robert is the perfect choice. His adaptable nature ensures that he fits seamlessly into any loving home. Consider the possibility of doubling the joy by bringing home Robert along with one of his equally marvelous siblings. Are you ready to make Robert a cherished member of your family? Don't miss the chance to embrace the love and laughter he brings into every moment.
Meet Suzie:
Suzie is a captivating dilute calico with a story to tell. Her journey from the streets of Hawthorne to our care is a testament to her resilience and trusting spirit. She wasn't truly feral but learned how to survive and thrive on her own; something that is never easy for a cat on the streets. A young couple's dedication brought her to a point where she'd approach for food and affection. Her mysterious past only adds to her allure.
Suzie's age is a a bit of a mystery, but her personality is crystal clear. At around 5 years old, she's a seasoned explorer of life's adventures. Suzie knows her mind and isn't shy about letting you know when she's ready for some independent time – a gentle paw push says it all. But don't mistake her self-assuredness for aloofness; she adores pets and cherishes those moments of connection.
When playtime arrives, Suzie transforms into a wild spirit. Her favorite toys that she can bat around on her own keep her entertained, yet she's equally excited to engage in interactive play. Her zest for life shines through in every graceful leap and playful pounce.
Suzie's independence is part of her charm, making her an ideal companion for those who appreciate a cat with character. With Suzie, you'll find a fascinating blend of mystery and affection, a true partner for those who embrace her unique spirit. If you're ready to welcome a cat with personality and style into your home, Suzie might be the perfect match for you.
Meet Deborah:
Deborah is the embodiment of joy and playfulness. She's ready to grace your home with her irresistible charm. This stunning feline has an ability to transform your space into a haven of purrs, laughter, and endless entertainment. Deborah's perpetually sunny disposition is contagious – her upbeat nature has an uncanny way of brightening everyone's day. Whether she's chasing toys or engaging in friendly sibling tussles, her lively spirit is sure to put a smile on your face. Found most often in a cozy pile with her equally amazing siblings, Deborah thrives on companionship. Consider the delightful prospect of bringing a double dose of joy into your life by adopting her along with one of her brothers or sisters. Get ready to embark on the "Deborah experience," where each day is a delightful adventure filled with laughter, love, and feline fun. Don't miss out on the opportunity to have this wonderful girl become an integral part of your family – your heart and home will never be the same!
Meet Jackie:
Jackie is a beautiful girl who is ready for her forever home. She was rescued from an LA County shelter in November 2022 after she was picked up as a stray that had presumably been hit by a car. She completed her period of cage rest to heal from her injury and is ready to find a loving family to call her own. When you first meet Jackie, she may seem timid, but once she gets to know you, she opens up and loves to give and receive affection. Jackie has a playful side and loves chasing a feather on a string. With her sweet personality and gentle demeanor, Jackie would do best in a quiet home with a patient and loving family who can give her the time and attention she needs to feel safe and secure. She is litter box trained and up to date on all of her vaccinations. If you're looking for a furry friend who will give you lots of love and affection, Jackie might just be the perfect match for you.
Meet Louie:
Meet Louie, our spirited and playful little guy who embodies all the fun of kittenhood. With an energy level that matches his "all boy" reputation, Louie is a wrestling enthusiast, often engaging in boisterous play with his sisters. But don't be fooled – this rough-and-tumble kitten has a sweet side too.
Louie's affection knows no bounds, and he's quick to share "kitty kisses" as he nestles in for snuggles. At around 3.5 months old, he's ready to bring his unique brand of joy to a loving home.
Louie's beginnings were far from easy, abandoned alongside his siblings in an animal hospital lobby. Yet, they defied the odds as bottle-raised kittens, and Louie emerged as a testament to resilience and tenacity.
Nicknamed "loud mouth Louie" for his enthusiastic meows during feeding time, he's now a content little eater. As he continues to grow, his vibrant personality shines even brighter.
If you're seeking a lively and loving companion, Louie is your guy. Embrace his playful spirit and enjoy the wonderful world of kitten adventures together. Don't miss the chance to welcome Louie into your heart and home.

Meet Wall-E:
1 year old, tall and lanky mixed breed male, on the brindle side who Loves all people, including children. Crate trained. Has done well with other dogs in his previous home but meet and greet is required first. Knows basic commands. Loves to play fetch. Has some separation anxiety. Calm on car rides. Loves to lay next to you. Loves rope toys, tennis balls and stuffed toys. Will carry toys around in mouth. Wall-E would make a great companion for an active family that will have many years of creating good times and fun memories!
Meet Crystal & Frost:
Crystal and Frost are a bonded Terrier pair that are very skittish. They need time to warm up to a new person, but when they do, they will just love to sit in your lap. If you have a quiet home and have time to spend on getting to know Crystal and Frost, please stop in and meet these cuties.
Meet Mischief:
Mischief is an 8 year old male Terrier American Stafordshire mix breed.
He may be a bit older, but don't let that fool you as he still has a youthful spirit when it comes to all things water. You don't have to take our word for it, just check out the video. Swimming, splashing in puddles, or simply lounging by the water's edge, that's what would make Mischief happiest! So if you've got a pool, you've just scored some extra points with this big guy! He's been overlooked for so long and he truly deserves a nice welcoming house he can call home. Please come by and pay this guy a visit!
Your browser does not support HTML5 video.

Meet Whisky:
Whiskey is a friendly 4 year old male Pitbull who loves his yard time and enjoys going for a walk, but could use a bit of leash training. If you're looking for a big friendly guy, He was just dumped at the shelter from previous owner who left him there. The person or family who decides to take this big teddy bear home will have to put him on a diet and not feed Whisky any table scraps. Come stop in and meet Whiskey.
Meet Bonnie:
Bonnie is a 5 year old female. She was surrendered in July. She is very active and loves to run and play fetch. She may do well with another dog but a meet and greet is required. Whoever adopts Bonnie will have to put her on a diet as she was probably given many table scraps in her pervious home. An active family would be an ideal destination for Bonnie so she can get daily exercise and watch the pounds melt away. She is a mixed breed and weighs around 80 lbs



Meet Lee Loo:
2-Year Old Female Boxer Mix
According to previous owner, Lee Loo knows basic commands, is housebroken and is good with cats and dogs. She enjoys going for walks and her group play in the yard. She would do great in a home with kids that are 12 or older. Please stop in and meet Lee Loo, you may be her special person
Meet Boo Boo Jr

Booboo Jr., is August's Cat of the Month and Resident Dancer Extraordinaire, In the mornings, you might see him on Instagram doing a jig in the window! He loves to play most of the time, and during quiet times he enjoys napping and watching everything you do.
Meet Iris:
4 year old, female. Iris arrived at our shelter with an inward turning eyelid which needed to be repaired with surgery. She made a full recovery. Very sweet and loves to sit on your lap. She also loves climbing on things as you can see from our video. This is a very rare looking Calico in that she has a beautiful white & silky coat, but still sports patches of the tri-color spots which makes Calico's so unique.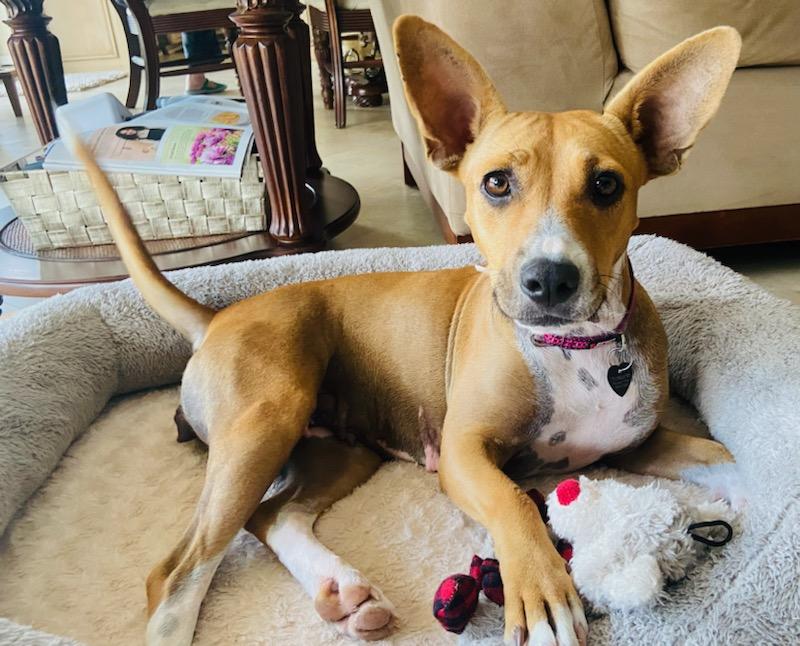 Meet Sammy:
This sweet girl was the pup thrown from a car on the highway but luckily was not injured and was in good spirits. Sammy is in a wonderful foster home and now looking for her FURever family. She is a young adult, about 35 lbs and a Terrier mix.
Sammy is up to date on vaccines and is undergoing Heartworm treatment. Her new home should be one that can keep her calm and quiet during her treatment which would be for a period of about 6 months.
Here's a little info from her foster mom:
Energy: Low-Medium
Potty training: Perfect. A backyard to sunbathe and roam would be nice.
Sammy knows how to sit, lay down and is working on shake paw. She is a fast learner and is highly treat motivated.
She walks nicely on a leash and is
Dog-friendly and would be happy with another dog her size to play with.
Cat friendly: Unknown
People friendly: Has been great around adults and has not interacted with kids.
Affection: Loves belly rubs, treats, bully sticks, and can be a velcro dog.
Meet Mary Kate:
Meet Mary Kate, an 8-year-old canine resident at the Humane Society of St. Lucie County. Mary Kate arrived alongside her sister Ashley and has since captured hearts with her gentle nature. She thrives in the company of other dogs and enjoys the joyful presence of children. With a charming personality and a heart full of warmth, Mary Kate brings an aura of happiness wherever she goes. Her journey reminds us that age is just a number when it comes to spreading love and building connections. Mary Kate is ready to light up a forever home with her radiant spirit.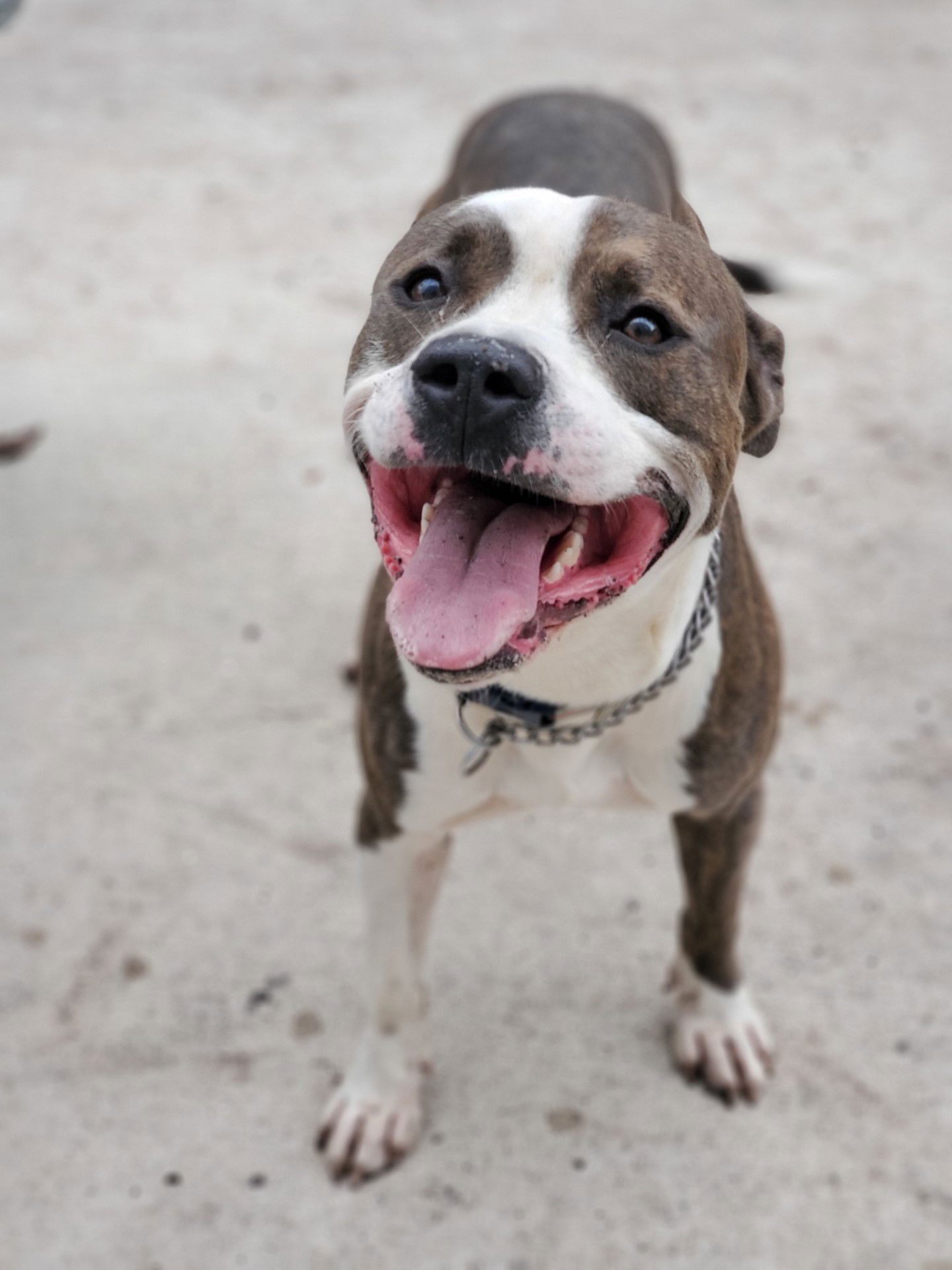 Meet Benny:
This gorgeous boy was found recently and we have not located his family so he is now available for adoption! Happy and healthy boy with the BEST smile you've ever seen! Benny is a Pitbull, about 3 years old and a 60 lb chunk. He is very sweet, friendly and playful. He appears to get along with other dogs but we'd always do a meet and greet to be sure. Benny has seen outdoor cats but didn't show much interest in them (that's as much as we know right now). He is well mannered and understands commands like Sit, Stay and Down. He walks well on a leash and rides well in the car. Since he has only been in our kennels, we do not know if he is housebroken.
If interested, please complete an application on our website. Poochesinpines.com/application
Your browser does not support HTML5 video.
Meet Elsa:
Elsa is very sweet 9 year old Chihuahua mix whose housebroken and dog friendly. She walks well on a leash and loves going out for walks. She was surrendered because her owners were moving. Lets find Elsa a new home, so stop in and meet her, you will see what a love bug she is.
Meet Jasmine:
Calico, friendly adoptable, okayful, only pet, spayed female, Young Adult
I'm a beautiful one-year-old ex mama cat who wants to be your special baby. I love people but I'm not great with other animals so I need to be the queen of your castle. I'm very playful and I'd love a home with older kids and adults. I'm ready to move right in so meet me and take me home. Please watch my video and see just how playful I can be :)
Great news!! My guardian angel has paid my adoption fee.
Meet Hallo:
I am a friendly active girl who lost my home because my owner was allergic to me. I love people of all ages and I am used to kids. I am always happy to see new people and I have excellent manners. Meet me today and take me home.
Hallo is a one year-old spayed female who would make a great companion for a family or individual.

Great news!! My guardian angel has paid my adoption fee.
Meet JJ:
2-year-old, female cat with strikingly beautiful eyes. She gets along with other cats and enjoys attention and head rubs. She has been waiting for a home at HSTC for over a month and can't wait to finally sit on a sofa with a lucky adopter! Check out her beautiful eyes on this video!
Meet Adira:
Hi, I'm Adira and I love to sing! I like to use my gorgeous voice in the kennels to serenade my shelter friends and family. I'm full of life and energy all of the time and my favorite game to play is fetch! I can get along with other dogs, but I like to choose my friends carefully. I would prefer to live in a feline-free home
Meet Sweet Potato Pie:
1 year old, male Tuxedo cat who was found as a stray. He gets along with other cats at the shelter and is very active and playful with them. He will need a lot of attention in a family/active home. This sweet potato Pie loves interacting and playing with string toys and he is young enough to grow up with a young family that will make a lifetime of memories. Please consider taking this Sweet Potato Pie home just in time for the Holidays.
Meet Scooter & Tony:
Bonded Pair- surrendered to us due to owners deteriorating health
Tony- 5yo Neutered Male, Shepherd/Hound Mix
Scooter-6yo Spayed Female, Catahoula Mix
Both dogs are sweethearts who just want to shower you with kisses. They love going on walks or playing together. Scooter adores squeaky toys. They're both dog friendly and we think they would do great with kids 5 and older due to scooters size.
Been with us since March 2022
Meet Old Man Ken:
Male, 5 year old Male (Adoption Fee has been waived)
~ I have not had much experience with children but am willing to consider sharing my home with kids who can be gentle and respectful of pets.
~ I have not had much experience with cats or dogs but am willing to consider sharing my home with a furry friend.
Meet Betsy:
This is the sweetest girl. She was found wandering alone near the highway and is now searching for a FURever home!
Betsy is a wire-hair mixed breed...she is 2-3 years old and a chunky 66 lbs. She is great with people and strangers. She doesn't show any aggression with other dogs. Okay with cats (stays away from them). She has been around a barn with horses and has been friendly!
Betsy's temporary foster says she has moderate energy level, likes walking around and playing outside and receiving belly rubs!
Betsy is attention motivated and loves getting affection!
Meet Jerry:
I am a four-year-old boy who loves to be loved. I lost my home when my owner went to heaven and I am ready for someone new to love. I'm great with people of all ages and I like other cats too. I'm ready to love you forever…and one more thing…I know my name and I come when I'm called.
Great news!!My guardian angel has paid my adoption fee.
Meet Calista:
Calista is a one year old calico girl who came to the shelter with eight kittens. She's a very friendly girl and gets along with other cats as well as people. she's had a very hectic lifestyle so far so she would enjoy being in a semi active home where she could get some TLC
and folks, no kidding I'm thinking about it…
Meet Bartok:
10 year old, female
~ I can live in a single-family home, condos and apartments considered.
~ I want to live with adults.
~ I am not eligible for Meet & Greets and prefer to be the only pet in the home.
~ I am a relaxed kind of dog who will appreciate lots of time to sleep and lay around.
~ I have some special medical (heartworm) needs but still have lots of life to live and love to give.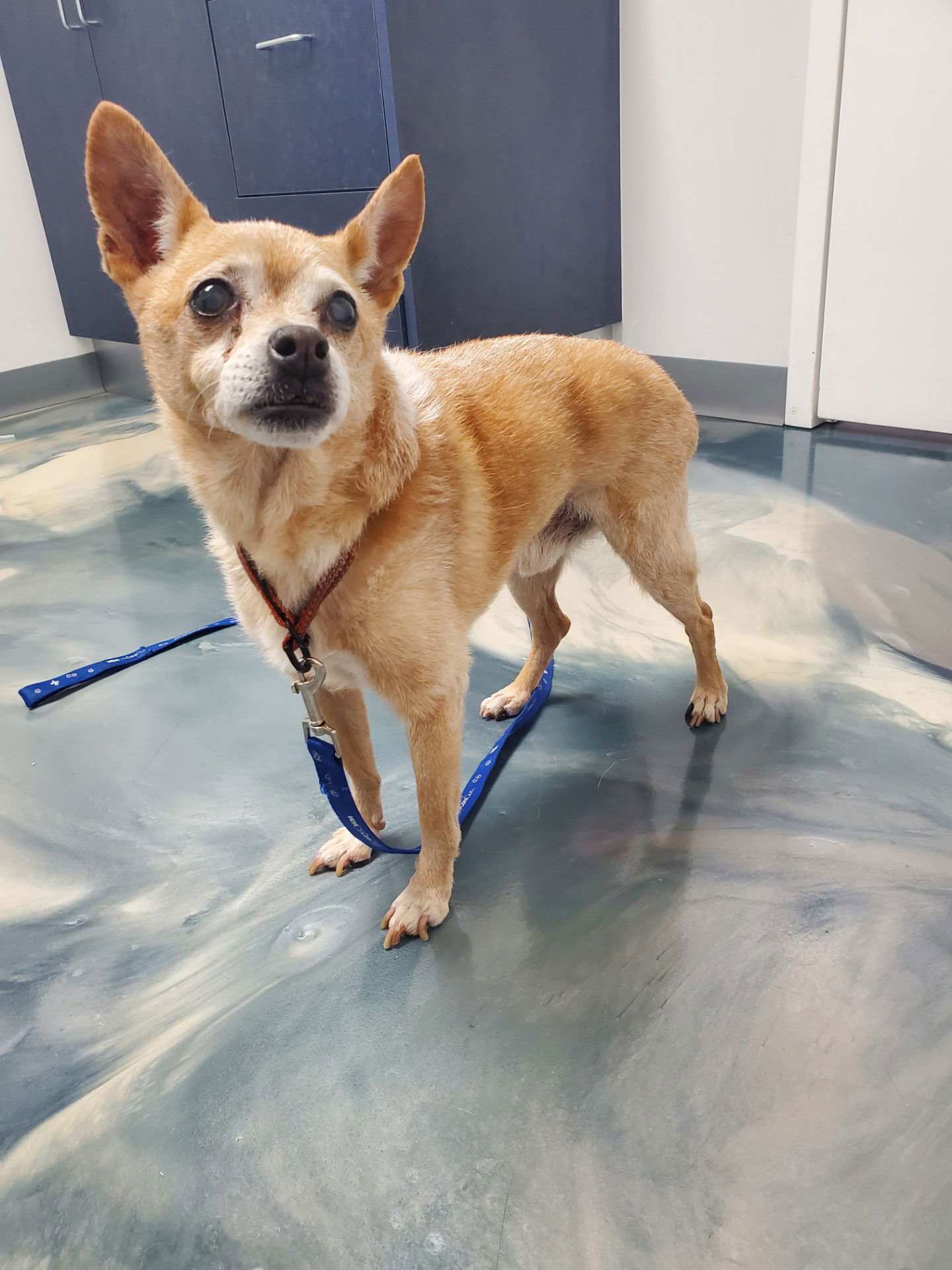 Meet George:
Say hello to old man George. This senior is estimated to be over 14 years, exact age unknown. He is a sweet little guy and looking for a home to rest quietly and comfortable for the rest of his days. George was found with his (suspected) son sitting in the middle of an intersection all by themselves. We have not found their families and they are both looking for new living homes.
George is a Chihuahua mix and weighs 13.6 lbs. He gets along fine with other dogs and doesn't pay much attention to them. He gets anxious around cats and barks at them. Otherwise, George is a very quiet dog, housebroken and potty trained. We think George has the start of dementia as he will pace around the house (until he's comfortable) and sometimes he doesn't realize where is he until he gets into a routine. He's doing great at his fosters home and is finally relaxed. George is not much of a cuddle dog yet and usually sleeps quietly burried in his blankets.
The vet gave George his rabies vaccine and he's already neutered. He is up to date on heartworm and flea medication. Unfortunately he has a grade 4 heart murmur but not taking medication as of yet. He does have arthritis all over his body that comes with age!
If you'd like to give this polite senior a home to live out his life, please inquire. He loves being scratched and is just so sweet.
Meet Stanley:
Sweet Stanley came to Dogs & Cats from the emergency vet where he was dumped. He was very skinny and scared when he first came to the shelter. Stanley is super sweet with people, but still skittish with other dogs, although he is improving. He walks great on a leash, but does need correction when another dog is near. Check out this fun video of this one year old Cur Mix and come on by to meet him; You'll want to take him home on the spot!
Meet Rocky:
7 year old, male, American Pitbull
~ I can live in a single family home, condos and apartments considered.
~ I want to live with adults.
~ I have not had much experience with cats or dogs but am willing to consider sharing my home with a furry friend.
~ I am calm but have my moments of energy and need to get some exercise every day.
~ I am still learning and want to get off to a great start in my new home; it is recommended that my new family continue my training here at one of our awesome behavior classes.
Meet Angel:
I am a sweet Black spayed female affectionate and friendly spayed senior girl who lost my home when my owner could no longer care for me. I'd be very happy in a home with a mature owner who could give me lots of TLC. I must be an only cat as I am not comfortable sharing my home with other felines. Stop by and meet me and give me a chance!
Great news!! My guardian angel has paid my adoption fee
Meet Darla:
Darla is an 8-10 month old Female Whippet / Cur Mix. She is a very sweet baby girl. A little bit shy at first but warms up very quickly. She's already housebroken. She is doing sit on command and brings back and drops her toys when you play with her. We are still working on her jumping up, but she is eager to learn. She loves her belly rubs and cuddles up on your lap.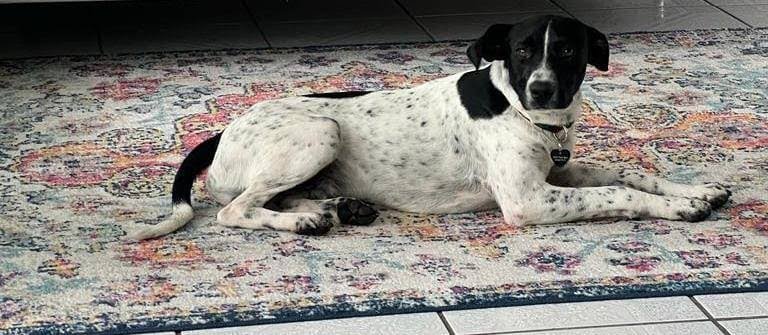 Meet Spottie Pippin:
Meet Pippin! This handsome young boy is looking for a FURever home! Spottie Pippin is about 9 months old, medium sized weighing 25 lbs and is some kind of Terrier mix.
He is super affectionate and loves everyone. Pippins foster says he is housebroken, low-moderate energy level, quiet (not a barker) and loves company. He seems good with other dogs and hasn't been around cats yet. Pippin loves going on walks and having playtime with his humans.
Your browser does not support HTML5 video.

Meet Victoria:
2 year old, female
~ I can live in a single-family home, condos, and apartments considered.
~ I have not had much experience with children but am willing to consider sharing my home with kids who can be gentle and respectful of pets.
~ I have not had much experience with dogs, but I need a cat-free home.
~ I am a high-energy kind of dog and am looking for a home where I can get lots of exercise every day.
~ I am a great dog for a first-time dog owner.
~ I am still learning and want to get off to a great start in my new home; it is recommended that my new family continue my training here at one of our awesome behavior classes.
~ I have some special medical (Heartworm) needs but still have lots of life to live and love to give.
Meet Frankie:
~2-Year old male Lab Retreiver mix
- I want a fenced in yard at my new home.
~ I want to live with adults.
~ I need to be the only pet so I can get all the attention.
~ I am calm but have my moments of energy and need to get some exercise every day.
~ I am a great dog with lots of potential & loves to play in the pool so if you have one that would be a BIG bonus
Meet Jack:
Well, hello there – I'm Jack! How you doin'?
I'm a friendly young adult who came to Dogs & Cats Forever after being injured as a stray in Miami. I'm definitely feeling better now and ready to meet the public. I'm very friendly and I get along with other cats. Unfortunately, I am FIV-Positive as a consequence of living outside but I don't need any special food or special medical treatments. All I need is a loving home!
Great news!! My guardian angel has paid my adoption fee.
Meet Sweetie Pie:
Cutie Pie may be right above me because I'm that much sweeter!
I'm a beautiful nine-year-old girl who has recently been coping with vestibular syndrome. My head is slightly tilted and I walk a little unsteadily right now but I will get better. Doctors say it was probably caused by an infection in my ear but I can hear just fine and I'm ready to be your special girl! I am not comfortable around other cats so I would enjoy being your one and only.
Great news!! My guardian angel has paid my adoption fee.
Meet Macy:
6 year old, golden brown mixed breed female. Surrendered due to owner having medical needs and could not properly care for her. Loves people of all ages. Prefers to be the only dog in a household. She is potty trained and knows her basic commands. Rides nicely in the car and greets visitors politely. Macy also Plays gently and loves squeaky toys and tennis balls as you can see from this fun video.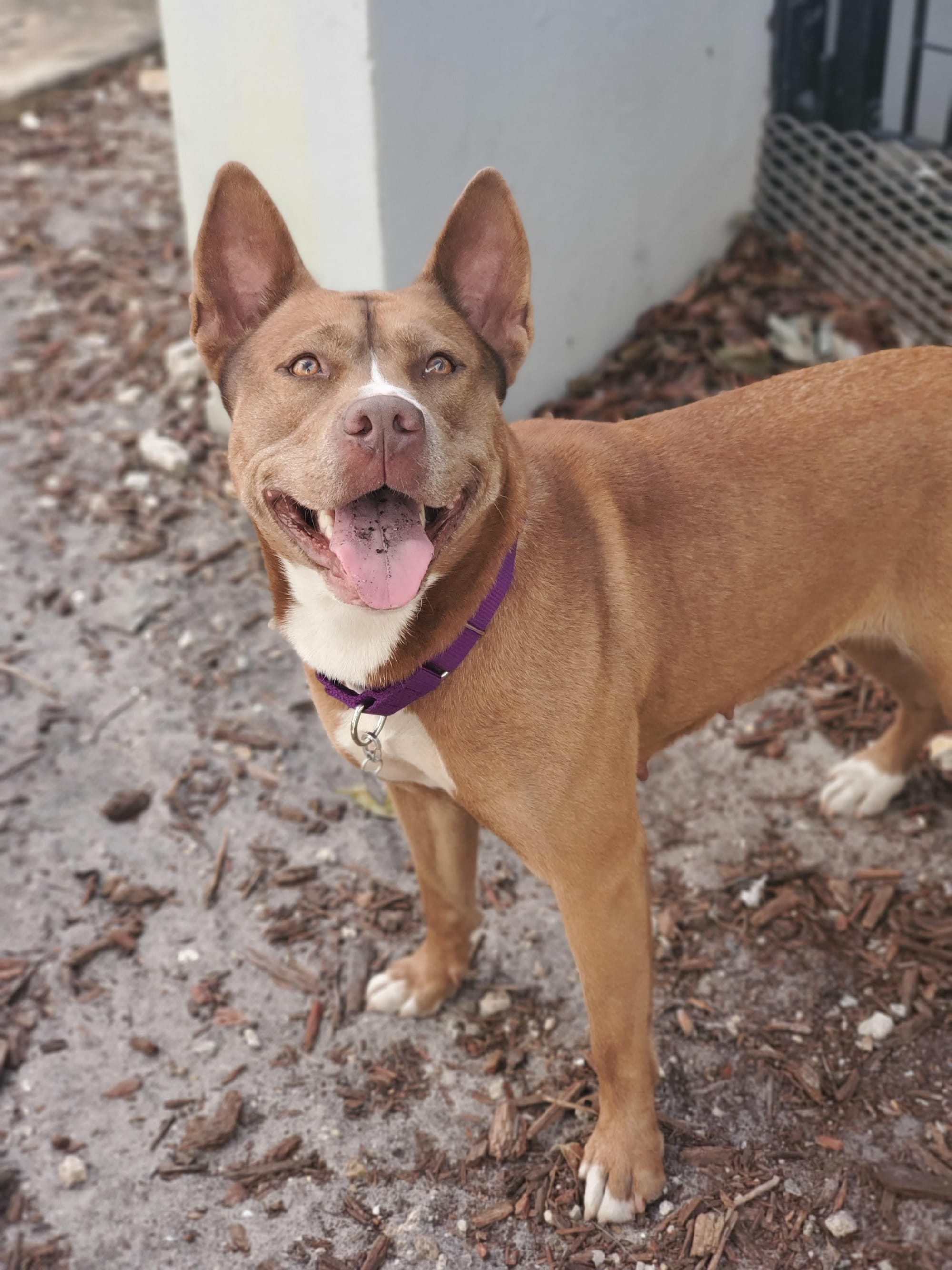 Meet Stevie:
Sex: Female
Breed: Australian Kelpie/ Pit mix
Weight: 55-60 lbs
Age: 2-3 years old
Personality:
~ Moderate-High energy
~ Loves to fetch!
~ Sweet & loving
~ Friendly with all people
~ Dog Friendly
~ May chase cats
Meet Stevie!
On January17th, this pretty girl was found tied to a tree with no one searching for her :(
Stevie is a lovable and playful girl, loves attention and knows some commands! She's definitely a mixed breed and we're thinking a Kelpie/Pittie mix... I mean, look at those ears!
Stevie gets along with other dogs and loves to play fetch (we're working on the bringing it back part) . With other dogs, she can play a bit rough at times but doesn't mean harm. Her and our adoptable husky Gaston love to play together! Stevie will sometimes bark at outside cats but we're unsure how she would do living with one.
She is about 3 yrs old, 55 lbs, and appropriately named after Stevie Nicks because she has a beautiful voice (talking/howling)...She may have part Husky in her. She does this when she wants your attention.
Stevie is vaccinated and healthy. She will be spayed and microchipped soon!
Your browser does not support HTML5 video.

Meet Pineapple:
Pineapple is an adoptable, gray and white, long hair spayed female cat. She's very sweet and loving! And please watch her video to see how playful she is, especially with a laser! It's hard work waiting for a home – but I'm not going to give up. I know that someone will meet me soon and fall in love with me! I'm a little nervous around a lot of other cats so I'll be happiest as an only cat in a calm adult home.
I'm only four years old so I'm still young enough to be playful. I'm waiting to meet you so please stop in and let's fall in love.
Great news!! My guardian angel has paid my adoption fee.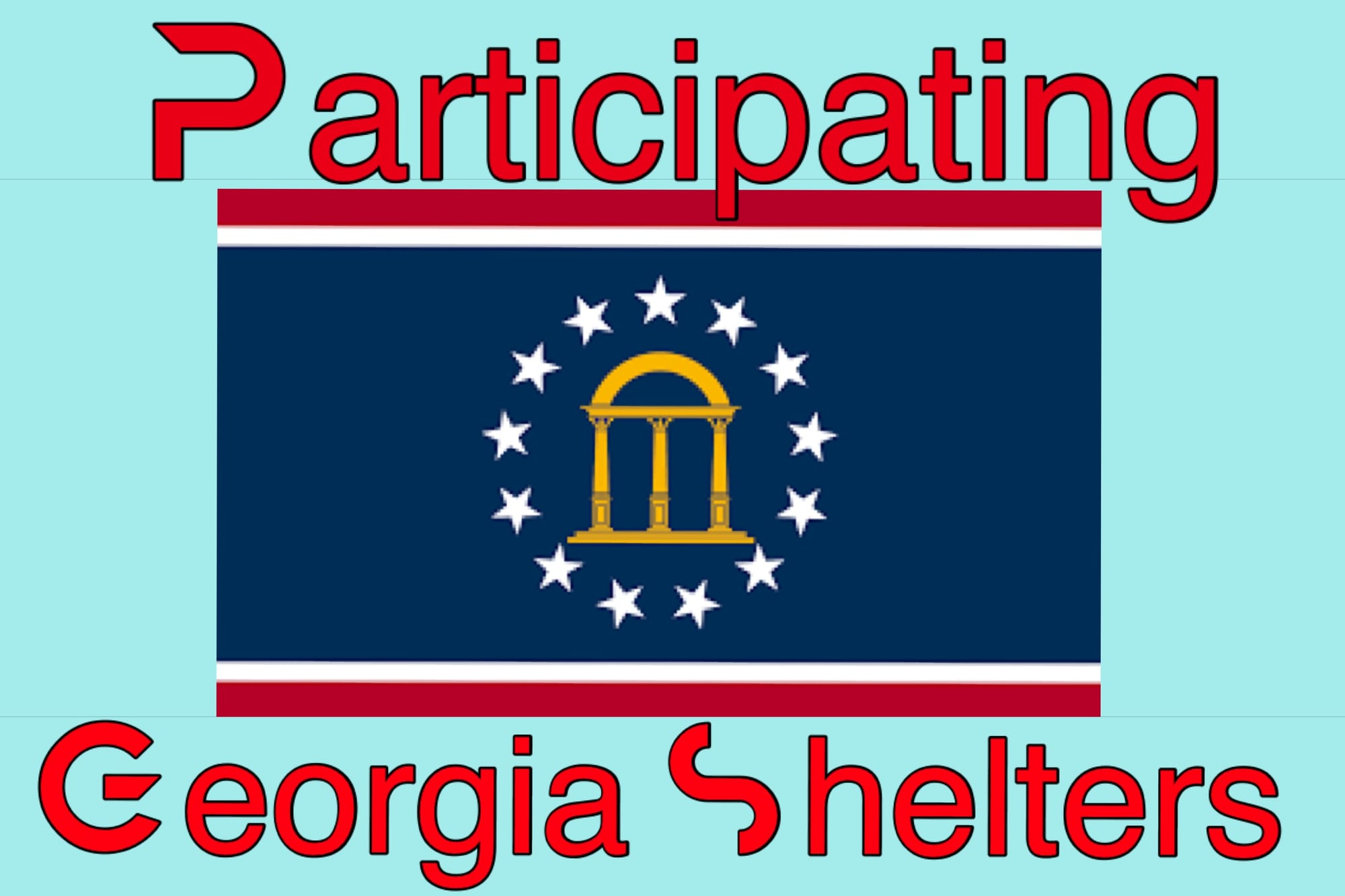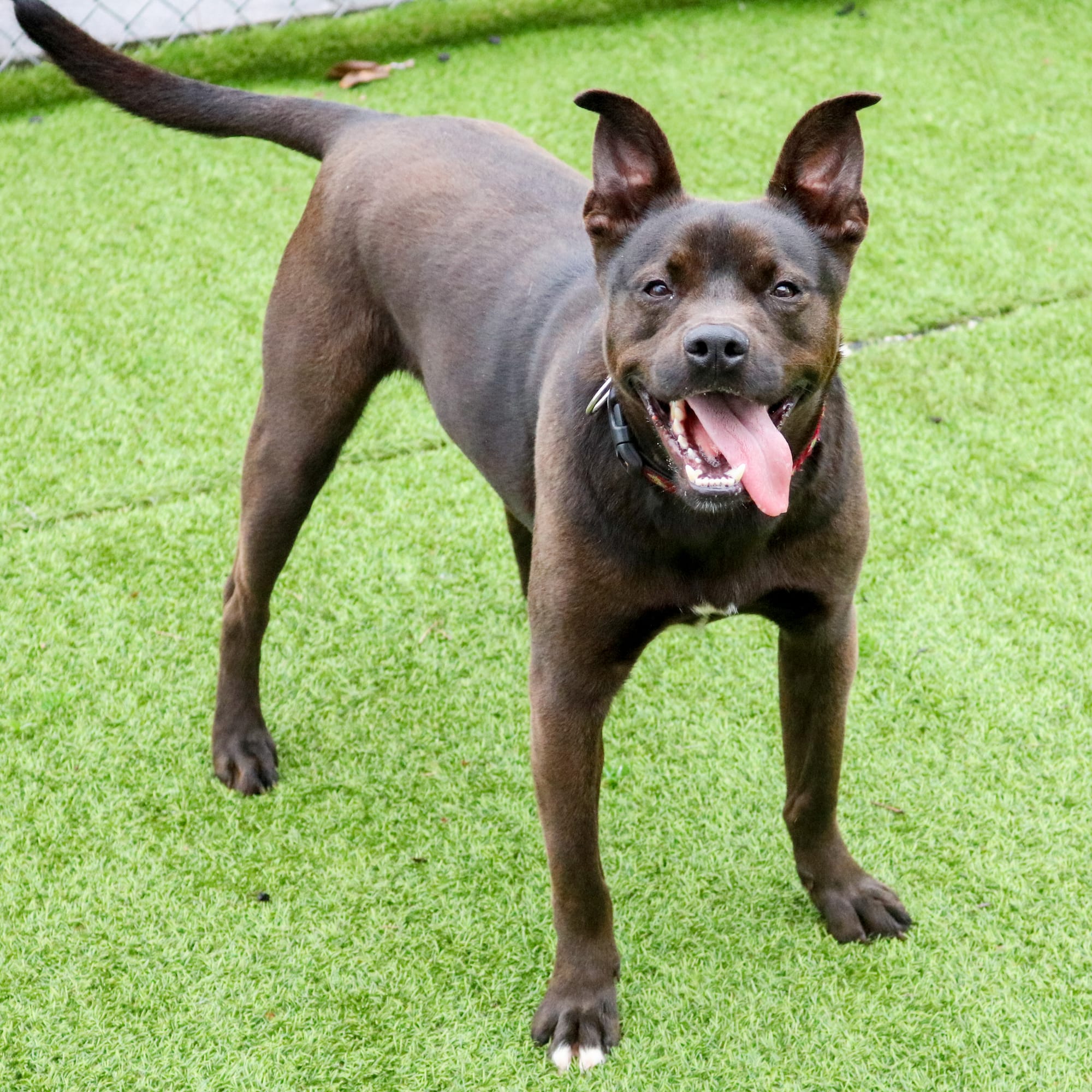 Meet Malachi:
1-year-old, Male
Retriever Mix
Meet Malachi, a one-year-old, male, brown retriever mix who is looking for his forever home. Malachi is a friendly, outgoing, and energetic dog who loves to play and cuddle with our staff and volunteers. If you're looking for a loyal and loving companion, Malachi may be the perfect dog for you. He has a gentle disposition and a heart full of love to give to his FURever family. Come meet Malachi and see if he's the perfect fit for your home!
https://humanesocietyofnortheastgeorgia.org/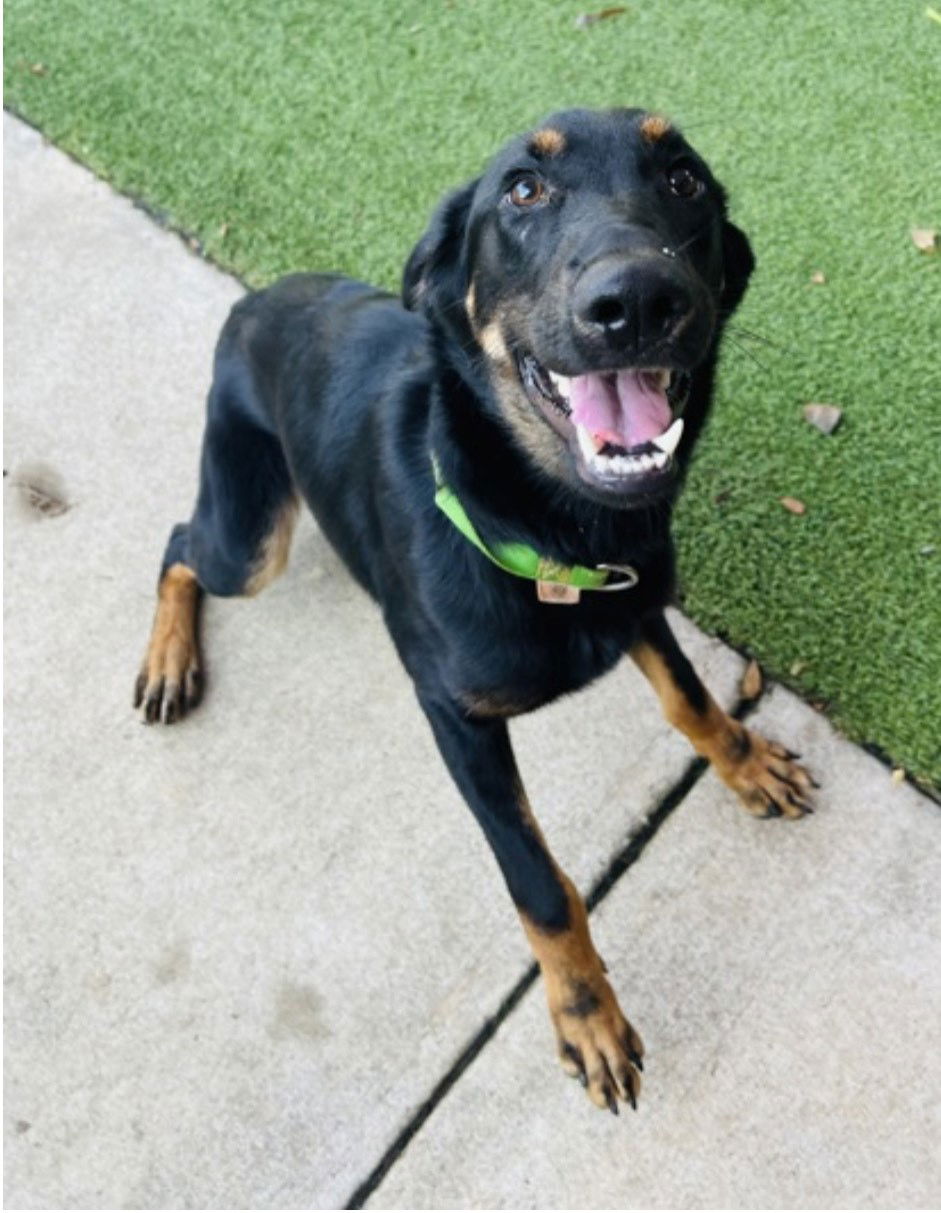 Meet Carter:
8 month old German Shepard mix. He is friendly with both people and dogs, he has grown up in the shelter, so he is a little shy at first. He loves playing in the pools. Knows the command sit.
He has been us almost 200 days.
https://humanesocietyofnortheastgeorgia.org/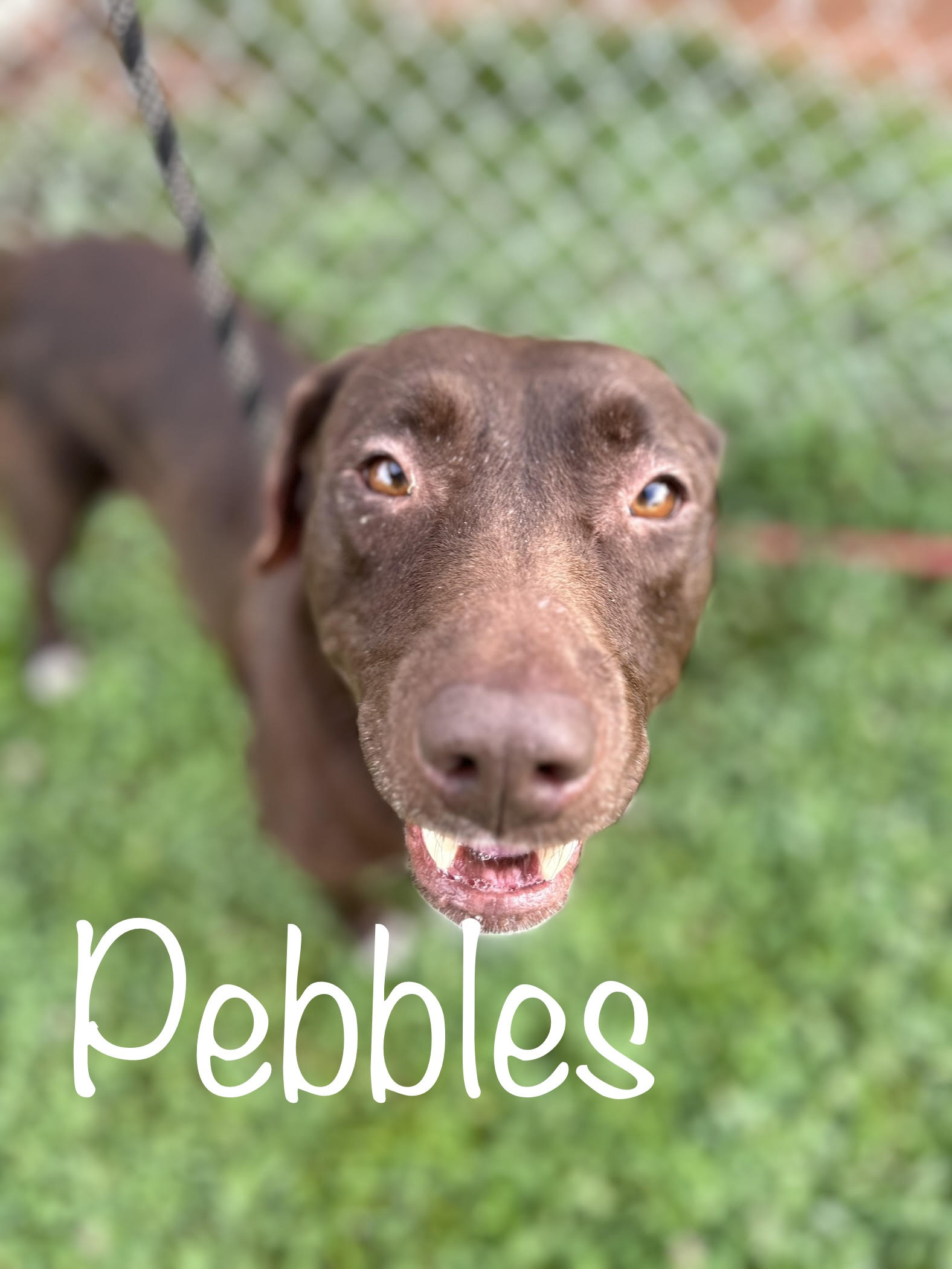 Meet Pebbles:
In shelter since March 3, 2023. Lab mix. playful, but loves belly rubs. Heart worm +.
Walks ok on leash with very little pulling. Knows sit. She would be a lap dog. Pebbles Came in with another dog, who has since been adopted, so it's Pebble's turn!
https://humanesocietyofnortheastgeorgia.org/
Meet Gator:
Gator is a 2 year+ Terrier mix who is looking for his forever home. This handsome young man may seem shy at first, but don't let that fool you. He warms up quickly and loves to make new friends. Gator is a palyful pup who simply adores his toys, whether he's chasing a ball or just playing tug-a-war with a friend. When he's not playing, he also loves nothing more than to curl up next to his favorite human and soak up some belly rubs! So if you are looking for a loyal and loving 4-legged friend to join your family, look no further than Gator.
https://humanesocietyofnortheastgeorgia.org/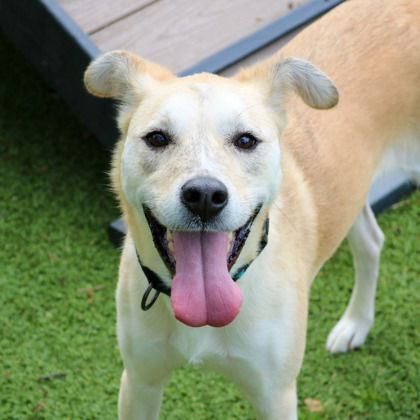 Meet Jinx:
3-year-old / Siberian Husky/Border Collie/Female
Meet Jinx, a beautiful 3-year-old, female Siberian Husky and Border Collie mix who is full of energy and love. Jinx is a lively and active pup who enjoys playing and exploring her surroundings. She is always eager to go on walks, run around in the park, and chase after her toys. But Jinx is not just a ball of energy - she is also a very affectionate dog who loves to cuddle and be close to her humans. If you're looking for a fun and loving companion who will keep you on your toes, Jinx might just be the dog for you!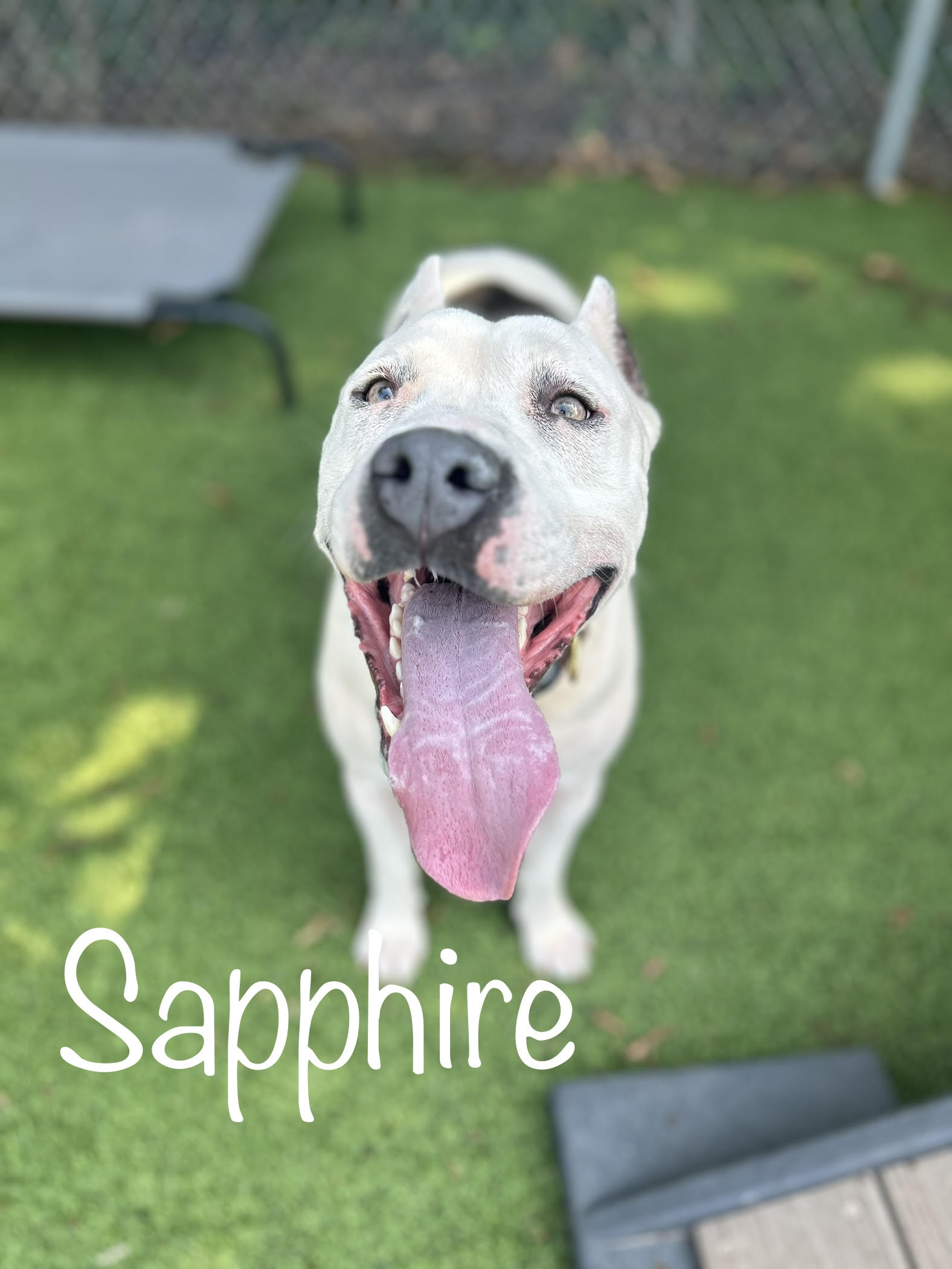 Meet Sapphire:
In shelter again since April 2023. This is a 2.5 year old, playful pup who likes toys and water. Tries to stay potty trained. Has done well in play groups with other dogs. Saaphire Knows sit and shake. She Walks well on leash alone. We have kept her in office with no issues for hours and she mainly just lays around.
https://humanesocietyofnortheastgeorgia.org/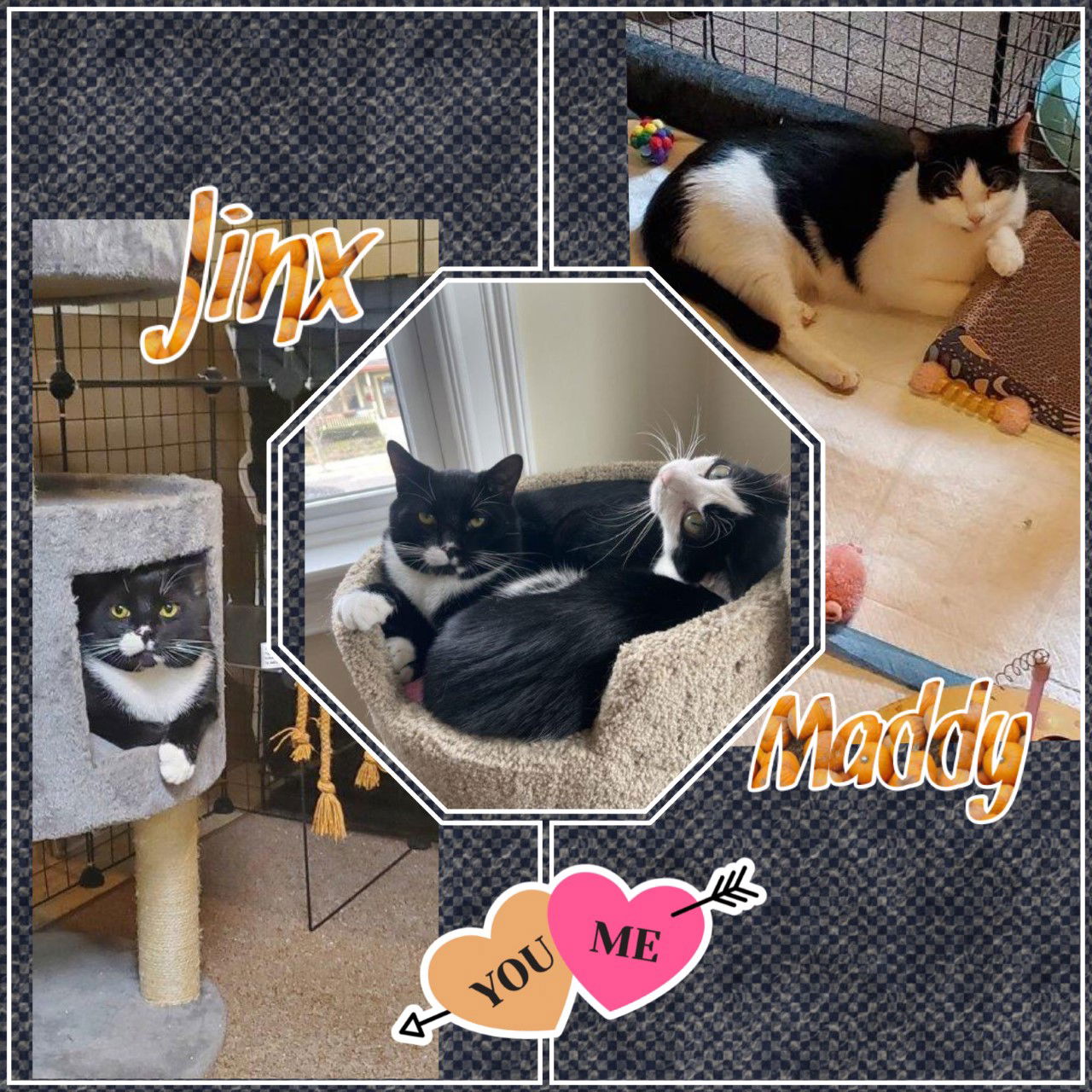 Meet

Jinx

&

Maddy:
Maddy (b&w) Female Tuxedo and Jinx (black) Male Tuxedo are a bonded pair. They must be adopted together! Both are very sweet, and love other cats.
Maddy is so pretty and has the biggest, brightest eyes. She enjoys exploring indoors, and cuddling Jinx. She is in LOVE with him, it's adorable to see!
Both are shy and need some time to open up and trust.
Maddy and Jinx were found together as strays. A wonderful couple found and took the pair in over the winter, and soon learned Maddy was pregnant! She delivered 3 healthy kittens, and is now looking for a home with Jinx!
Both are up to date on vaccinations, spayed and neutered.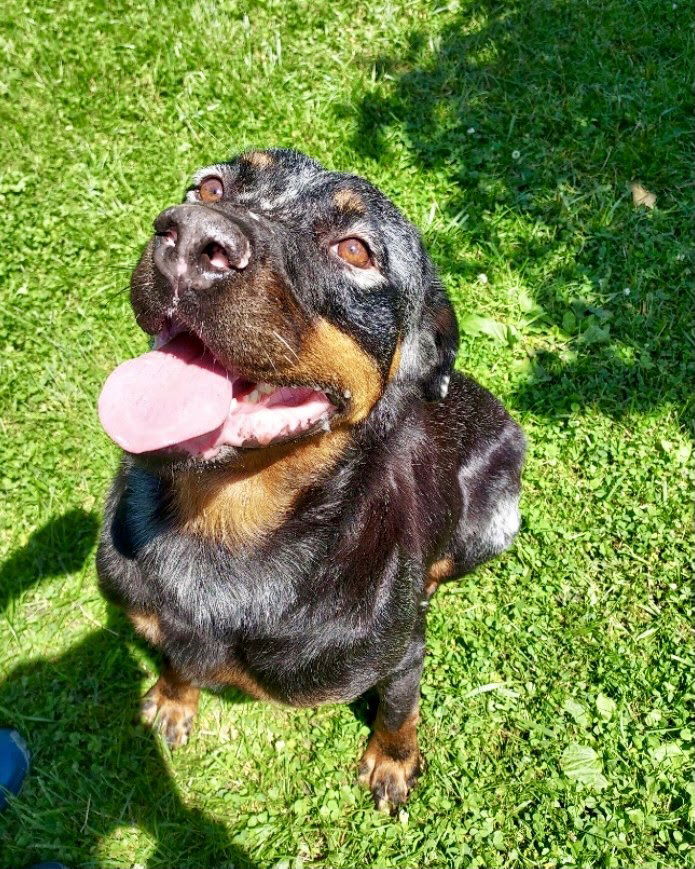 Meet Ana:
Ana is just under 5 years old. This rottie has the most unique markings! She can be shy when she first meets someone, but in just a short amount of time she'll be jumping around, excited to meet a new friend. She loves giving kisses, too! She enjoys meeting other dogs, but isn't great with cats and may need more time with smaller dogs. This sweet girl is also a fast learner, and will do anything for a treat!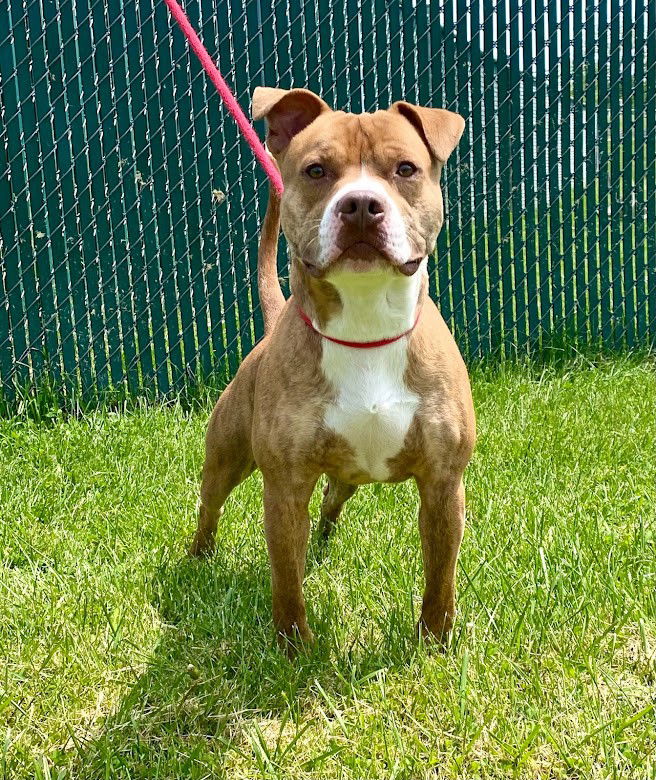 Meet Justice:
Justice is a dog who came to us when his family lost their home. They were hoping to re-adopt him when they found housing, but it seems like something that is sadly not going to come to fruition. Justice can be a little shy at first, but this 1 1/2 year old pup loves his treats! All you need is a treat and he will be your BFF! He does need some training since he's young, but he is smart, and again, will do anything for a treat!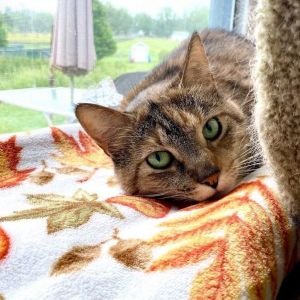 Meet Miss Garfunkle:
Look at our beautiful Miss Garfunkle! Those eyes are begging you to adopt this sweet older lady - she promises to give you so much love in return! Miss Garfunkle and her friend Simon came to us when their family could no longer care for them. They are very cat friendly, but were afraid of the two dogs in the home who had a high prey drive, which is understandable! In a future home, they may do well with dogs who are much more calm and cat-friendly, but they would also be happy in a home without dogs. Similarly, in their previous home they only lived with a baby briefly; we think they would do fine with older kids who can give them space when they need it. They would love to go home together, and would do best in a home where there is another cat who can help them open up as they transition into your home. Miss Garfunkle is more outgoing than Simon, but may be a little shy when you first meet her. She loves hanging out in her sunny window, and loves gentle pets, too! She is one of the sweetest cats you'll ever meet. She just needs a loving family; someone who will give her patience during the transition period into your home, and then lots of love from there on out!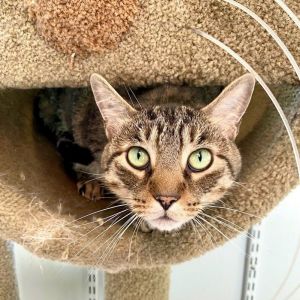 Meet Simon:
Our sweet Simon is so scared here at the shelter! He is used to a calm home where he could get cuddles and love, and is just overwhelmed here. Please see above for more information about Simon & Mrs. Garfunkle
Meet Lakshmi:
Hi there I'm Lakshmi! I am a young teen who is on the shyer side, but quite curious. I tend to follow my foster siblings around the house, always watching what they are doing. Although I am not a cuddler yet, I do love head and back scratches. I get along with both cats and dogs! I will do best in a home that has another cat (male or female) that I can follow around and snuggle with, and for my adopters to have patience to work with me to trust and love! Please email my rescue for more information!
Meet London:
Our handsome London came to us when his previous family could no longer care for him. Although they loved him very much, they knew it was best for him to find a new family - and we knew we had to help! We are loving getting to know this 2 year old boy. He's smart, and already knows some commands like "sit", "paw", and more! He does have a lot of energy, so he'd love to go home with someone who is very active - whether you have a fenced in yard where he can play ball all day, or maybe you're someone who loves hiking, London would be happy to accompany you on an adventure! London would love to be your one-and-only! He would be happiest in a home without young kids, and he has never been exposed to cats. When it comes to dogs, he can be a little picky, but that's ok - he just wants all of your attention for himself! He will keep you plenty entertained anyway, so there won't be a need for any other pets when you have London!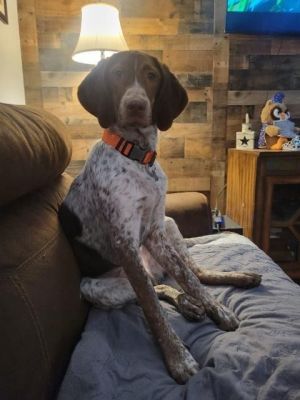 Meet Elliott:
Elliot originally came to us from Virginia to find his forever home! He was adopted out but unfortunately they were not able to care for him anymore. Elliot is about 9 months old and he is about 52 pounds. We believe he will be about 60 pounds or so full grown. Elliot did live with another dog and a young child and loved the family. Since he is still a puppy, he will need a lot of training to become the best pup he can be.
Pet Adoption in Lafayette | Father John's Animal House (fatherjohns.org)
Meet Lulu:
That's not a giant fluffball, that's the beautiful Lulu! She's all fluff though, she only weighs about 13lbs, but looks so much bigger! Lulu came to Father John's because her owner passed away, but she previously lived with an 8 year old child, another cat, and also a small dog! So we think she would do fine in any home. She's only about 3 1/2 years old, so she should transition pretty easily into your home and family! Her favorite spot is by the sunny window - you'll definitely need a cat tree or windowsill next to a window so she can continue looking outside and soaking up the sun! She has been through a lot, including teeth removal before arriving at the shelter, so she is ready for a loving home to finally relax in.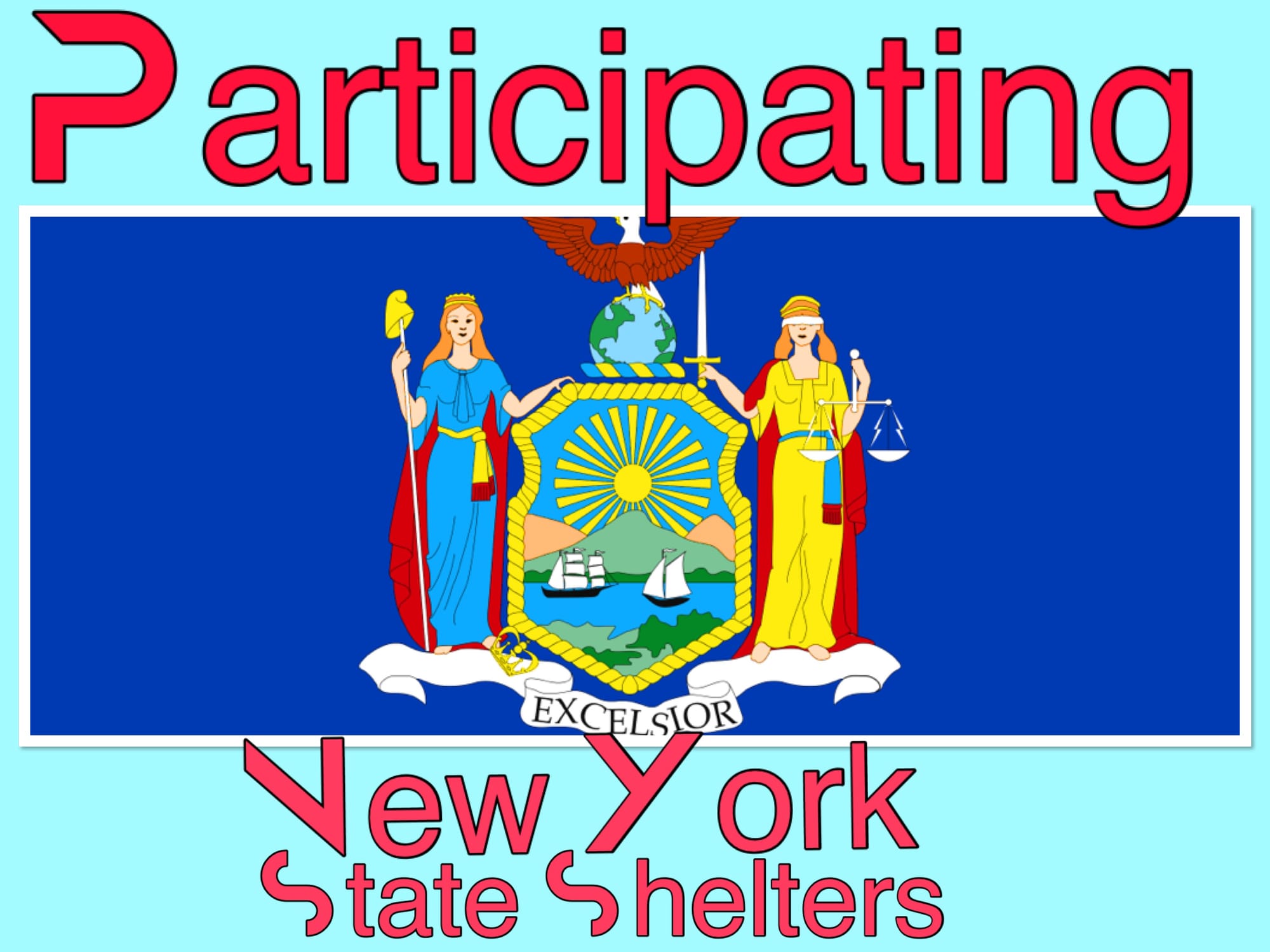 Meet Wilbur:
Waldo is a 7-year old Domestic Short Hair cat who has a cute mischievous and playful side to hum. He's very affectionate, healthy and ready for a new home after his owner passed away last April.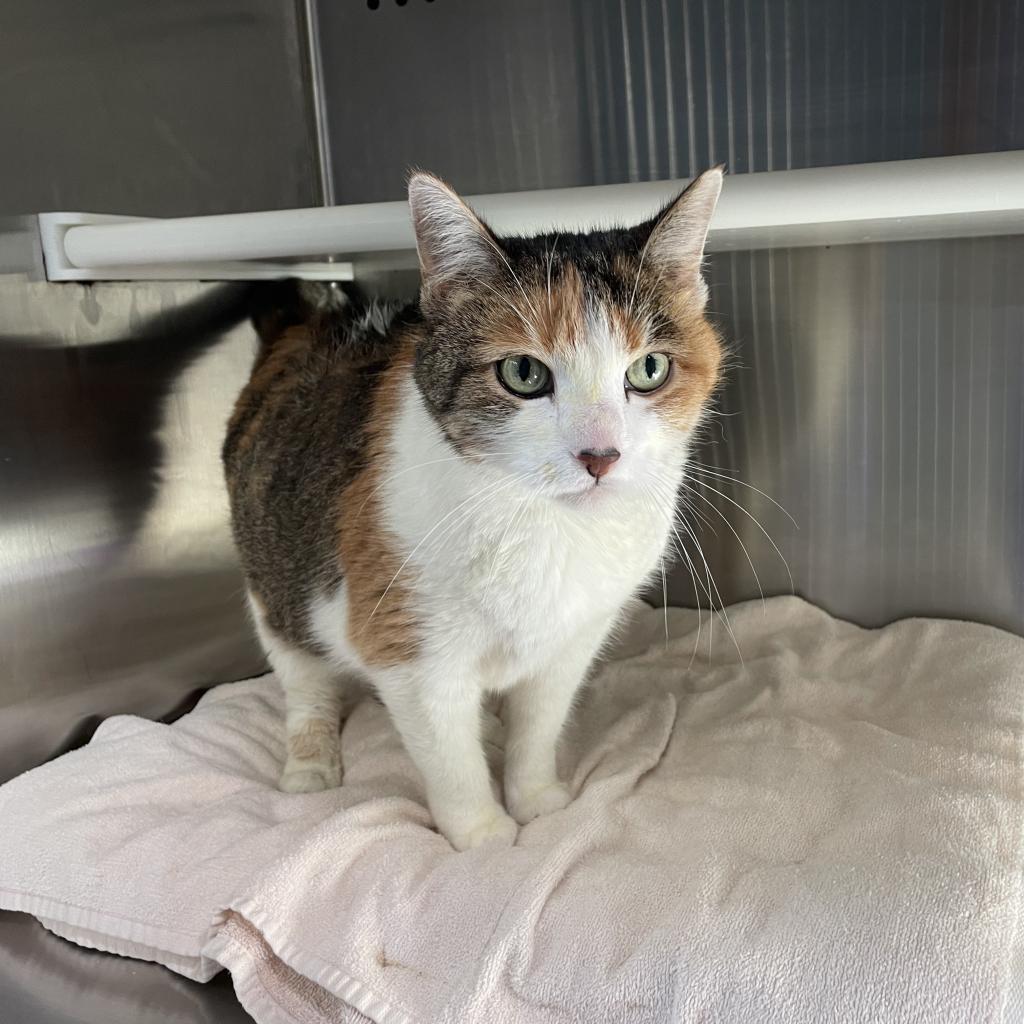 Meet Baby:
Baby is actually a senior cat at 12 years of age, and she is a gorgeous, friendly calico cat who loves to be petted and applies to our Senior for Senior program. She was surrendered due to her owner's medical concerns. Baby used to follow her owner around and loved to sit on her lap. Baby has a tendency for love bites and therefore a household without young children and with someone experienced in cat behavior is preferred.
Meet Mochaccino:
Mochaccino, a beautiful Torti only 6 years old. Mochaccino was nursing a
litter of kittens when she arrived. She starts out shy but quickly warms
up and just loves being around people. Gets along with other cats too and
hopes to find her forever home soon.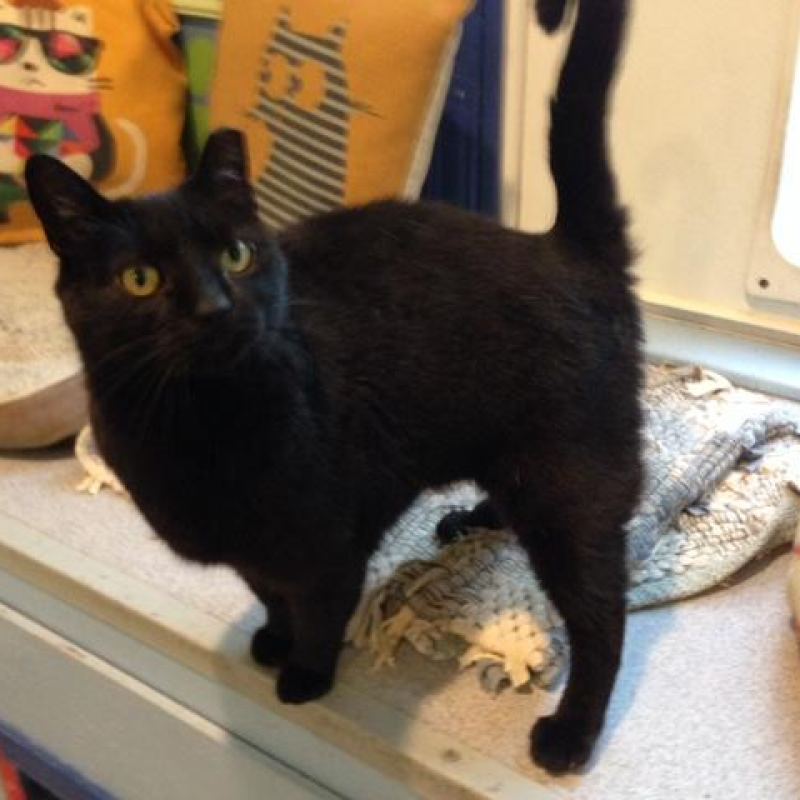 Meet Mama Roosevelt:
Mama is a domestic Short hair Female senior cat who was found in the streets of Roosevelt NY. She likes being petted briefly but when she's had enough, she will let you know with a swat or a gentle nip. She would do best with an experience cat owner.
Meet Prince:
Prince is an 11 year old domestic short hair cat whose owner could no longer care for him, so their children adopted him. Unfortunately, they soon discovered that two family members were allergic so Prince so Prince was brought to Animal Care Centers. From there he was transferred to us. He's a super sweet cat who enjoys people and attention.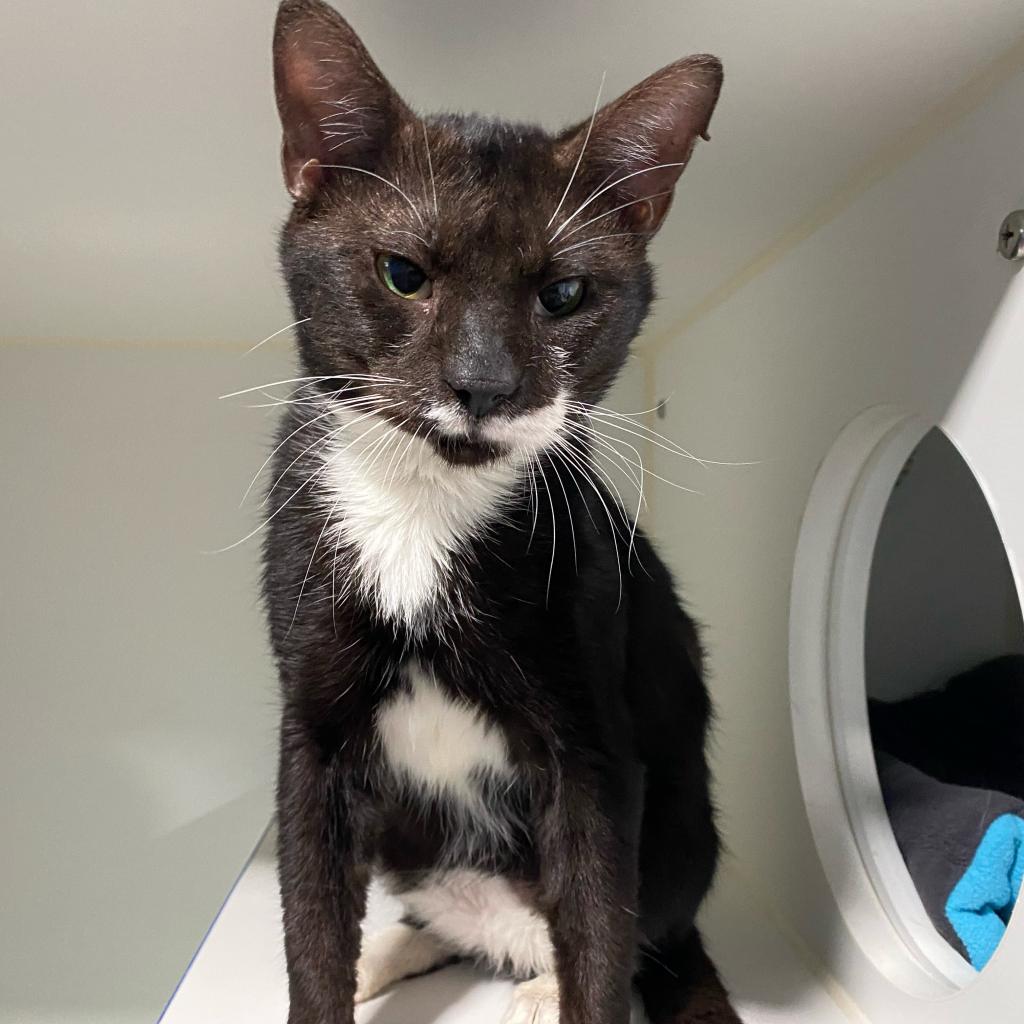 Meet Rocket Man
Rocket Man was rescued and brought to the Ladew Cat Sanctuary from Animal Care Centers of NYC. A beautiful black and white male who is just a tad over 2 years old, This Rocket Man is the sweetest little guy who loves people and to be petted. He would do well in just about any home. Trust me you will want to keep this Rocket Man for a long, long time and create the best memories.
Meet Cindy Lou:
Cindy is a 5 year old and was left behind when her owner moved. She wound up at a municipal shelter and was transferred to us. She is a little shy at first but will make a wonderful companion when she gets to know you!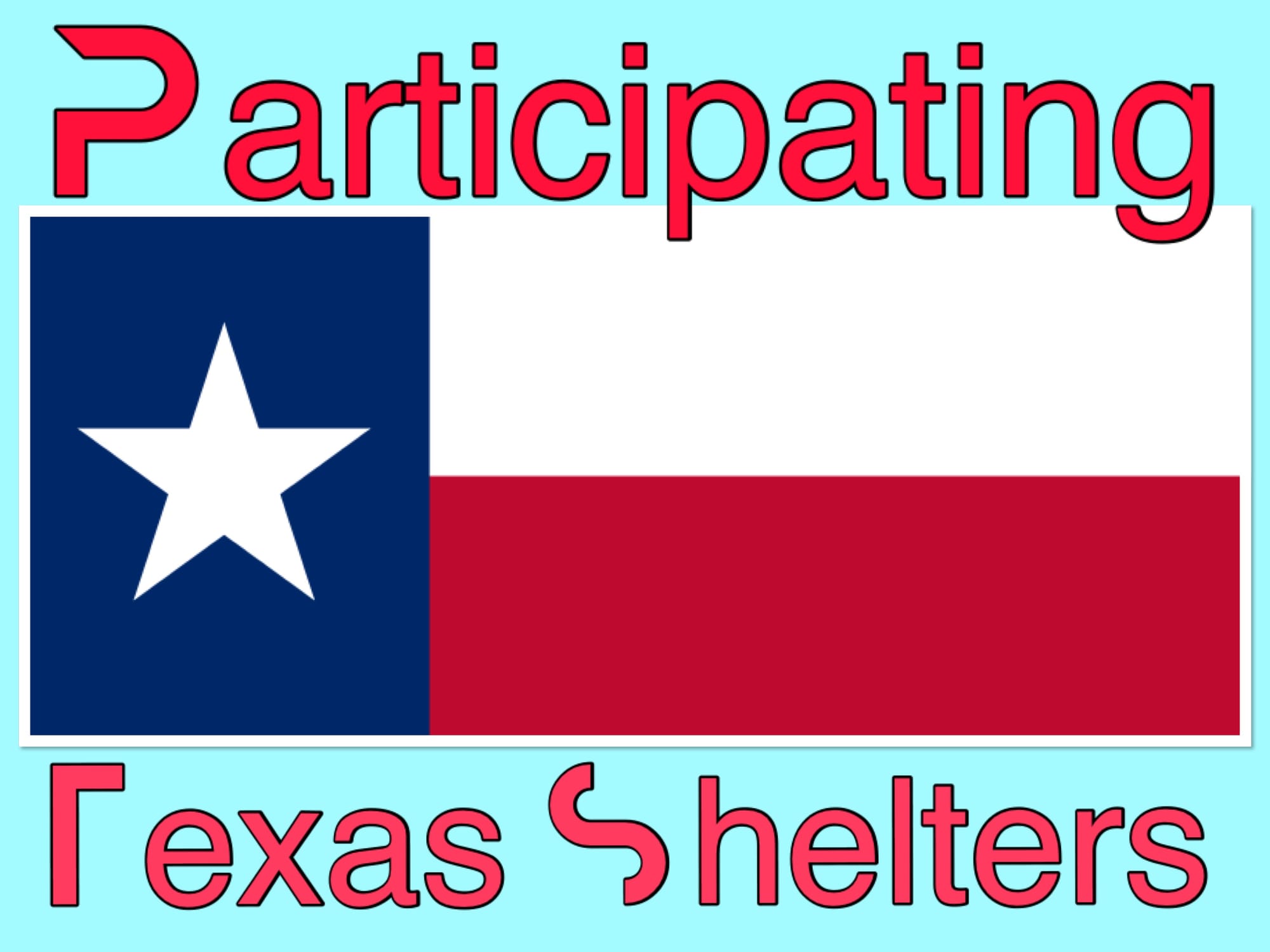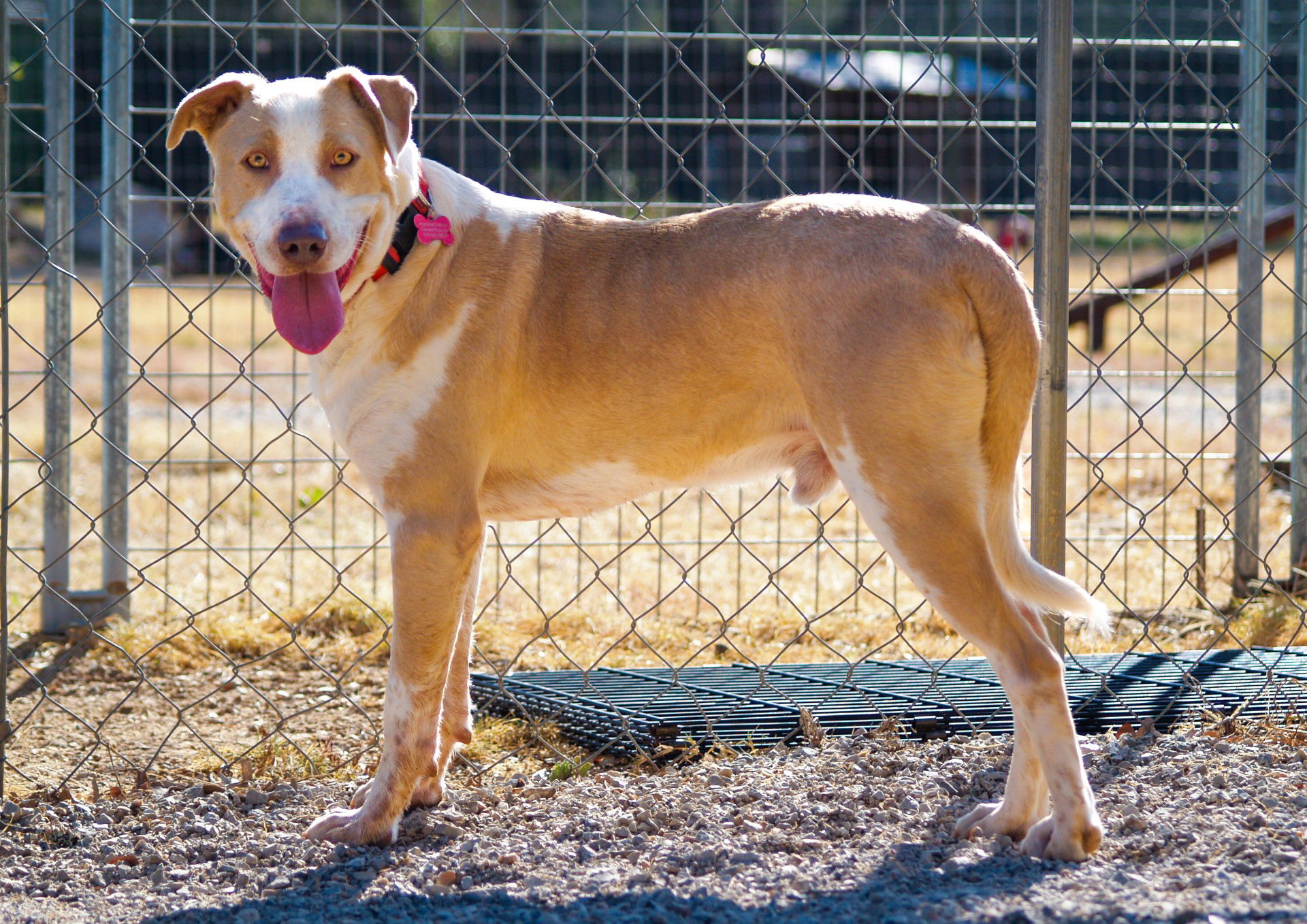 Meet Barry:
Barry is a 2 year old male Catahoula mix breed who weighs 55 lbs. He has a heart that is as tender as can be. His sensitivity shows itself in his shy and uncertain demeanor when faced with new situations, but his true character blossoms in the presence of patient and gentle affection. Once he feels secure, Barry reveals his adorable and devoted nature, forming deep bonds with his family. His love for water and playful interactions with toys showcase his joyful and silly side, reflecting the happiness he finds in comfort. Barry dreams of a peaceful and nurturing home environment where he can gradually adjust and fully express his loving personality. Above all, he craves the warmth of a human companion who will shower him with endless hugs and kisses, making him feel cherished every step of the way.
Barry is neutered, vaccinated, microchipped, and heartworm negative.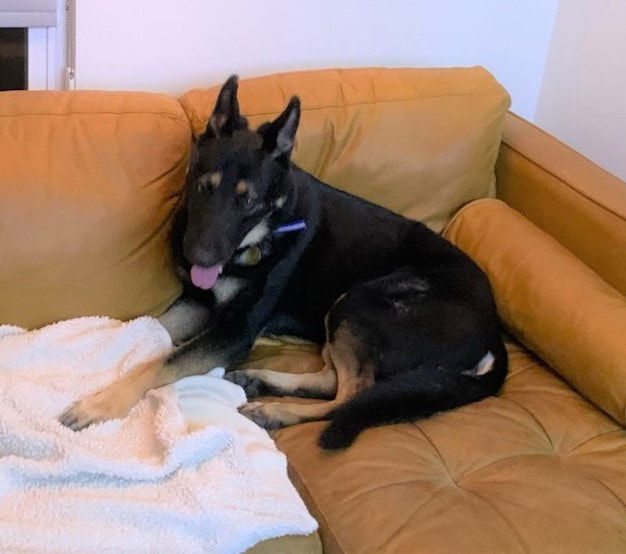 Meet Rocky:
6 years old, 79 pounds Current on vaccinations. Microchipped Heartworm negative and on prevention
Housetrained and crate trained but he doesn't like the crate and doesn't need to be crated. Good with other dogs in public spaces, but does not like to share his house with dogs. Good with people but scared of smaller children, so older kids only. Enjoys the occasional game of fetch. Loves the dog park Location: Fostered in Austin, Texas

Hi, my name is Rocky. Usually more of a Boxer dog name, but I am a 5 ½ year old, 79-pound German Shepherd dog. Despite being named Rocky, I would not enjoy a theme song playing loudly every time I stepped into the ring. I am not a fan of loud music. I am a fan of the game called Fetch. I enjoy playing fetch, but not all the time, sometimes, if I am in the mood.

I LOVE going to the dog park. Interestingly, you cannot straight up label me as "good with dogs" based on that fact alone. Although I LOVE to run and play with other dogs at the dog park. I do not enjoy other dogs in my house. Might be complicated to a human, but quite simply, I do not own the doggie park, but I do own my house, not technically on paper but in the doggie law code book. Page 523 of the Dog Code states, "if you can see it, pee it, claim it, protect it". I ddin't write the book, I just follow it.

I do enjoy people in general, howlever, I am scared of smaller children. For basically the same reason I don't enjoy loud music, small children tend to be loud. I am house and crate trained, but you do not have to crate me, I follow the Dog Code page 173 Article 52 Section D "do not tear up your humans stuff, it's rude, dude".

If you are looking for a stately, distinguished, classy guy who will follow the bro code, dog code and any other code that you wish to apply, I am you guy. Okay, I just made a rhyme, so add that to my resume.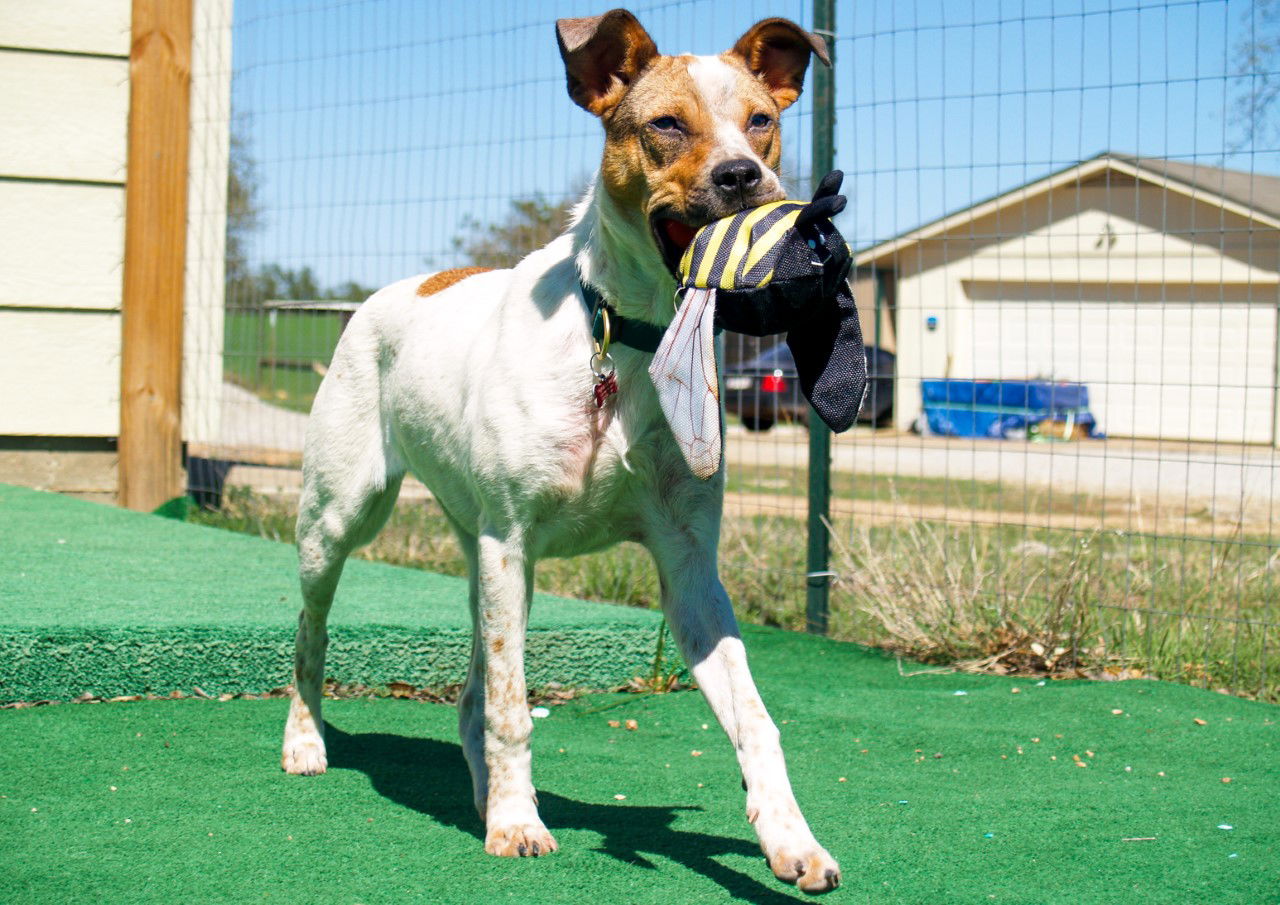 Meet Skylie:
Is a 10 month old female Pointer/Cattle Dog mix
Weighs 34 pounds, and has a little more growing to do
Is good with other dogs & is crate trained
Walks nicely in a harness
Is high energy and loves toys
Little angel Skylie has such a pure heart, we think she fell from the sky! Make no mistake however, Skylie is quite the goofball too. She is such a ball to be around because of her enthusiasm for her toys, eagerness to please, and smiley attitude. Skylie just wants to make friends with everyone and is quick to show her amiable character through submissiveness. This one's truly a lover, not a fighter! Skylie will do great in a family with other dogs and will be a hearty sibling. Don't be a stranger, because Skylie already wants to be your loyal and lovely family pup!
Skylie is spayed, vaccinated, microchipped, and heartworm negative.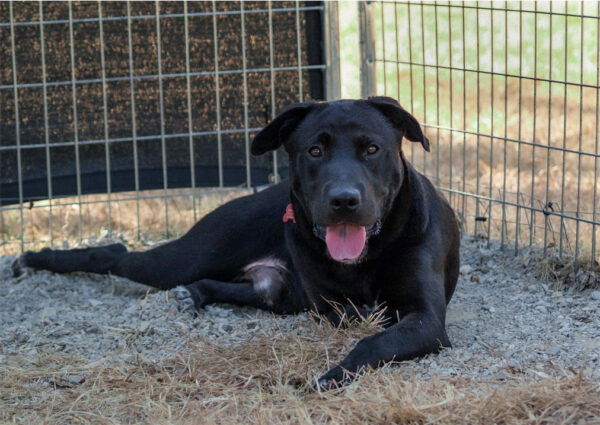 Meet Rocket:
1 1/2 year-old Male Lab Retriever mix who weighs 60 lbs.
Good with other dogs, not potty trained and is of high energy.
Rocket is a happy boy who is eager to embrace every individual he encounters, be it dogs or humans. With an affectionate and playful nature, he's an ideal match for an active family or a home with another lively dog to play his heart out with. Rocket's life journey has yet to include the comforts of a family and home, but he's a quick learner, currently working to adapt to the world of potty training and indoor etiquette. Remarkably intelligent, he's poised to thrive under a consistent routine and gentle tutelage. In new surroundings, Rocket's initial nervousness stems from his lack of exposure to various environments, but this will undoubtedly change as he gains confidence. As his self-assurance grows, he will transform into a spirited and enthusiastic companion, ready to embrace the world with open paws and a heart full of joy.
Rocket is neutered, vaccinated, microchipped, and heartworm negative.
Meet Galena:
Spayed female3.5 years. old Heartworm negative and on prevention. Current on shots. Microchipped.
House and crate trained. Self-confident & Walks nicely on leash. Good with other dogs and people. Not cat or child tested. Now 65 to 70 lbs and is being Fostered in Round Rock, Texas
I GRADUATED FROM STARMARK TRAINING ACADEMY. I HAVE LEARNED TO BE THE BEST DOG EVER!
Hi! Miss Galena here! I'm currently taking applications for my forever home so I hope you're apply if you are interested in me. I've really improved since I came into the rescue. I was not socialized with other dogs or people and I did not understand being in a crate and really scraped my nose up. I was so skinny you could see my ribs. I have come a long way! I've also learned how to use the pet door too and almost drove foster mom nuts going in and out once I figured out how to do it.

At Starmark Training Academy I learned basic obedience such as sit, heel, walk on a leash, and how to place or "freeze" on command. I've made lots of new friends at my foster home and I've learned to play nicely with them. We have a huge yard to play in and I love it! I had never seen a ball or any toys before, but I really have fun chasing them, and the most fun is stealing them from the other dogs. But I think my favorite past time here is eating. I'm quite good at it and the food here is pretty good. My coat was really dull and ratty when I arrived but now it's thicker and shiny!

So if you need a new best friend and if you like redheads please fill out an application for me!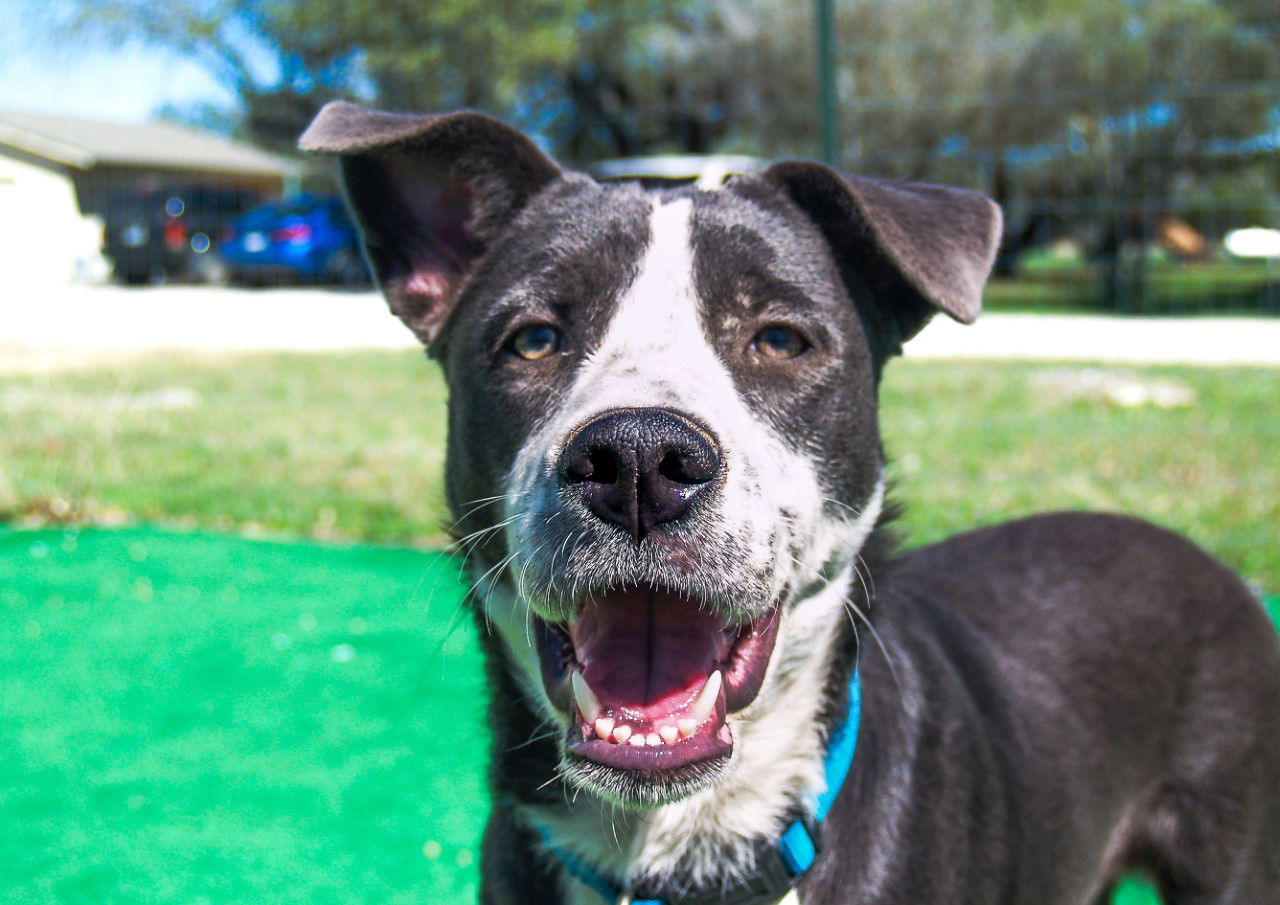 Meet Stormie:
Stormie Is a 2-year old 40 lbs Blue Lacy Mix
She's good with other dogs & is of high energy
This cutie is a playful but very shy girl. At first, she will come across as a little unsure, but she'll gladly wag her tail to greet you and cuddle with you after getting comfortable. Stormie enjoys the company of other dogs, and would love a four-legged sibling to hang out and rough house with. Meeting new dogs can sometimes be overwhelming for her, but a patient introduction will always result in fast friends! Though her coat is beautiful as a summer shower, there are no gray skies when this affectionate girl is around! With a bit of patience and time to fall head over heels, she will make a lively and loving addition to your family.
Stormie is spayed, vaccinated, microchipped, and heartworm negative.
Meet Radar:
8 year old Spayed female who weighs about 50 lbs
Current on vaccinations and almost finished with slow Heartworm treatment and on prevention.
Microchipped
House and crate trained
Good with other dogs and people
Not tested with cats or children
Very catlike
Loves to meet new dogs and is being fostered in Round Rock
Hi, my name is Radar or sometimes Raina. I'm a dainty little dame at just 50 pounds at 8 years old. My eyes are beguiling, I'm not sure what that means exactly but it's a fun cat eye word. I'm hypnose-tizing you with my eyes, which honestly sounds more like a thing a nose would do. This is my "adopt me now" look.

You probably want to know a tidbit more in order to make such a big life choice. I love meeting new dogs. Maybe, when I retire, I'll be a greeter at a big box store and welcome all the dogs through the door. Speaking of boxes, Foster Mom says I act more as a cat does than a dog, so I really should practice fitting in boxes.

As is the case with many South Texas dogs, I tested positive for heartworms, a common disease spread by mosquitoes. I've started treatment and Foster Mom can discuss further. Remember to give your own dogs preventative medication so this doesn't happen to them.

Sometimes people don't want to adopt a middle aged dog, but there is quite a bit of merit in getting a dog that's already potty and crate trained. Plus you'll save on paper towels compared to acquiring a puppy.

So once again, look into my eyes. You are getting very eager to complete an application for me!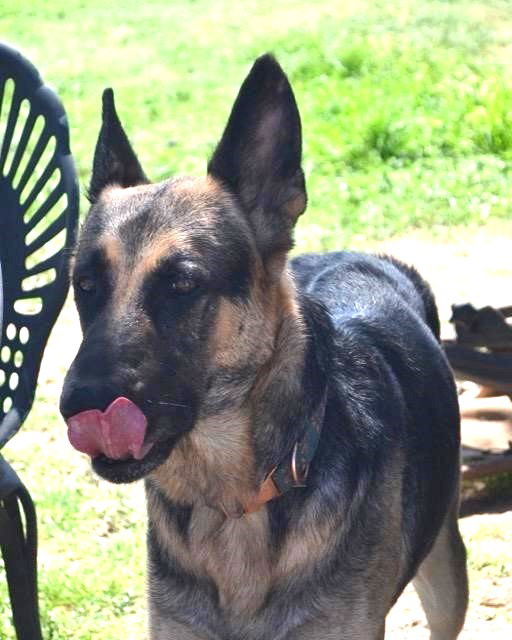 Meet Bella:
4-5 year old Spayed female / weighs about 75 lbs (gained 20 lbs since her rescue)
Current on vaccinations & Heartworm positive, slow treatment started
Microchipped
House and crate trained
Good with other dogs and people
Not tested with cats or children
Has a bobtail (we don't know what happened)
High energy and is being fostered in Round Rock, Texas
Anyone down for some retail therapy? Literally! The first question I usually get is…Bella, what happened to your tail? It's bobbed which is awkward for a German Shepherd. No one knows the truth and I'm not tailing..I mean telling. Just tell onlookers it's the result of an epic battle between me and a dragon. I obviously won.

At the shelter I was 20 pounds under my ideal weight and in such haggard condition, they labeled me older than I am. Foster Mom says the rescue Vet says I'm closer to 5 years old. Thank you, I do have more gas in my tank. Or energy in my battery if you're one of those EV drivers. I'm actually high energy for a middle aged lady.

As with all foster dogs, I'm potty and house trained with the help of Foster Mom. I love being in a Foster Home. With the food service here, I'm 75 pounds now. I am also glad to not worry about being hungry or thirsty. And toys! I love them. Even though we can't buy me a new tail, we could totally do some retail therapy in the form of a squeaky, bone, rope, doohickey shopping spree.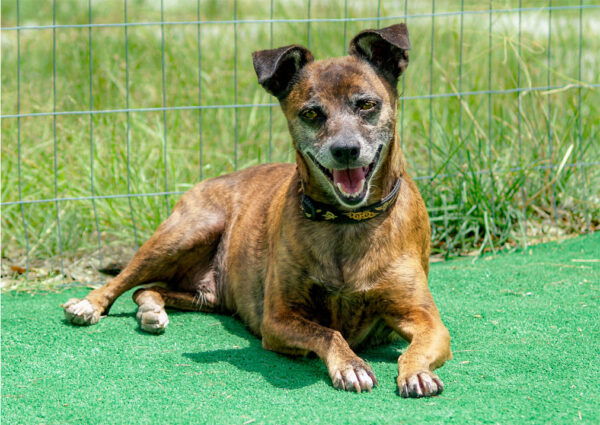 Meet Tony:
9 year old Rat Terrier mix who weighs 29 lbs. Good with other dogs & Cats and is fully potty trained.
Meet Tony, a delightful dog whose main mission in life is to find ways to convince you to rub his belly. Despite being a youthful 10 years old, Tony still has plenty of spunk and energy, although it is now balanced with the calmness that comes with maturity. He makes an excellent walking companion, but he's equally skilled at being a professional couch potato, happily lounging by your side. Tony came from a sheltered background, and he is currently navi-gating the learning curve of the world around him. Therefore, he would thrive in a patient and laid-back family environment that can help him ease into his loving forever home. Tony is ready to bring joy, companionship, and plenty of belly rub requests to the lucky family that welcomes him into their lives.
Tony is neutered, vaccinated, microchipped, and heartworm negative.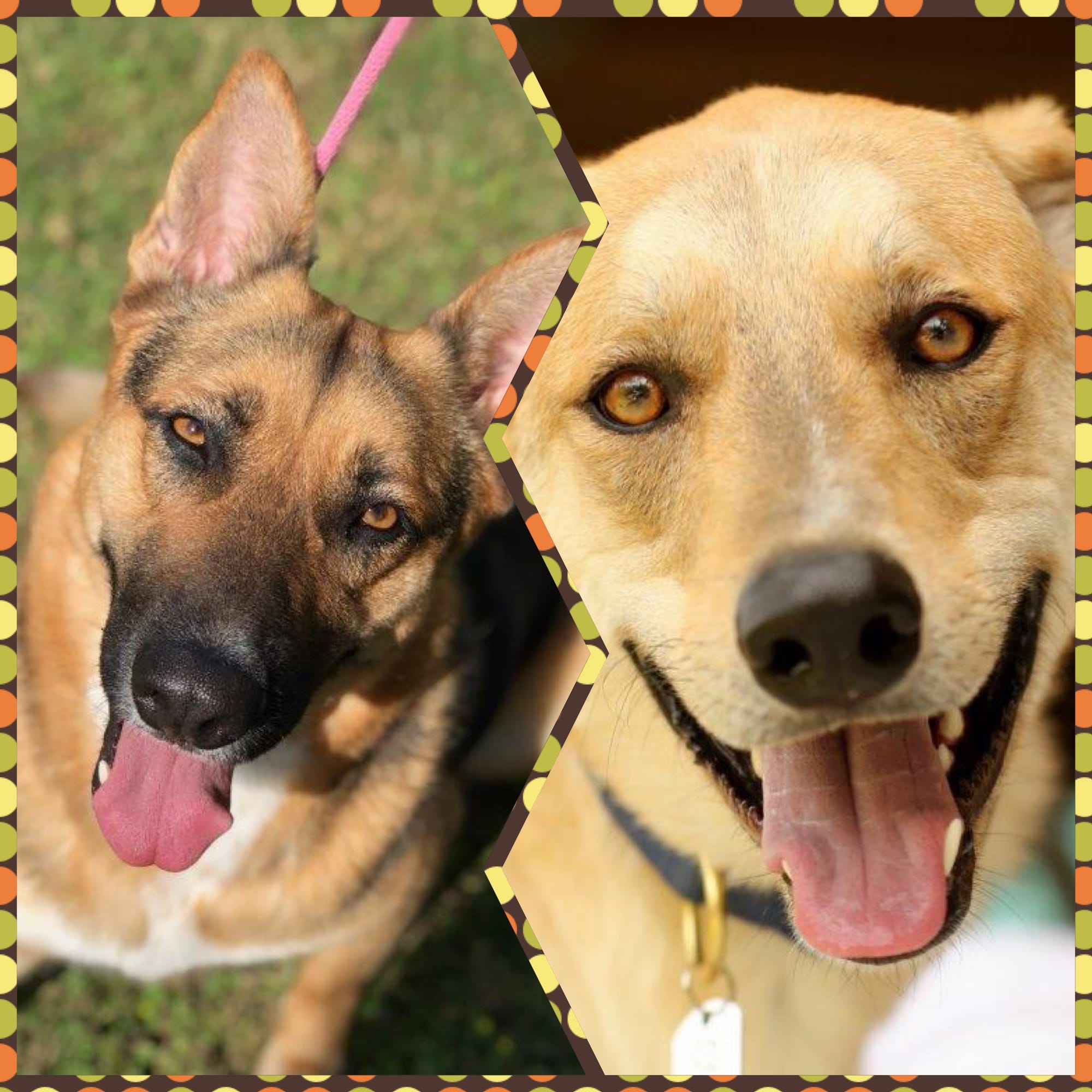 Meet

Mandy

&

Cosmo:
Meet Mandy as she's taking applications for a new forever home. But Mandy has a special message to share with any potential adopter; She really, really wants to be adopted with the love of her life, and that would be Cosmo. You see, they have become best friends and are so bonded that Mandy doesn't know what she would do without him and she doesn't want to find out! They met at Foster mom's house and have been inseparable since!

They share a room together and are both very well behaved in their crates. Mandy and Cosmo are both house and crate trained and even know a few tricks and have had some basic training as well.
Cosmo is a very sweet, gentle and loving boy. He can be shy at first but once he knows you he's very bonded. He can be a bit leery of strangers and may bark but shows no aggression.

So if you're looking for some new family members, this bonded pair won't disappoint you. Neither have been cat or children tested so a meet and greet would be necessary.
Mandy is a Spayed female, 3.5 years old/ weighs about 65 lbs
Heartworm negative and on prevention
Current on vaccinations
Microchipped
House and crate trained
Good with other dogs and people
Cosmo is a neutered male, 4 yrs old/ weighs about 80 lbs
Heartworm negative and on prevention
About 80 lbs
Good with other dogs
Children 10+ due to size
Best to a quiet, stress-free home
Current on shots
Microchipped
House and crate trained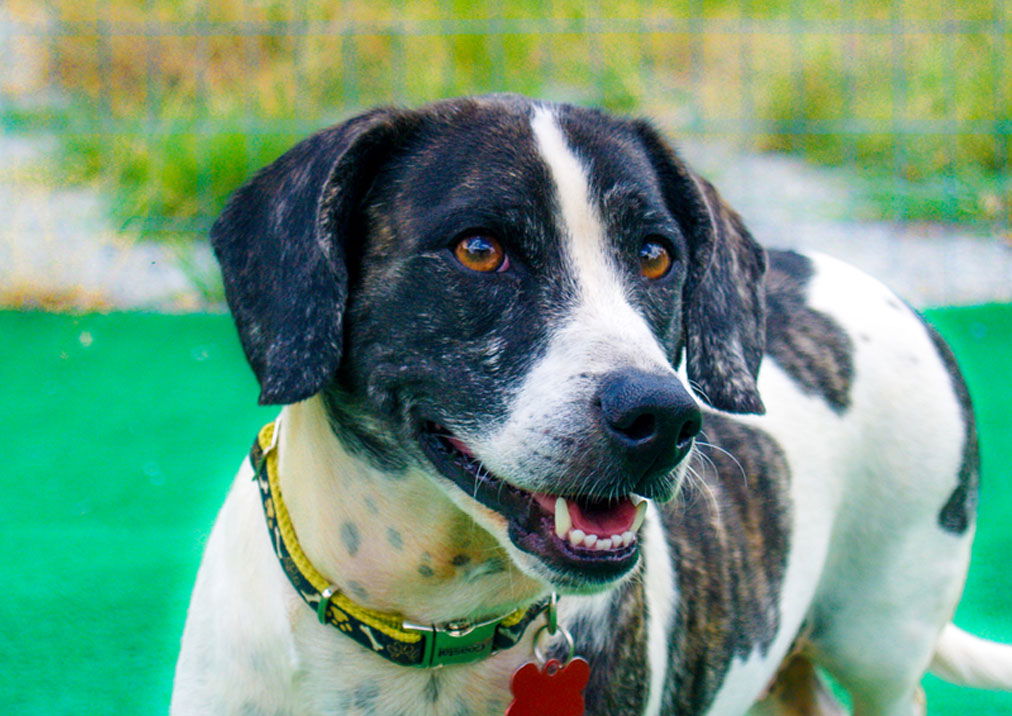 Meet Survivor:
3 year old Male Basset/Dachshund mix who weighs 35 lbs. He's good with other dogs & Cats and is potty trained.
Survivor is a dog that embodies cuteness with his doughy eyes and adorable stumpy legs. At first meeting Survivor may appear shy, but once he feels safe and loved he reveals his true nature as a cuddler at heart. He loves the simple joys of playtime, particular-ly with his beloved toys. Survivor thrives in the company of other dogs and would prefer a home where he can have a furry compan-ion by his side, providing him with the comfort and companionship he craves. With his irresistible charm and gentle spirit, Survivor is ready to bring joy, snuggles, and playful antics to a loving family who appreciates his unique beauty and endearing personality.
Survivor is neutered, vaccinated, microchipped, and heartworm negative.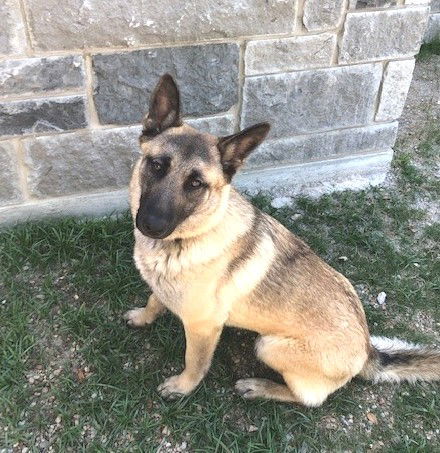 Meet Athena:
Athena takes a little time to warm up to people but once she understands you are her buddy, she will seek you out for pets, belly scratches and snuggle time on the couch. Athena is the perfect weight for her body structure and although she may be small, she more than makes up for that in energy and personality.
Athena adores the other dogs in her foster home but occasionally will try to be dominant and pushy so will need patient doggy friend/s if her potential adopters have other dogs as well as a savvy owner that will provide redirection. Athena is a "go, go, go" type of gal and likes to stay active but is sometimes content to just lay down and play with her toys.
Athena loves toys and playing ball. She is a hard chewer so it is best for her not to have any soft toys as they won't last very long. She also likes to do "zoomies" around the yard to get the other dogs in her home to chase her. Athena likes to try and dig so if you don't want her searching for a pot of gold in your yard, she will need to be watched and taught to not dig. She has been learning this in her foster home but if she gets a chance to sneak away, her foster may find the workings of a shallow hole.
Athena has not been around children in her foster home but we feel that she would be fine with older children as she is very gentle and for still being a youngster she doesn't jump or mouth.
11 month old Spayed female who weighs around 50-55 lbs
Current on shots & Microchipped
Heartworm negative and on prevention
House and crate trained & Good with other dogs
Not child or cat tested yet but Good with people (takes a little time to warm up)
Location: Fostered near Liberty Hill, north of Leander
Meet Ruby:
2-year-old Australian cattle dog mix / 46 pounds
Is good with other dogs & Walks nicely in a harness
Is high energy and enjoys card rides!
This adventure loving girl is one of the smartest cookies around. She soaks up training like a sponge and will make an exceptional companion for a family or individual looking to invest in a dog that wants to learn. She is friendly, affectionate and sweet. Cuddling is absolutely on the table, as long as you play with her first! Ruby truly is a gem, as beautiful and loyal as they come. With a little love and polishing, she is going to magnificently shine.
Ruby is spayed, vaccinated, microchipped, and heartworm positive.
Ruby is currently undergoing treatment for heartworms and expected to make a full recovery;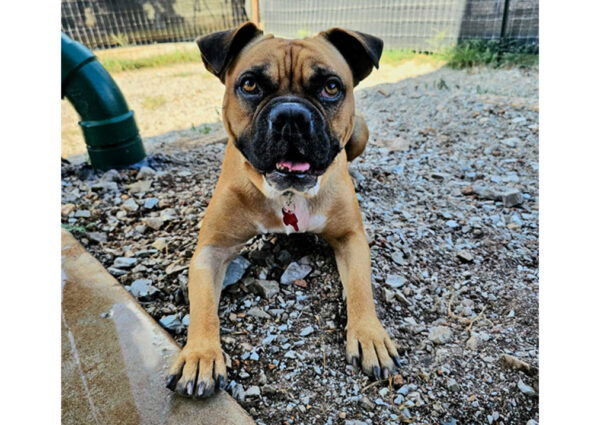 Meet Cherry:
3 year old Boxer/Pug mix who weighs 45 lbs. She's great with kids, other dogs and even cats. Fully potty trained and on a routine
Meet Cherry, an irresistible bundle of joy that simply cannot contain her wiggles! Her entire body shakes with delight when she wags her stumpy little tail. Cherry has a heart full of love and adores everyone she meets. She fearlessly approaches new people and creatures, determined to make friends with them. Energetic, exuberant, and playful, Cherry is a wellspring of liveliness and joyful energy. She needs a home that can keep up with her active nature and fully appreciate her goofy spirit. It's important to remember that Boxers/Pugs often have sensitive skin and tummies, and that extra care and attention should be given to their wrinkles to keep them healthy and happy. Cherry is eagerly waiting for a forever family that will cherish her vibrant personality and provide the companionship and activity she craves.
Cherry is spayed, vaccinated, microchipped, and heartworm positive (currently undergoing treatment)
Meet Colonel:
4 year old Neutered male who weighs 70 lbs
Current on vaccinations and Microchipped
Good with other dogs and people
Not tested with cats or children, but very gentle
Heartworm positive slow treatment started
House and crate trained
Currently being fostered in Round Rock, Texas
Hello everyone, my name is Colonel, it was originally Captain, but since there is already a Captain in foster care I am now a Colonel. I do have a uniform and gallant look so the name suits me better than a tailored suit.

I am about 4 years old and still a bit underweight at 70 pounds. I do love to eat so admittedly, I was hoping that my name meant I was the long lost son of the Colonel that started the fried chicken restaurants so that I could inherit as much chicken as possible, but alas I am not.

Foster Mom is feeding me really good nutritious and delicious dog food and I am filling in quite well. I am getting along well with all the dogs here and have done great meeting new people too. Since Foster Mom doesn't know my real hairatage… heritage…she doesn't know if I have ever lived with children, but she did remark that I am overall quite gentle.

If you want a tall dark and handsome drink of water or whatever the saying is, please fill out an application to adopt me. I would love to share the rest of my life with you. Don't let the formal name scare you of, I am quite looking forward to business casual and already wearing khaki pants.